Laurie and I were shopping the after Christmas sales and found an adorable Wilton Peeps Bunny mold at Joann's.  Although we thought it odd that there was Easter stuff right after Christmas, we snapped it up.  We ended up making these Peeps Chocolate Candy.  It was so easy to do. They look adorable. They taste great. And they are going to be a hit in my daughter's Easter Basket.

How to Make Peeps Chocolate Candy
You will need: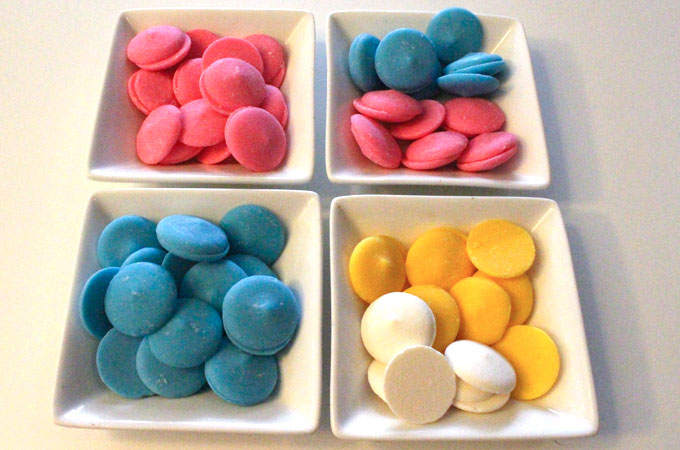 We used Wilton Candy melts as the first layer of our Peeps Chocolate Candy.  We made the candy in Blue, Pink, Yellow and Purple.  We added a couple of Bright White Candy Melts into the Yellow to make a more pastel yellow color. And we made a pretty pastel purple by melting pink and blue candy melts together.
This is our Wilton Peeps Bunny Treat Mold.  We found this Joann's Fabric and Crafting Store.  Here is one very close to it on Amazon.  This is a great mold. We used it for another fun Easter Treats – our Rice Krispie Treat Easter Bunny Peeps.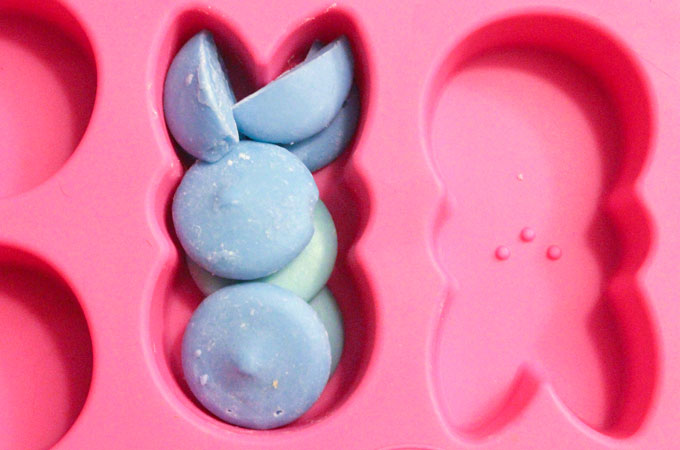 We used 4 Wilton Candy Melts for each Peeps candy.  You can see in the picture above how we layered the candy melts in the peeps mold.  We filled all of the peeps molds and melted them in the microwave 20 seconds at a time until the candy melts were fully melted.
This is what the candy melts looks like after they came out of the microwave.
Next we added a layer of Rice Krispie Cereal on top of the candy melt layer.
Finally, we added a third layer of melted Ghirardelli Dark Chocolate Melting Wafers over the Rice Krispie Treats.  Allow the candy to harden.  And pop thePeeps Chocolate Candy out of the Peeps mold.  It is that easy.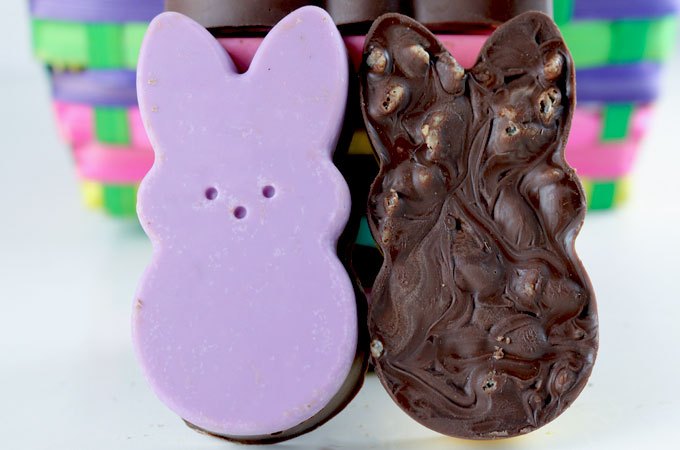 These Peeps Chocolate Candy are so adorable and oh my gosh do these candies taste great.  The crunch from the Rice Krispie Treats really takes this to the next level. Yum yum yum!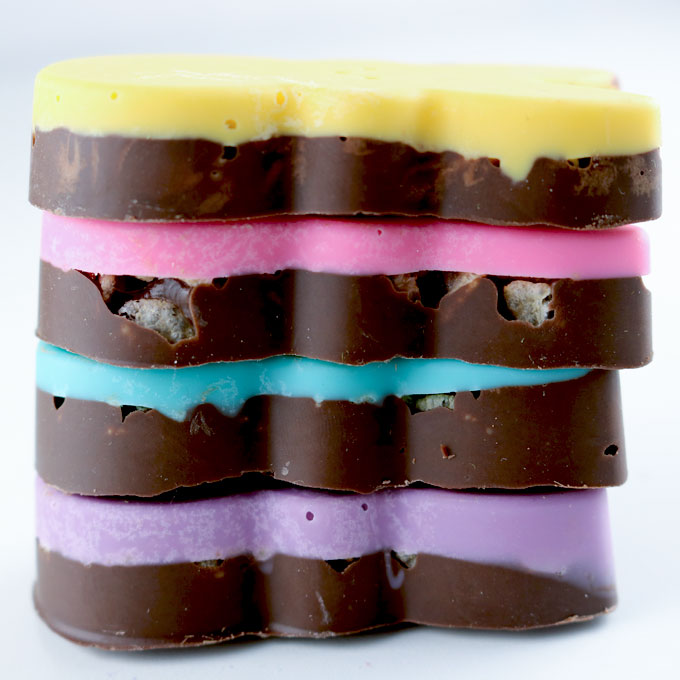 We made Yellow, Pink, Blue and Purple Peeps Chocolate Candy.  They are going to look great in Allison's Easter Basket!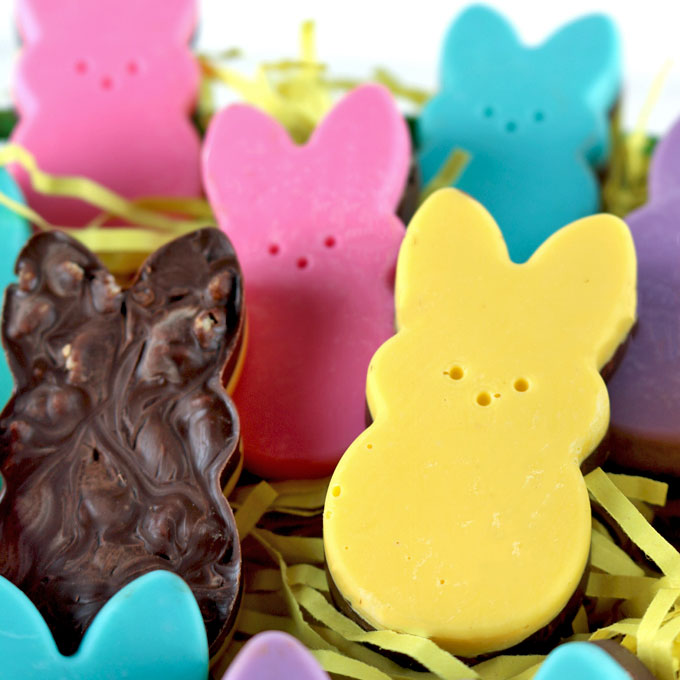 And they look exactly like a Marshmallow Peep!  So adorable.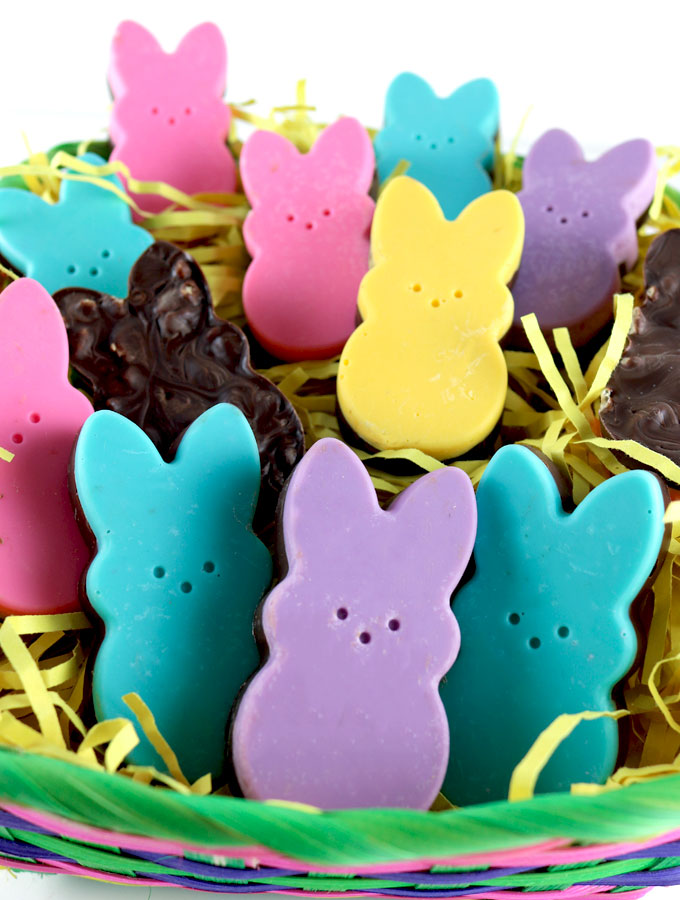 We love how these Peeps Chocolate Candy turned out.  So pretty in these springtime colors. And boy do they test great.  They will be a great Easter treat that your family will love.
P.S. Let's stay in touch!  If you liked our Peeps Chocolate Candy post, [thrive_2step id='10744′]click here to sign up for our Email Newsletter![/thrive_2step]
Or follow us on Pinterest, Facebook and Instagram!
**This post contains affiliate links but we only recommend products that we actually used and liked. Thanks for supporting Two Sisters Crafting!

More great Easter Recipes …
If you want to stay up-to-date on all our Easter posts, Follow Two Sisters Crafting on Pinterest!
Follow Two Sisters Crafting's Easter Food Board on Pinterest.