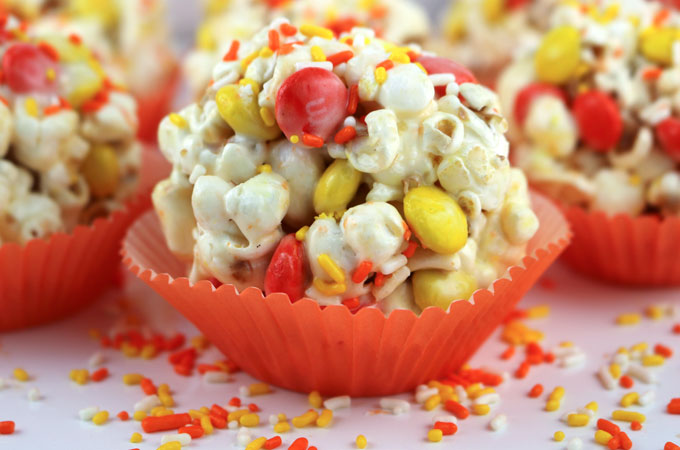 We made a lot of dessert popcorn here at Two Sisters Crafting, but this is the first time we have made popcorn balls.  Popcorn balls remind me of my childhood.  There was a family on our street that always gave them out at Halloween instead of candy.  Sadly, that wouldn't fly these days but these Halloween Candy Balls would be the perfect dessert for your Halloween Party.

How to Make Halloween Popcorn Balls
You will need:
12 Cups of Popped Popcorn
3.5 tbsp. Butter (Sweet Cream, Salted)
3 1/2 cups Mini Marshmallows

Candy Corn Sprinkles or

Orange Jimmies

and

Yellow Jimmies

Regular M&M's – Yellow and Orange
Start with approximately 10 cups of popcorn. Make sure you get out all of the un-popped kernels.  You don't want to bite down on one of those!  We pop our popcorn on the stove (you can find our directions on How to Make Perfect Popcorn here) but you can use air-popped or microwave.  Once you have the popcorn made, salt it liberally.  It is so nice to taste the salty with the sweet marshmallow coating.  Not quite like Kettle Corn but close.
To make the Marshmallow Mixture for the Halloween Popcorn Balls, melt 3 1/2 tablespoons of butter in a medium sauce pan.  Once the butter is melted, add 3 1/2 cups of mini marshmallows. Stir until the marshmallows are melted.  Turn off the heat as soon as the last marshmallow has melted.
Slowly pour the marshmallow mixture over the salted popcorn. Gently fold the marshmallow mixture in with the popcorn until the popcorn is mostly covered.
The amount of marshmallow mixture you want to add is really up to your own taste. The more you add, the stickier the popcorn will be so we suggest that you add it a bit at a time, stir the popcorn and give it a taste before you add more.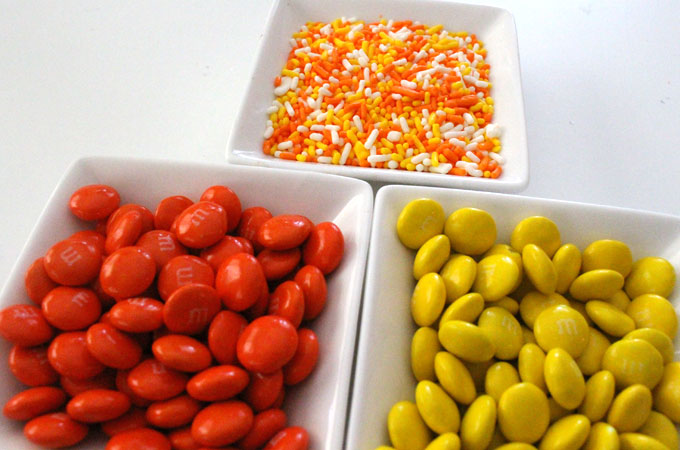 Here is the candy that we added to our Halloween Popcorn Balls.  We used a handful of yellow and orange regular M&M's along with a pretty Candy Corn Sprinkles that we found at Michaels.
Add the M&M's to the popcorn as soon as you get finished mixing the popcorn with the Marshmallow mixture. Stir until combined.
Then add the sprinkles to taste.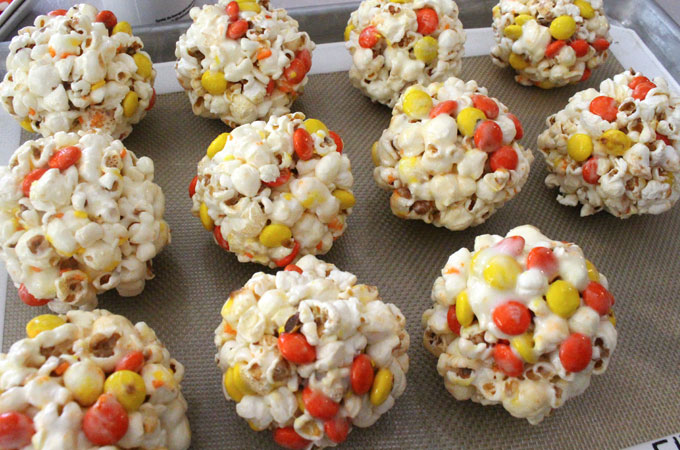 Mold the popcorn mixture into fairly tightly packed balls about the size of your hand.  For us, each popcorn ball equaled slightly more than a cup of popcorn and we ended up with 11 Halloween Popcorn Balls.
Sweet, salty and delicious with just a hint of chocolate. Yum, yum, yum.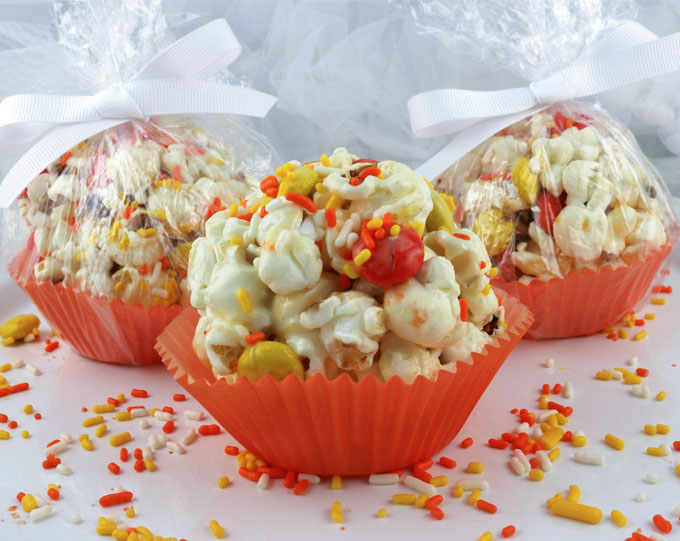 If you do want to give away the Halloween Popcorn Balls as a gift or a party favor, place them in a cupcake wrapper and wrap them with plastic wrap. So easy.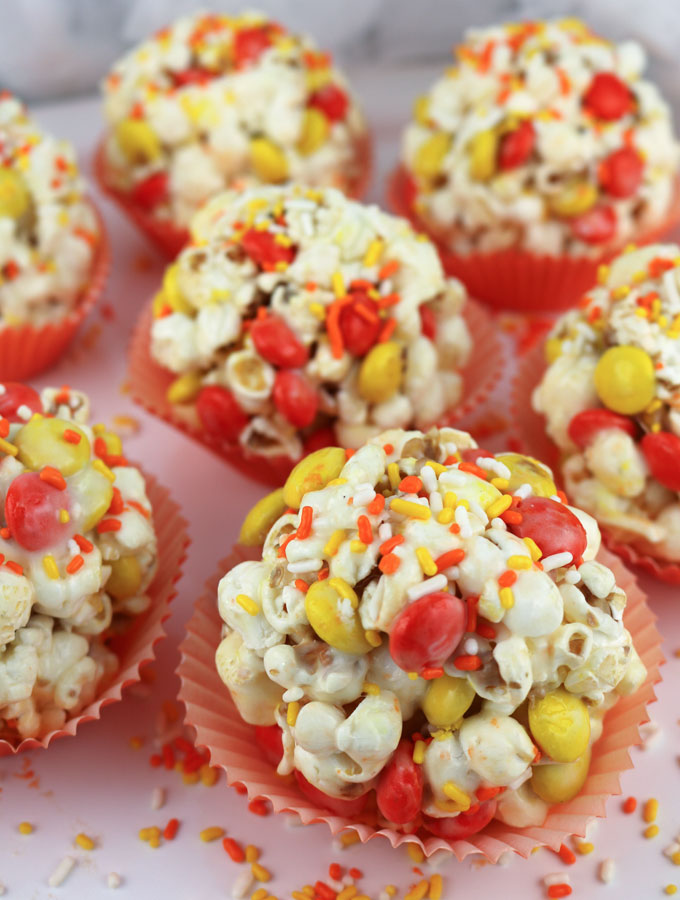 Our Halloween Popcorn Balls turned out so bright, colorful and festive.  They would be a great Halloween treat for your family or Halloween party guests.  And in our experience, this sweet popcorn recipe is always a crowd favorite at a party or a family get-together.  Happy Halloween from Two Sisters Crafting!
P.S. Let's stay in touch!  If you liked our Halloween Popcorn Balls post, [thrive_2step id='10744′]click here to sign up for our Email Newsletter![/thrive_2step]
Or follow us on Pinterest, Facebook and Instagram!
**This post contains affiliate links but we only recommend products that we actually used and liked. Thanks for supporting Two Sisters Crafting!
More Fun Halloween Recipes …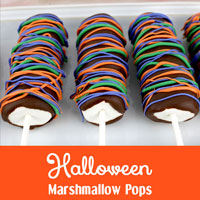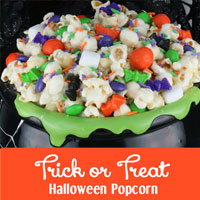 If you want to stay up-to-date on all our Halloween posts, Follow Two Sisters Crafting on Pinterest!
Follow Two Sisters Crafting's Halloween Food board on Pinterest.