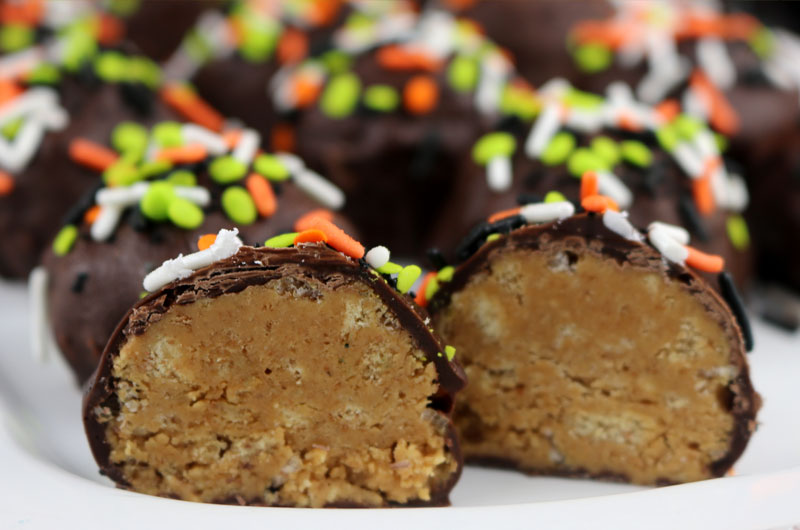 I don't think it can be said enough…I love peanut butter.  I would eat it every day if I could.  Whenever it is my turn to bring a dessert to a family or work event, I always bring something peanut buttery.   These Halloween Peanut Butter Crunch Truffles are the perfect potluck dessert because they are both bite-sized and delicious.  
How to make Halloween Peanut Butter Crunch Truffles
You will need:
10 full sheets (1 1/2 cups) of Graham Cracker crumbs
1 cup Peanut Butter
1/2 cup Rice Krispie Cereal
1/2 cup Powdered Sugar
2 tablespoons Butter (softened)
Ghirardelli Dark Chocolate Melting Wafers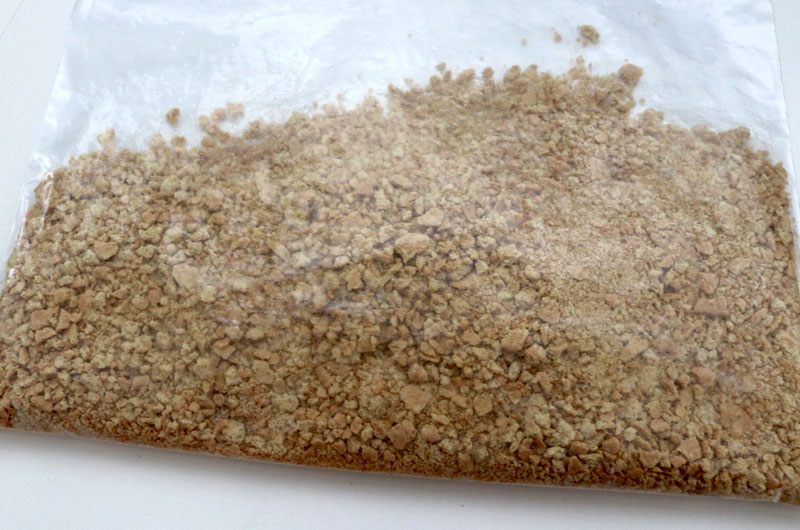 First, crush the Graham Cracker sheets in a plastic bag. We used a rolling pin to get rough chunks but you could use a food processor if you'd like.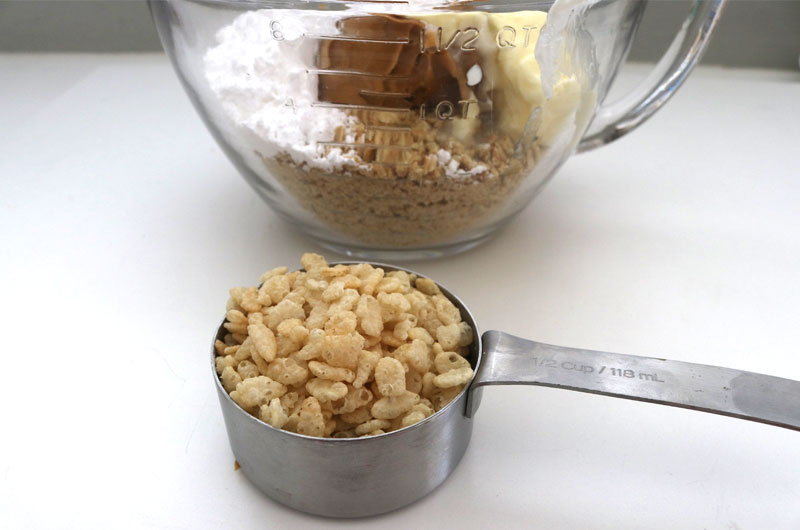 Pour the Graham Crackers into a bowl and add the peanut butter, butter and powdered sugar. Stir with a spoon until completely incorporated. Then add the Rice Krispie Cereal and mix again.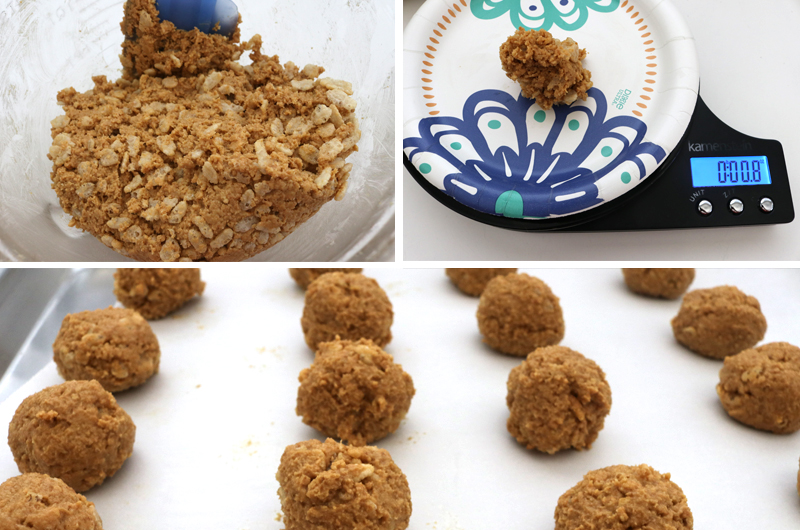 Put the mixture in the refrigerator for  30 minutes to firm up.  We measured 8 ounces of the mixture on our Food Scale for each Halloween Peanut Butter Crunch Truffle and rolled them into balls and then chill them for 2 hours.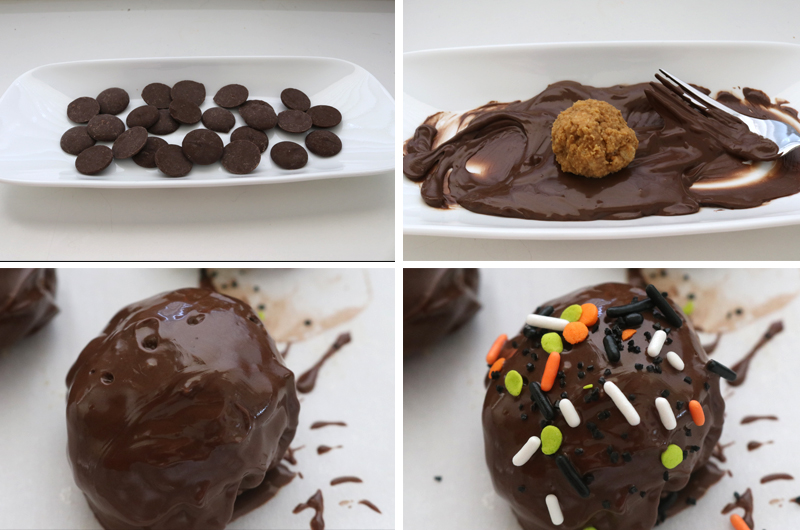 Melt 25-30 Ghirardelli Dark Chocolate Melting Wafers in the microwave.  Place a Peanut Butter ball in the melted chocolate and cover it completely.  Add Halloween Sprinkles before the chocolate dries for a fun festive Halloween look.
Place the Halloween Peanut Butter Crunch Truffles back in the Refrigerator to allow the chocolate coating to set up.  Super yummy, with a very appealing crunchiness from the addition of the Rice Krispie Cereal.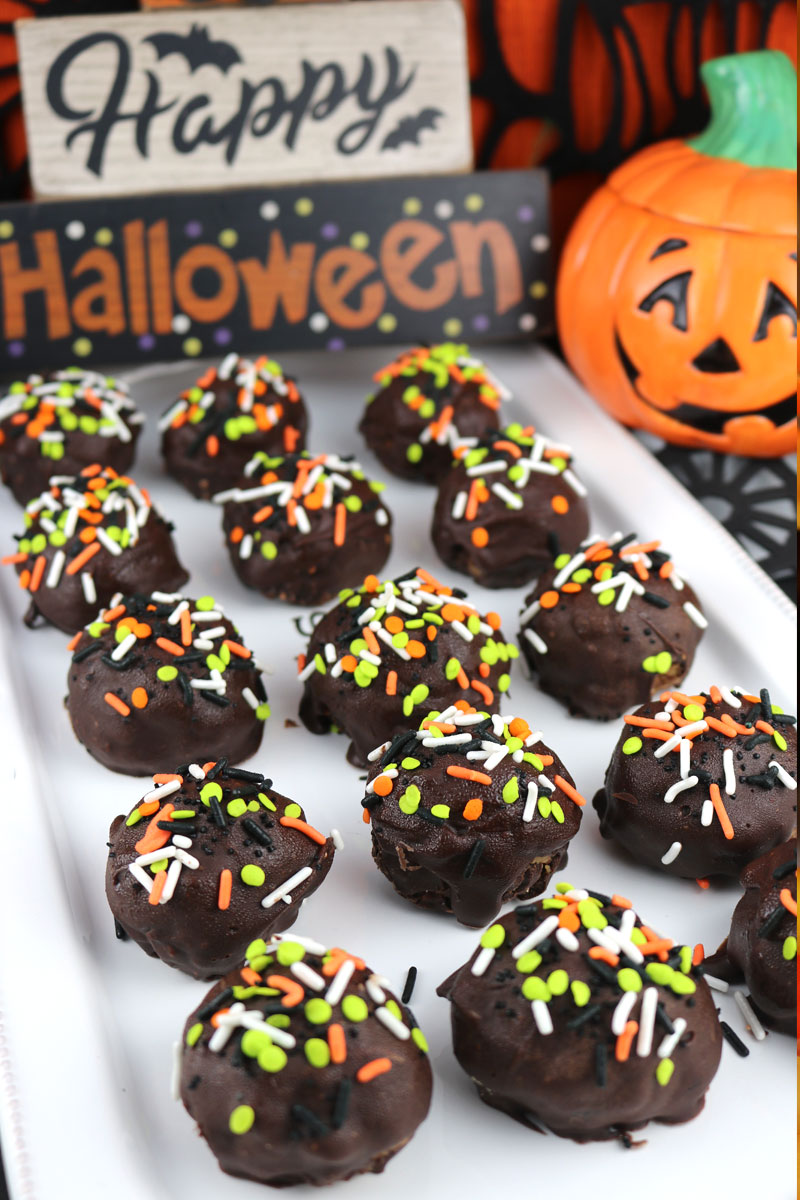 If you are going to a Halloween Party this year and you have to bring a dessert … these Halloween Peanut Butter Crunch Truffles are a good choice.  Peanut Butter and Chocolate – two great tastes that always go great together as the saying goes.  And we are going to go out on a limb and say they will probably be the first dessert to be eaten from the dessert table.
P.S. Let's stay in touch!  If you liked our Halloween Peanut Butter Crunch Truffles post, [thrive_2step id='10744′]click here to sign up for our Email Newsletter![/thrive_2step]
Or follow us on Pinterest, Facebook and Instagram!
**This post contains affiliate links but we only recommend products that we actually used and liked. Thanks for supporting Two Sisters Crafting!