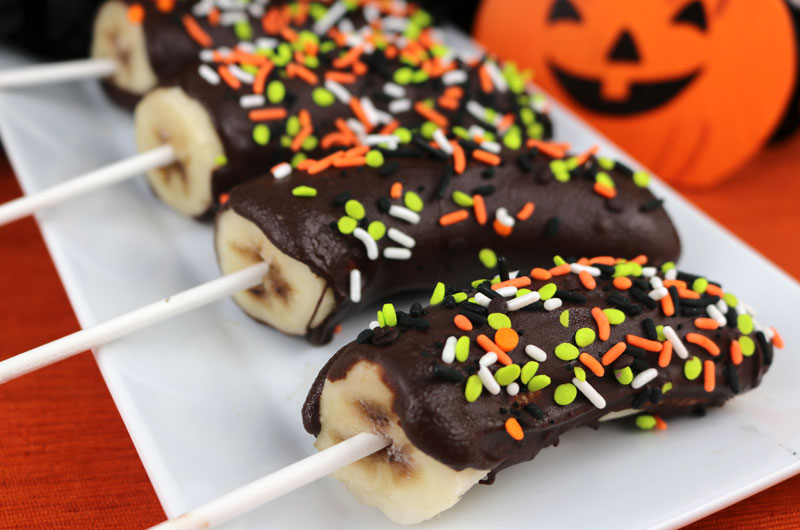 Fun fact:  Frozen Bananas originated in Orange County, California in the 1940's when a candy shop's accidentally son put the bananas in the freezer instead of the refrigerator.  Instead of throwing the bananas away they dipped them in chocolate and a famous frozen treat was born. (You can learn all about it here.)  Our Halloween Frozen Bananas were no accident though.  This is a family favorite dessert and they are so easy to make at home.  What a great Halloween treat … make your family a batch today.
How to make Halloween Frozen Bananas
You will need:
Bananas

Ghirardelli Chocolate Melting Wafers or Chocolate Chips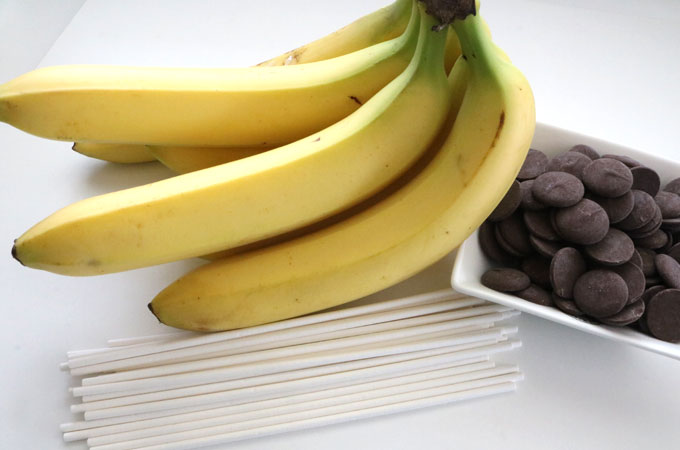 Halloween Frozen Bananas are very easy to make. You'll start with bananas, chocolate melting wafers and lollipop sticks.
Peel the bananas and then cut them in half.
Place each banana piece on a lollipop stick.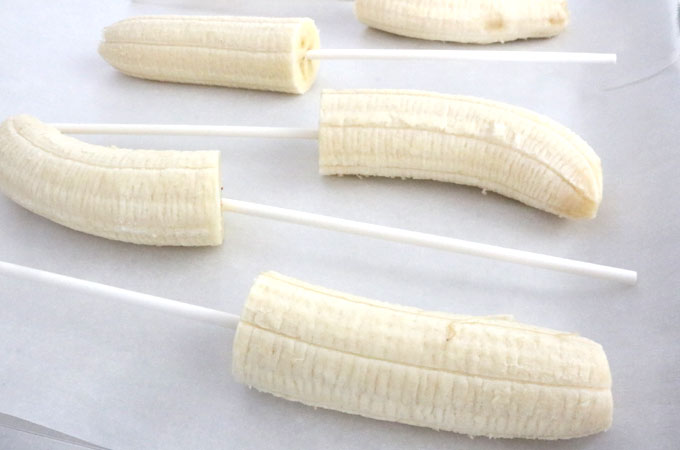 Freeze the bananas for at least two hours.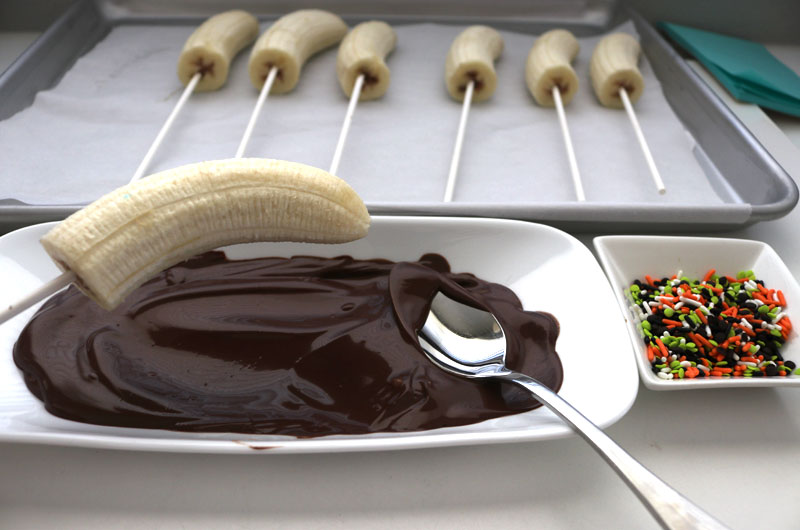 Melt Ghirardelli Chocolate Melting Wafers or Chocolate Chips in the microwave. 
Then use a spoon to cover the frozen banana with the melted chocolate.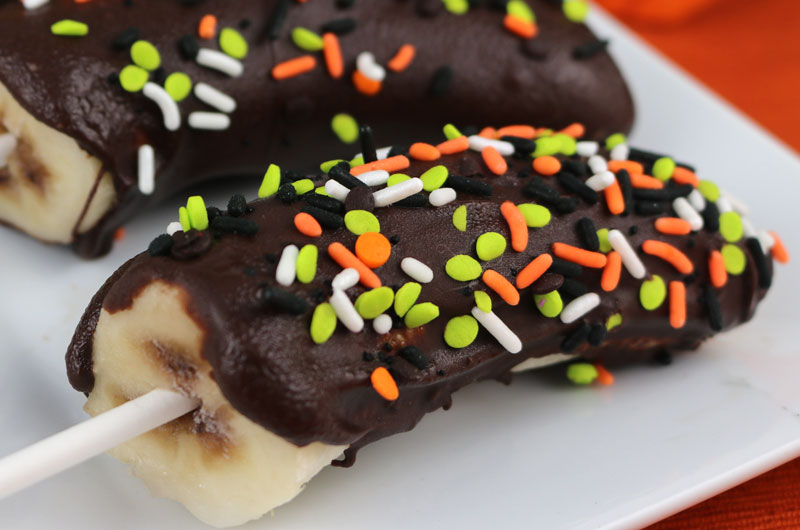 If you are going to decorate your Halloween Frozen Bananas with sprinkles, add the sprinkles before the chocolate hardens. Place the decorated Halloween Frozen Bananas back in the freezer until you are ready to serve them.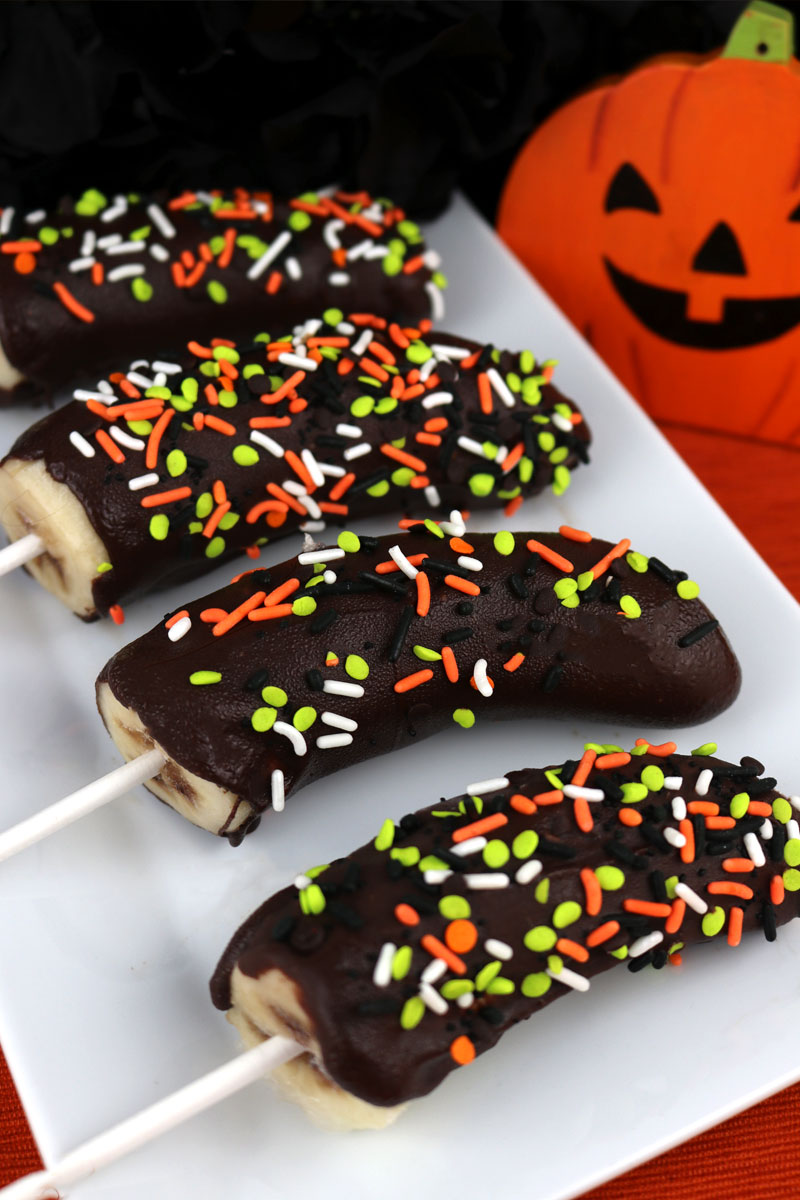 If you have Frozen Bananas' lovers in your family, you no longer have to indulge their passions only at amusement parks and county fairs.  Make them a batch of our Halloween Frozen Bananas an let the compliments roll in!
P.S. Let's stay in touch!  If you liked our Halloween Frozen Bananas post, [thrive_2step id='10744′]click here to sign up for our Email Newsletter![/thrive_2step]
Or follow us on Pinterest, Facebook and Instagram!
**This post contains affiliate links but we only recommend products that we actually used and liked. Thanks for supporting Two Sisters Crafting!