You know when you get that phone call and suddenly you have only a few hours to whip up a Halloween dessert?  These yummy Halloween Chocolate Cookies are gonna solve all your last-minute Halloween baking problems.  The Chocolate cookie is delicious and when topped with a pretty orange version of our yummy Best Buttercream Frosting, you've got a Halloween winner.  (We promise!)

How to make Halloween Chocolate Cookies
You will need:
1 cup butter (Sweet Cream, Salted)
3/4 cup Granulated Sugar
2/3 cup Brown Sugar (packed)
2 Eggs
1 tsp. Vanilla
2 1/4 Cups Flour
2/3 Cup Unsweetened Cocoa Powder
1 tsp. Baking Soda
1/4 tsp. Salt
Wilton Color Right Food Coloring – Orange
To make the chocolate cookie dough, mix together the dry ingredients (including the cocoa powder) and set aside.  Cream together the butter and white and brown sugar.  Mix in the eggs and vanilla.  Finally, add in the dry ingredients 1 cup at a time.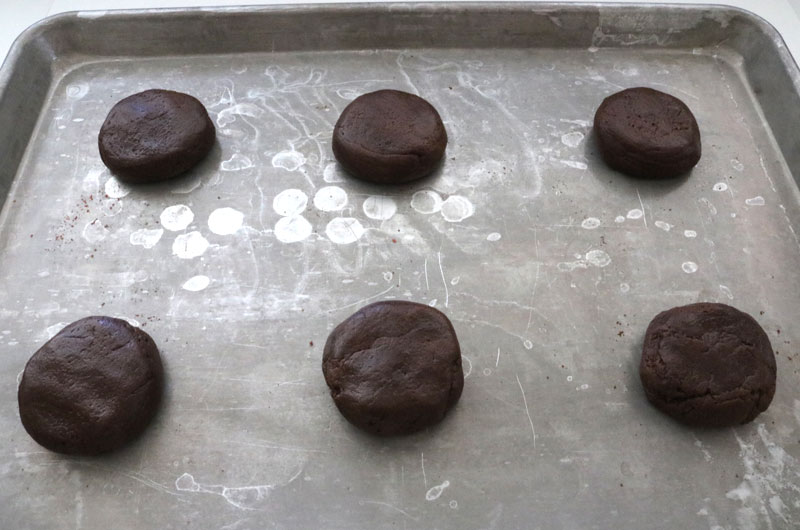 Take a spoonful of cookie dough and roll it into a ball.  Slightly press down the cookie dough ball.
Bake the cookies in a 350 degree oven for 9-11 minutes. Allow the cookies to cool.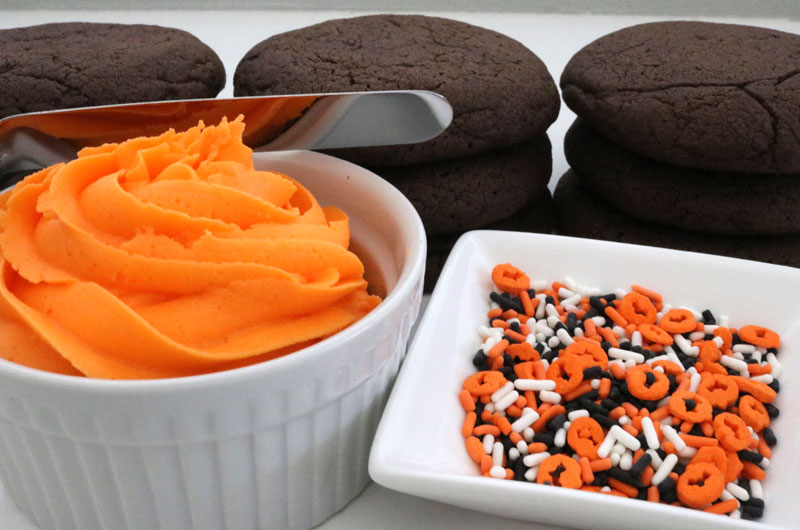 Make up a batch of our delicious Best Buttercream Frosting.  (You can find the recipe right here.)  We colored our orange using 6 drops of Orange Wilton Color Right food coloring.  Use a knife to frost the Chocolate Cookies with Best Buttercream Frosting.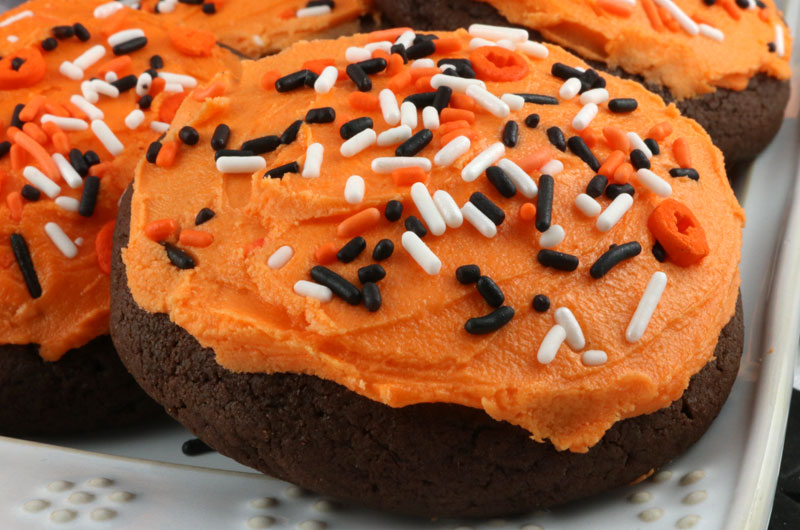 Before the frosting sets up, sprinkle on some pretty Halloween Sprinkles.  That's all there is to it. Easy Peasy Halloween-y.
These Halloween Chocolate Cookies are super yummy.  The cake-y cookies really combine well with the our sweet and creamy Best Buttercream Frosting.  And the orange frosting on the chocolate cookies is tailor-made for Halloween. This is an easy last-minute Halloween party idea!

P.S. Let's stay in touch!  If you liked our Halloween Chocolate Cookies post, [thrive_2step id='10744′]click here to sign up for our Email Newsletter![/thrive_2step]
Or follow us on Pinterest, Facebook and Instagram!
**This post contains affiliate links but we only recommend products that we actually used and liked. Thanks for supporting Two Sisters Crafting!

Halloween Chocolate Cookies
Author:
Two Sisters Crafting
Ingredients
1 cup butter (Sweet Cream, Salted)
¾ cup Granulated Sugar
⅔ cup Brown Sugar (packed)
2 Eggs
1 tsp. Vanilla
2¼ Cups Flour
⅔ Cup Unsweetened Cocoa Powder
1 tsp. Baking Soda
¼ tsp. Salt
Wilton Color Right Food Coloring - Orange
Halloween Sprinkles
Instructions
Mix dry ingredients together and set aside.
Cream butter and sugars.
Mix in Eggs and Vanilla.
Fold in dry ingredients.
Roll dough into balls.
Bake in a 350 degree oven for 9-11 minutes.
Frost with our The Best Buttercream Frosting
Sprinkle with Halloween Sprinkles