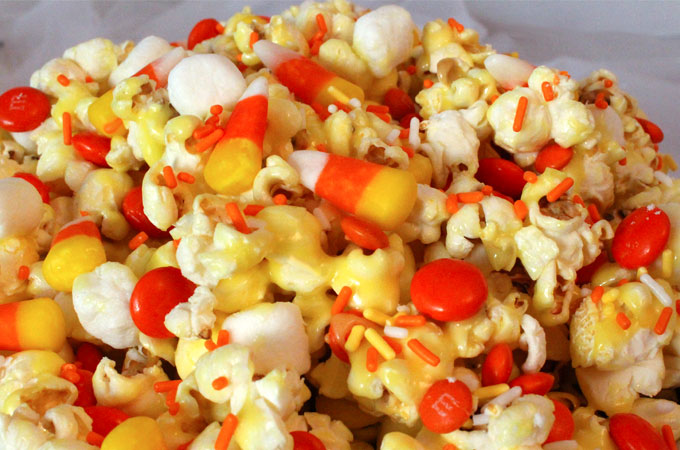 I love popcorn.  I swear I would eat it every day if I could.   Laurie and I were working on our Witch Hats Rice Krispie Treats recently, and I told her I thought we should take the marshmallow mixture and pour it over popcorn.  Laurie thought we should add candy corn, and thus an idea was born.  This Candy Corn Popcorn will be a perfect snack while the family is snuggled up watching The Great Pumpkin Charlie Brown.

How to make Candy Cane Popcorn
You will need:
Popcorn
Salt
3 tablespoons Butter (Sweet Cream Salted)
3 cups Mini Marshmallows
Candy Corn
M&M Candies – Orange and Yellow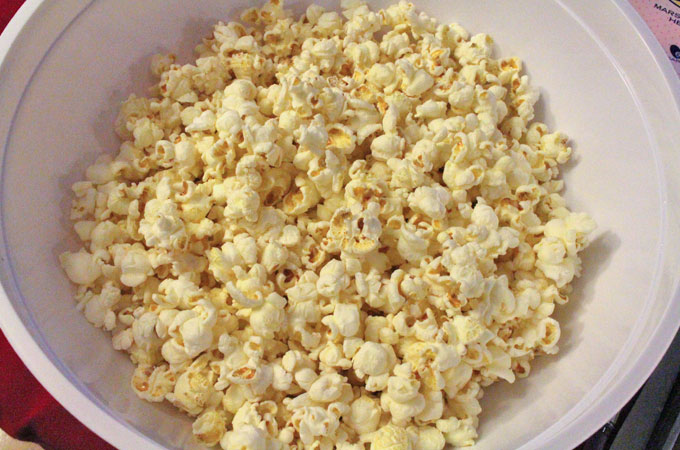 Start with approximately 10 cups of popcorn. Make sure you get out all of the un-popped kernels.  You don't want to bite down on one of those!  We pop our popcorn on the stove (you can find our directions on How to Make Perfect Popcorn here) but you can use air-popped or microwave.  Once you have the popcorn made, salt it liberally.  It is so nice to taste the salty with the sweet marshmallow coating.  Not quite like Kettle Corn but close.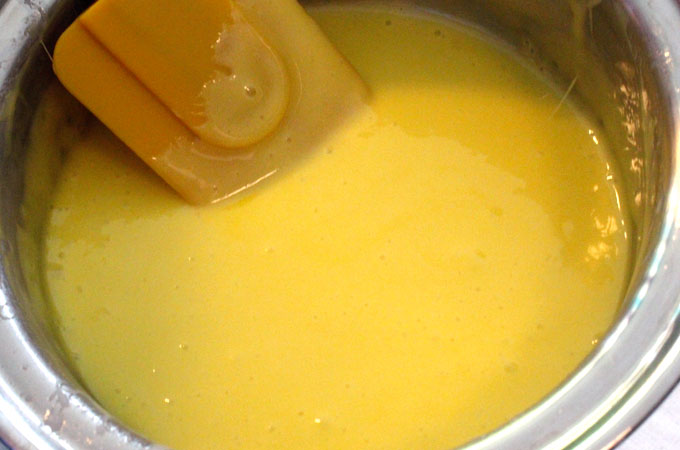 Now make the marshmallow mixture.  Melt 3 tablespoons butter in a medium sauce pan.  Once the butter is melted add 3 cups of mini marshmallows. Stir until the marshmallows are melted.  Turn off the heat.  We added one drop of yellow food coloring to go with our Candy Corn theme.  You can leave the marshmallow mixture white , or try orange. That would be pretty too.
Pour about 3/4 of the marshmallow mixture over the popcorn. Using the wooden spoon, gently fold the marshmallow mixture in with the popcorn until it is mostly covered.
Now pour the popcorn onto a cookie sheet covered with foil.  Drizzle the remaining marshmallow mixture over the popcorn.  To not mix. You will need the mixture at the top so the candy will have something to stick stick to.

Here is the candy that we added to our Candy Corn Popcorn.  We used 1/2 cup of mini marshmallows, a handful of orange M&M minis, a handful of yellow M&M's, a handful of orange M&M's and a couple of handfuls of candy corn.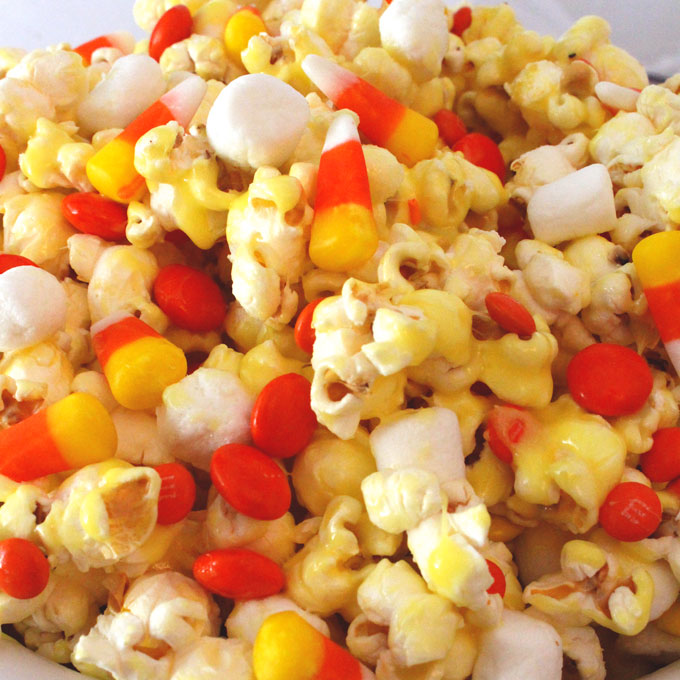 Don't wait too long to add the candy. You want the marshmallow mixture to still be warm and sticky.  Sprinkle the candy onto the popcorn, concentrating on the areas with the drizzled marshmallow mixture.  Allow the popcorn to cool.  Break apart into pieces and serve.
So pretty and festive and perfect for a Halloween themed movie night or as an extra Halloween party snack.
My daughter and my sister loved the Candy Corn Popcorn.  It was sweet but salty and a little bit chocolatey.  It was super delicious, easy to make and looked so perfect for Halloween.
P.S. Let's stay in touch!  If you liked our Candy Corn Popcorn post, [thrive_2step id='10744′]click here to sign up for our Email Newsletter![/thrive_2step]
Or follow us on Pinterest, Facebook and Instagram!
**This post contains affiliate links but we only recommend products that we actually used and liked. Thanks for supporting Two Sisters Crafting!
More Fun Halloween Recipes …
If you want to stay up-to-date on all our Halloween posts, Follow Two Sisters Crafting on Pinterest!
Follow Two Sisters Crafting's Halloween Food board on Pinterest.