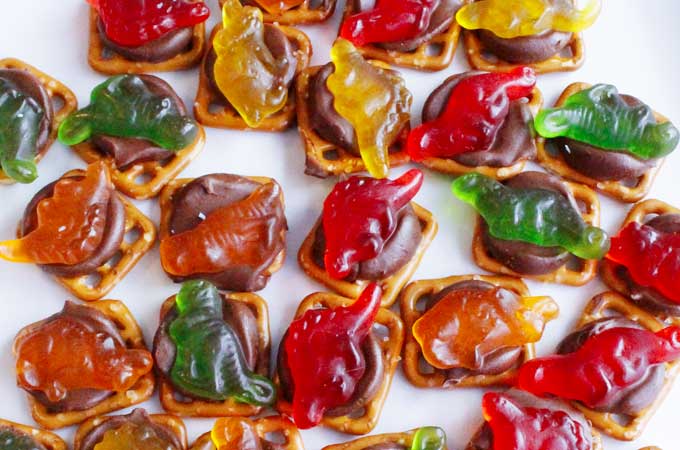 In our neverending quest to create a pretzel bite for every occasion, we give you our Gummy Dinosaur Pretzel Bites.  They are surprisingly yummy and super easy to make.  And the kids at our Dinosaur Birthday Party went crazy over them.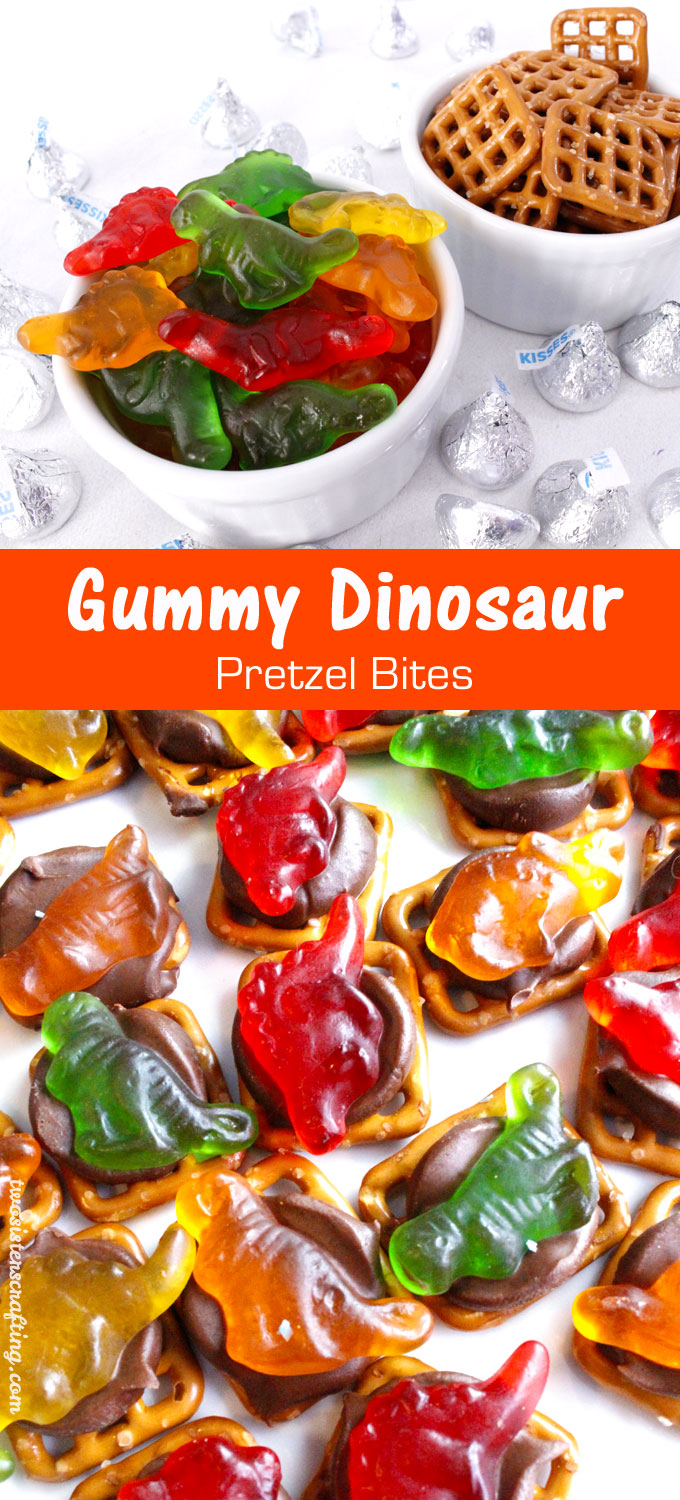 How to Make Gummy Dinosaur Pretzel Bites
You will need:
Pretzel Snaps
Hershey's Kisses
Gummy Dinosaur candies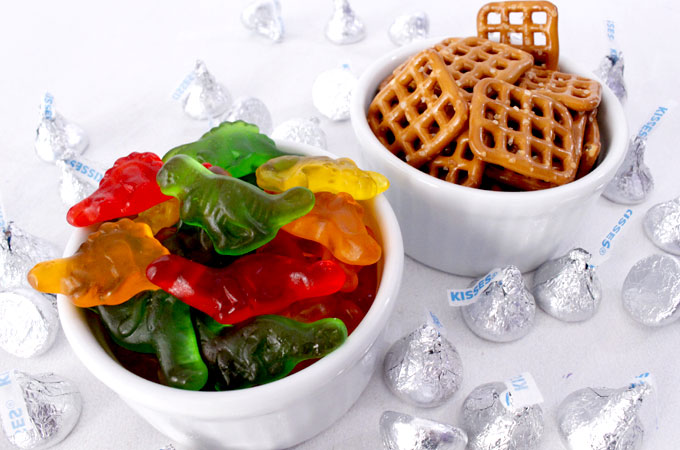 There are only three ingredients necessary to make this yummy dinosaur themed treat – Pretzel Snaps, Hershey's Kisses and Gummy Dinosaurs. We found our Gummy Dinosaurs on Amazon.com.
We like to use the square Pretzel Snaps when making Pretzel Bites but you can also use regular mini pretzels.  First, place 8-10 Pretzel Snaps on a paper plate. Cover the pretzels with a Hershey Kiss.  As you can see in this picture, we cut the top of the Kiss off so the chocolate would press down a little more evenly.
Place the paper plate in the microwave and heat for approximately 45-50 seconds. The exact timing will take a bit of trial and error.  You want the chocolate to be melted enough to press the gummy dinosaur into, but not so melted that the chocolate kiss loses its' shape.  In the picture above you can see that the chocolate kisses have a sheen to them – this is what they look like when they are the melted the perfect amount.  The exact time in the microwave will depend on how many pretzels/candy's you do at one time, how powerful your microwave is, the type of pretzels you are using, etc.  For us, 8-10 pretzels snaps take 50 seconds to melt to the right consistency.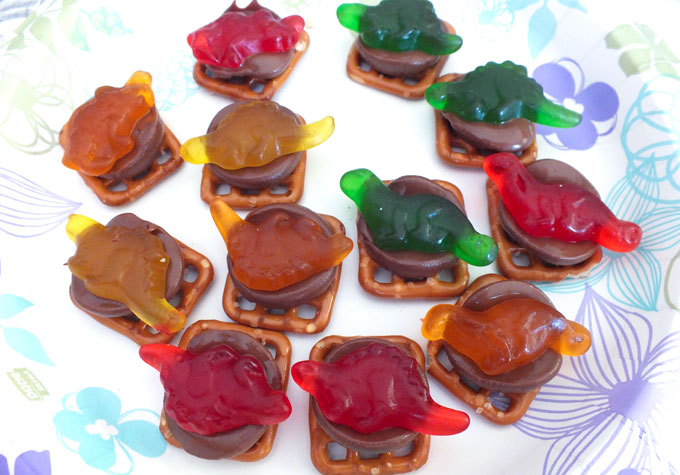 Finally, just press the Gummy Dinosaurs into the melted chocolate. It's that easy to make these adorable sweet and salty treats.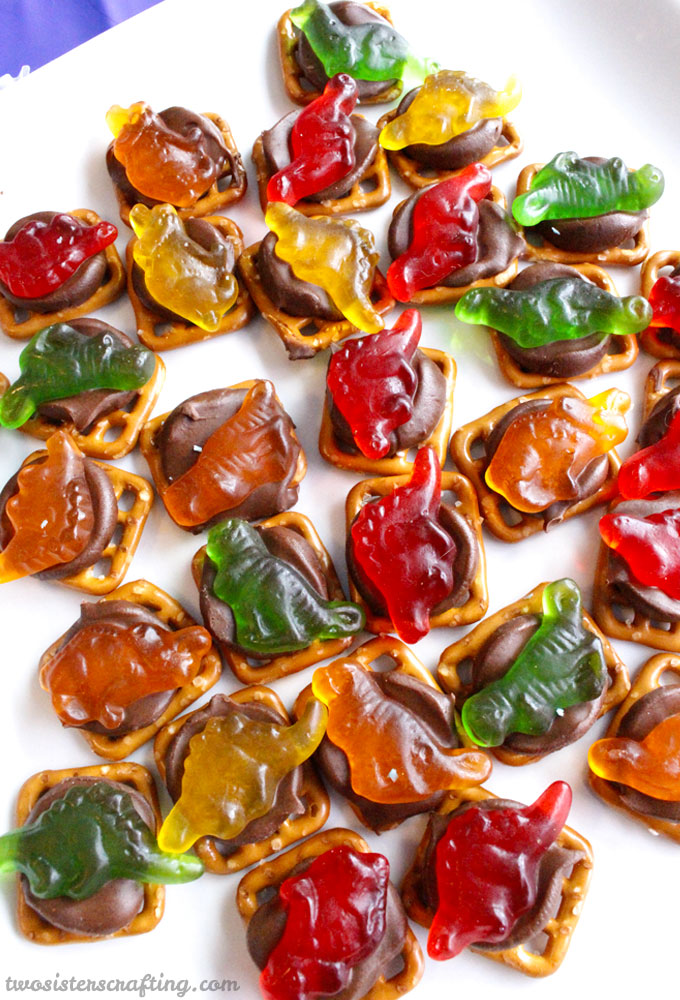 This was a very popular snack on our Dinosaur Party Dessert Table.  Sweet, salty, crunch AND chewy!!  Inspired by Chocolate Gummy Bears, we were really happy with how our Gummy Dinosaur Pretzel Bites turned out and we highly recommend them as a quick and easy dessert for that dinosaur lover in your family!

If you want to stay up-to-date on all our Dinosaur Party posts, Follow Two Sisters Crafting on Pinterest!
Follow Two Sisters Crafting's board Dinosaur Ideas on Pinterest.