When my daughter was little, Laurie and I revamped one of our childhood traditions for her.  We call it Christmas Eve Eve and it is a special quiet family night that we plan for December 23rd.  This year we decided to give our Christmas family night a How the Grinch Stole Christmas theme.  Once we decided that our movie would be this classic Christmas tale, we decided to make some treats to go with the movie.  In true Two Sisters fashion, one Grinch treat turned into four.  My daughter's favorite treat is a pretzel bite (or cookie as she calls it), so we puzzled and puzzled until our puzzlers were sore and came up with these delicious and fun Grinch Pretzel Bites.

How to Make Grinch Pretzel Bites
You will need: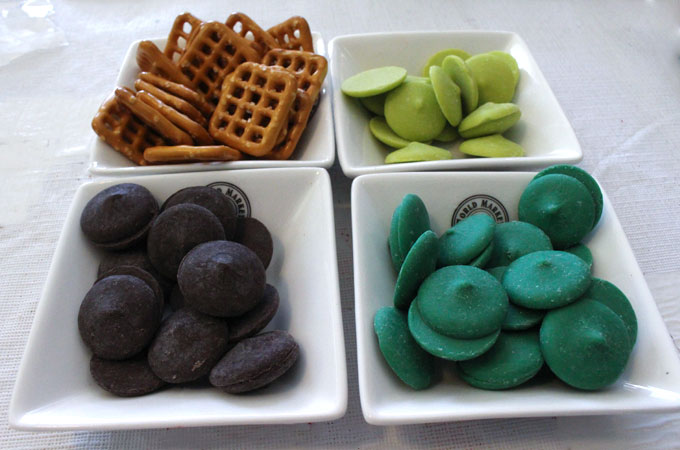 We like to use the square Pretzel Snaps when making Pretzel Bites but you can also use the round mini pretzels.  You'll also need some Candy Melts – you'll combine Bright Green and Green to make the perfect shade of "Grinch Green".  And then you'll need  Hershey's Kisses. Wilton Chocolate Candy Melts or Ghirardelli Chocolate Melting Wafers as the chocolate base for the Pretzel Bite.  We used Ghirardelli Chocolate Melting Wafers for this batch.
You will also need some confetti jumbo heart sprinkles.  We found ours at Amazon but you could also make these yourself with some red Royal Icing.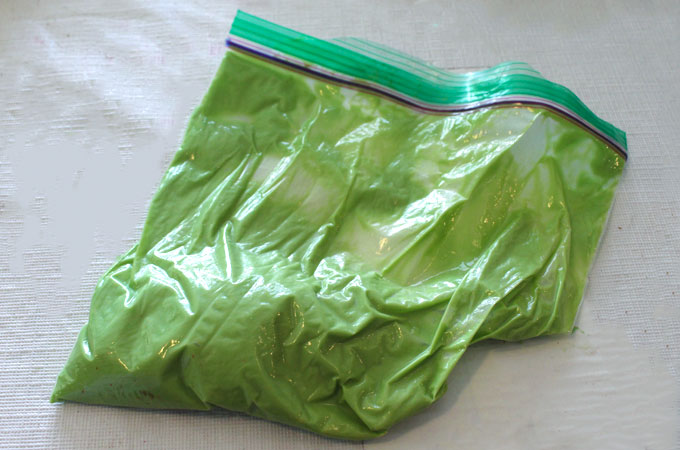 Wilton doesn't have a Candy Melt that is the exact right shade of Grinch Green so we blended our own color.  We put approximately 20 Bright Green Candy Melts in a plastic sandwich bag with 4 Green Candy Melts.  We melted them in the microwave, checking it every 20 seconds, using our hands to smush the candy melts together until they were totally melted.  The handful of darker green candy melts along with the more yellow-y Bright Green Candy Melts will combine to make the perfect "Grinch" color.
First, place 7-8 Pretzel Snaps on a paper plate. Cover the pretzels with a Ghirardelli Chocolate Melting Wafers (you can also use a Hershey's Kiss or a Wilton Dark Chocolate Candy Melt.)  We place the candy melts bottoms-side up on the pretzel bites so we have a smooth surface to work with. Heat in a microwave oven for approximately 30-45 seconds. The exact timing will take a bit of trial and error.  You want the candy to be melted enough to stick to the pretzel but not so melted that the candy melt loses its' shape and the chocolate starts dripping off of the pretzel.  The exact time in the microwave will depend on how many pretzel/candy's you do at one time, how powerful your microwave is, the type of pretzels you are using, etc.  For us using the Ghirardelli Chocolate Melting Wafers, 7-8 pretzels took 40 seconds to melt to the right consistency.
Snip off the tiniest bit of plastic off the corner of the sandwich bag so you can pipe on the green candy onto the Chocolate candy.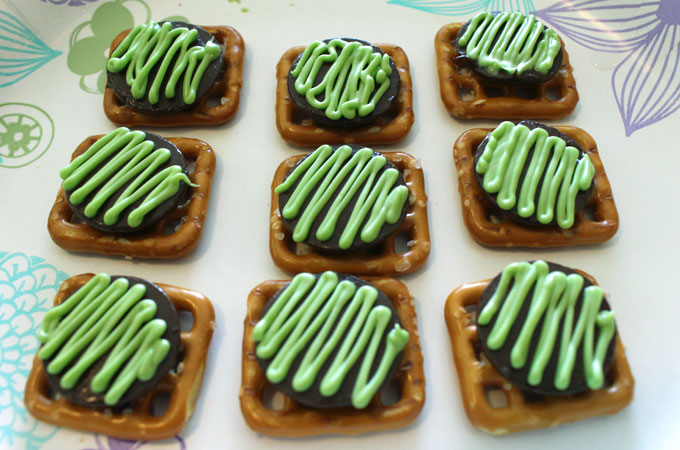 We make some squiggly green lines across all of the pretzel bites.
Finally, add one of the Heart confetti sprinkles to each Candy Melt because Grinch's heart grew three sizes that day!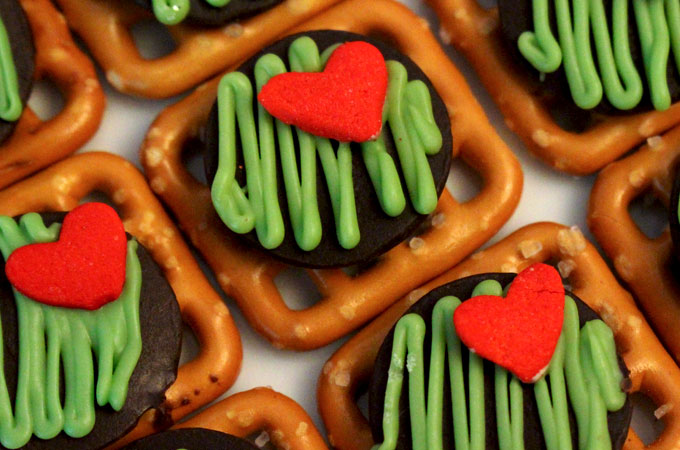 These Grinch Pretzel Bites are so fun and adorable!  We love how they turned out.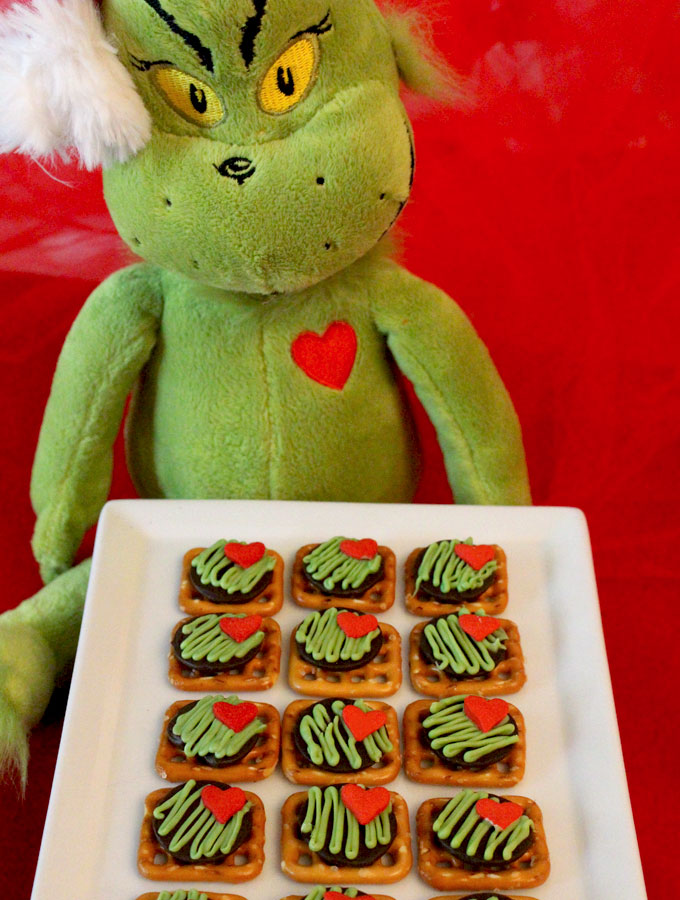 These Grinch Pretzel Bites are going to be the perfect treat at our Christmas Eve Eve How the Grinch Stole Christmas movie watching night!  (And if you are looking for this adorable Grinch plush you can find it here!)

P.S. Let's stay in touch!  If you liked our Grinch Pretzel Bites post, [thrive_2step id='10744′]click here to sign up for our Email Newsletter![/thrive_2step]
Or follow us on Pinterest, Facebook and Instagram!
**This post contains affiliate links but we only recommend products that we actually used and liked. Thanks for supporting Two Sisters Crafting!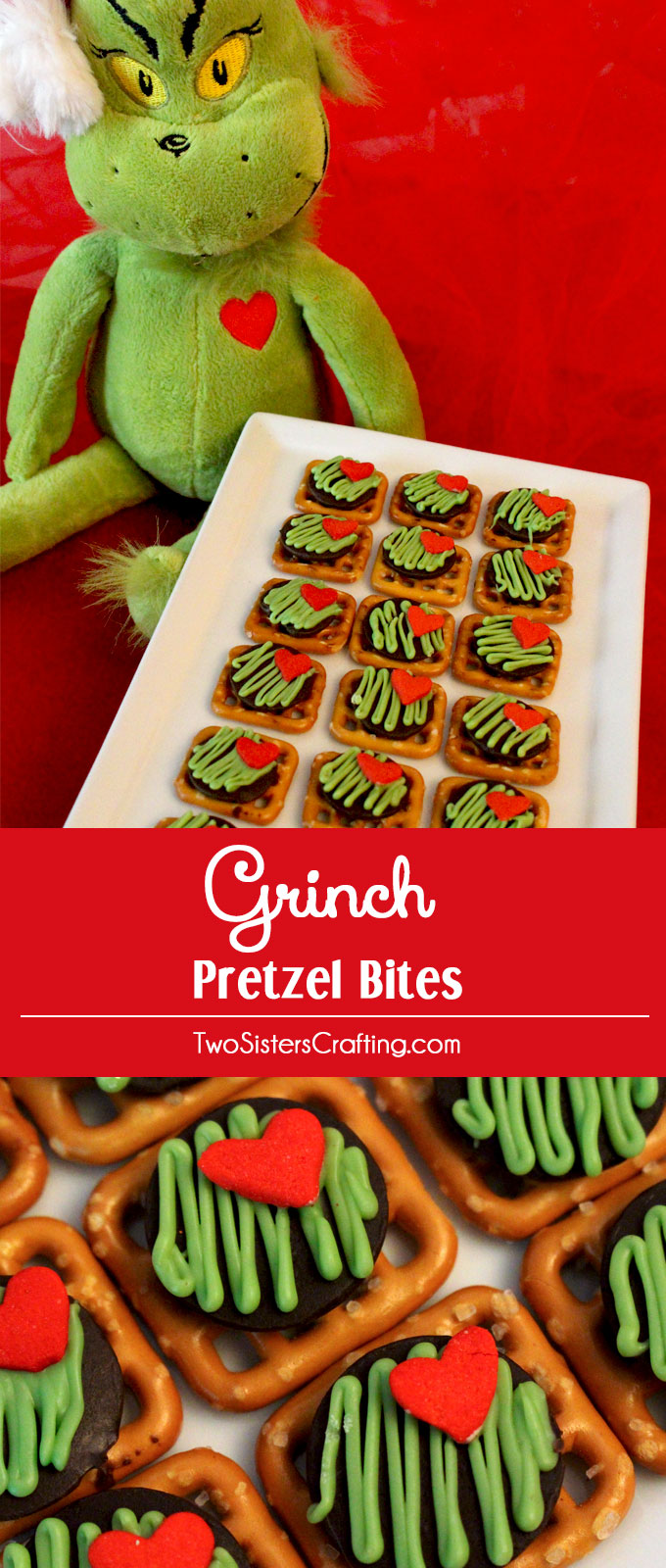 More Fun Christmas Recipes …
If you want to stay up-to-date on all our Christmas posts, Follow Two Sisters Crafting on Pinterest!
Follow Two Sisters Crafting's Christmas Desserts board on Pinterest.