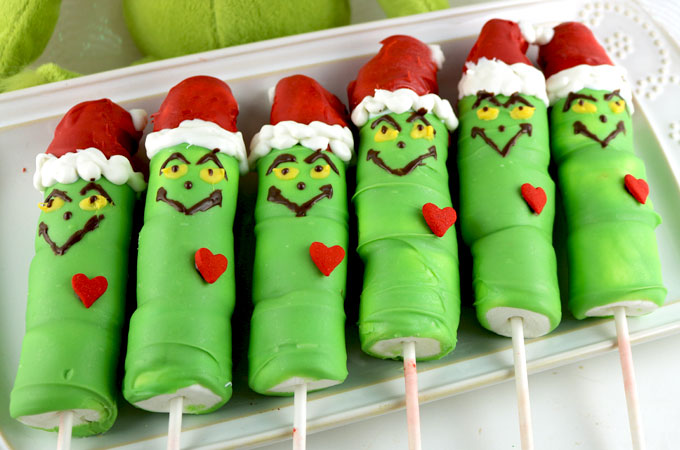 And the Grinch's small heart grew three sizes that day … at least that is how the story goes in How the Grinch Stole Christmas.  These Grinch Marshmallow Pops are so cute and tasty that they might do the same thing for any Grinch-y person you might know.


How to Make Grinch Marshmallow Pops
You will need:
Regular sized Marshmallows
Chocolate Chips
Find 4 marshmallows that are approximately the same size.  Cut a whole in the middle of the bottom of the marshmallows with a knife.  This will make it easier to thread the lollipop stick through the marshmallows.
Place three marshmallows on a lollipop stick and prepare your green candy melts for melting.
We used a long shallow pan to melt the candy melts.  We mixed 45 Bright Green Candy Melts with 15 Dark Green Candy Melts to get the Grinch-y shade of green.  We placed them in the pan and microwaved them for 30 seconds, checked them, gave them a stir and then microwaved them for 10 seconds more. Stirred and then microwaved them for another 10 seconds.  Once they were almost completely melted we took them out gave them a final stir.  This number of candy melts covered six Grinch Marshmallow Pops.
Then we used a spoon to help cover the three marshmallows and also to smooth out the candy melts once it was on the marshmallows.
Allow the green candy melt mixture to dry completely.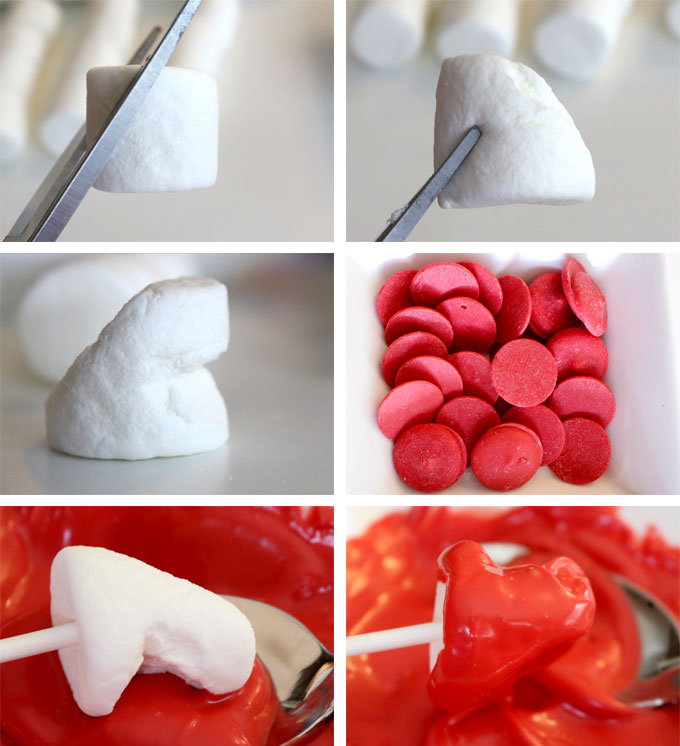 Create the Grinch's Santa Hat from the fourth marshmallow.  Cut the marshmallow into the shape of a hat by making the cuts shown in the pictures above.  You want to angle one side and cut out a notch on the other side.
Melt 20 Red Wilton Candy Melts.  Use a spoon to cover the marshmallow Santa hat. We placed the marshmallow on a lollipop stick to make it easier to cover it with the candy melt mixture.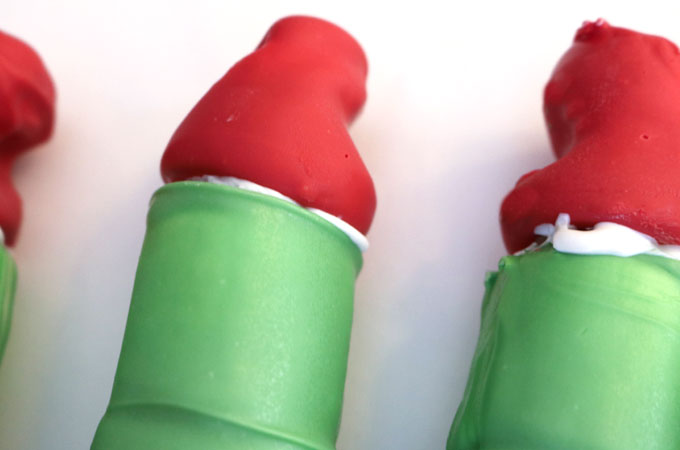 Once the Marshmallow hat is dry, affix it to the top of the Grinch Marshmallow Pop with a bit of candy  melt mixture (we used white but you could also use some of the leftover green candy mixture.
Place 10-15 Bright White Candy Melts in a sandwich bag.  Melt them in the microwave.  Snip off a very small corner of the sandwich bag and then use the melted white candy melts to create the fur for the Grinch Santa Hat.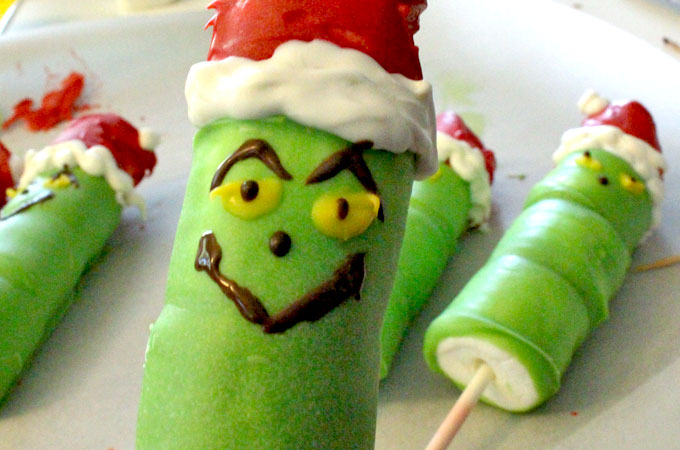 Now you are ready to make the Grinch face.  You will need to melt a couple of yellow Candy Melts and a handful of chocolate chips.  Using a toothpick, create the Grinch's eyes, eyebrows and mouth.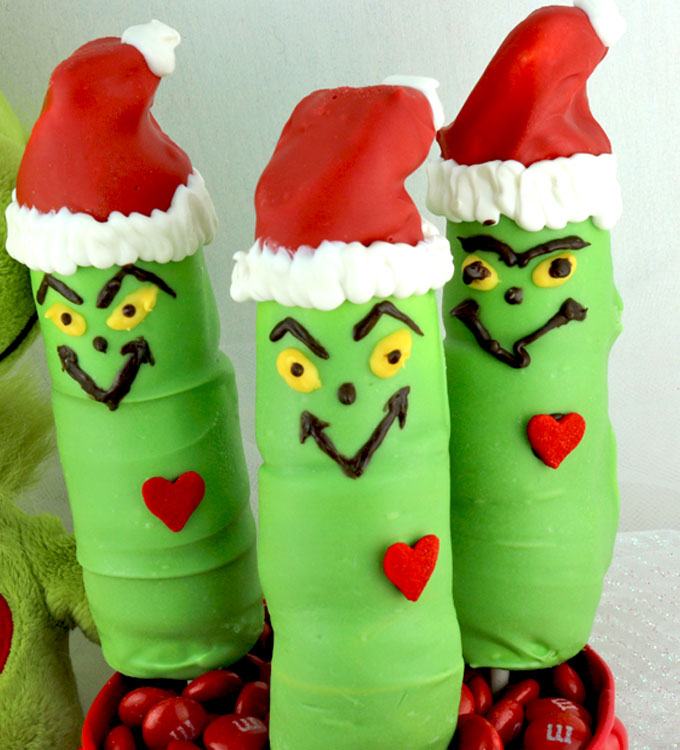 Finally, affix a Jumbo Heart Sprinkle on the Grinch Marshmallow Pop so everybody can see that he does have a heart after all! (We used a small bit of the same melted chocolate chips that we used for the Grinch's face.)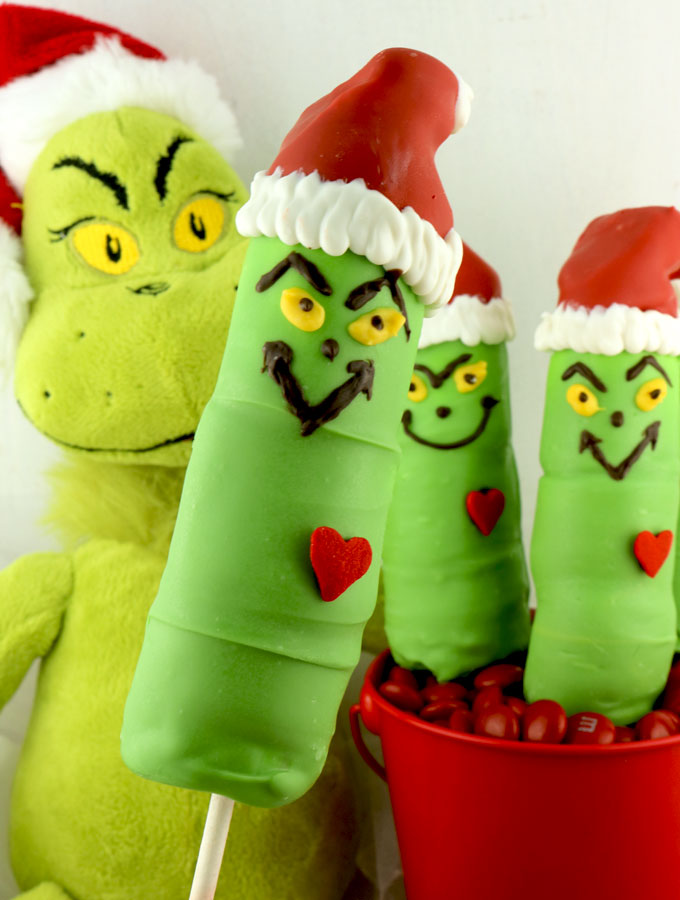 Grinch Marshmallow Pops are both fun and delicious. Wouldn't they be great for a Holiday Bake Sale?  Or as a special treat for your How the Grinch Stole Christmas family movie night? The whole family will have fun making these yummy treats. Merry Christmas everyone!
P.S. Let's stay in touch!  If you liked our Grinch Marshmallow Pops post, [thrive_2step id='10744′]click here to sign up for our Email Newsletter![/thrive_2step]
Or follow us on Pinterest, Facebook and Instagram!
**This post contains affiliate links but we only recommend products that we actually used and liked. Thanks for supporting Two Sisters Crafting!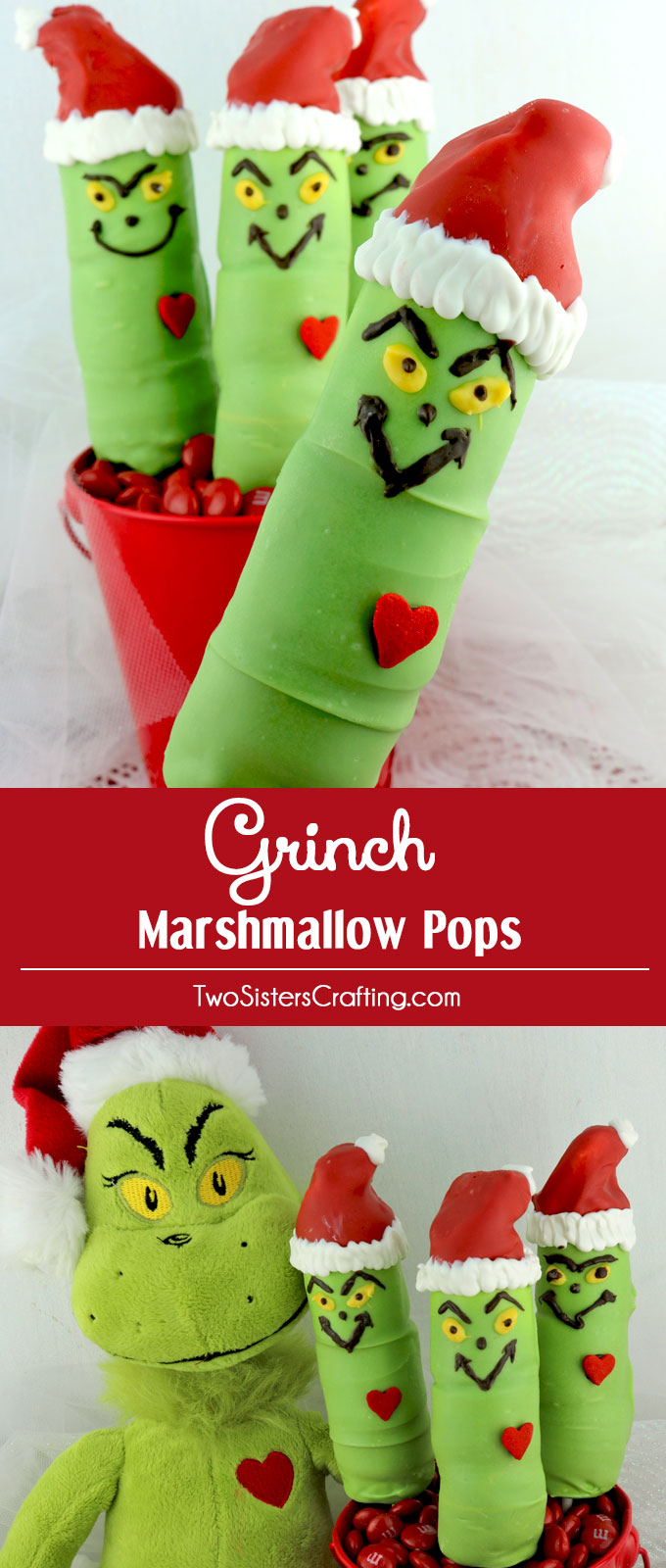 More Fun Christmas Recipes …
If you want to stay up-to-date on all our Christmas posts, Follow Two Sisters Crafting on Pinterest!
Follow Two Sisters Crafting's Christmas Desserts board on Pinterest.