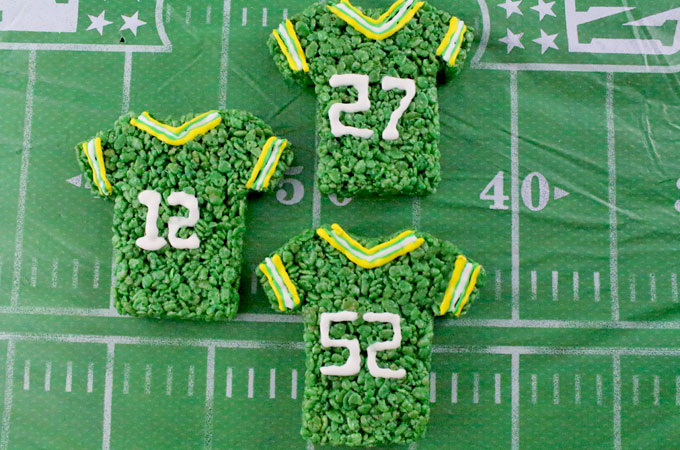 Did you know that women make up 45% of the NFL viewership?  Nancy and I were raised on football.  Watching games on Sunday is as normal to us as watching Curious George with Allison every other day of the week.  We wanted to do something to celebrate football so we made these cute Green Bay Packers Rice Krispie Treats Team Jerseys.  They are the perfect Game Day Treat.  Make up a batch and bring them to your next football party or as a special treat for any Packers fans you may know.

How to make Green Bay Packers Rice Krispie Treats
You will need:
Kellogg's Rice Krispies Cereal
Butter (We use Salted, Sweet Cream Butter)
Mini Marshmallows
Royal Icing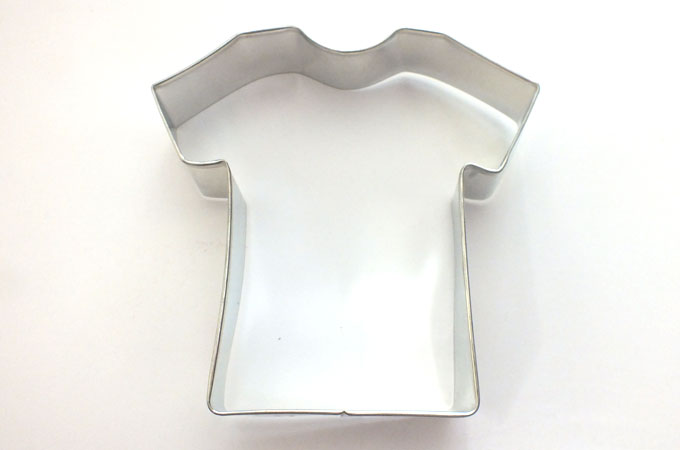 We found this T-Shirt cookie cutter on Amazon – it makes a perfectly shaped Football Jersey but it could be used for so many other sport theme treats (baseball, soccer, etc.)
We used Royal Icing to decorate the Green Bay Packers Rice Krispie Treats.  Our recipe is very simple – mix 1 box of powdered sugar with 5 tablespoons of meringue powder and slowly add up to 1/2 cup of water until the Royal Icing is the right consistency.  To color the Royal Icing, you will need black food coloring.  This recipe makes quite a bit of Royal Icing so you might want to adjust the measurements depending on how many team jerseys you will be making.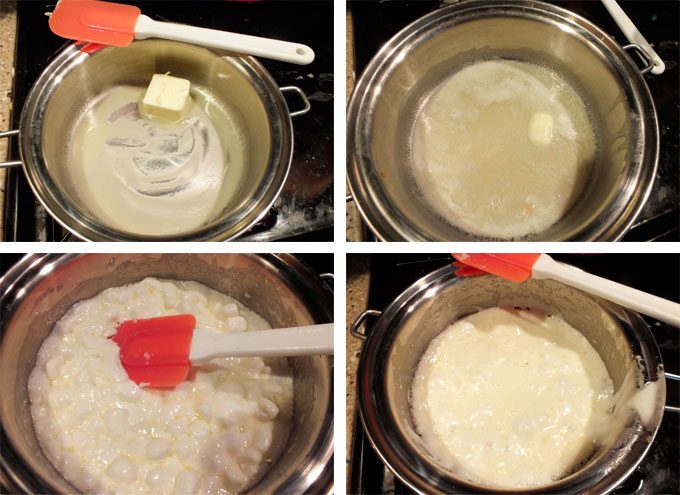 Now you need to make up a batch of Rice Krispie Treats.  Our cookie cutter is pretty big so we only made three team jerseys from this size batch.   We used 3 tablespoons of butter, 3 cups of marshmallows and 3 cups of Rice Krispie Treats for this sized batch of Rice Krispie Treats mixture.  If you are going to make more than 3 Green Bay Packers Rice Krispie Treats you will need an additional 1 cup of mixture for every extra team jersey Rice Krispie Treat. Melt the butter in a pan.  Add the mini marshmallows and stir on medium low heat until they are completely melted as shown in the images above.
After the marshmallows have melted but before you add the Rice Krispie Cereal, add your food coloring.  To make the right shade of Green from the Green Bay Packers Jersey's we added the following combination of food coloring to the marshmallow mixture:
2 Drops of Leaf Green Americolor Food Coloring
1 Drop of Forest Green Americolor Food Coloring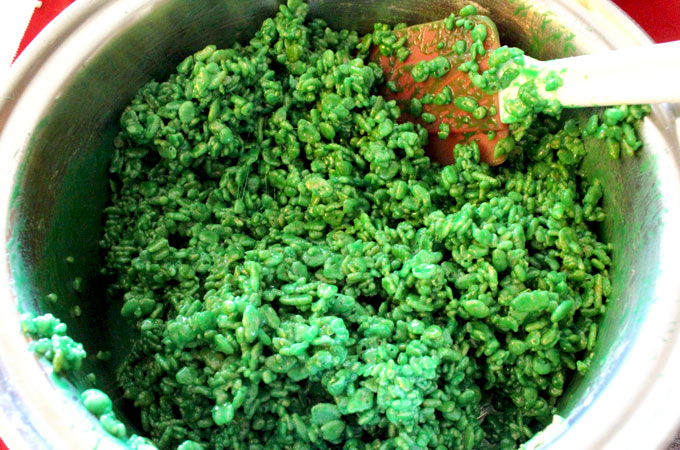 Finally, add the Rice Krispie Cereal and fold it together until the cereal is completely covered with the green marshmallow mixture.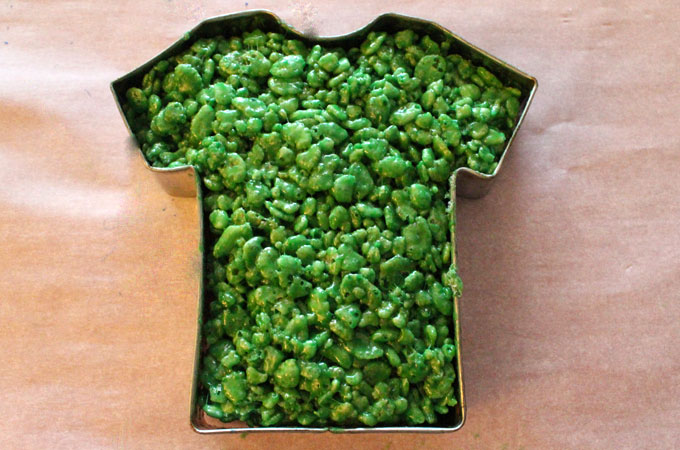 Let the green Rice Krispie Treat mixture cool for a few minutes. It needs to be cool enough to touch but still malleable.  Spoon the mixture into the cookie cutter and mold it to fit the football jersey cookie cutter.   Remove from the cookie cutter and let it cool completely.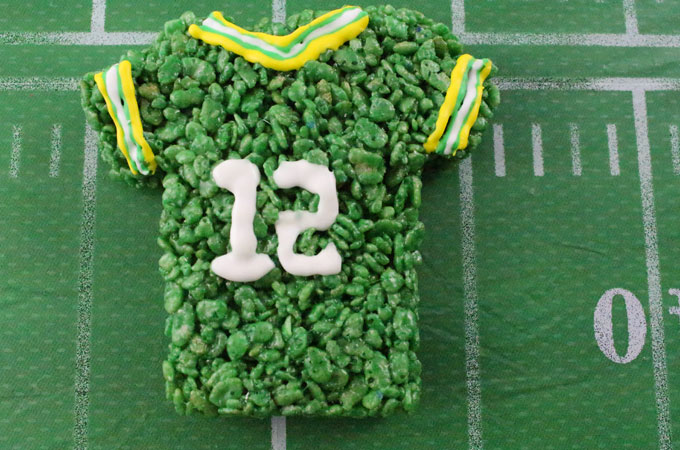 Use the white and yellow Royal Icing to mimic the Green Bay Packers Football Jersey.  We added team numbers of our favorite players and the iconic White and Yellow stripes on the sleeve  and neck of the jersey.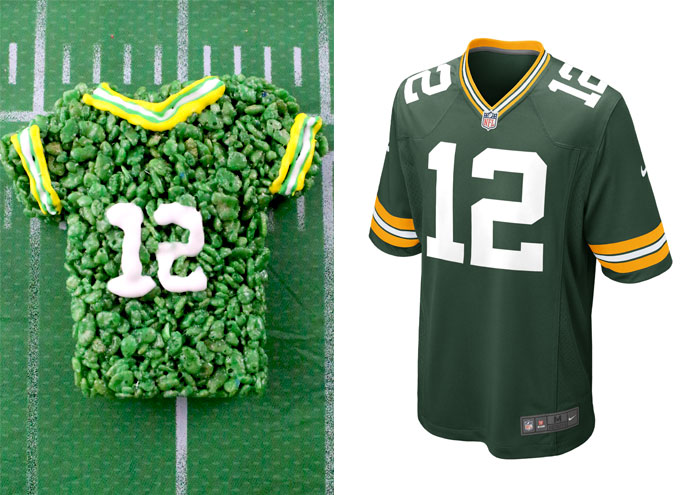 Pretty close if we don't say so ourselves! Our Green Bay Packers Rice Krispie Treats are ready for game day!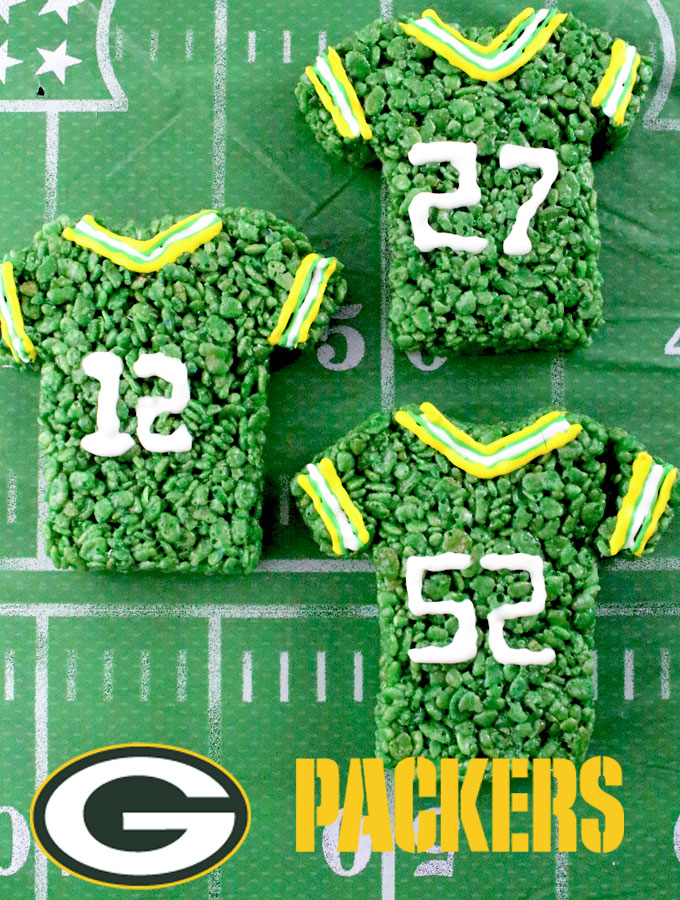 These Green Bay Packers Rice Krispie Treats are a perfect dessert for a game day football party, a Super Bowl party or an anytime special snack for a Packers fan.

P.S. Let's stay in touch!  If you liked our Green Bay Packers Rice Krispie Treats post, [thrive_2step id='10744′]click here to sign up for our Email Newsletter![/thrive_2step]
Or follow us on Pinterest, Facebook and Instagram!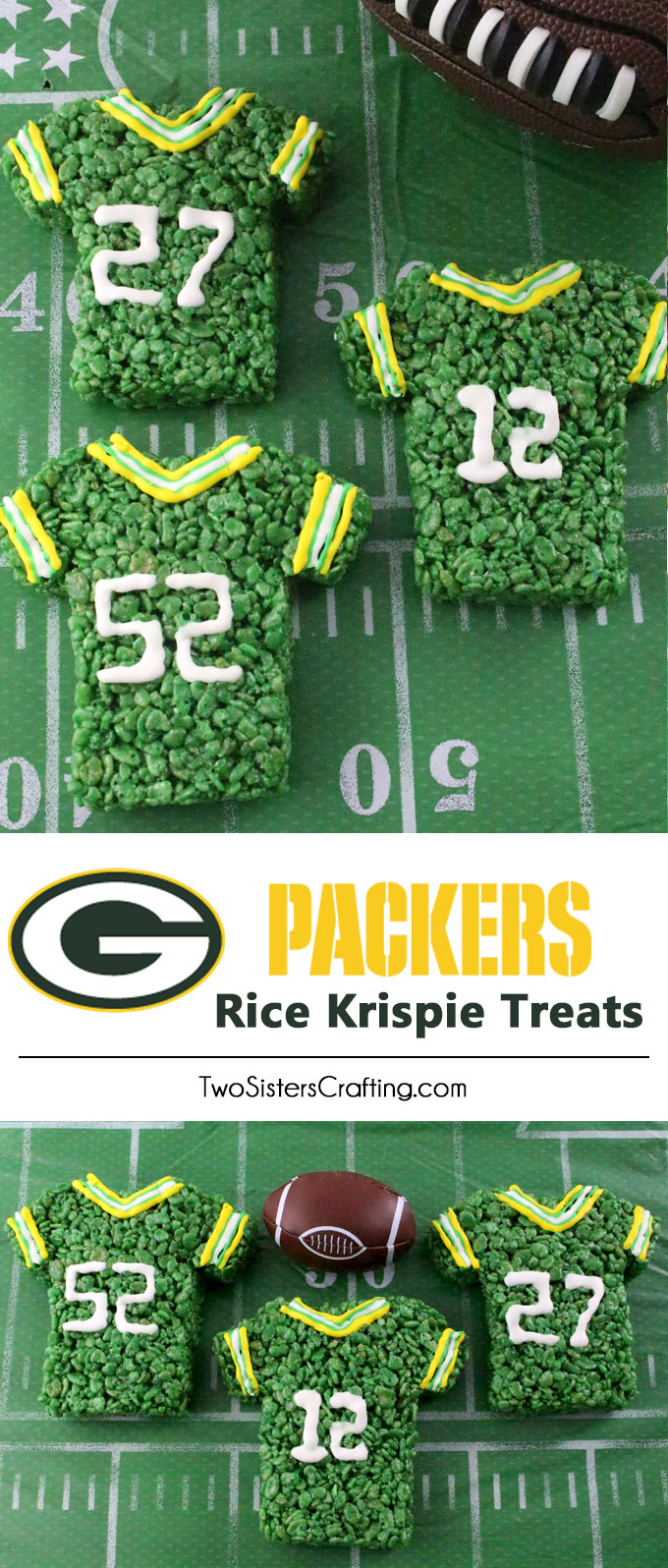 More great Green Bay Packers Recipes …
If you want to stay up-to-date on all our Game Day Treat ideas, Follow Two Sisters Crafting on Pinterest!
Follow Two Sisters Crafting's Game Day Treats board on Pinterest.