Frozen Homemade Snow Cones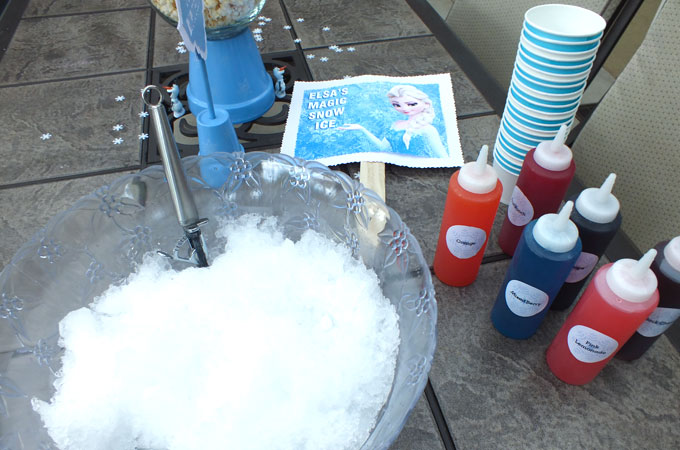 When we first started planning the Frozen birthday party we thought … Frozen … Summer … Snow Cones.  Natural progression right?  We had decided to rent a bounce house so I started looking around for places that would cut me a deal on renting a bounce house and a snow cone machine.  Everyone who said that they had a snow cone machine did not have one to rent that day.  Super annoying.  Our next option was to look at Amazon to see about buying one. Laurie and I agonized over that for weeks.  The ones big enough to shave enough ice for a party were super expensive and we were worried the little ones wouldn't shave enough ice (on top of that I didn't really want to have to buy and store a snow cone maker that we were only going to use once).   We finally decided to crush our own ice and make our own snow cone syrup.   We are so glad we did because our Disney Frozen Homemade Snow Cones and Syrup were an instant Frozen Party hit.
How to Make Frozen Homemade Snow Cones
You will need:
Ice
Sugar
Water
Paper Ice Cream Cups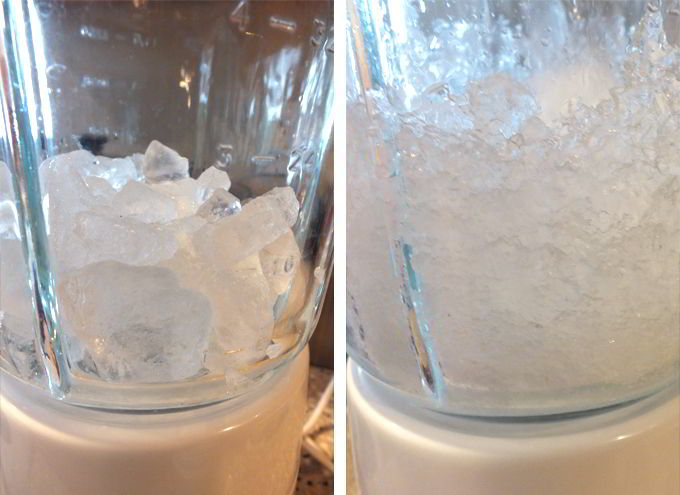 We crushed our ice in a blender and it turned out great.  This blender had a "Crush Ice" setting so we used that.  We pre-crushed the ice a few days before the party and stored it in the freezer in plastic ziplock bags.  During the party, and right before we served the homemade snow cones we quickly ran the crushed ice through the blender a second time to fluff and freshen it up.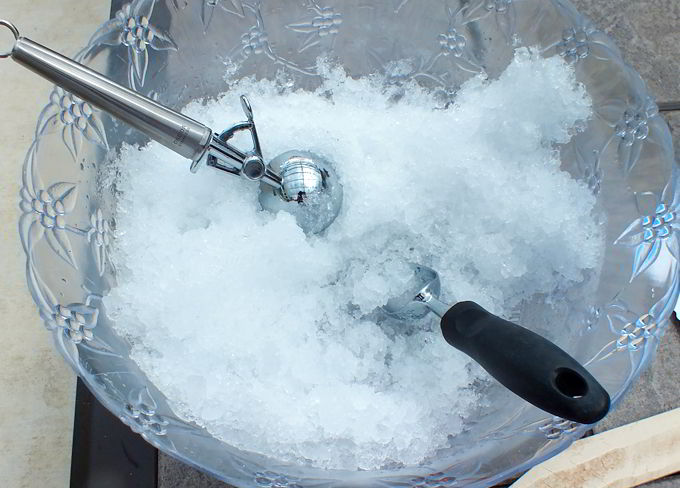 The consistency was perfect.  We didn't need a special snow cone machine after all.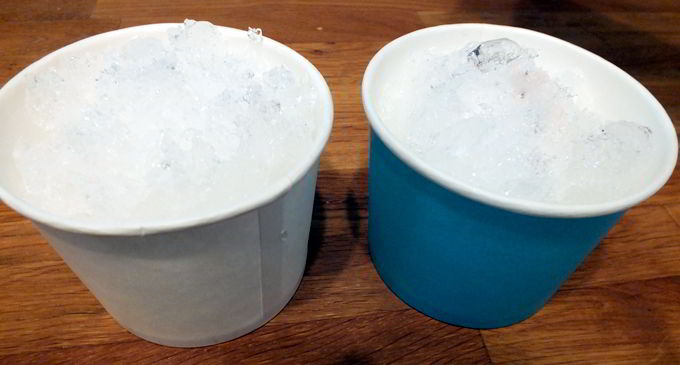 We found these white and blue paper cups at Walmart – they were the perfect sized container for our Frozen Homemade Snow Cones.
Snow Cone Syrup Recipe
3/4 cup Sugar
3/4 cup Water
1 package unsweetened Kool-Aid
We made our own snow cone syrup too.  The recipe is very easy – it is basically simple syrup and Kool-aid.  Pour the sugar and water into a medium sauce pan and bring it to a boil, stirring occasionally.  Turn down the heat and let the simple syrup mixture simmer for 3 minutes.  Add a package of Unsweetened Kool-Aid and stir until well mixed.  Let the syrup cool and then store it in the refrigerator.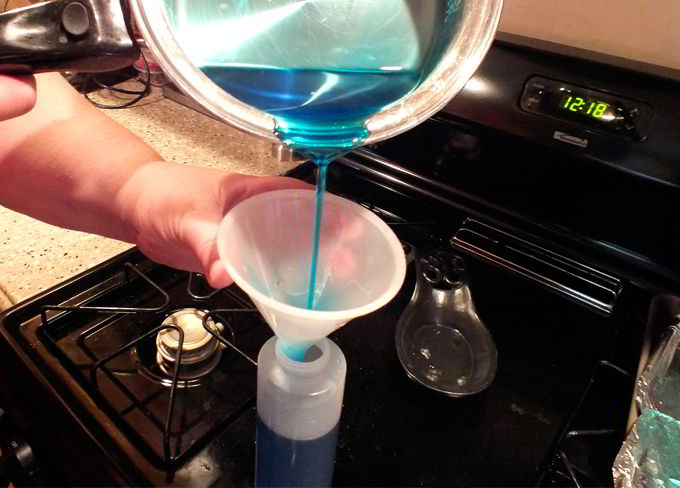 We poured our Homemade Snow Cone Syrup into a plastic squeeze bottles that we found on Amazon for a good price.
Mixed Berry syrup is the perfect color for a Frozen Party.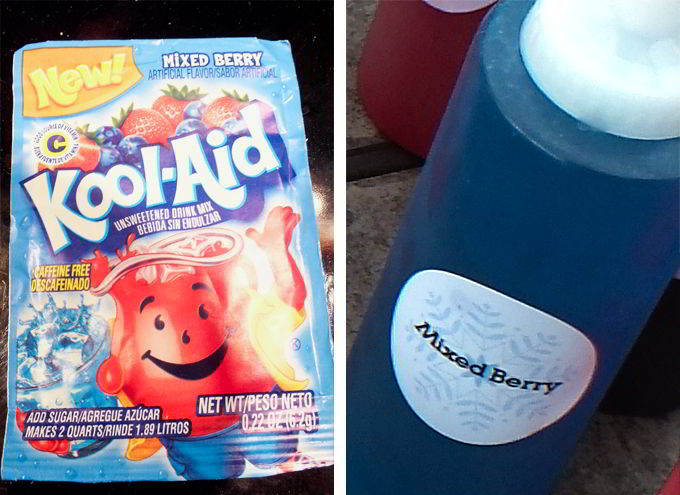 If you want to serve these pretty Frozen themed blue Homemade Snow Cones, use the Mixed Berry Kool-Aid Flavor.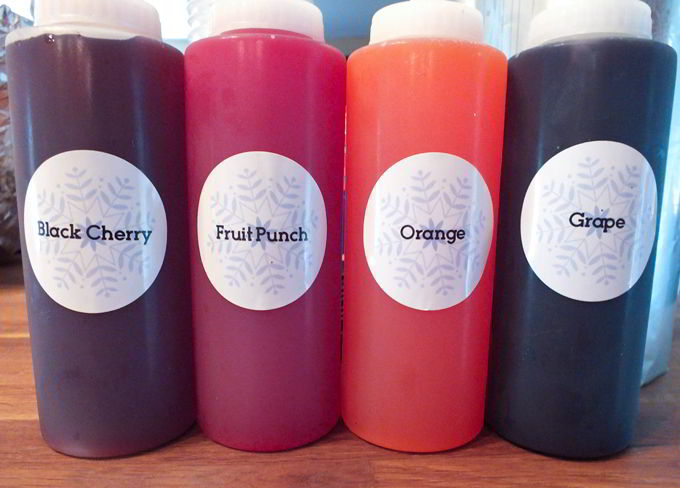 We made snowflake labels with the flavors of the Homemade Snow Cone Syrup using Avery Circle Labels.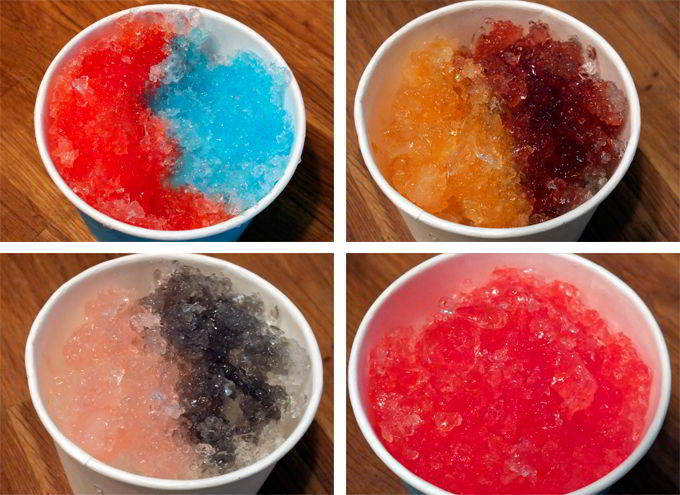 We stationed an adult at the Snow Cone station but let the kids pick which flavors they wanted.  There were a awful lot of "unique" combinations! 🙂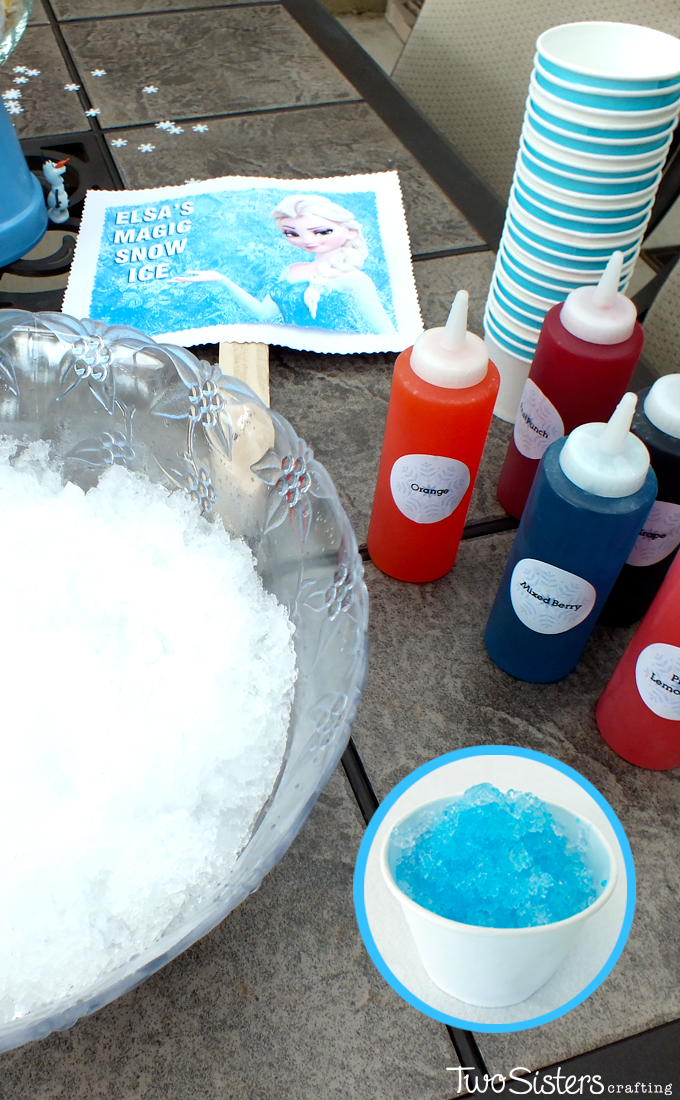 We called our Homemade Snow Cones "Elsa's Magic Snow Ice" and the kids at our Frozen Birthday Party loved them!  This is a great (and easy to prepare) idea for any party on a hot summer day!
**This post contains affiliate links but we only recommend products that we actually used and liked. Thanks for supporting Two Sisters!