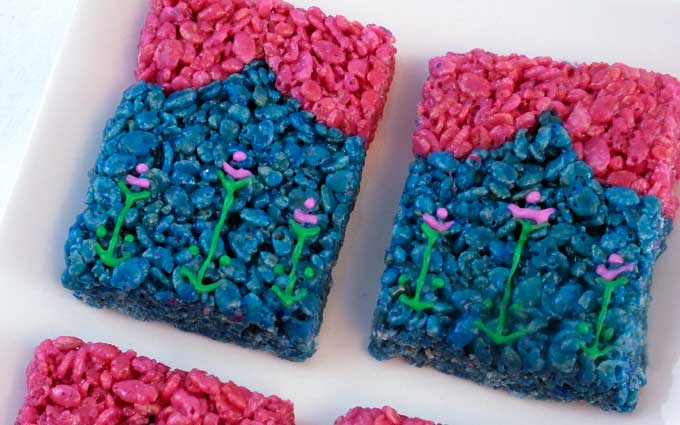 When we hosted our Frozen party last year, we made really fun Ombre Rice Krispie Treats in the colors of Elsa's fancy Ice Queen dress.  Nancy and I were trying to come up with something equally fun for Anna without redoing our Ombre Rice Krispie Treats in Anna colors. After a lot of brainstorming, we came up with these super adorable Anna Rice Krispie Treats.

How to Make Anna Rice Krispie Treats
You will need:
Kellogg's Rice Krispie Cereal
Mini Marshmallows
Butter (Sweet Cream, Salted)
Royal icing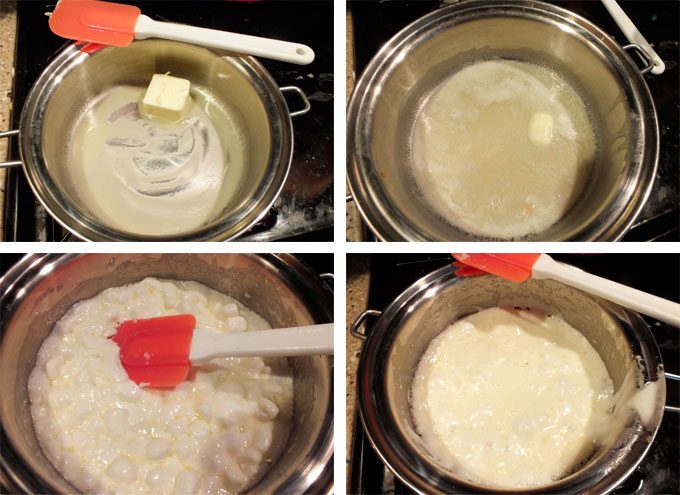 The base for our Elsa Rice Krispie Treats is our Best Ever Rice Krispie Treat Recipe which we have adjusted and perfected over the years until it is now absolutely the best Rice Krispie Treat recipe we have ever tasted.  You can find all the directions you'll need to make these delicious treats right here.
For the Rice Krispie Treats mixture you will need 6 tablespoons of butter, 6 cups of marshmallows and 6 cups of Rice Krispies Cereal.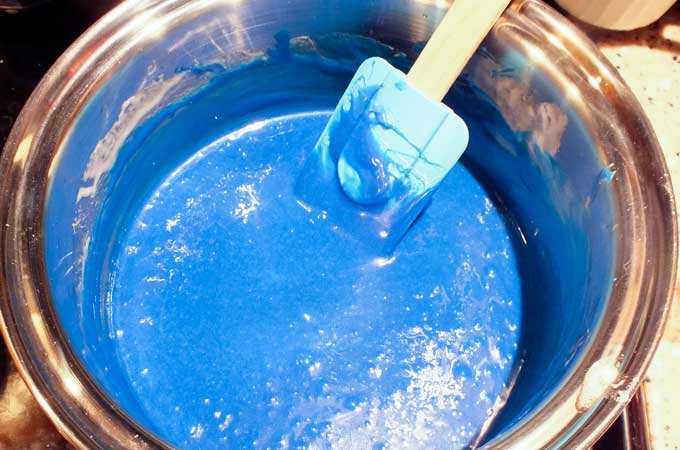 To make the marshmallow mixture the bright blue color from Anna's dress – use Americolor Royal Blue along with a much a smaller amount of Americolor Navy. For marshmallow mixture in this picture we used approximately 3 drops of the Royal Blue vs. 1 drop of the Navy.  The overall color of the Rice Krispie Treats will be much lighter after you add the beige Rice Krispies, so we always make the marshmallow mixture a little darker and/or brighter than we want the final product to ultimately turn out.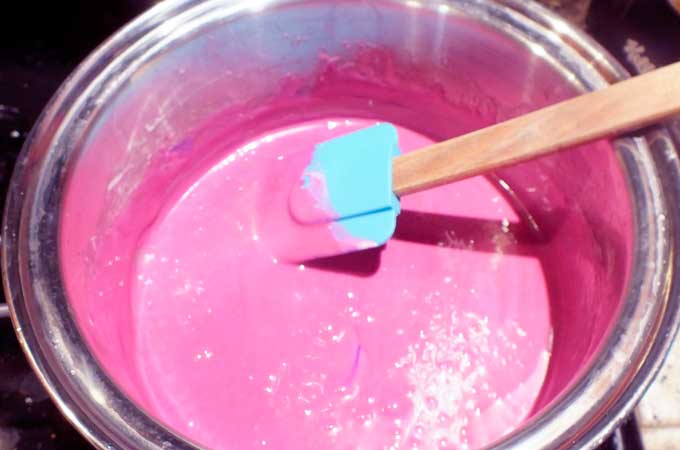 To make these Anna Rice Krispie Treats, you will need less of the Pink Rice Krispie Treats than the blue.  So we made 1/2 of a cookie sheet instead of a full sheet.  For a batch that size you will need 3 tablespoons of butter, 3 cups of marshmallows and 3 cups of Rice Krispies Cereal.   Follow the directions above to make the marshmallow mixture.  To get this pretty pink color, we used 2 drops of Americolor Super Pink food coloring, 2 drops of Americolor Fushia food coloring and 1 very tiny drop of Americolor Navy food coloring. Add the Rice Krispies and fold in gently until they are completely covered with the pink melted marshmallow mixture.  Then spoon the Rice Krispie Treat mixture onto a lightly buttered cookie sheet and press it into the cookie sheet. This pink batch should cover approximately 1/2 of a regular cookie sheet.  The only tricky part here is that you need to remember to make the pink Rice Krispie Treats the same thickness as you made the blue Rice Krispie Treats.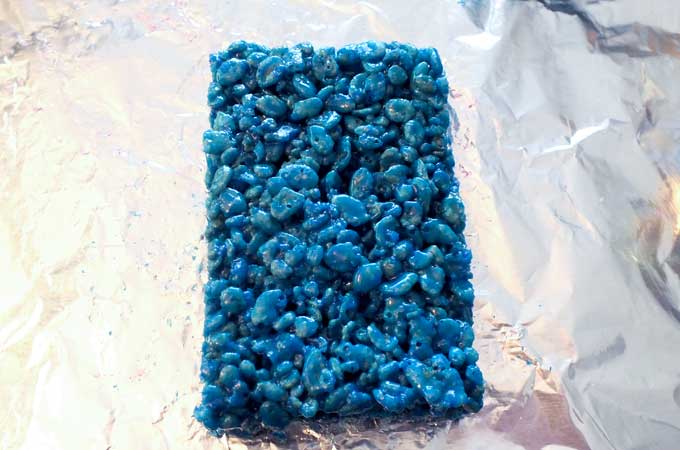 Cut the blue Rice Krispie Treats into rectangles.  We got about 20 out of our pan of Rice Krispie Treats.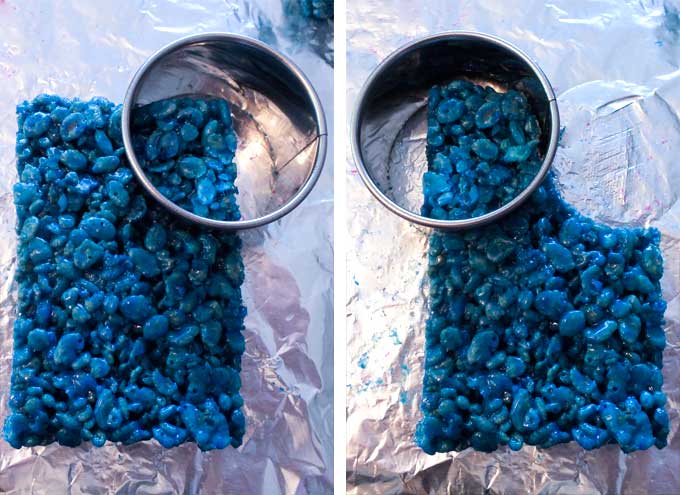 Using a circular cookie cutter, remove the top right and top left edges of the blue rectangle as shown in the picture above.
Now cut off a strip of the pink Rice Krispie Treats approximately the same width as the blue Rice Krispie Rectangles.  Use the circular cookie cutter to make the same cuts to the top left and right top.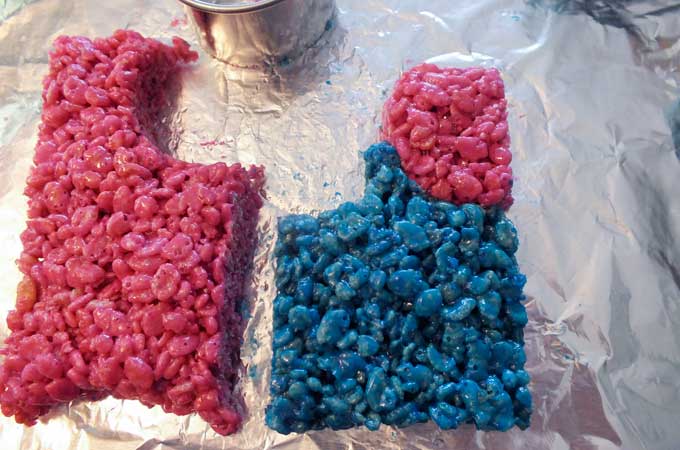 Take those Pink half circles and mold them into the open spots on the blue rectangle as shown in this picture above.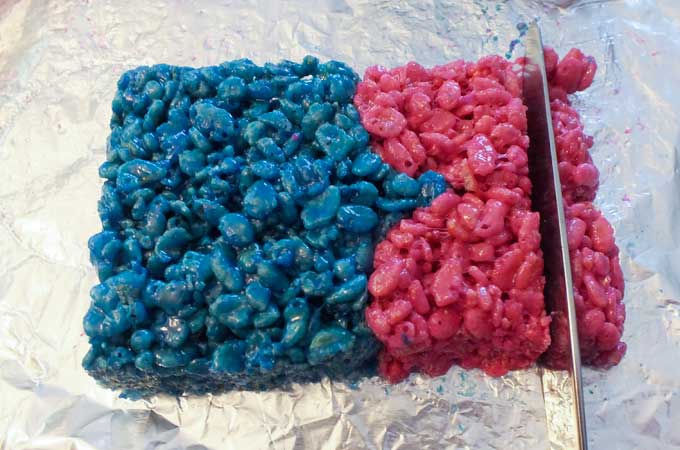 The pink will be a little jaggedy, just trim off a tiny bit of the pink rice krispie mixture at the top.
We used Royal Icing to add the dress embellishment to the Anna Rice Krispie Treats.  This is a rough approximation of the pattern at the bottom of Anna's dress. Our Royal Icing recipe is very simple – mix 1 box of powdered sugar with 5 tablespoons of meringue powder and slowly add up to 1/2 cup of water until the Royal Icing is the right consistency.  To color the Royal Icing, you will need green food coloring and pink food coloring.  This recipe makes quite a bit of Royal Icing so you might want to adjust the measurements depending on how Anna Rice Krispie Treats you are making.
Here's how they turned out. We love them!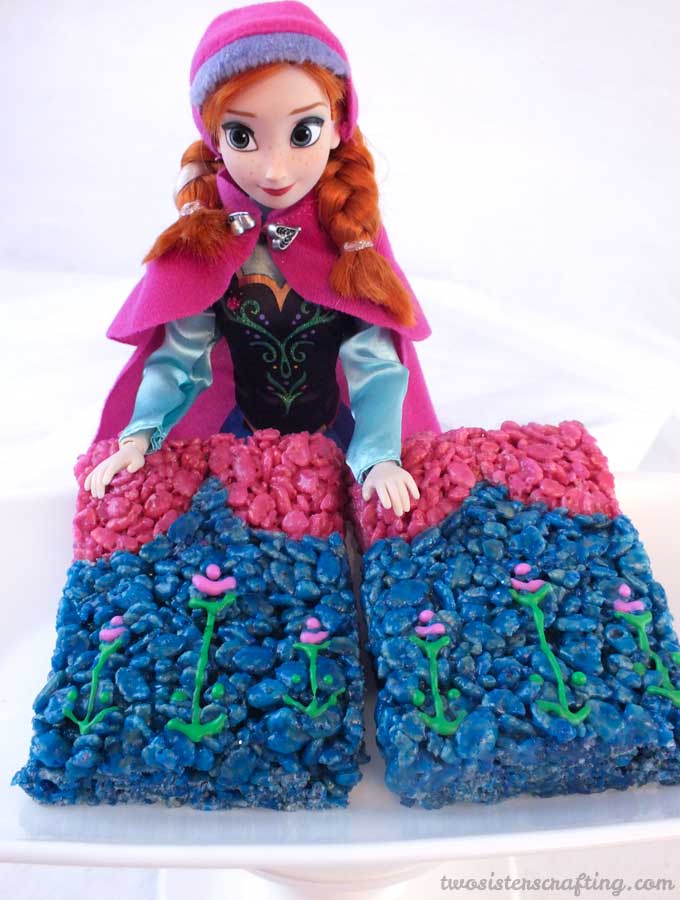 So pretty, just like Anna! And who doesn't like a Rice Krispie Treat?  The kids at your party are going to love this unique Frozen Party Food!

P.S. Let's stay in touch!  If you liked our Frozen Anna Rice Krispie Treats post, [thrive_2step id='10744′]click here to sign up for our Email Newsletter![/thrive_2step]
Or follow us on Pinterest, Facebook and Instagram!
**This post contains affiliate links but we only recommend products that we actually used and liked. Thanks for supporting Two Sisters Crafting!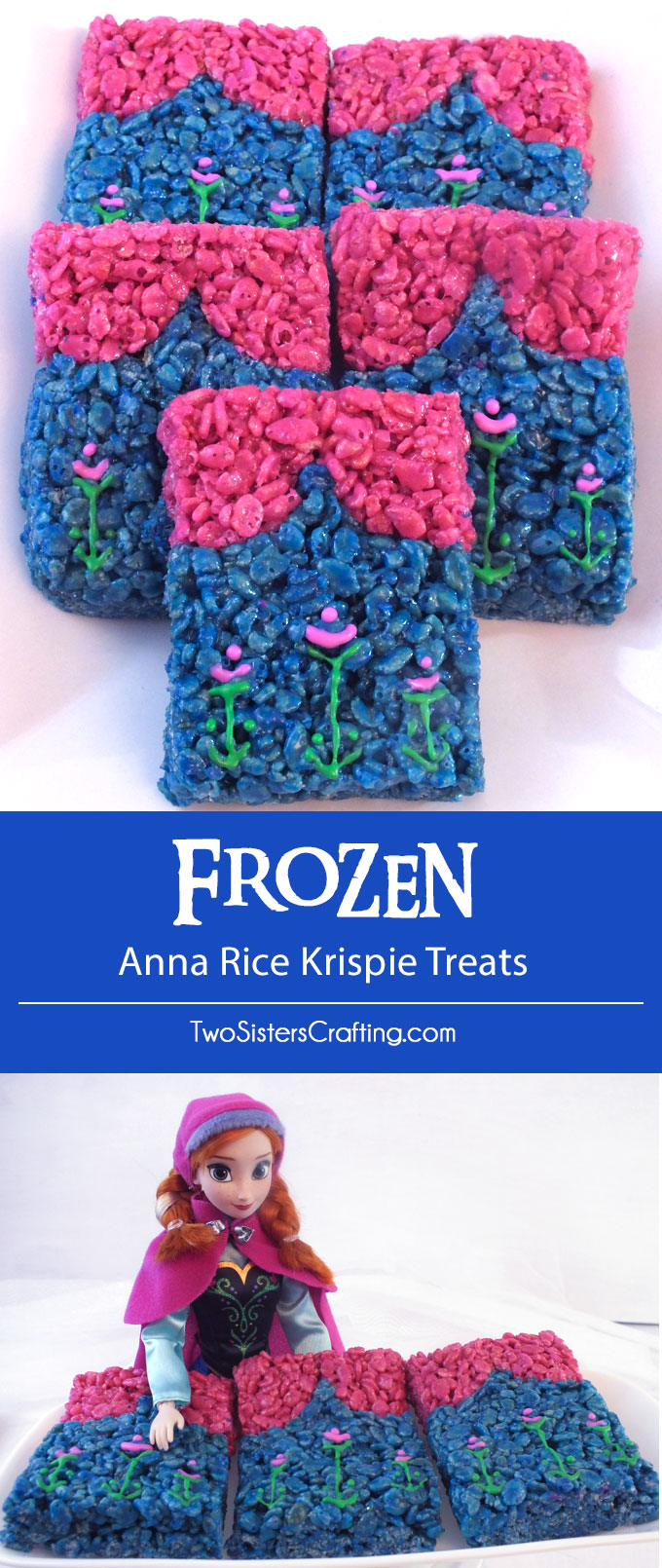 More Fun Disney Frozen Party Ideas …
If you want to stay up-to-date on all our Frozen Party posts, Follow Two Sisters Crafting on Pinterest!
Follow Two Sisters Crafting's board Frozen Party Ideas on Pinterest.