When Nancy and I started our blog, we had no idea what a pretzel bite was.  I am happy to say that we now not only know what a pretzel bite is, but we have created one for every kind of occasion.  These  Spring Flower Pretzel Bites turned out so beautifully and are perfect for Easter, Mother's Day, Baby Showers, Birthdays, or just a random Sunday. They are the perfect sweet and salty bite.

How to Make Spring Flower Pretzel Bites
You will need:
It couldn't be easier to make these Spring Flower Pretzel Bites.  Start with pretzels and Wilton Candy Melts – you can buy White and Bright White.  These are the Bright White.  For the pretzels, we used little square "snaps" because we think they hold the melted chocolate with less dripping but you could make Mini Pretzels work too.  On a paper plate arrange 8 or 9 pretzels.  Place a candy melt in the center of the pretzel. Then place the plate of pretzels in the microwave and heat them until the candy melts are at the beginning stage of being melted – they should be soft to the touch and melted enough to press a M&M down into it but not so melty that the candy is running off the pretzel.  In our microwave, it took a plate of 9 pretzels 50 seconds to get to this point.  [Tip:  You can also use your oven for the candy melting process — place the pretzels and candy melts on a cookie sheet covered with aluminum foil and heat in a very low oven (200-250 degrees) for a couple of minutes until the candy is melted.]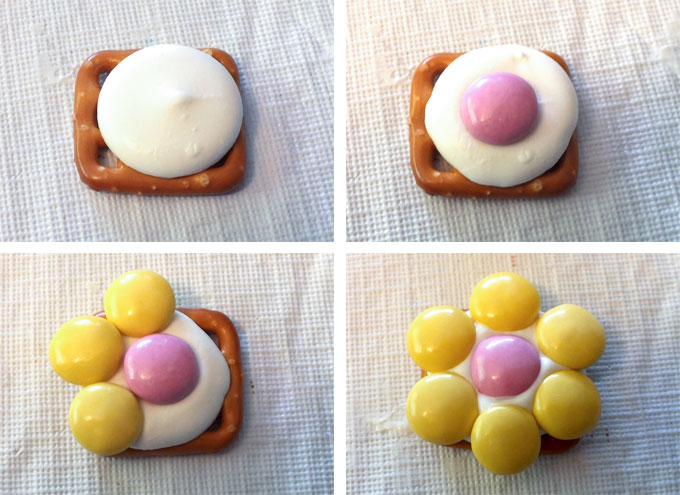 Using Easter colored M&M's, we placed a single M&M in the center of the melted candy melt for the flower center. Now create the flower petals with contrasting colored M&M's – we used six M&M's for the petals.  And remember to place the "M" side down!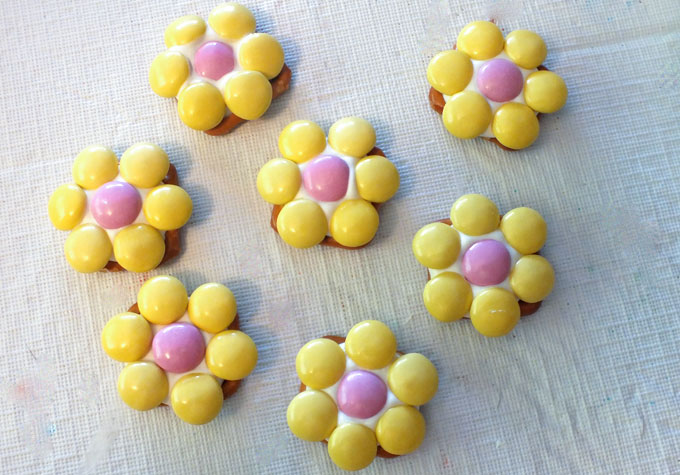 We let the Spring Flower Pretzel Bites set out for a couple of hours before we stored them in an air-tight container so that the Candy Melts could fully set.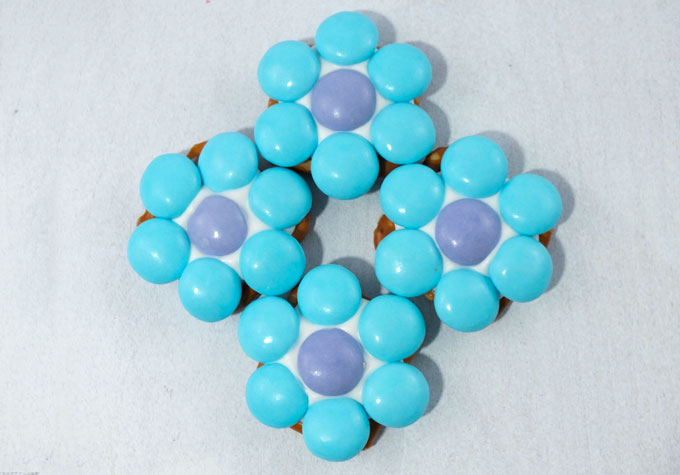 Here are our Spring Flower Pretzel Bites in another color scheme – blue and lavender.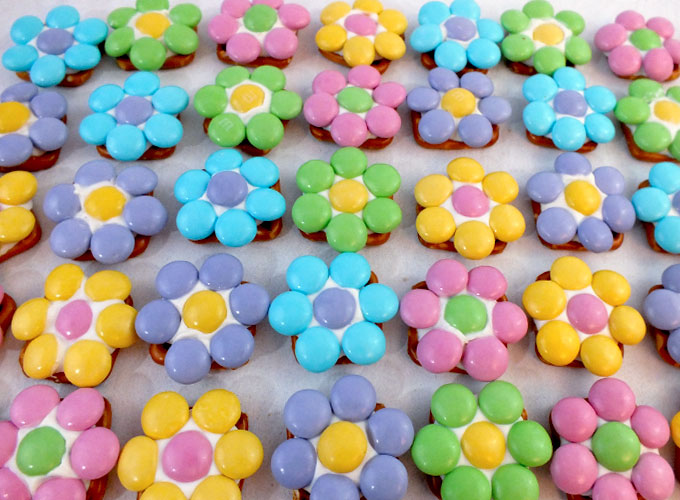 Here are all of the color schemes we used for our Spring Flower Pretzel Bites. So very pretty!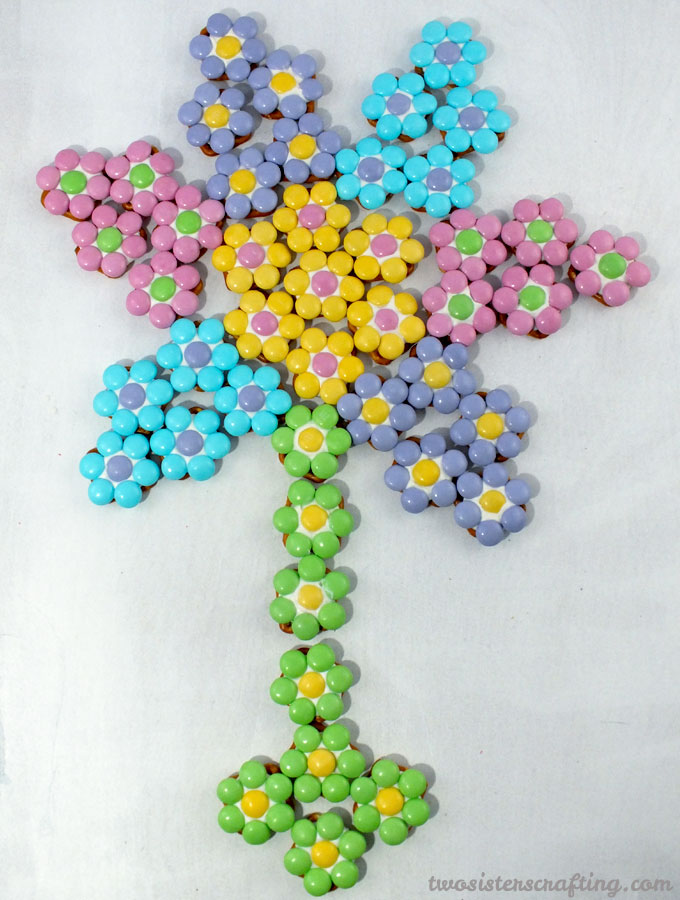 These Spring Flower Pretzel Bites are really yummy.  The contrast between the crunchy and salty pretzel, the sweet white chocolate candy melt and the crunchy chocolately goodness of the M&M's is simply perfection!
That's all there is to it!  These are really delicious and I highly recommend them as a springtime snack!

P.S. Let's stay in touch!  If you liked our Spring Flower Pretzel Bites post, [thrive_2step id='10744′]click here to sign up for our Email Newsletter![/thrive_2step]
Or follow us on Pinterest, Facebook and Instagram!
**This post contains affiliate links but we only recommend products that we actually used and liked. Thanks for supporting Two Sisters Crafting!

More great Easter Recipes …
If you want to stay up-to-date on all our Easter posts, Follow Two Sisters Crafting on Pinterest!
Follow Two Sisters Crafting's Easter Food Board on Pinterest.