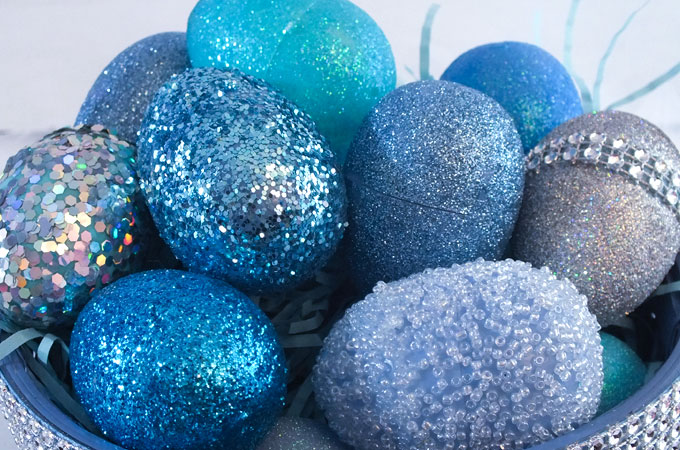 Is there a limit on the number of plastic Easter Eggs that a person can embellish?  If there is then we are edging very close to that number … we've made Glitter Easter Eggs, Beaded Easter Eggs and now our beautiful Embellished Easter Eggs.  I blame the big box stores because these plastic eggs are everywhere this time of year and are so very inexpensive. This project is such an easy Easter craft and Embellished Easter Eggs turned out so sparkly and pretty that it is a must have Easter decoration for us.

How to Make Embellished Easter Eggs
Supplies: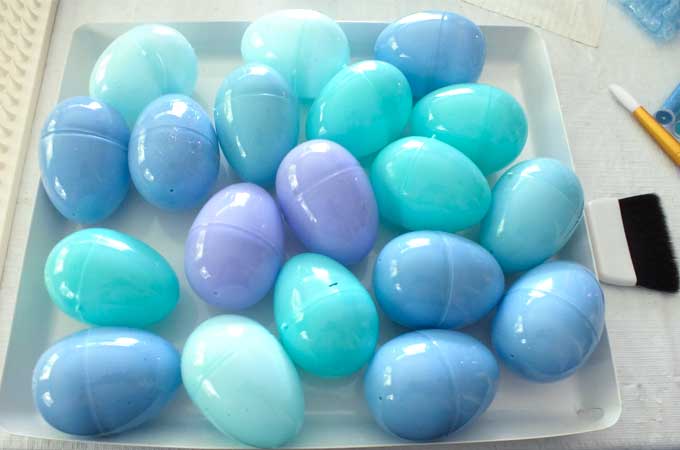 First, let's talk about plastic Easter Eggs.  In our opinion quality does not matter when you are planning on embellishing them.  We found eggs as cheap as $1.00 for a dozen but the plastic is very flimsy.   The embellishing process firms them up a bit so that will help if you are going to put candy inside of them.  If you are going for a specific color scheme as we did here, make sure the eggs are in the same color family because depending on the type of embellishment you are going to use, the plastic egg will definitely show throw a bit.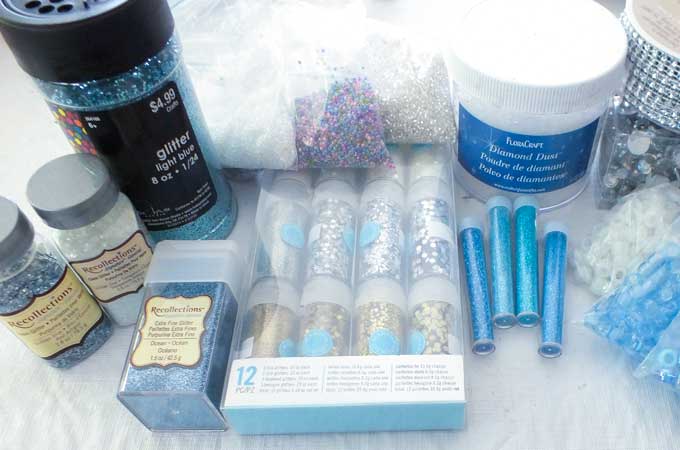 Next, gather up your embellishments.  We pulled out all of the blue glitter that we had on hand.  The leftover seed beads we used on our Beaded Easter Eggs, rhinestones, rhinestone ribbon, plastic beads and Diamond Dust.
We used Mod Podge to attach the glitter to the plastic eggs but glue would work also.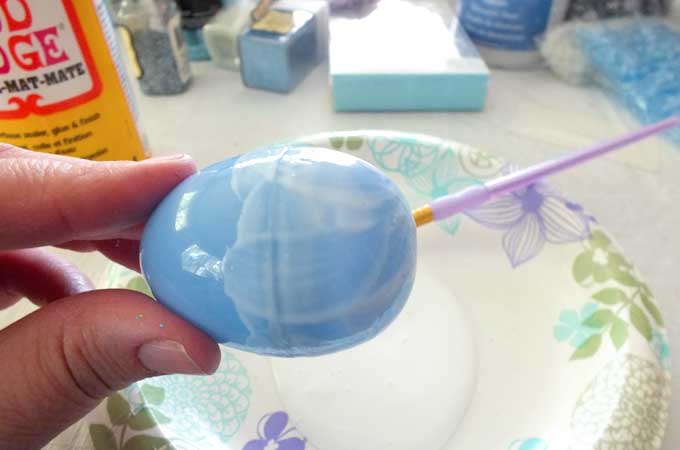 I glittered the eggs one half at a time.  Slather on some Mod Podge with a craft brush.
Then over my glitter tray, I liberally covered the Mod Podged plastic egg with glitter.  This is my blue glass glitter that we found at Michaels.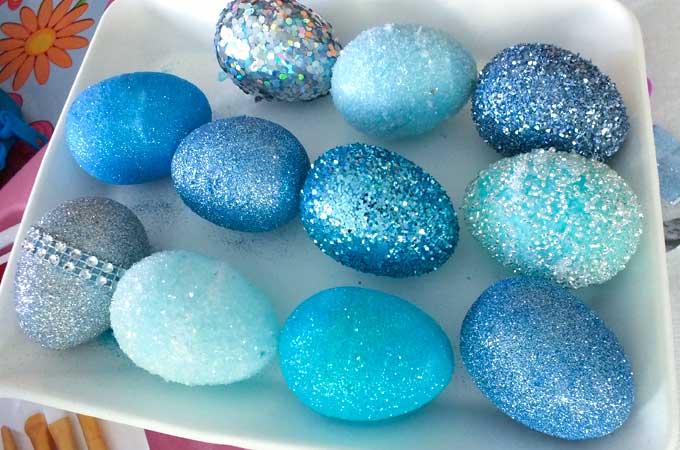 Here is my first batch of Embellished Easter Eggs. So pretty.  It only took us about a half hour to make all of these, this project is messy but easy.  Let the eggs dry overnight and then you can carefully crack them back open so you can put candy in the eggs for an Easter Basket.  We checked and Mod Podge is non-toxic and we only used the glitter that was labeled as non-toxic.  Also, we are only going to fill the eggs with wrapped candy.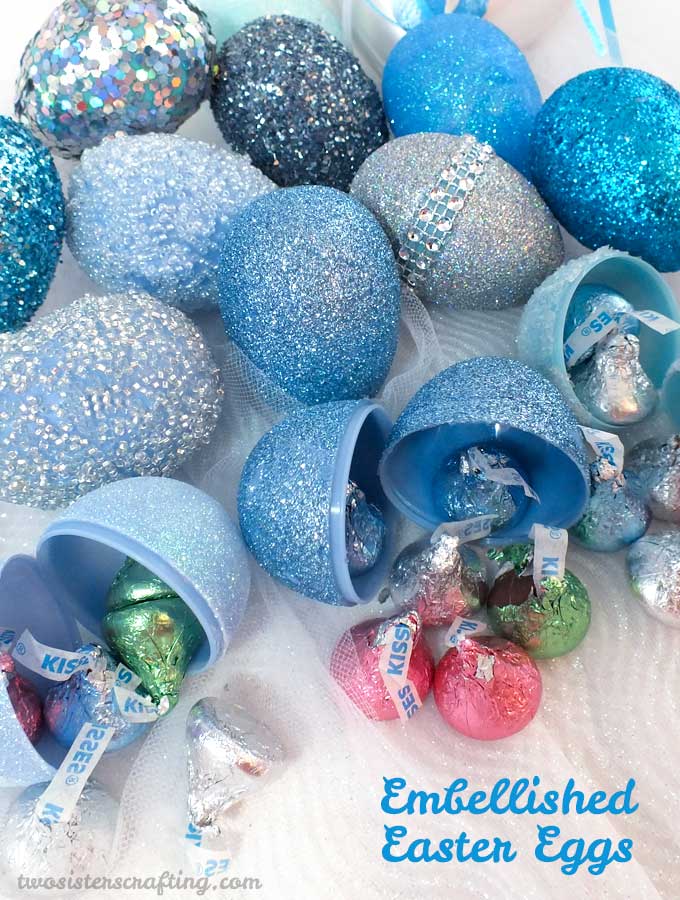 We loved how our Embellished Easter Eggs turned out and we used them with our Frozen Easter Basket project.  If you like glittery and sparkly and are looking for a fun project for Easter, we highly recommend embellishing your plastic Easter Eggs.

P.S. Let's stay in touch!  If you liked our Embellished Easter Eggs post, [thrive_2step id='10744′]click here to sign up for our Email Newsletter![/thrive_2step]
Or follow us on Pinterest, Facebook and Instagram!
**This post contains affiliate links but we only recommend products that we actually used and liked. Thanks for supporting Two Sisters Crafting!

More great Easter Crafts …
If you want to stay up-to-date on all our Easter Craft ideas, Follow Two Sisters Crafting on Pinterest!
Follow Two Sisters Crafting's Valentine's Day Treats board on Pinterest.