Halloween Party Chocolate Cake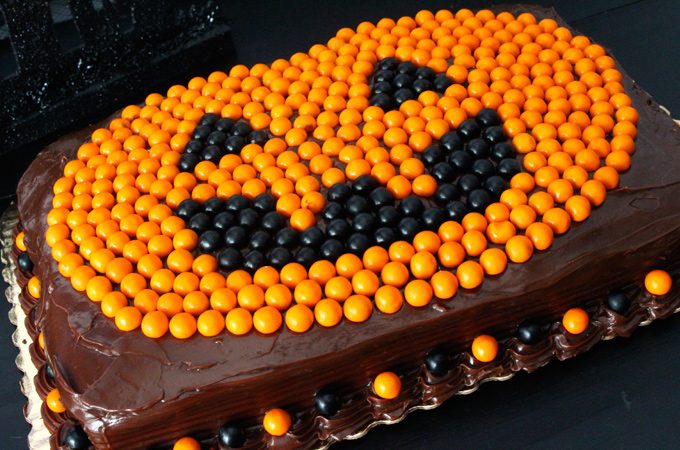 Laurie and I love working on our blog.  We have such a good time together.  The one problem we have is that now everyone expects us to bring something amazing and elaborate to any family event, holiday or party.  Sometimes we do not have the time (or energy) for elaborate, so we need something that is quick and easy that LOOKS elaborate.  This Halloween Party Chocolate Cake falls into that category.  If you buy a store bought cake, this is a less than 30 minute project.
How to make a Halloween Party Chocolate Cake
You will need:
Sheet cake or pan of brownies (store bought or homemade)
Halloween Sixlets (Orange and Black)
Print out of a Pumpkin/Jack O Lantern
Here is the Double Fudge Chocolate Cake we bought at Albertsons for $19.99.  It tastes good, they make good stuff in the bakery section but it is not fancy enough to take to a Halloween Party.  If you don't want to buy a cake, you can also make up a pan of Brownies or go ahead and bake your own sheet cake and frost it with chocolate frosting.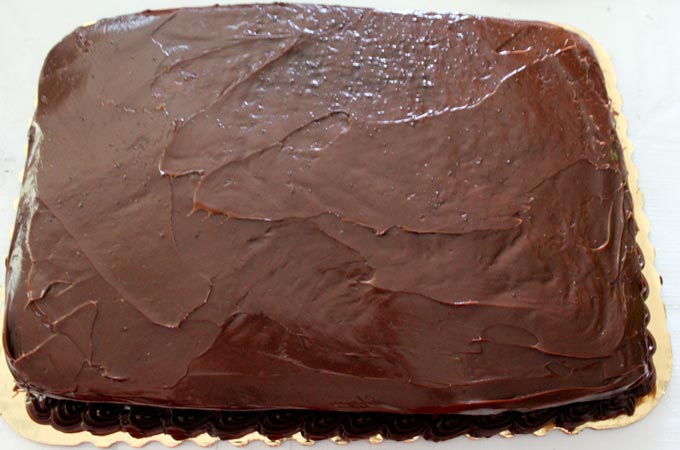 Step One:  smooth out the decorative frosting on the top of the cake.  We just wiped it off with a knife and then smoothed out the edges.  You don't have to be too finicky about the smoothness of the frosting on the top because it will mostly be covered with the Jack O Lantern made out of Sixlets.
Step Two:  Print out a picture of a pumpkin. I found this one on Google Images.  I printed it out on my inkjet printer, changing the settings to landscape and telling it to fill the page with the image.  Place the pumpkin template gently on the top of the cake.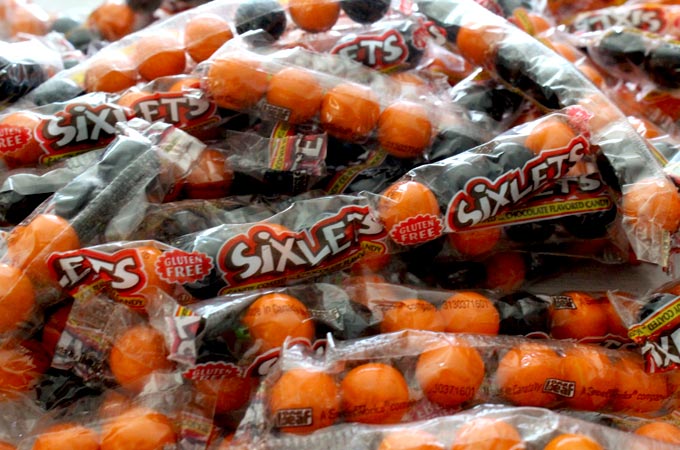 Step Three:  Get your Halloween Sixlets ready.  We found these Orange and Black Sixlets in the Halloween Candy aisle at Target.  But you can also find bags of Sixlets in all colors at Walmart and Party City.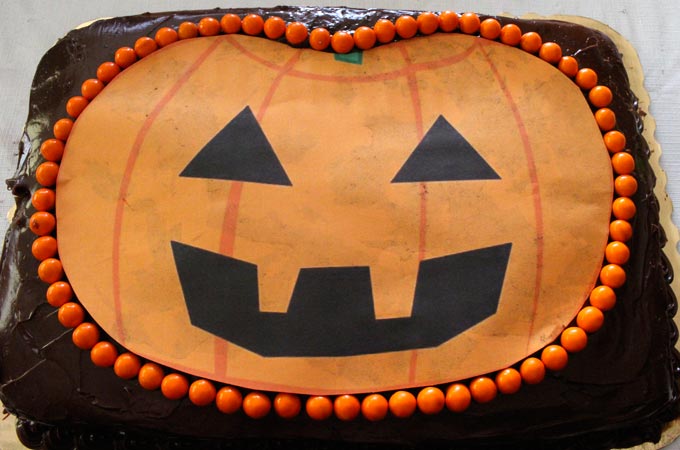 Step Four:  Place orange Sixlets around the pumpkin template. This is your outline for the rest of the Sixlet Jack O Lantern.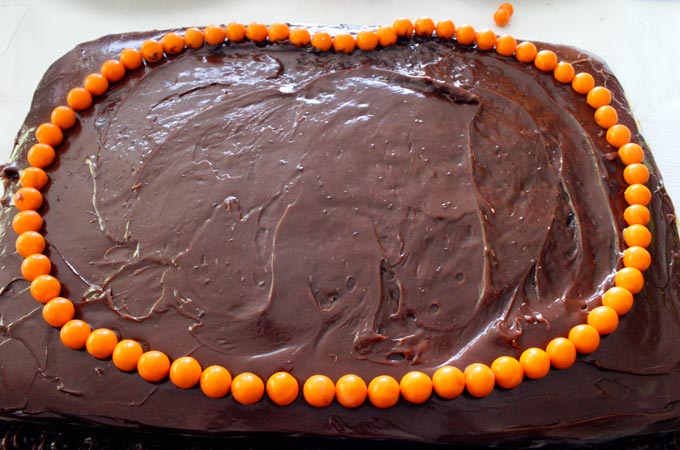 Step Five:  Carefully remove the paper pumpkin template. This was a little messy for us because of the Chocolate Fudge frosting but if your cake has Buttercream Frosting it should very easy to remove the paper template.  It doesn't matter what the frosting looks like inside the Jack O Lantern outline because you are going to fill in this area completely with Sixlets.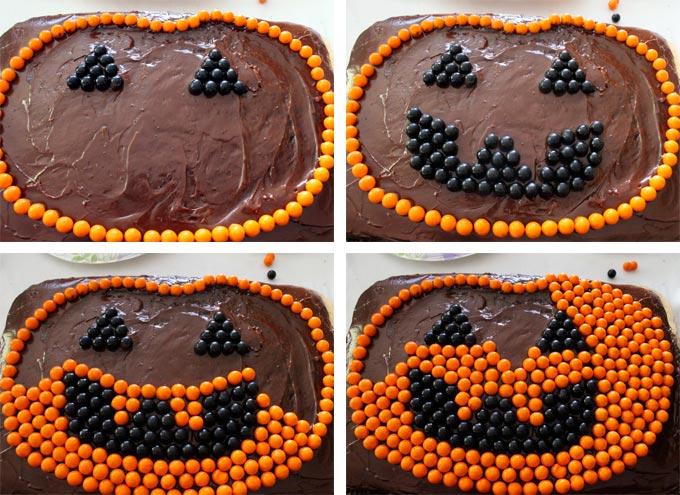 Step Six:  Fill in your Jack O Lantern with Sixlets. This is the fun part and it goes so fast. The sixlets just fall into place.  Start with two triangle eyes and then make a funny Jack O Lantern mouth.  They start filling in the remaining area with orange Sixlets.
Final Step:  We added a row of alternating Orange and Black Sixlets to the bottom edge of the cake for some extra pizzazz.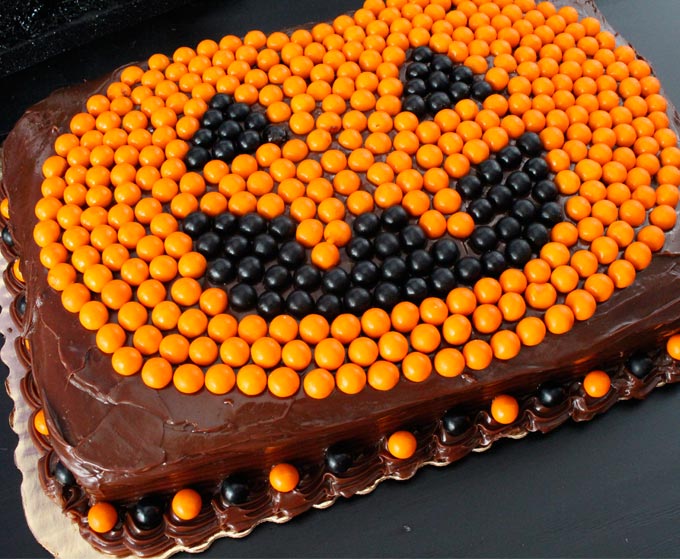 That's all there is to making this fun Halloween Party Chocolate Cake.  It took me about 25 minutes from start to finish and the longest part was unwrapping all the Sixlet packages.  Who wouldn't be proud to bring this cake to a Halloween party?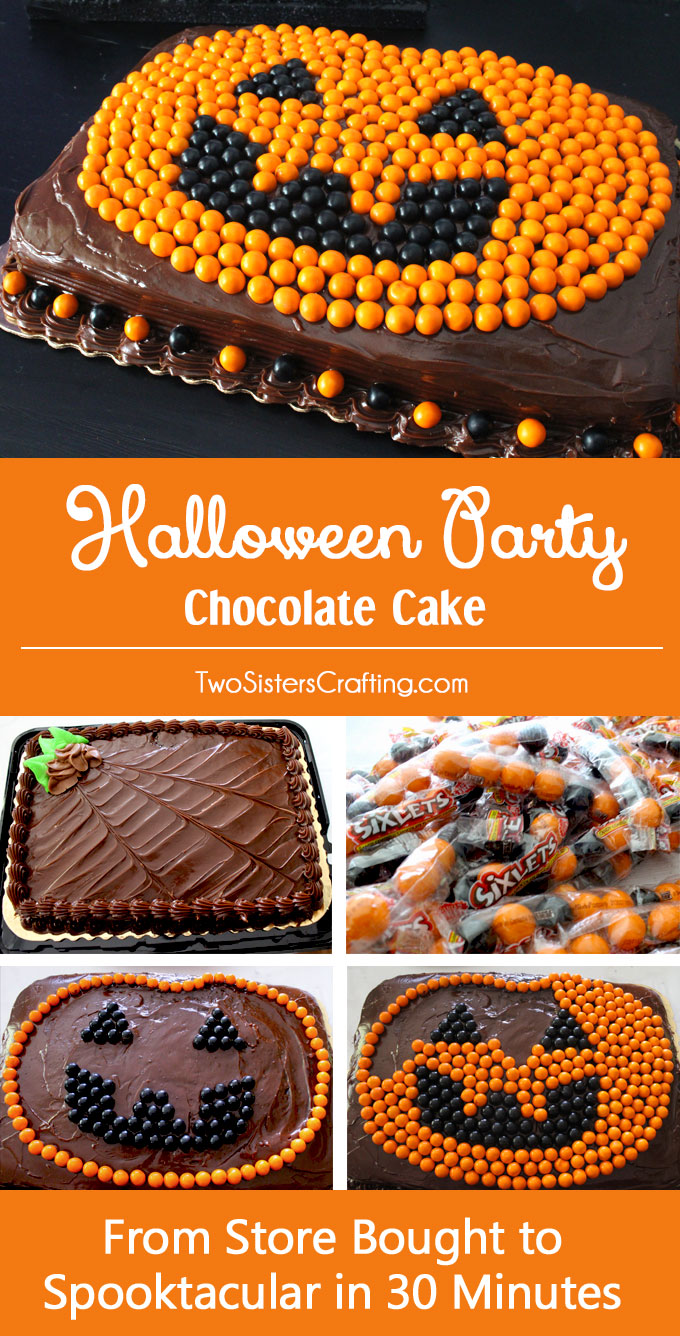 **This post contains affiliate links but we only recommend products that we actually used and liked. Thanks for supporting Two Sisters!