Family holiday gatherings were always at our Mom's house and now are at Nancy's so in the past I haven't put up a lot of holiday decorations (Christmas being the one gigantic exception to that rule!)  But for my niece I've been making an effort to decorate for every holiday.  For me, this Easter Peeps Centerpiece is the perfect kind of Easter decoration … a little bit of Easter whimsy mixed with a lot of Spring beauty.  I saw a version of this type of Easter flower and candy arrangement on Pinterest and used that as my creative inspiration.

How to Make an Easter Peeps Centerpiece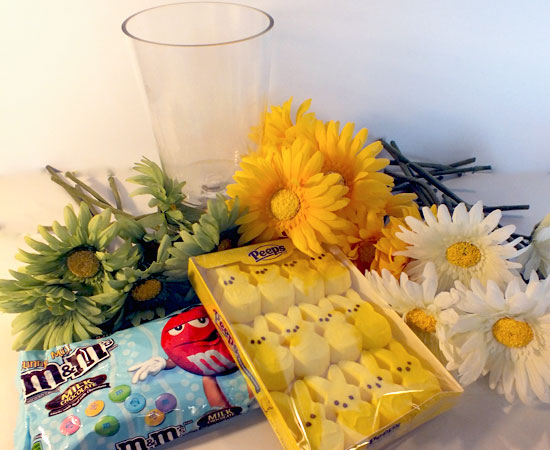 Project Supplies:
Artificial flowers
Easter colored M&M's
Peep Easter Bunny candies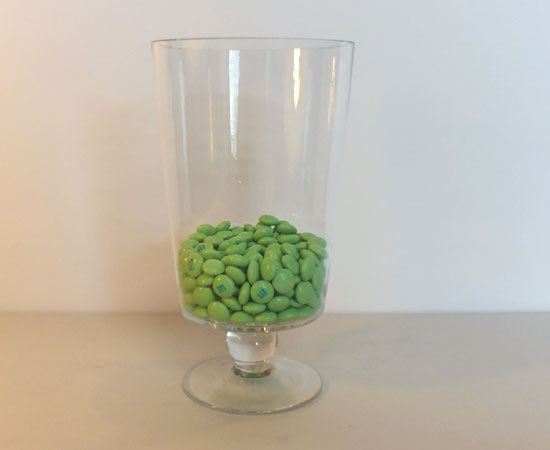 The first thing I did was separate the Easter M&M's by color.  I only used Green and Yellow for this project but I used the other colors in my Easter Candy Jars so nothing went to waste. Next, I created a layer of green M&M's in the glass vase.  There are not as many greens in a bag of M&M's as the other colors, so it took 4 bags to get this many Green M&M's.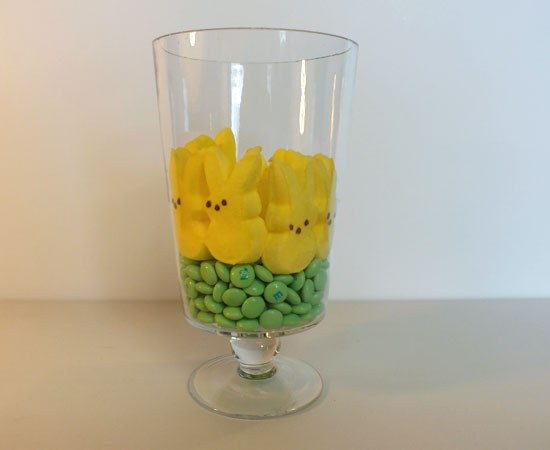 Then I placed the Peep Easter Bunny Candies in a ring around the outside of the glass vase.
To save a little money on M&M's, I filled the hole inside the ring of Peeps with Saran wrap.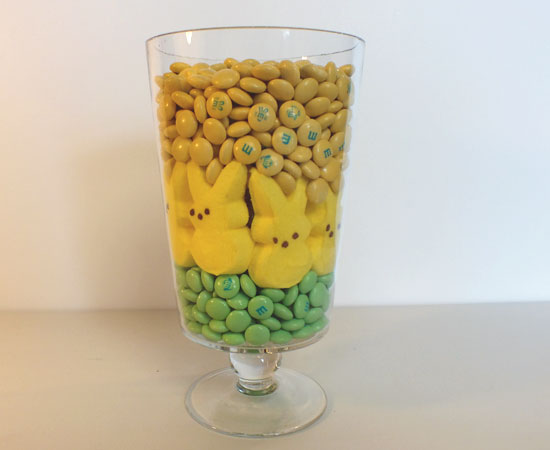 Next, I added the yellow M&M's.
Now for the flower arranging part of the project. I cut the stems of the flowers so that they would only go down into the yellow row of M&M's. The M&M's held the flowers very steady and made arranging them really easy.
I added the white flowers.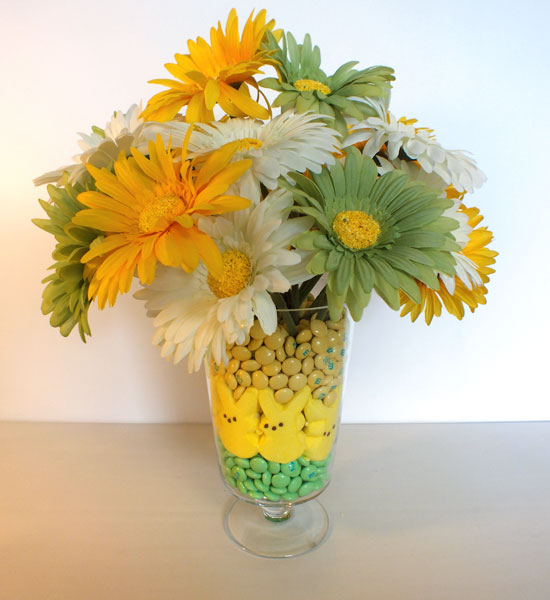 Finally, I added the green flowers.  At this point, I took some time to get all of the flowers in the perfect arrangement.
And as the final touch of cuteness,  I put a skewer into this White Easter Bunny Peep and placed him so he was popping out of the flowers.
This Easter Peeps Centerpiece turned out so pretty!  And also cute!  But most importantly was so easy to do!

P.S. Let's stay in touch!  If you liked our Peeps Centerpiece post, [thrive_2step id='10744′]click here to sign up for our Email Newsletter![/thrive_2step]
Or follow us on Pinterest, Facebook and Instagram!
**This post contains affiliate links but we only recommend products that we actually used and liked. Thanks for supporting Two Sisters Crafting!

More great Easter Crafts …
If you want to stay up-to-date on all our Easter Craft ideas, Follow Two Sisters Crafting on Pinterest!
Follow Two Sisters Crafting's Valentine's Day Treats board on Pinterest.