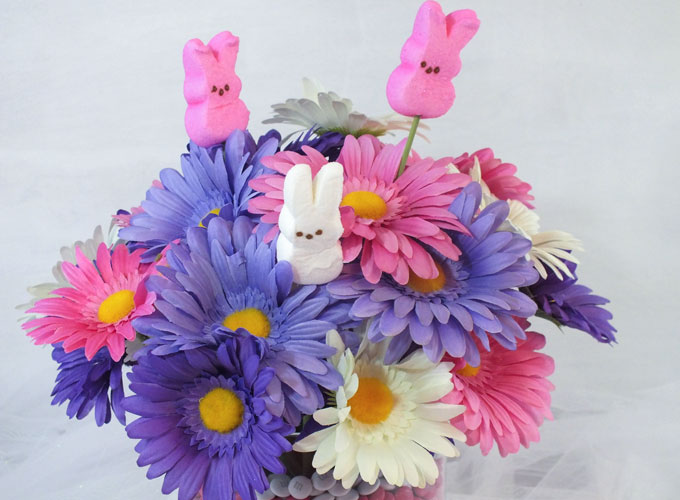 This is my second Easter Centerpiece.  We had a pretty bad earthquake last year right after Easter and most of my Easter decorations were lost.  So while I was very sad to lose that pretty vase it did give me an excuse to try this Easter craft again this year with a new type of vase and in a different color scheme.  I'm not sure, but I think I like this pink and purple Easter Centerpiece even better.

How to Make an Easter Centerpiece
Supplies:
Artificial flowers
Easter colored M&M's
Peep Easter Bunny candies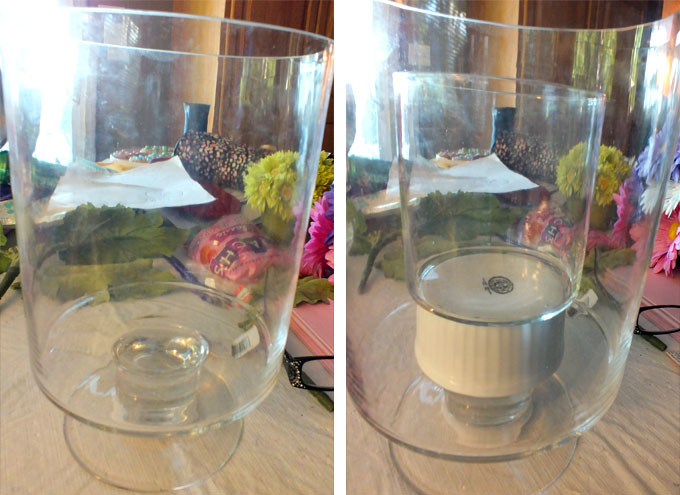 This new vase is pretty big and it would take too many bags of M&M's to fill it up so I put a ramekan in the middle of the vase and set a smaller vase on top of the ramekin to fill up some of the space.  I used the smaller vase to hold the stems of my artificial flowers but this would also be a great idea if you wanted to use fresh flowers.  Just fill the mini vase up with water, and you are good to go.
I pulled out all of the pink M&M's from a couple bags of the Easter colored M&M's that you can buy at this time of year and filled the bottom of the vase with them.  Then I added a row of white Peeps Bunnies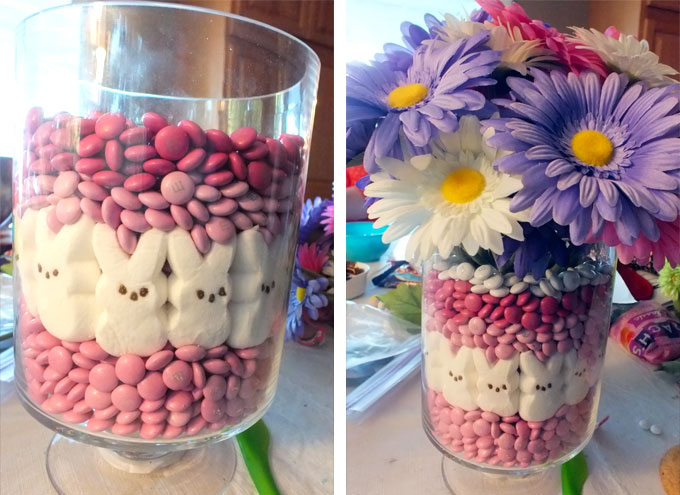 Then I added another smaller row of pink M&M's, followed by a row of darker pink M&M's that I had left over from Valentine's.  You can also buy these colors of M&M's separately at Amazon or at Party City.  Finally, I added a few white M&M's for some contrast.  The M&M's stopped at the top of the mini vase that I had in the center. Once I had the candy arranged the way I wanted it, I added my artificial flowers.
Here is a detailed picture of the layers of candy in the Easter Centerpiece.  If the M&M's fall down into the Peeps, just use a knife to rearrange them.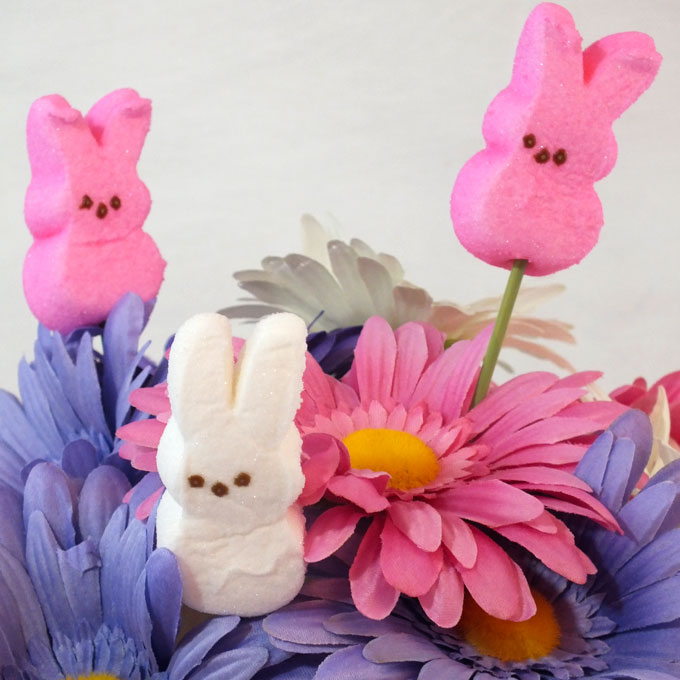 Finally, I stuck a couple of Peeps Bunnies on BBQ skewers that I had painted green and added to the arrangement so they were sticking up out of the flowers. So cute!
This is a really fun Easter Craft.  It's both a great Easter Decoration and a cute centerpiece for Easter Brunch or Dinner.  And it's really easy to make!

P.S. Let's stay in touch!  If you liked our Easter Centerpiece post, [thrive_2step id='10744′]click here to sign up for our Email Newsletter![/thrive_2step]
Or follow us on Pinterest, Facebook and Instagram!
**This post contains affiliate links but we only recommend products that we actually used and liked. Thanks for supporting Two Sisters Crafting!

More great Easter Crafts …
If you want to stay up-to-date on all our Easter Craft posts, Follow Two Sisters Crafting on Pinterest!
Follow Two Sisters Crafting's Easter Food Board on Pinterest.