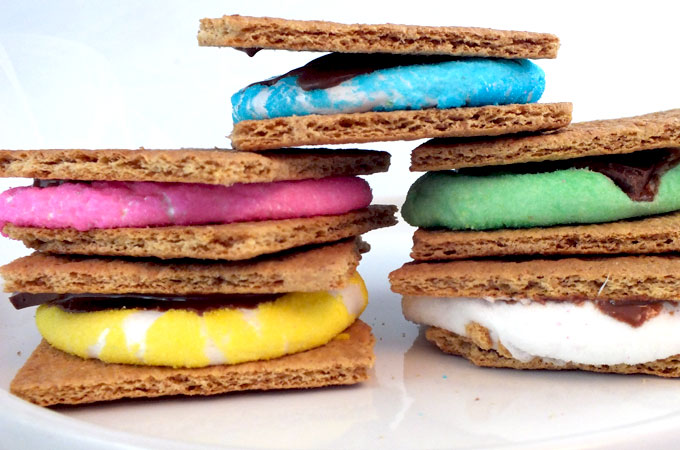 The Easter Bunny always brings my niece a lot of candy … too much for her to eat.  As we were plotting how we were going to smuggle the candy out of the house we remembered seeing a bunch of pins on Pinterest for Peeps S'mores.  We wondered if instead of using the traditional Hershey Bar we could use a Chocolate Easter Bunny. Surprise! It was a huge success!

How to Make Peeps S'mores:
You will need:
Graham Crackers
Milk Chocolate Easter Bunny
Marshmallow Peeps
We melted the Peeps in the microwave for 10 seconds on top of a graham cracker.  Then we added some pieces of the chocolate bunny and, taa-daa, Peeps S'mores. The Easter Peeps will poof up in the microwave as they heat, so let it cool a little bit before eating.  This project was a double success because our Peeps S'mores tasted great and we used up a bunch of Easter candy!

P.S. Let's stay in touch!  If you liked our Peeps S'mores post, [thrive_2step id='10744′]click here to sign up for our Email Newsletter![/thrive_2step]
Or follow us on Pinterest, Facebook and Instagram!
**This post contains affiliate links but we only recommend products that we actually used and liked. Thanks for supporting Two Sisters Crafting!

More great Easter Recipes …
If you want to stay up-to-date on all our Easter Craft posts, Follow Two Sisters Crafting on Pinterest!
Follow Two Sisters Crafting's Easter Food Board on Pinterest.