Easter Candy Jars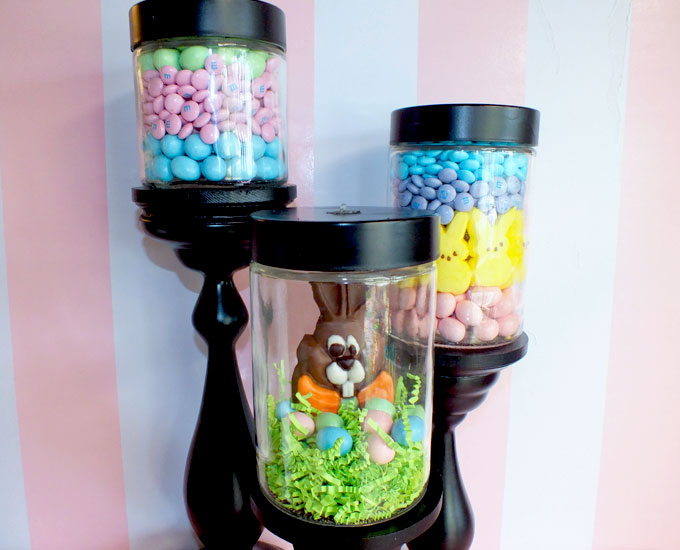 Here are my DIY Candy Jars, filled with candy and ready for Easter 2014. I made these candy jars myself using generic jars and candlesticks and they are one of my favorite DIY craft projects.   I have them filled with holiday themed candy all year long.  My three year old niece is captivated by them (or could it be the candy inside them?) and she notices when the candy changes IMMEDIATELY. This year she rushed over and said "Awww, how cute!  The bunny is wearing a bowtie!"  I have no idea how she knows what a bowtie is but I was happy that she enjoys the Easter Candy Jars as much as I do.

How to decorate Easter Candy Jars
Project Supplies:
Peep Easter Bunnies
Chocolate Easter Bunny
Hershey's Chocolate Eggs
Easter M&M's
Easter grass
My first task was sorting the Easter M&M's by color.  I used the Green and Yellow M&M's for my Easter Peeps Centerpiece project so I ended up needing four bags of M&M's for both of these projects.
Flash forward 30 minutes and 1 cup of coffee later and the M&M's were sorted. There are always less blue and green M&M's, I don't know why. It's an Easter candy mystery.
For my jar with the Easter Chocolate Bunny I started with a layer of Easter basket grass.  Then I carefully placed the Chocolate Easter Bunny in the jar and then surrounded him with a handful of Hershey's Chocolate Eggs.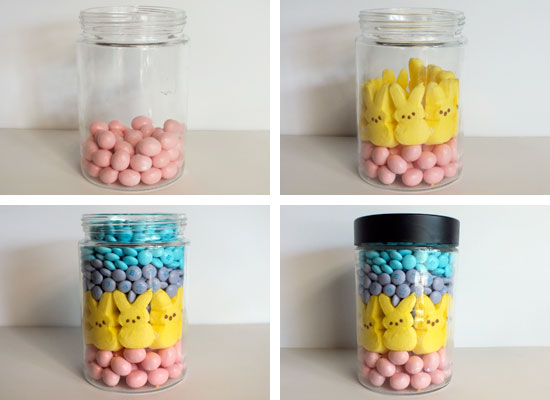 For the Peeps Jar, I started with a layer of Pink Hershey's Chocolate Eggs. Then I placed 8 Peeps Easter Bunnies around the inside of the jar.  I finished with layers of lavender and blue M&M's.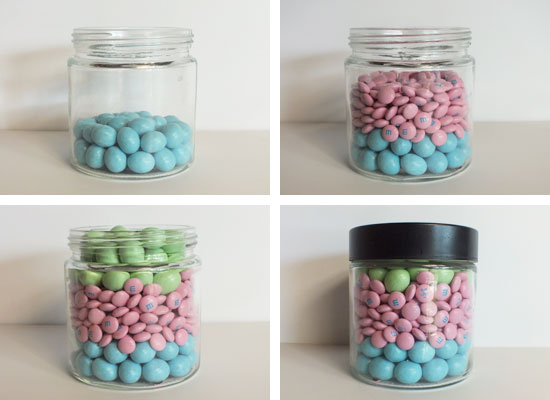 For the smaller jar, I used a layer of blue Hershey's Chocolate Eggs, Pink M&M's and Green Hershey's Chocolate Eggs.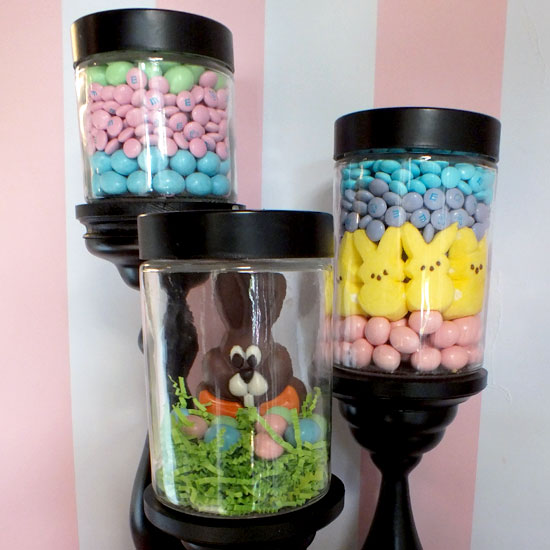 And that's all there is to this years Easter Candy Jar decoration.  And P.S. – it is cute that the bunny is wearing a bowtie!

If you want to stay up-to-date on all our Easter Craft posts, Follow Two Sisters Crafting on Pinterest!
Follow Two Sisters Crafting's Easter Food Board on Pinterest.
**This post contains affiliate links but we only recommend products that we actually used and liked. Thanks for supporting Two Sisters!