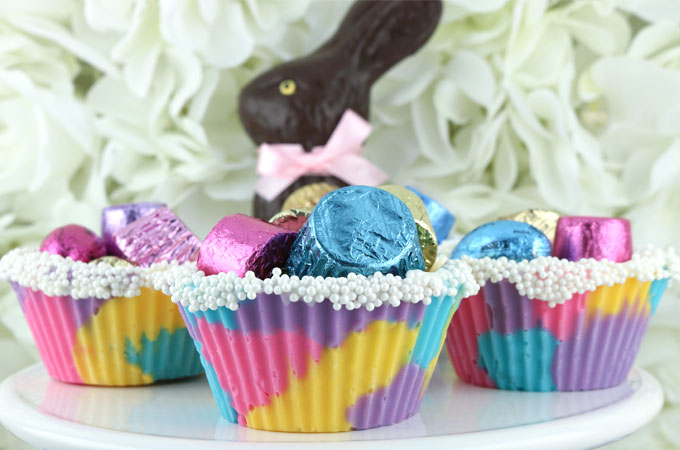 Our love of candy melts knows no end and this year our obsession with these sweet, colorful and easily moldable candies resulted in these fun and festive Easter Candy Cups.  We took our Springtime Celebration colors of pink, purple, blue and yellow and transformed them into a homemade edible candy cup that can be filled with anything the Easter Bunny might have in his basket .. candy, jelly beans, small toys or even a yummy pudding or mousse!

How to make Easter Candy Cups
You will need:
We used Flexible Silicone Cupcake Liners as the mold for our Easter Candy Cup. We found ours on Amazon but we have also seen them in the baking section at Michaels.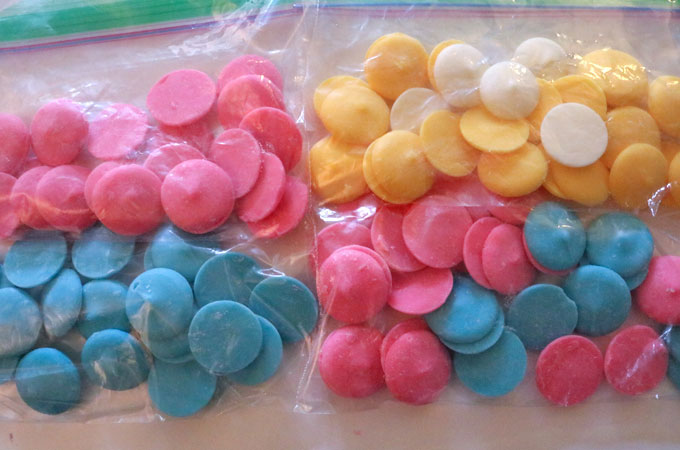 We used Wilton Candy Melts to create the Easter Candy Cups. We melted 20 Wilton Bright Pink, Blue and Yellow candy melts in plastic baggies.  Note about Yellow:  we added a couple of Bright White Candy Melts to the baggie to soften the yellow color a bit. And to make a pretty purple color we combined 16 Bright Pink Candy Melts with 10 Blue Candy Melts.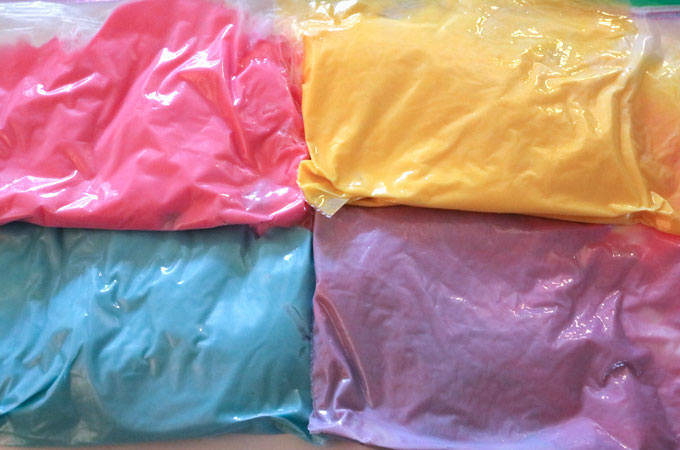 We melted the candy melts in the microwave.  Start at 20 seconds, massage the melting candy melts a bit and microwave for another 10-15 seconds.  Repeat the process until the candy melts and completely melted.  If the candy starts to harden as you are working, just pop the baggie back into the microwave and re-melt the candy.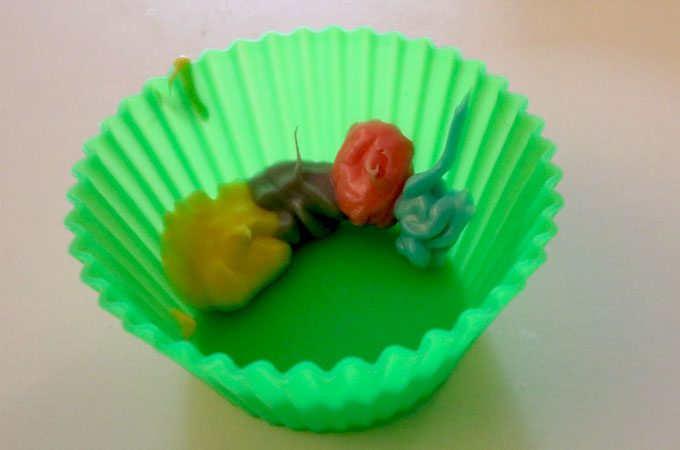 Use scissors to cut off a tiny corner of the baggie.  Using alternating colors, start covering the inside of the silicone cupcake liner with the melted candy.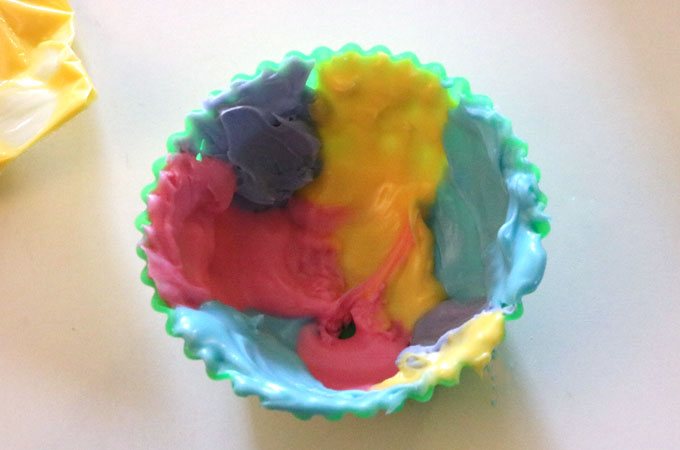 Create a marble pattern with the melted candy melts. Don't worry if the candy melts aren't smooth we will deal with that in the next step. Allow the candy to harden inside the silicone cupcake liners.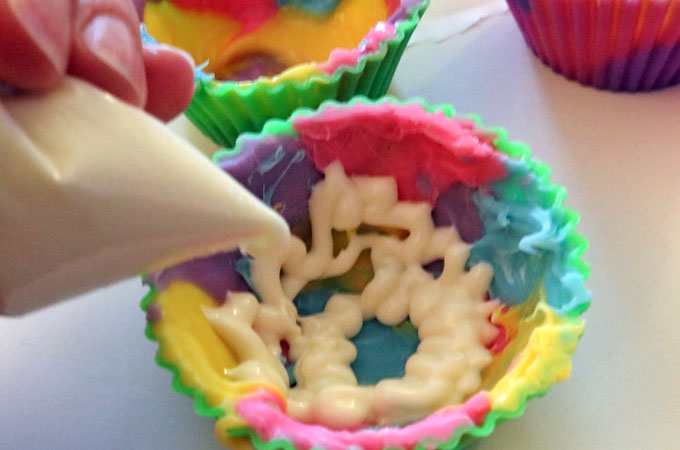 To create a smooth surface for the inside of the Easter Candy Cups we added a second layer of Bright White Candy Melt mixture.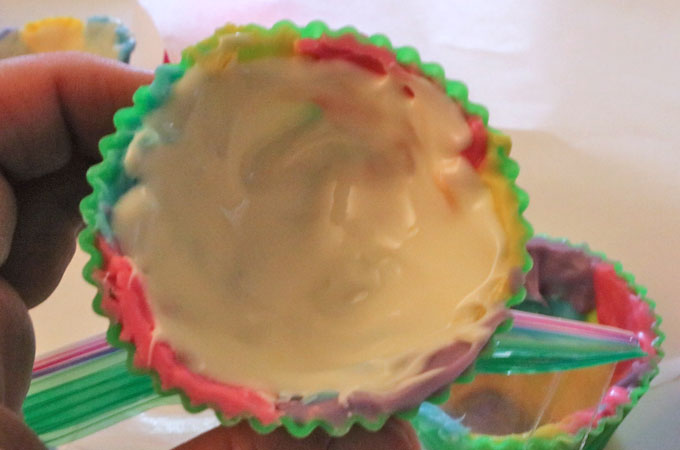 Then we used a spoon to smooth the white candy melt mixture around the inside of the Easter Candy Cup.  Allow this layer of candy to harden.
Once the candy melts have hardened you can easily remove the Easter Candy Cups from the silicone cupcake liners.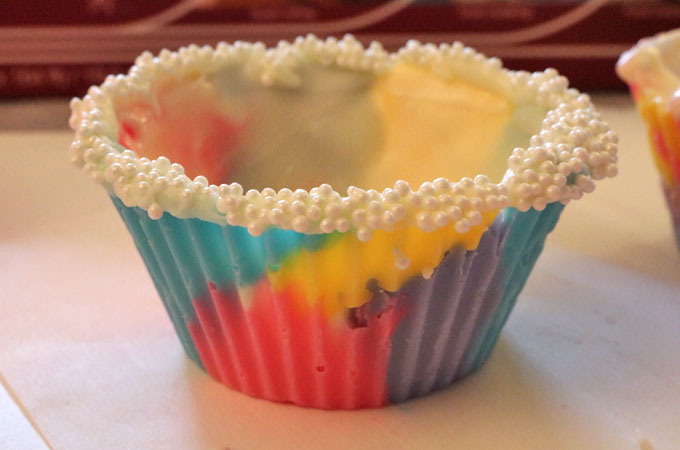 To finish off the Easter Candy Cups we dipped the very top of the candy cup into melted bright white candy melts and then patted on White Sugar Pearls.  So pretty!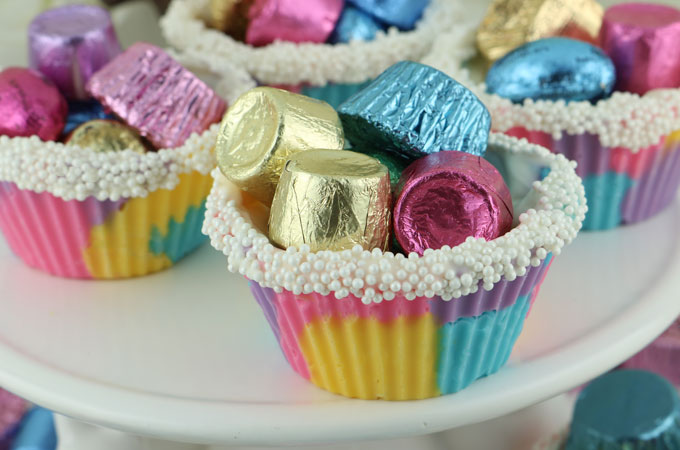 That's all there is to make these pretty, colorful, edible candy cups for your Easter celebration.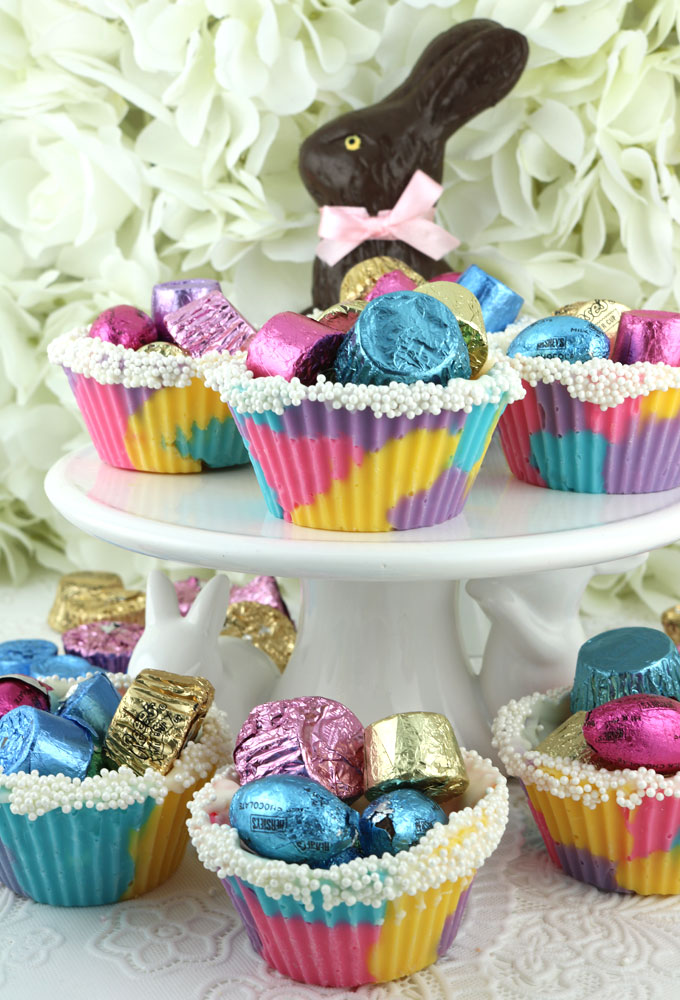 These Easter Candy Cups are so pretty and very fun to make.  It would be a fun Easter project to do with the kids.  Enjoy!
P.S. Let's stay in touch!  If you liked our Easter Candy Cups post, [thrive_2step id='10744′]click here to sign up for our Email Newsletter![/thrive_2step]
Or follow us on Pinterest, Facebook and Instagram!

More great Easter Recipes …
If you want to stay up-to-date on all our Easter posts, Follow Two Sisters Crafting on Pinterest!
Follow Two Sisters Crafting's Easter Food Board on Pinterest.