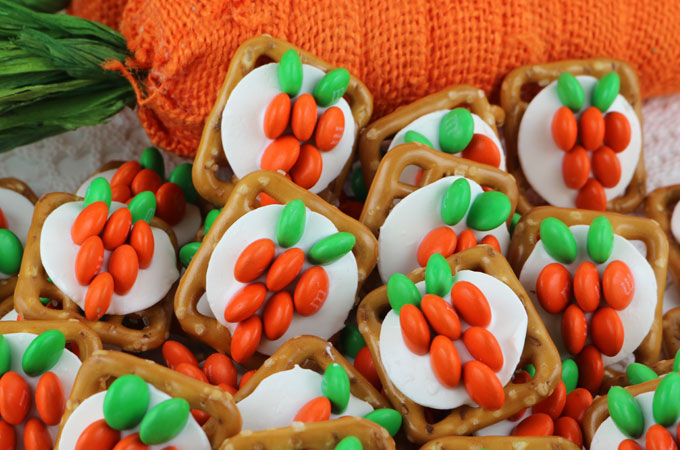 We are all about the Pretzel Bites at Two Sisters Crafting.  If we haven't created a pretzel bite for a holiday or occasion then we will soon.  It was my daughter's idea to make a fun pretzel bite to leave for the Easter Bunny.   Our plan was to have my daughter help us with them but they were a little too delicate for her 5 year old hands but we love how these Easter Bunny Carrot Pretzel Bites turned out!


How to Make Easter Bunny Carrot Pretzel Bites
You will need:
Pretzel Snaps
Orange and Green M&M Minis
Wilton Bright White Candy Melts or Ghirardelli White Chocolate Melting Wafers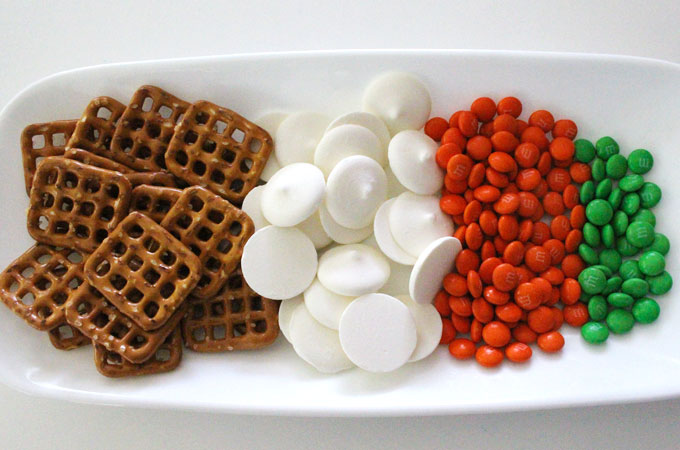 You will need M&M Mini's to make our Easter Bunny Carrot Pretzel Bites. Regular sized M&M's are too big for these pretzel bites.   Every bag of M&M's has a random combination of colors but in the single bag of M&M Minis that we used there were enough orange and green candies to make about two dozen Easter Bunny Carrot Pretzel Bites.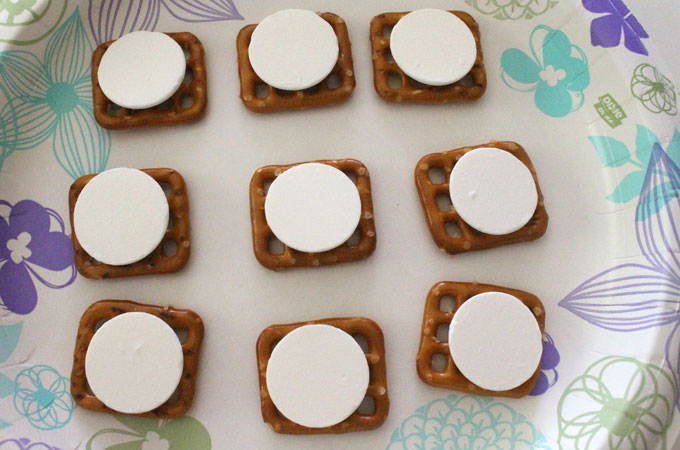 We like to use the square Pretzel Snaps when making Pretzel Bites but you can also use the round mini pretzels.  First, place 7-8 Pretzel Snaps on a paper plate. Cover the pretzels with a Wilton Bright White Candy Melt or a Ghirardelli White Chocolate Melting Wafer.  Heat in a microwave oven for approximately 45-50 seconds. The exact timing will take a bit of trial and error.  You want the candy to be melted enough to press the M&M's into, but not so melted that the candy melt loses its' shape and the chocolate starts dripping off of the pretzel.  The exact time in the microwave will depend on how many pretzel/candy's you do at one time, how powerful your microwave is, the type of pretzels you are using, etc.  For us using the Wilton Bright White Melting Wafers, 7-8 pretzels took 50 seconds to melt to the right consistency.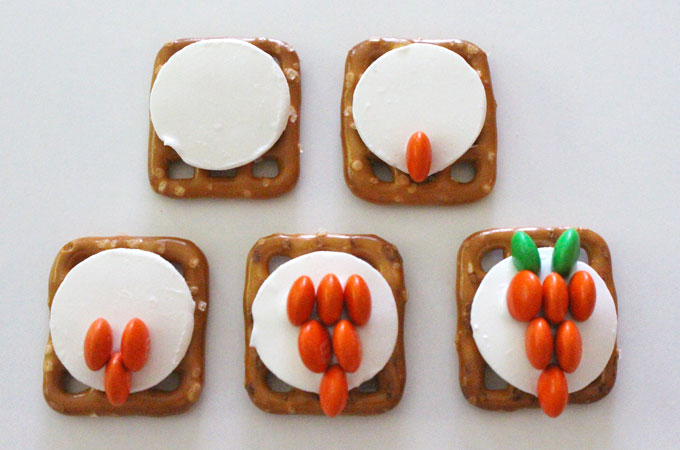 You will need 6 orange M&M Minis and 2 green M&M Minis for each Easter Bunny Carrot Pretzel Bites.  You want to place the M&M's into the melted candy vertically (or would it be sideways?)  as opposed to laying them down flat into the candy melt.  You can see that in the picture above.  Start at the bottom and build the carrot up to the top.  Leave enough room for the two green M&M's for the stem!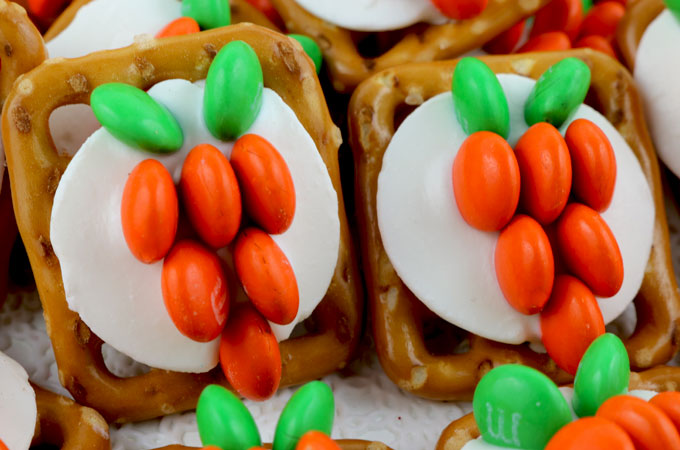 So cute … and so tasty!
Easter Bunny Carrot Pretzel Bites are a fun Easter or Springtime dessert …. sweet, salty and crunchy all at the same time!

P.S. Let's stay in touch!  If you liked our Easter Bunny Carrot Pretzel Bites post, [thrive_2step id='10744′]click here to sign up for our Email Newsletter![/thrive_2step]
Or follow us on Pinterest, Facebook and Instagram!
**This post contains affiliate links but we only recommend products that we actually used and liked. Thanks for supporting Two Sisters Crafting!

More great Easter Recipes …
If you want to stay up-to-date on all our Easter posts, Follow Two Sisters Crafting on Pinterest!
Follow Two Sisters Crafting's Easter Food Board on Pinterest.