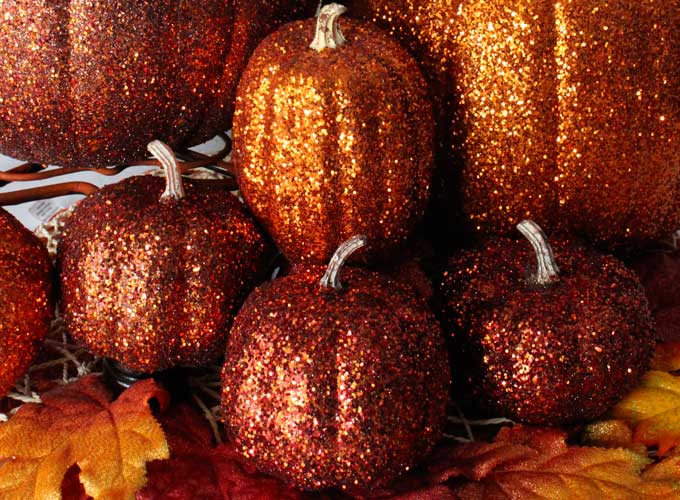 I LOVE glitter.   If you give me the choice between two things, one of them plain and one of them sparkly, I will always choose sparkle.  When I decided to take some fake pumpkins and repurpose them, I went no further than my glitter collection.  I think they turned out fantastic.  Even Nancy who doesn't love all things glitter like I do (I know it's hard to believe we are sisters), thinks they are adorable.  These DIY Glitter Pumpkins turned out to be an easy and inexpensive project that is also a high impact decoration that you can use for Fall, Halloween or Thanksgiving.

How to Make Glitter Pumpkins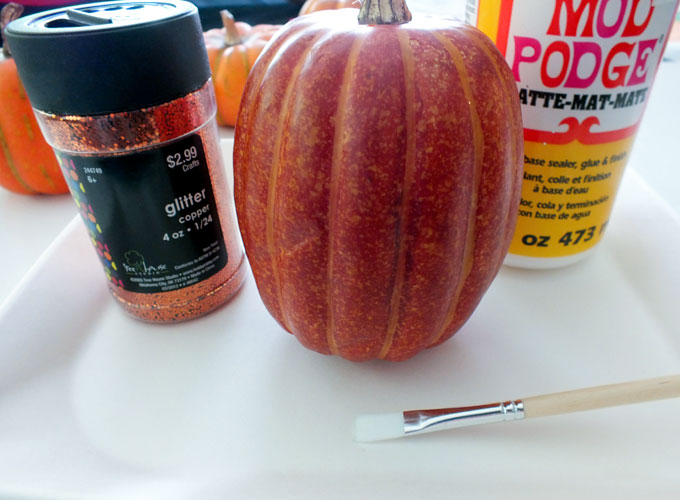 You will need:
This Halloween Glitter Pumpkin craft project couldn't be easier or cheaper.  I found these mini fake pumpkins at Walmart for $0.99 each and the glitter was 40% off at Hobby Lobby making it less than $2.00.  I had glittered all three pumpkins in under 15 minutes.  It's the perfect type of craft – easy, cheap, beautiful!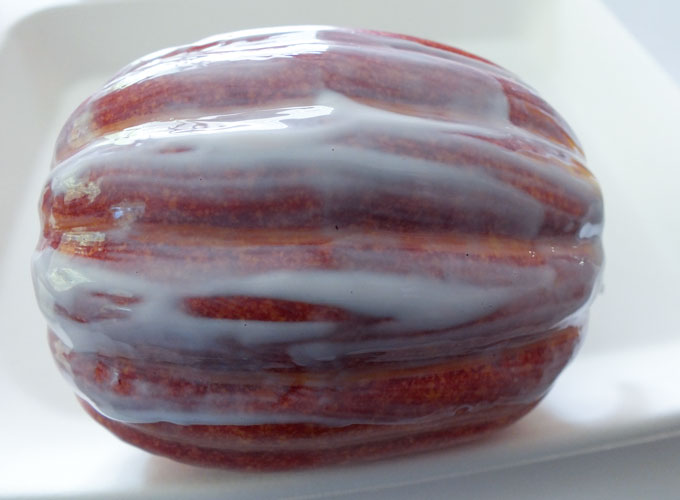 First, cover the fake pumpkin in Mod Podge using a craft brush.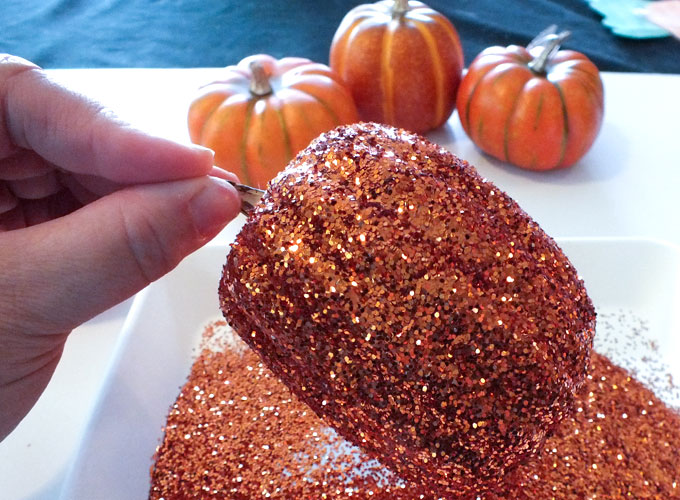 Sprinkle the glitter over the Mod Podge covered Pumpkin.  Tap off any excess glitter.  The glitter that doesn't stick can be reused.  I used orange glitter for this pumpkin here but I also made my own "harvest" pumpkin shade of glitter by mixing the orange with some brown and red glitter. Super pretty.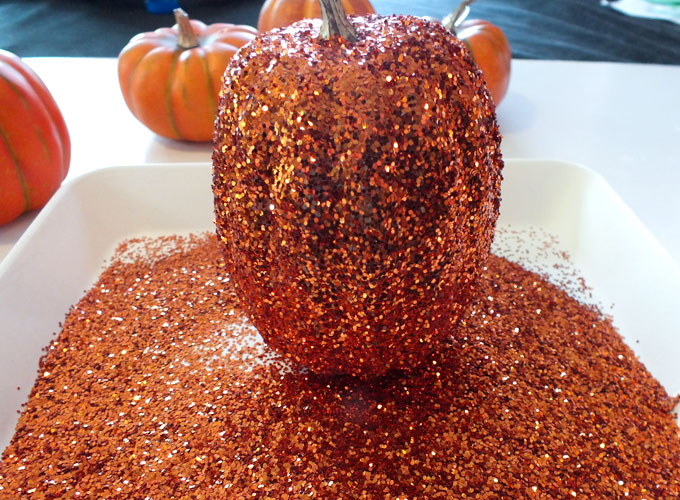 That's it.  So easy.  So pretty.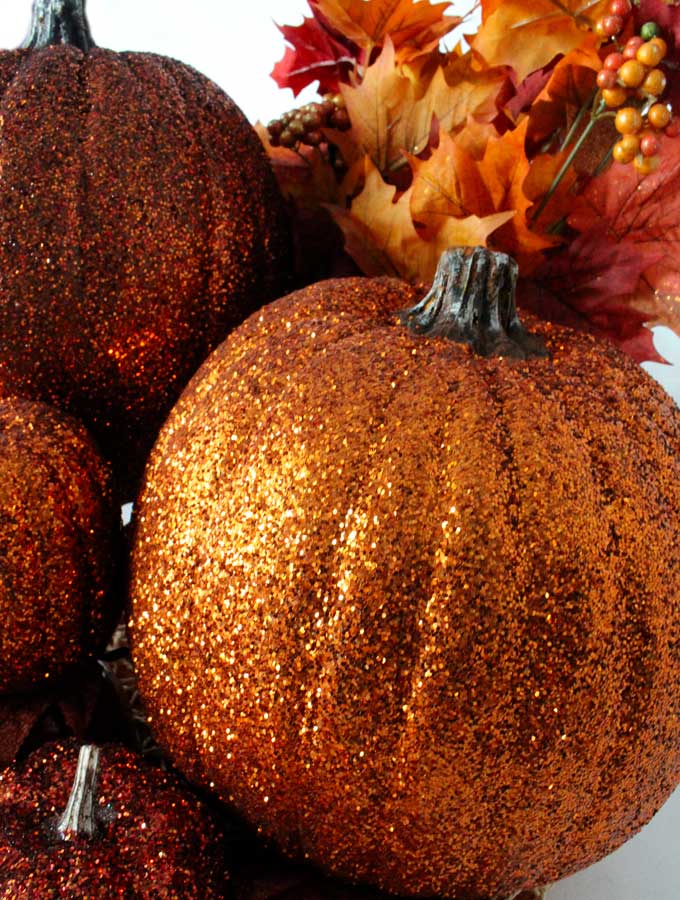 The glitter will flake off a bit when handled too much.  You can give the DIY Glitter Pumpkins a spritz of Mod Podge or Martha Stewart Finishing Spray to help with this.  Or as I sometimes do, give it a light spritz of aerosol hair spray which also works.   So grab you glitter and get started turning your boring fake pumpkins into these glittery Fall decoration show stoppers.

P.S. Let's stay in touch!  If you liked our Glitter Pumpkin post, [thrive_2step id='10744′]click here to sign up for our Email Newsletter![/thrive_2step]
Or follow us on Pinterest, Facebook and Instagram!
**This post contains affiliate links but we only recommend products that we actually used and liked. Thanks for supporting Two Sisters Crafting!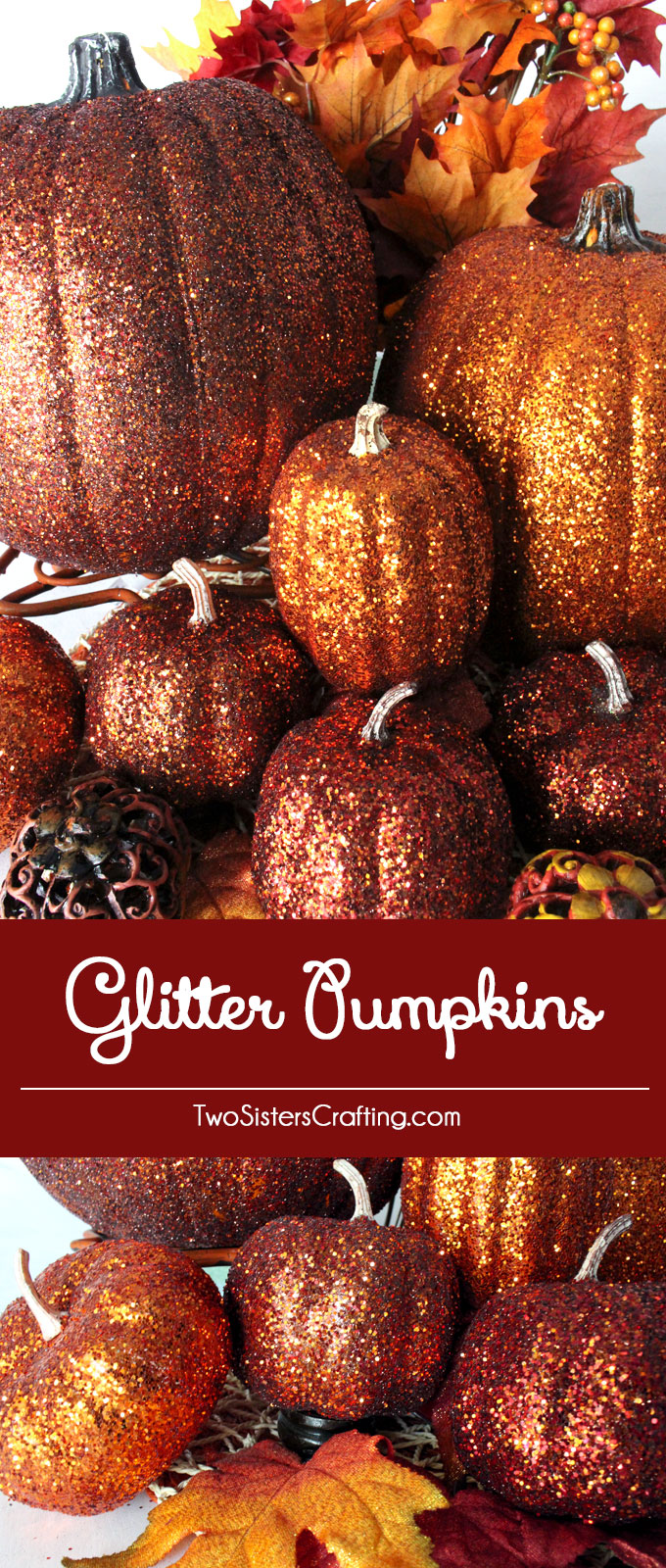 More Fun Halloween Crafts …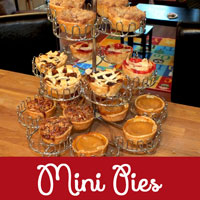 If you want to stay up-to-date on all our Halloween posts, Follow Two Sisters Crafting on Pinterest!
Follow Two Sisters Crafting's Halloween Crafts board on Pinterest.