Of all the reasons I love Pinterest, new ideas for Christmas Tree Ornaments ranks pretty high on the list.   I have found so many clever DIY Christmas decoration projects there.  These Red Glitter Christmas Tree Ornaments are one of my favorite Christmas Crafts.  They are so beautiful and so easy to make.   I am slowly cycling out my old and boring store bought Christmas balls and replacing them with these unique, handmade, glittery treasures.

How to make Red Glitter Christmas Tree Ornaments
You will need: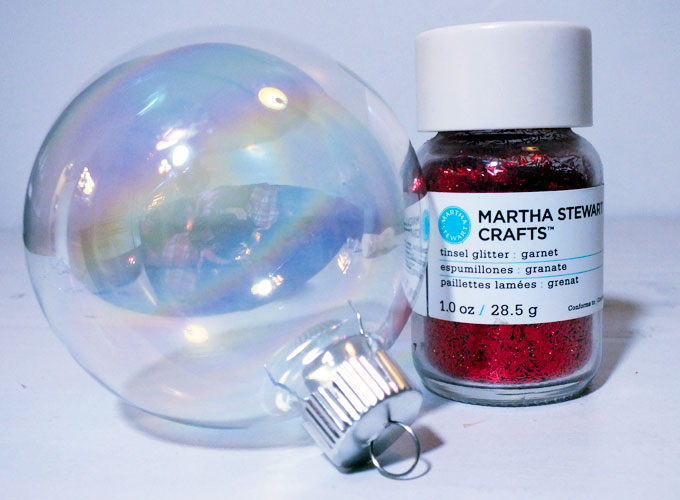 You can find these clear glass ornaments at any craft store.  Here's a tip, wait and buy them after Thanksgiving when they are on sale.   Even better, you can usually still find them after Christmas when they are at rock bottom clearance prices.    Any type of glitter will work for this project – fine, tinsel, chunky, glass glitter, regular … they will all work with this technique.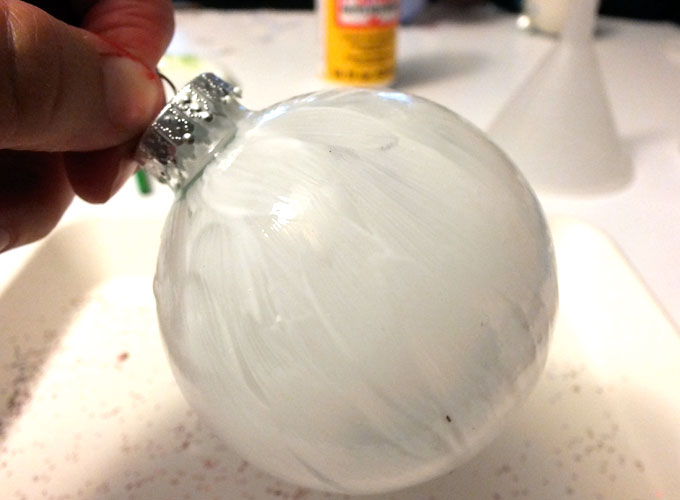 First, use a craft brush to cover the glass ornament with Mod Podge.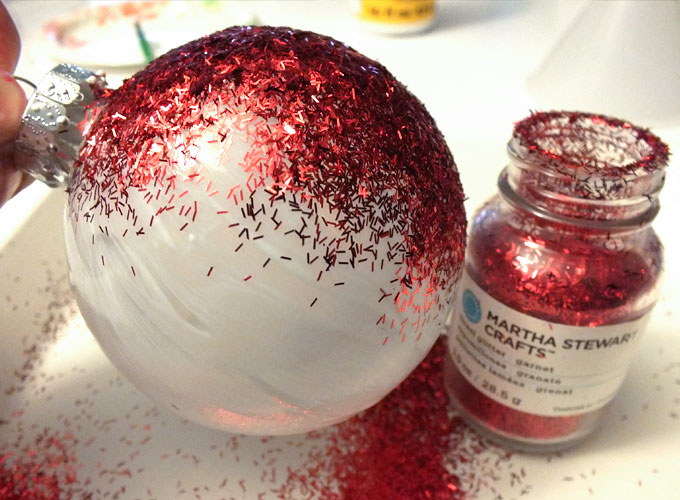 Next, generously sprinkle the glitter over the Mod Podge. I have a Martha Stewart Glitter Tray that I use for projects like this so that I can collect all the un-used glitter and pour it back in the bottle.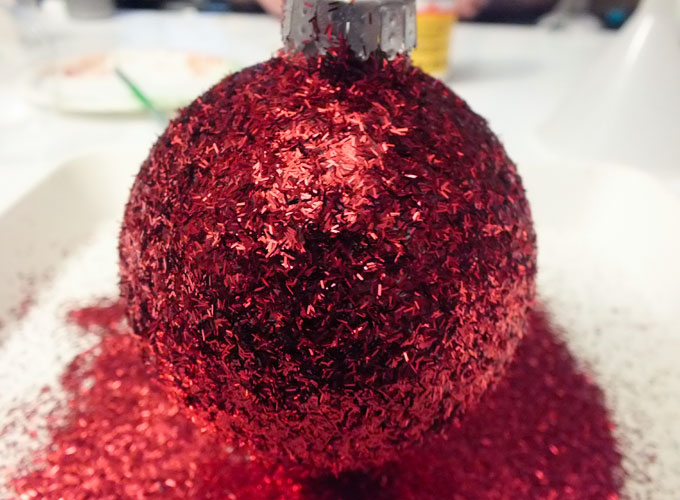 Once the ornament is completely covered in glitter, hang it up somewhere to dry.  I used a paper clip and hung it off a clothes hanger.   After a couple of hours, the Mod Podge should be dry but some of the glitter will flake off if you don't use something to set it.  I have some Mod Podge Clear Acrylic Spray Sealer that I use for this.  I give it a quick and light spray and let the DIY Glitter Ornaments dry overnight.  In a pinch, you can also use hair spray for this part of the process.  It's not quite as effective as the acrylic spray but it does work!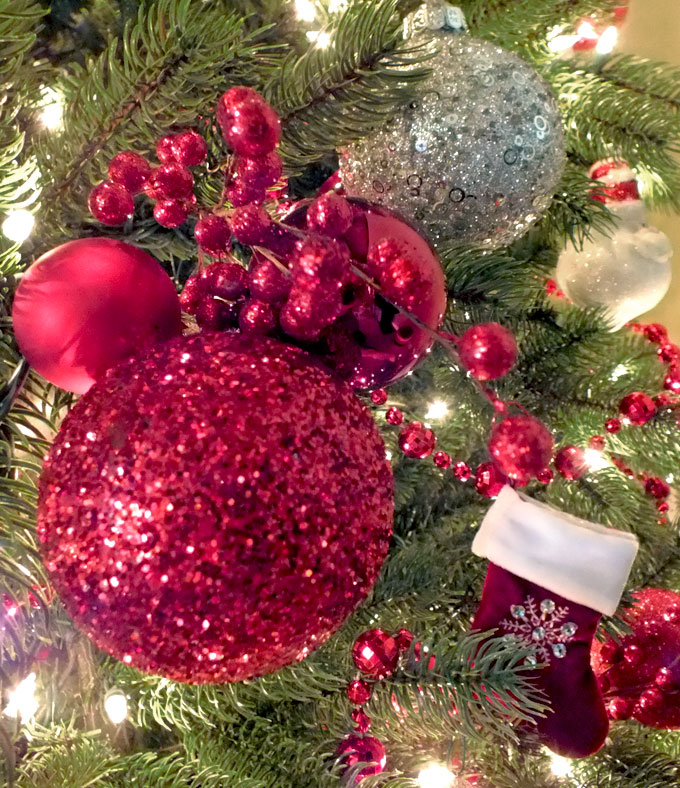 These DIY Glitter Ornaments are so easy to make and look so pretty on my Santa Christmas Tree.  I have used many different types of red glitter – the type of glitter will really change the look of the DIY Glitter Ornaments.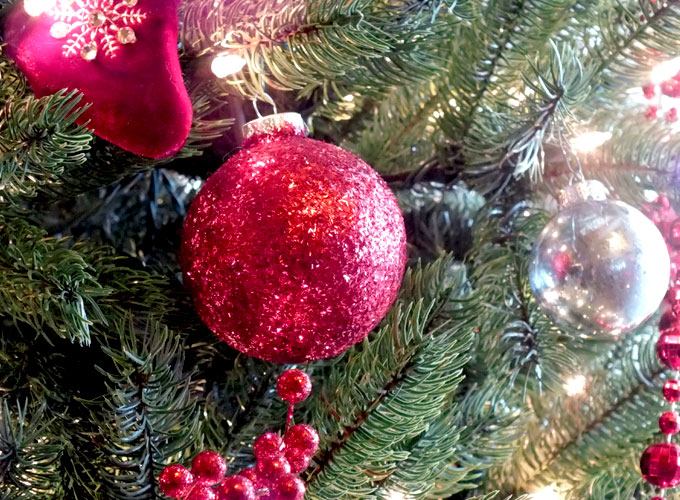 The Red Glitter Christmas Tree Ornaments will catch the light from the Christmas Tree lights and are so much prettier than plain red Christmas tree balls.

P.S. Let's stay in touch!  If you liked our Red Glitter Christmas Tree Ornaments post, [thrive_2step id='10744′]click here to sign up for our Email Newsletter![/thrive_2step]
Or follow us on Pinterest, Facebook and Instagram!
**This post contains affiliate links but we only recommend products that we actually used and liked. Thanks for supporting Two Sisters Crafting!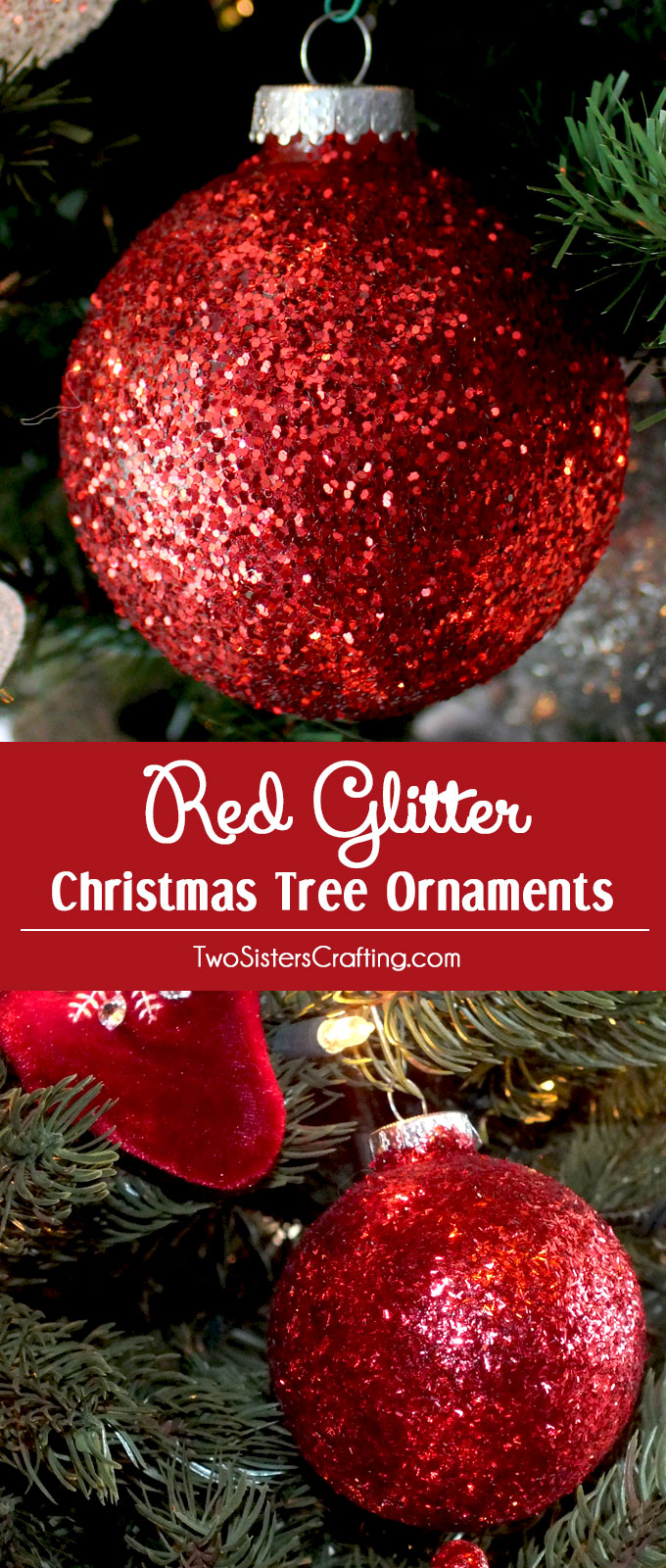 More Fun Christmas Crafts …
If you want to stay up-to-date on all our Christmas posts, Follow Two Sisters Crafting on Pinterest!
Follow Two Sisters Crafting's Christmas Decorations board on Pinterest.