Disney Frozen Snowflake Pretzel Bites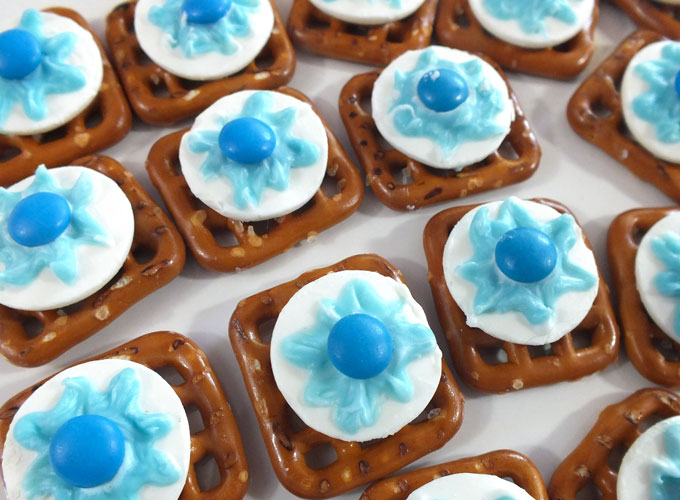 When Laurie and I were brainstorming about items for our dessert table, I got the brilliant idea to make Olaf pretzel bites.  I thought I was particularly clever, and knew it would be a super cute addition to our Frozen Dessert Table.  Unfortunately, when we did our dry run, we realized that there was no way we were going to be able to make the pretzel bite look like Olaf.   That's when Laurie came up with these Frozen Snowflake Pretzel Bites.  Party problem solved – they turned out adorably and Pretzel Bites always taste good – the perfect bite-sized blend of sweet and salty.
How to Make Frozen Snowflake Pretzel Bites
You will need:
Blue M&M Minis
Toothpicks
We used the square Pretzel Snaps instead of Miniature Pretzels because we liked the contrast between the square pretzel and the round white candy melt but the Snowflake Pretzel Bites would work nicely with the mini pretzels too.  But make sure to get the new "Bright White" Wilton Candy Melts.  They taste exactly the same as the regular white but are actually white instead of ivory.  These Bright White version looked just like "snow" for our Frozen Snowflake Pretzel Bites.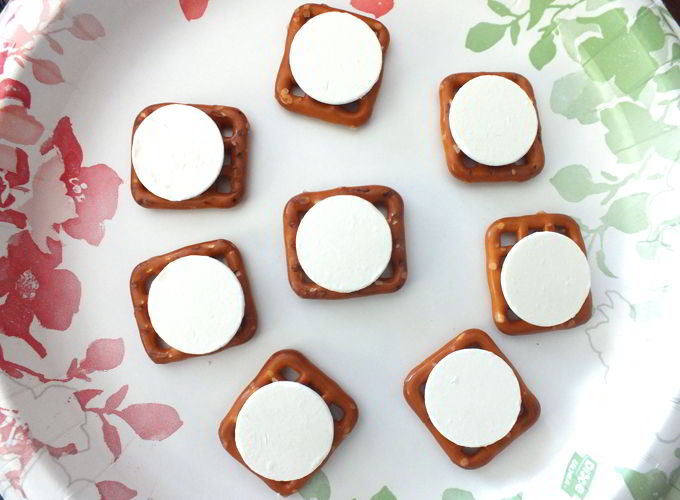 First we arranged a handful of Pretzel Snaps on a small paper plate.  We used a knife to cut off the nub on the top of the candy melt so it would sit evenly on the pretzel.  We have the bottom side of the candy melt facing up so we would have a smooth surface on our pretzel bite.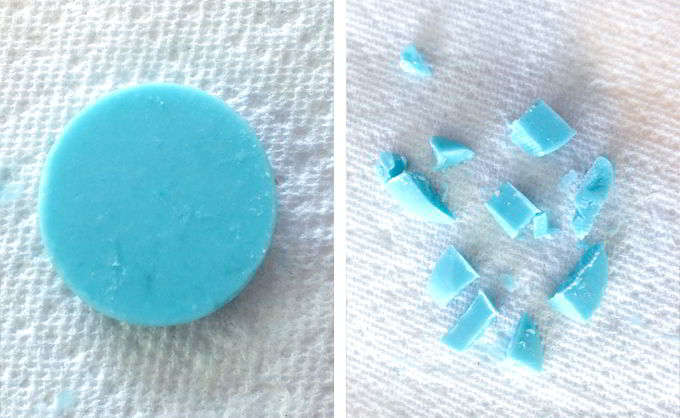 We had these blue Candy Melts left over from our Lightsaber Pretzels.   We chopped up a blue candy melt into little pieces and used them to make the blue snowflake.  We cut this candy melt into approximately 12 tiny pieces.  We didn't worry about making each piece even or the same size.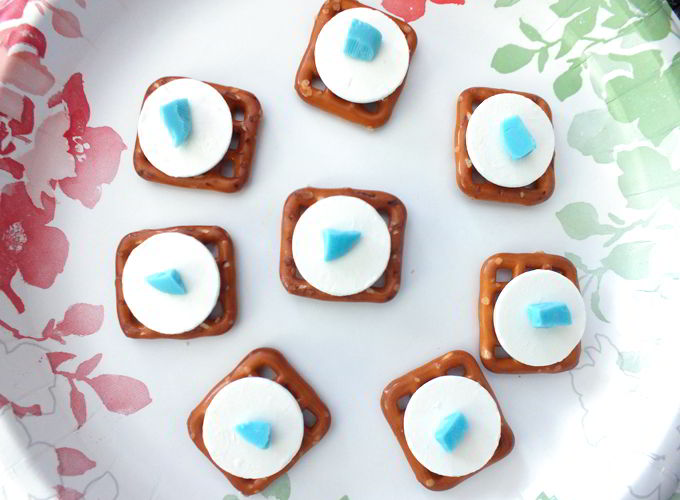 Now we placed one of the tiny pieces of blue candy melt in the center of the white candy melt.  Then we microwaved the plate of pretzels and candy melts until the candy was soft but not runny.  This was about 50 seconds in my microwave.  We used to melt the candy in a low temperature oven but as we've made more and more Pretzel Bites we've found that the microwave works just as well (if not better) and doesn't do anything to the crunchiness of the pretzel.
Now the fun part – making the snowflake.  Using a toothpick, carefully drag the melted/softened blue candy out to one corner of the white candy melt.  Repeat this for the three remaining corners until you have a free-form X shape.  Now pull out four more snowflake edges – this time in a plus-shape.   If you drag out the "X" lines a little longer than the "+" lines you will have a recognizable snowflake shape.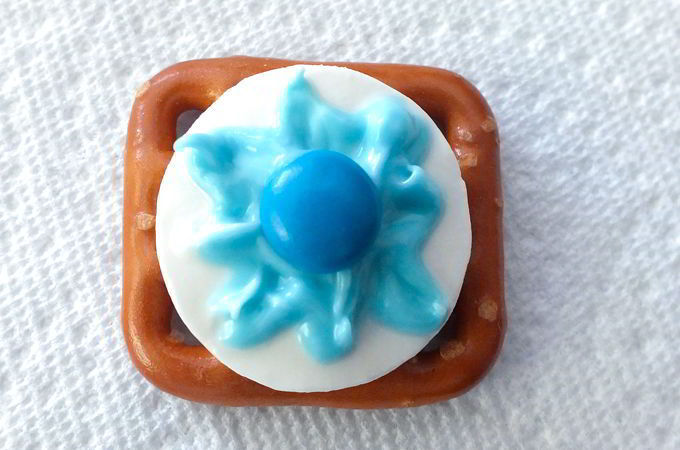 Finally, add a Blue M&M Mini to the center of the light blue snowflake.  (Remember to place the M&M logo down.)
That's it.  Super easy.  Super tasty.  And this is a make ahead party snack.  The Frozen Snowflake Pretzel Bites froze up great and tasted just as good after being defrosted as they do when they are freshly made.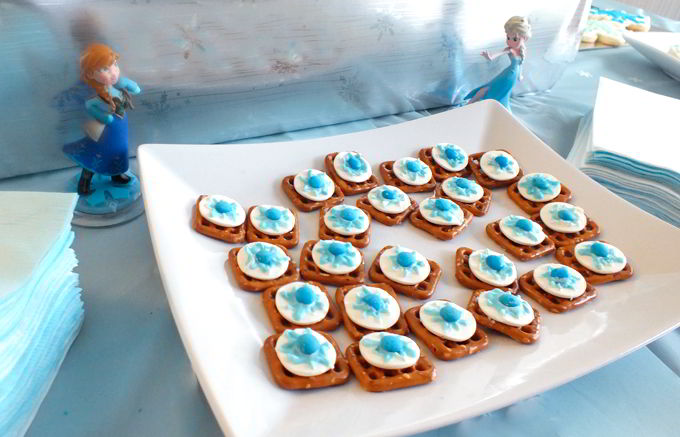 Here are our Frozen Snowflake Pretzel Bites on our Frozen Party Dessert Table. They looked so pretty and blended right in with the blue ombre dessert theme we created for the Frozen Party.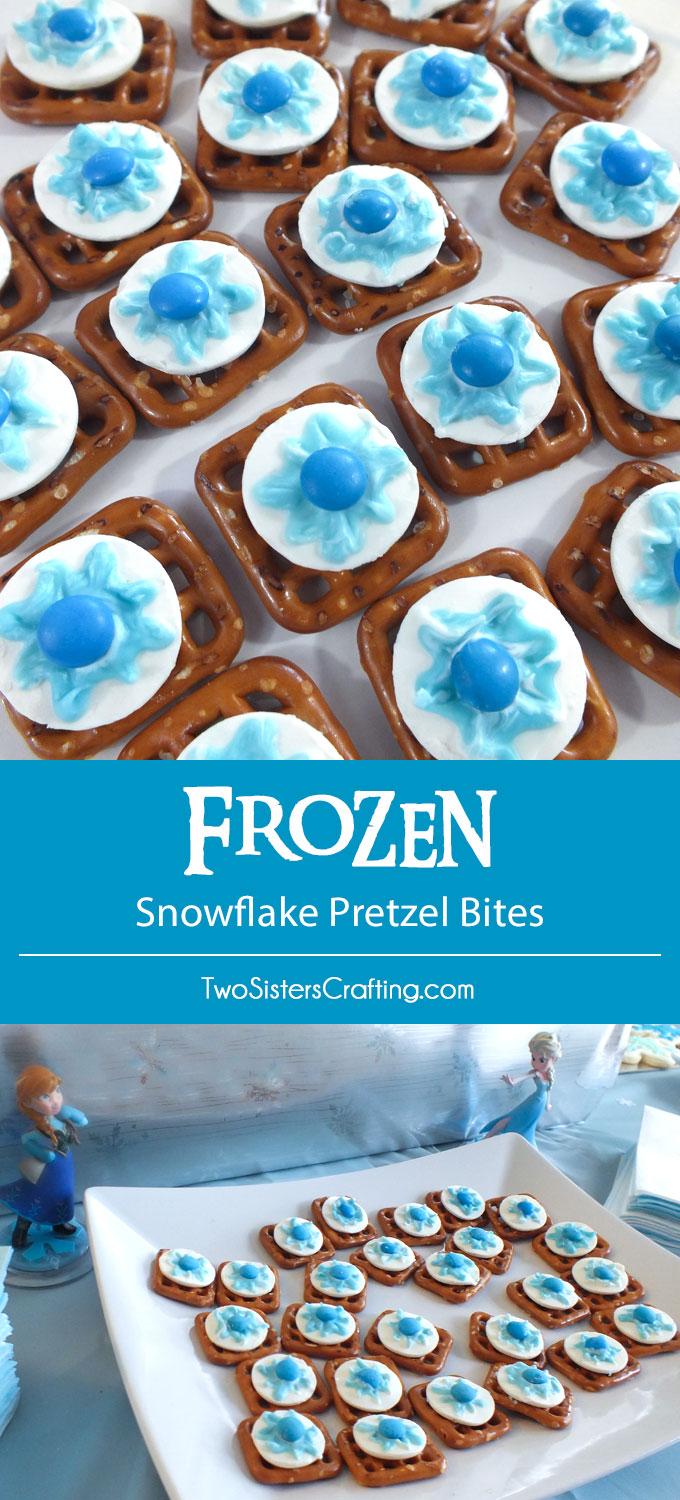 **This post contains affiliate links but we only recommend products that we actually used and liked. Thanks for supporting Two Sisters!