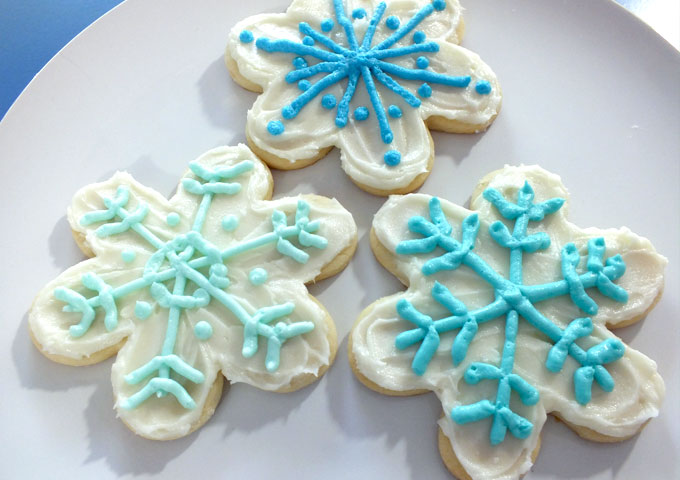 Nancy and  I felt that our Frozen Dessert Table needed one more item.  We knocked around ideas until we came up with Snowflake Cookies.  We were worried they might be a little too Christmas-y but then decided we didn't care because we love frosted sugar cookies and just assume everybody else does too.  And we guess we are right about this because by the end of the Frozen Party they were all gone.

How to Make Disney Frozen Snowflake Cookies
You will need:
Disney Frozen Snowflake Cookies start with our The Best Sugar Cookie Recipe.   This is the best sugar cookie dough we have ever baked with – it makes a soft and delicious cookie that always keeps it shape after baking.  Check out our Best Sugar Cookie Recipe post for the recipe and detailed instructions on how to create great sugar cookies every time.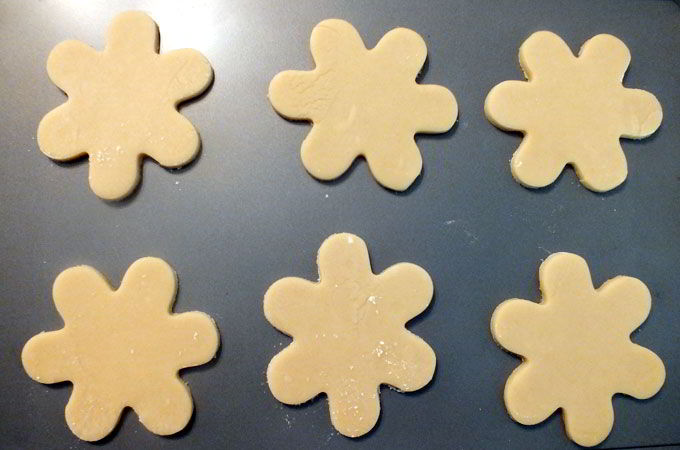 We tried a lot of different snowflake cookie cutters before settling on this one.  (I think it may actually be a flower!)  But the traditional snowflake cookie cutters that we had were very intricate and therefore made a very delicate sugar cookie.  The baked cookies kept breaking.  The cookie cutter that we ended up using had bigger, more rounded edges was a lot sturdier.  We didn't want these snowflakes to break in half when our guests picked them up off the Dessert Table!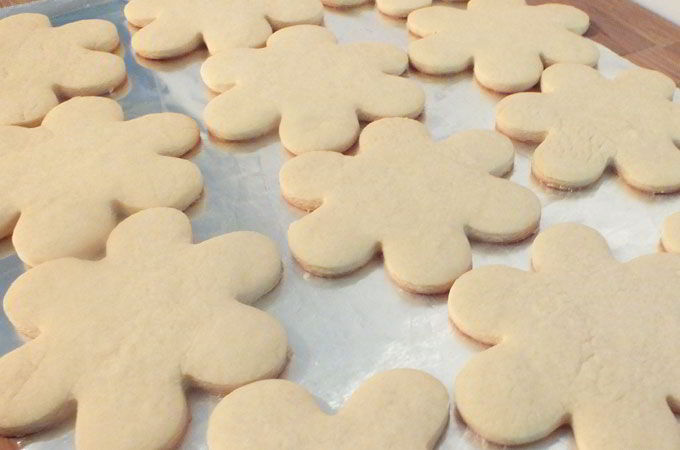 Look how perfectly these snowflake cookies came out of the oven.  This sugar cookie recipe really is the BEST!
We made 20 cookies and we used one batch of Buttercream Frosting to frost them.  We kept half the batch white to use as the base frosting for each cookie.  Our dessert table had a ombre theme so we also used Americolor Sky Blue food coloring to make three different shades of blue that matched our other ombre desserts (Birthday Cake, Mini Cakes, Rice Krispie Treats) to decorate the Snowflake Cookies.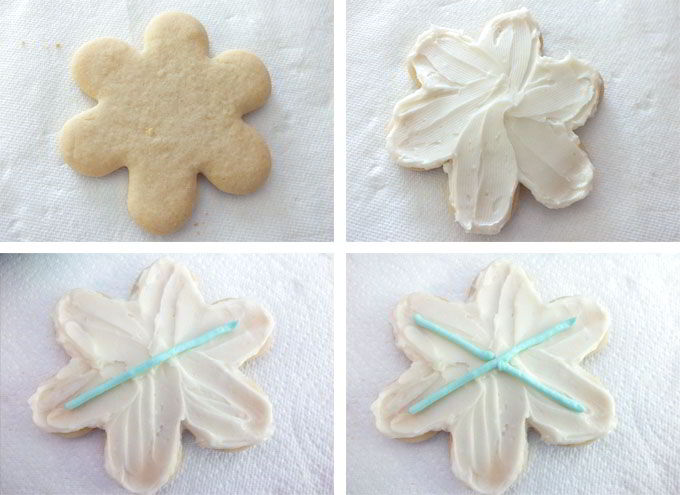 Frosting the Snowflake Cookies was a Two-Sister job.  I frosted the sugar cookies with white buttercream frosting …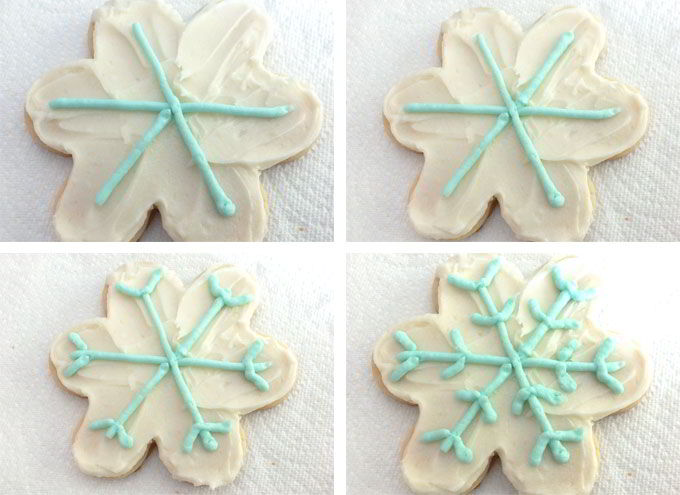 and then Nancy used her excellent cake/cupcake/cookie decorating skills to create the snowflake designs with the colored frosting.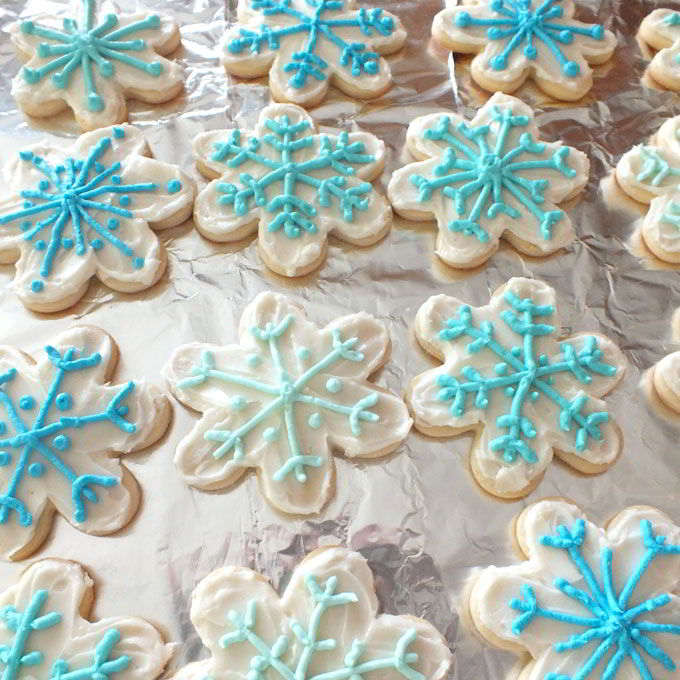 Nancy created different snowflake designs with all three shades of blue frosting.  They looked so pretty!
The Frozen Snowflake Cookies looked so beautiful on our Frozen Dessert Table.
We displayed them on a silver foil cake board that we found at Walmart.  They were the perfect last touch to our masterpiece treat table!
Don't forget to visit our Disney Frozen Party Idea post to see all of the other fun things from our Disney Frozen Party!

P.S. Let's stay in touch!  If you liked our Frozen Snowflake Cookies post, [thrive_2step id='10744′]click here to sign up for our Email Newsletter![/thrive_2step]
Or follow us on Pinterest, Facebook and Instagram!
**This post contains affiliate links but we only recommend products that we actually used and liked. Thanks for supporting Two Sisters Crafting!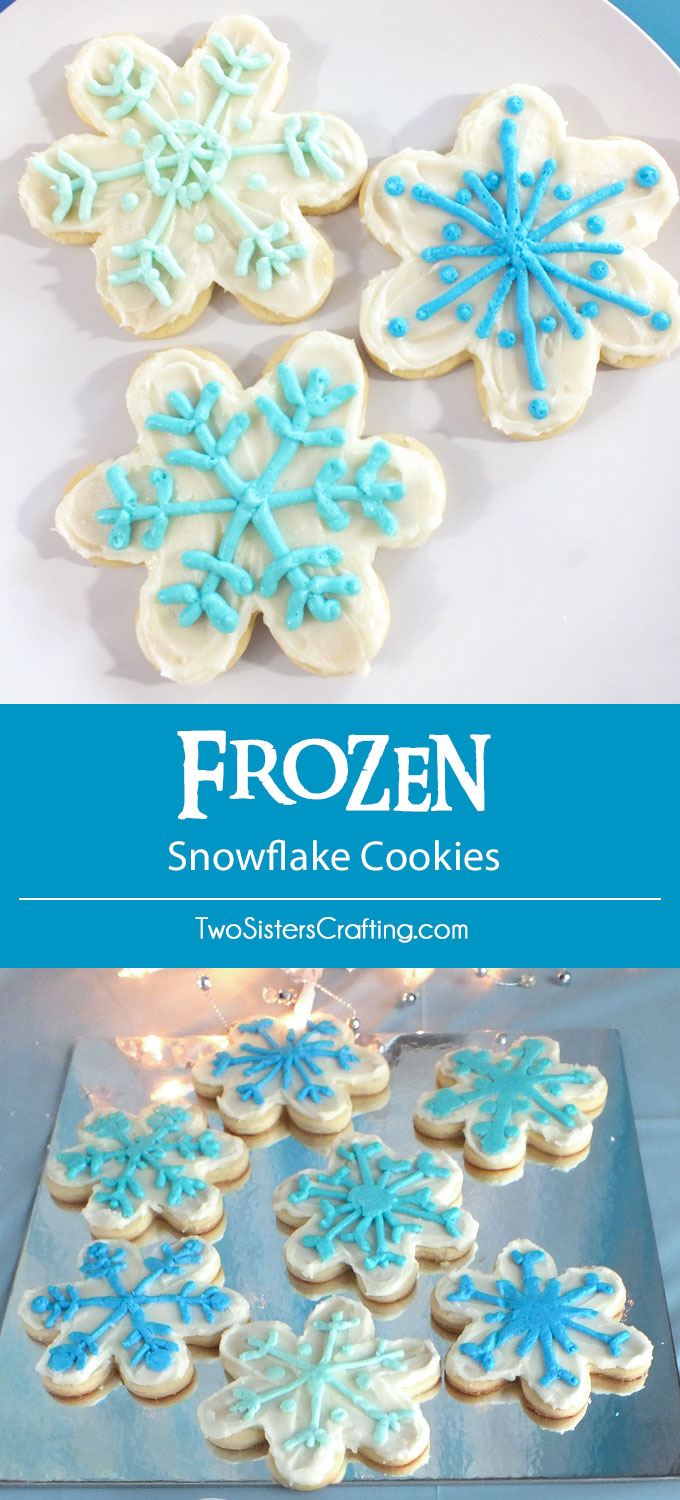 More Fun Disney Frozen Party Ideas …
If you want to stay up-to-date on all our Frozen Party posts, Follow Two Sisters Crafting on Pinterest!
Follow Two Sisters Crafting's board Frozen Party Ideas on Pinterest.