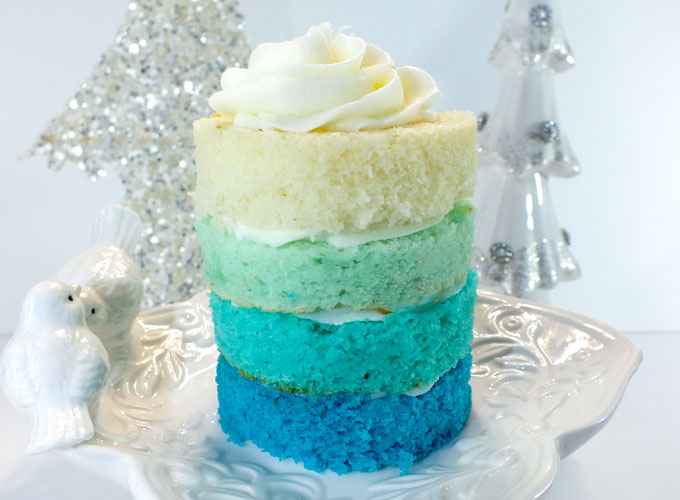 For Allison's 3rd birthday, I made cupcakes and a cake.  This year I wanted to do something different to shake it up a bit.  We found these ombre mini cakes on Pinterest and knew we wanted to try and recreate them.  I think they turned out great.  It was not as easy as cupcakes, but visually these Frozen Ombre Mini Cakes were beautiful (and they tasted great!)

How to Make Frozen Ombre Mini Cakes
You will need:
White Cake Recipe or White Boxed Cake Mix
Rectangle Cake Pans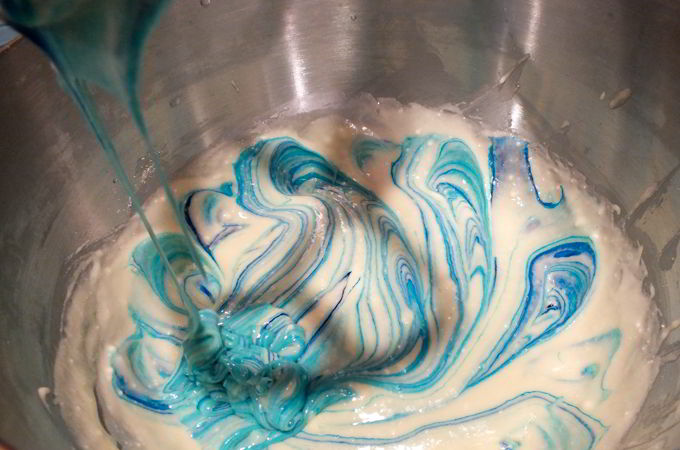 You need to bake four cakes using a white cake mix or your favorite white cake recipe. We used a cake mix.   Three of the four cakes are tinted with food coloring to achieve the Ombre effect.   We used Sky Blue Americolor food coloring to color the cakes for the bottom three layers – using an increasing amount of food coloring in each cake so the finished product would have a different shade of the same color – for us blue.  The only exception to this is that we added a couple of extra drops of Americolor Royal Blue to the cake for the bottom layer to get a deeper shade of blue.  The fourth cake has no food coloring.
Cake One – No Food Coloring
Cake Two – 1 Drop of Sky Blue Food Coloring
Cake Three – 3 Drops of Sky Blue Food Coloring
Cake Four – 5 Drops of Sky Blue Food Coloring and 2 Drop of Royal Blue Food Coloring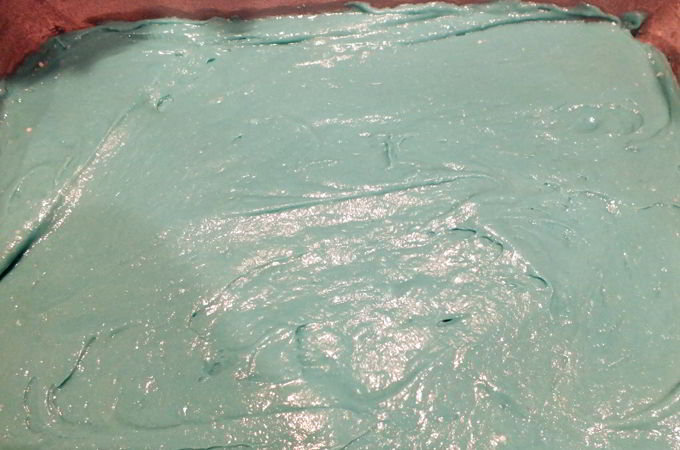 The next decision for us was what type of baking pan to use for the cakes.  We debated the merits of both a cookie sheet and a regular rectangle cake pan.  We eventually decided to use the rectangle cake pan to make sure we got a moist cake.  Each piece we cut-out with the biscuit cutter would be cut in half to produce layers for 2 Frozen Ombre Mini Cakes.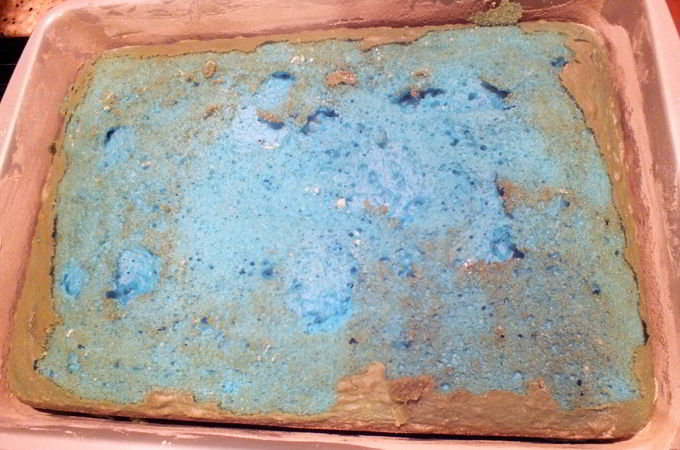 Here is one of the colored cakes just out of the oven.  We removed the top crust of the cake with a fork before we started cutting out the mini cakes pieces.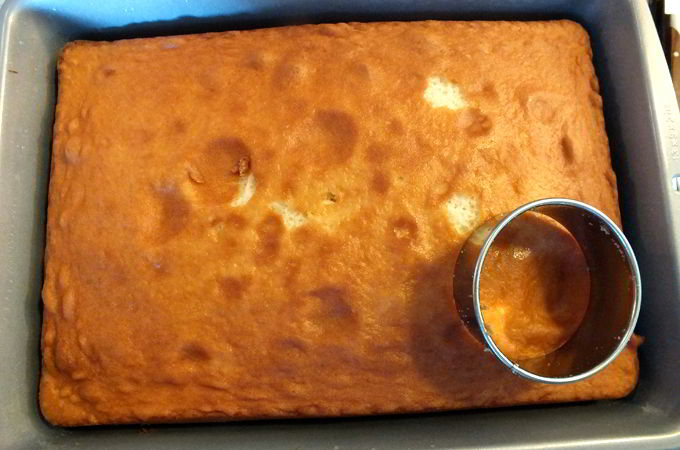 We used a biscuit cutter to create the mini cake pieces.
We had enough room in the rectangle sheet cake to cut-out 8 cake cylinders.    Each cylinder produced a layer for two cakes.   So we were able to make 16 Frozen Ombre Mini Cakes total and had a lot of leftover cake remnants.  (We are going to use them to make a trifle or a colorful strawberry shortcake dessert!)
Then we cleaned up the layers.  We trimmed off the crust from the top and the bottom of the cake cylinder. We evened the cake cylinder up where necessary and then we cut it in half.  We tried to keep each layer at a consistent 1″ high.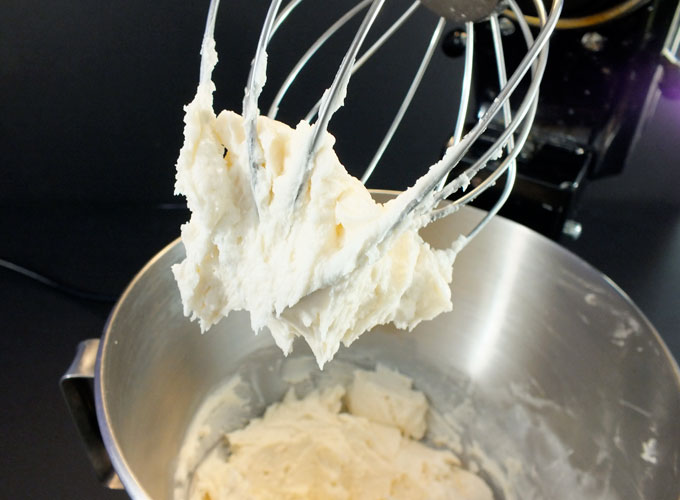 We made a batch of our Best Buttercream Frosting.  It is the best Buttercream Frosting you have ever tasted and you will never use another recipe after you try this one! You can find the recipe right here.
Now we started assembling the Frozen Ombre Mini Cakes.  A layer of cake, then a swirl of buttercream frosting and so on.  We used a Wilton 2D Frosting Tip to make this frosting swirl but you could also just apply the frosting with a knife.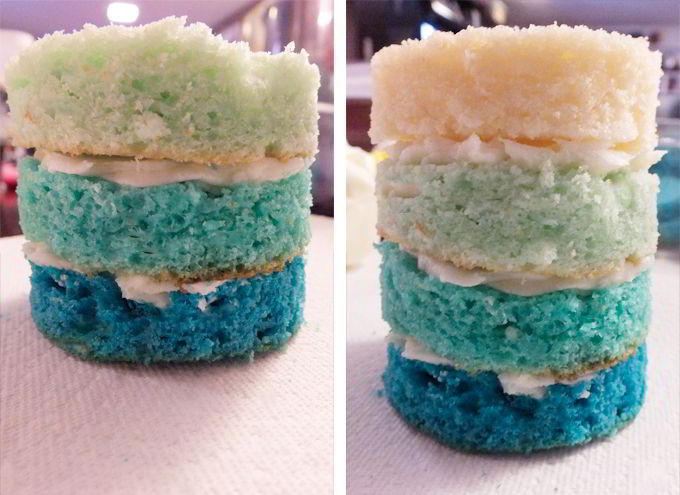 End with the white layer.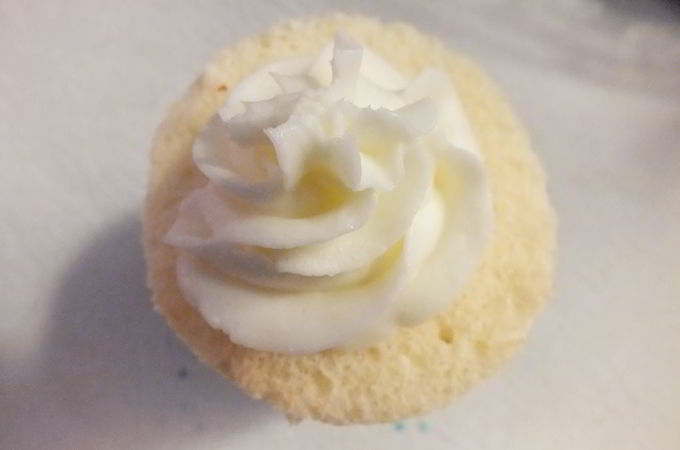 I added a bigger swirl of frosting on the top of each Ombre Mini Cake.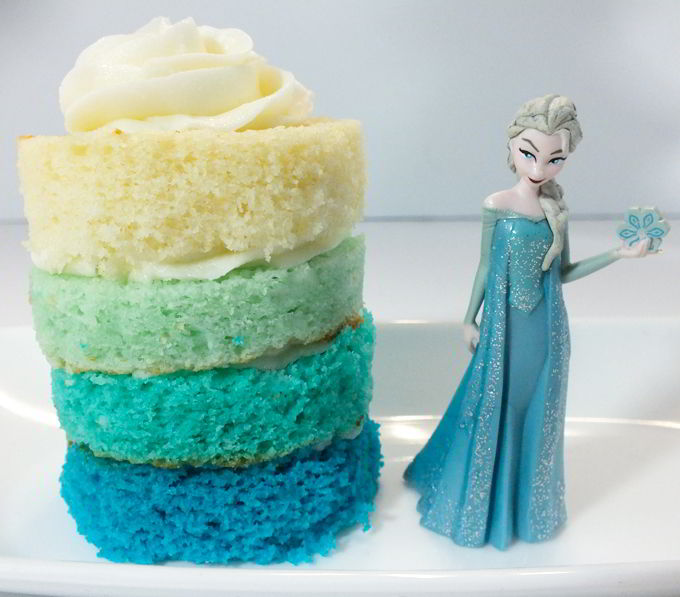 Here's the final version next to our Queen Elsa figurine.  I think we got the colors just right. The Ombre Mini Cake were so very beautiful.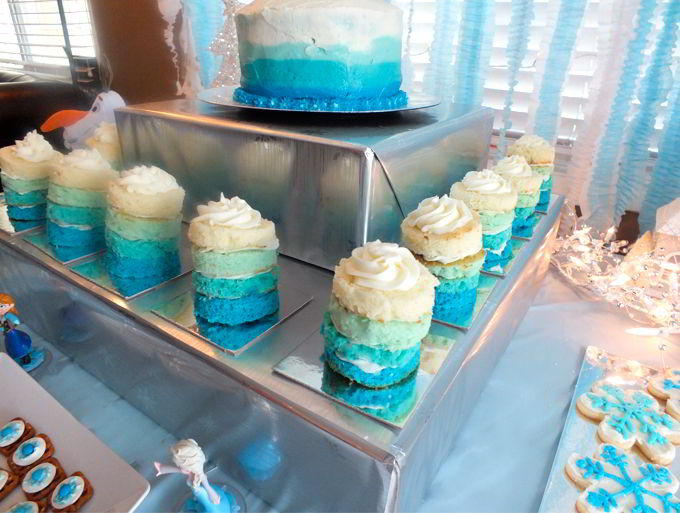 We displayed the Ombre Mini Cakes around our Frozen Birthday Cake on our Dessert Table.  They were a huge wow factor at our Frozen Party.  They looked so beautiful, were so moist and delicious and the frosting tasted amazing.  Our guests loved them!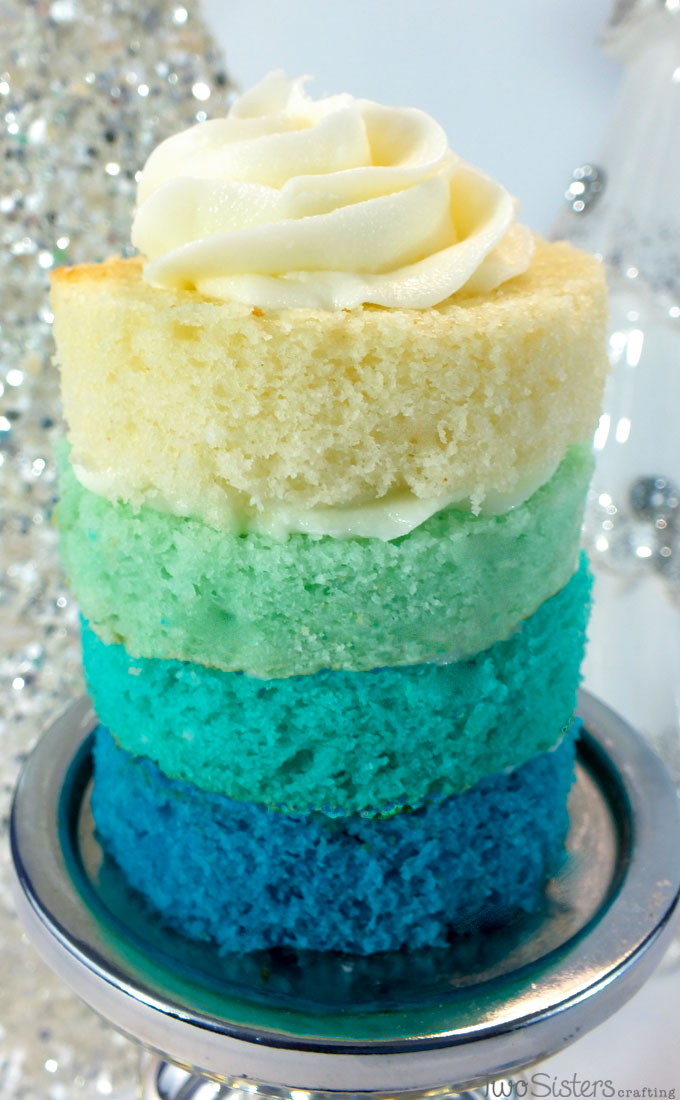 BUT. BUT. BUT.   These Ombre Mini Cakes were very time-consuming to make .  I wouldn't call it hard but there are a lot of steps. Cupcakes are definitely easier.  I'm glad I made them, they added a definite wow factor to our Frozen Party Dessert Table but be prepared if you take this on … there is a time commitment involved that should be factored into your regular party preparation plan.

P.S. Let's stay in touch!  If you liked our Frozen Birthday Party Invitations post, [thrive_2step id='10744′]click here to sign up for our Email Newsletter![/thrive_2step]
Or follow us on Pinterest, Facebook and Instagram!
**This post contains affiliate links but we only recommend products that we actually used and liked. Thanks for supporting Two Sisters Crafting!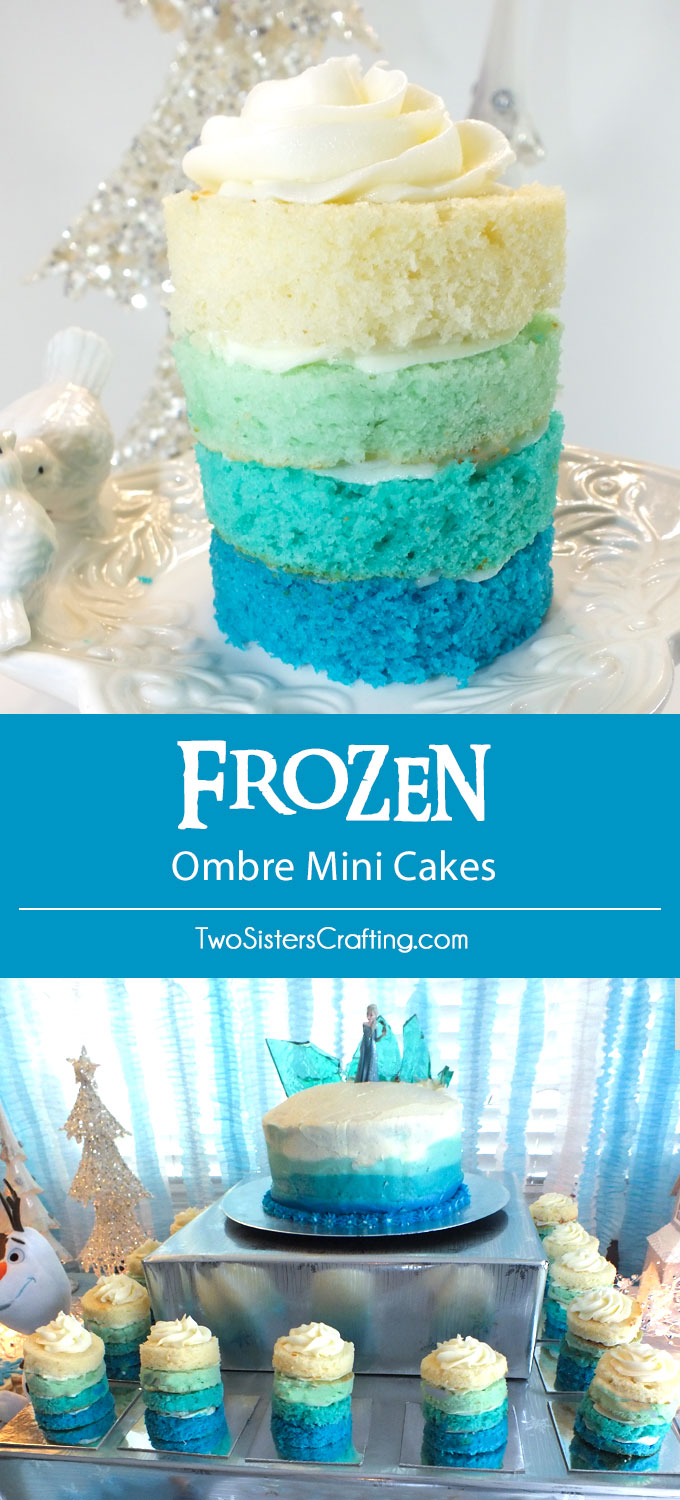 More Fun Disney Frozen Party Ideas …
If you want to stay up-to-date on all our Frozen Party posts, Follow Two Sisters Crafting on Pinterest!
Follow Two Sisters Crafting's board Frozen Party Ideas on Pinterest.