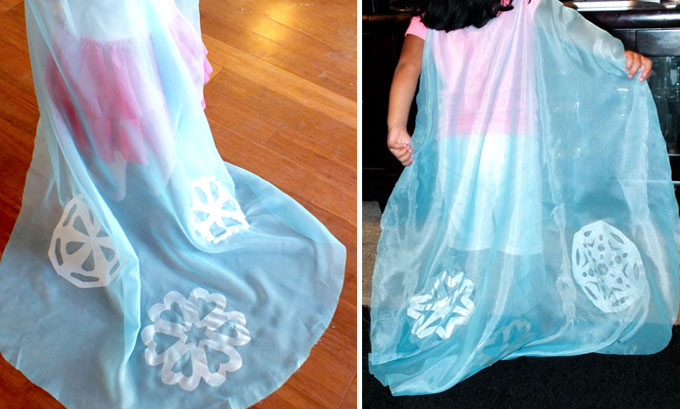 There are a couple of pins floating around Pinterest showing how to make Elsa capes.  Since Allison loves throwing whatever is handy around her neck while singing Let it Go, we thought it would be fun to make her an Elsa cape for the party.  As with all our ideas, one thing led to another and suddenly we were making Elsa capes for all the girls at the party.   We procrastinated working on them because it seemed like too big of a project, and we just weren't sure if they would turn out.  (I am sure the non-procrastinators of the world do not understand this reasoning.)  Anyway. When we (and by we I mean Laurie) finally sat down and worked on them it wasn't as hard as we had feared and they turned out great.   The girls loved their DIY Elsa Capes and wore them through the whole party.  I have heard from a couple of the parents that their girls wear their DIY Elsa Capes every day.  

How to Make Disney Frozen DIY Elsa Capes as Party
You will need:
Chiffon type blue fabric (approximately 1 yard for each cape)
Large piece of paper to make cape pattern
Scissors
White fabric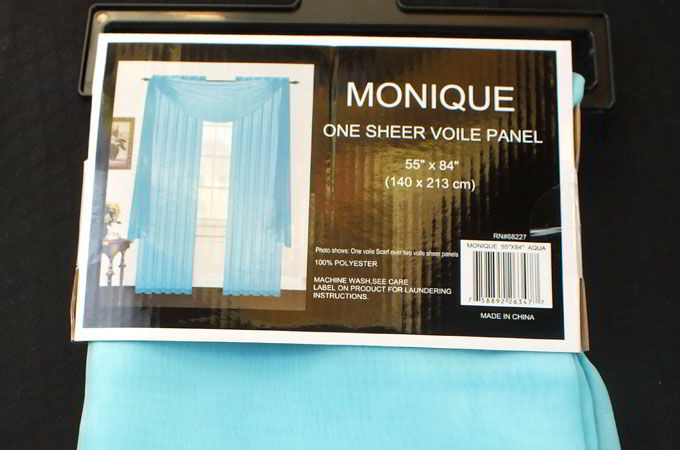 It took us awhile to find the right fabric for our DIY Elsa Capes.  The options at our local fabric stores were either too expensive or not the right color of blue.  Laurie had the idea of using curtain sheers instead of store bought fabric.  After looking at Target, Walmart and Bed, Bath and Beyond we found these blue sheer panels at Amazon.    We were able to make two capes out of each panel.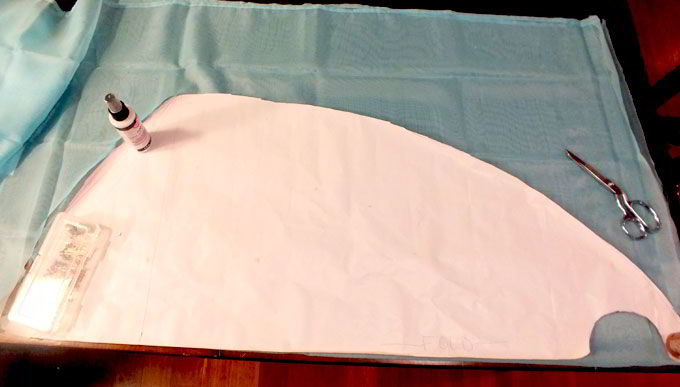 We found the directions for making this no-sew DIY Elsa Cape at the Make It and Love It blog.  She has an amazing post with detailed instructions on creating a pattern based on the height of the child.  Check out her post for step by step instructions and we will focus here on tips and tricks we discovered while making our version of these DIY Elsa Capes.
The chiffon fabric we used was very delicate and the edges frayed easily as you can see in the image above.  At the Make It and Love It blog she explains how she used a candle flame to sear the fabric edges to keep the fabric from fraying.  We tried this and burned a gigantic hole in the fabric – uh oh.  On to Plan B.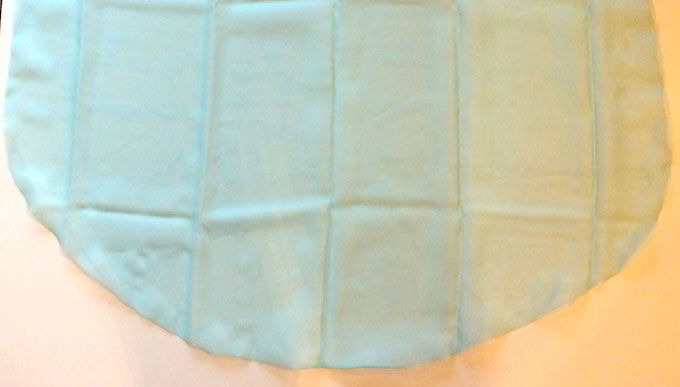 We went to Jo-Ann Fabric and bought some  Fray Check – Liquid Seam Sealant.  After carefully trimming the edges of the DIY Elsa Cape with VERY sharp fabric scissors we applied the Fray Check all the way around the outside edge of the DIY Elsa Cape.  The fabric sealant worked – the fabric did not have any further fraying once the seam sealant liquid dried.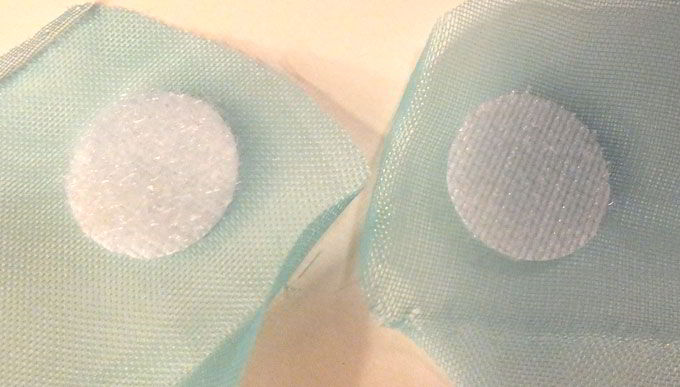 For the closure at the neck we used Velcro dots as suggested in the inspiration post.  However, the fabric adhesive that was already on the back of the velcro dots was not strong enough to keep the velcro pieces attached to the chiffon fabric.  We had to glue the velcro pieces to the fabric with glue. We used Tacky Glue because we knew it would dry clear.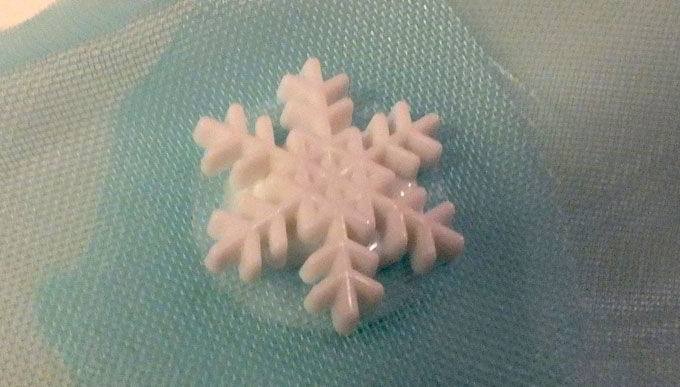 We found these Snowflake buttons at the fabric store.  We cut off the button clasp on the back and glued the plastic snowflakes over the velcro piece on the neck closure as an embellishment.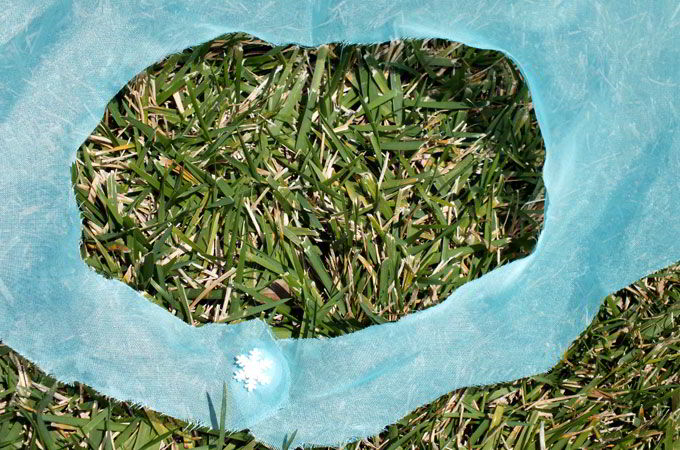 Here is what the snowflake clasp looked like on the DIY Elsa Cape.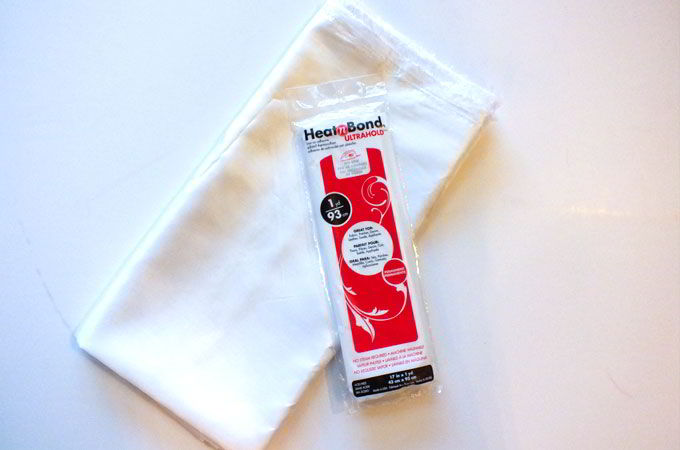 Queen Elsa's cape has snowflakes at the bottom of it.  We wanted to add something like this.  We used one of the Make It and Love It blog ideas about creating Iron-On adhesive snowflakes.  We bought some white satin fabric that was on sale at Jo-Ann Fabrics and then used Heat n' Bond Iron On Adhesive to attach the snowflakes to the DIY Elsa Cape.  First, we cut out 10 x 10 inch squares of the white satin fabric.  Next we attached the Iron On Adhesive to the back of the white satin fabric squares.  Then we cut-out snowflakes from the satin squares using a technique we remembered from our childhoods but here's a a great tutorial on how to make paper snowflakes if you didn't do this as a kid.   The last step is to iron on the snowflake to the DIY Elsa Cape.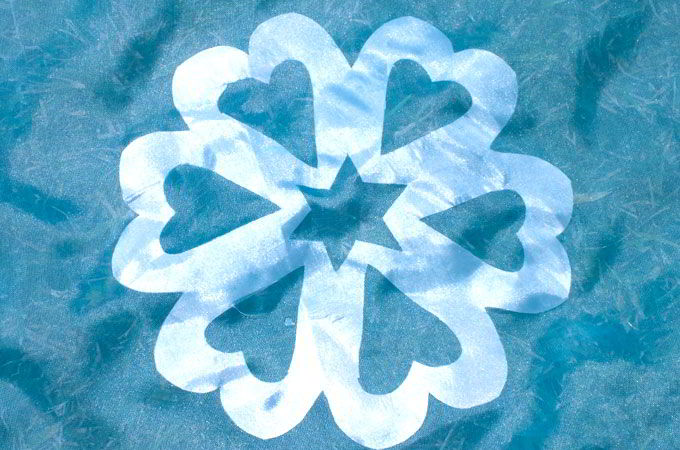 Here is one of the snowflakes.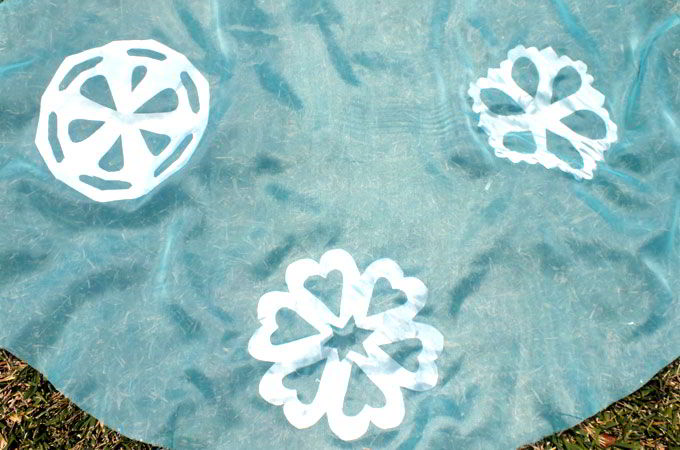 Each cape had three different iron on snowflake designs.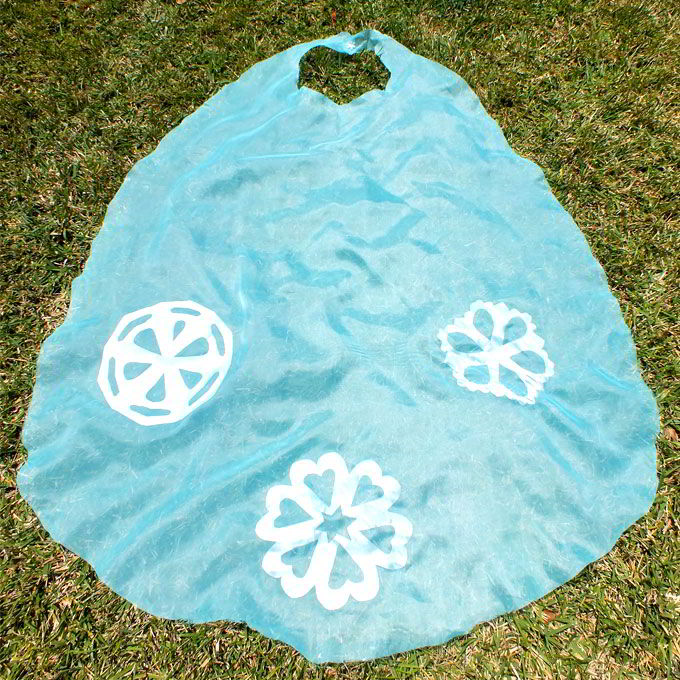 Here is the final product – our DIY No-Sew Elsa Cape.  Simple but super adorable.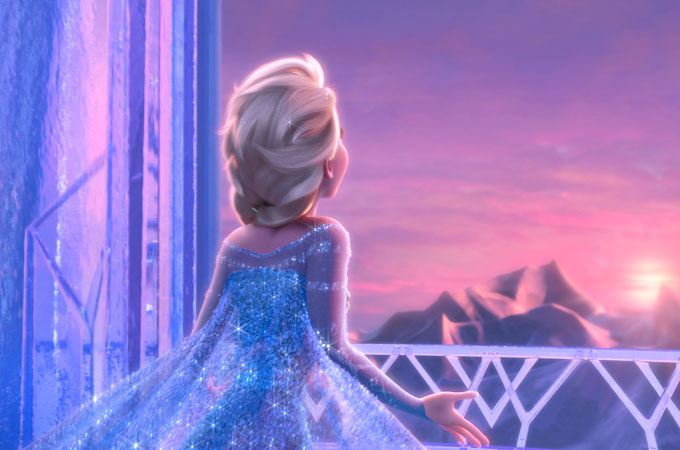 Elsa's real cape was a little more sparkly but …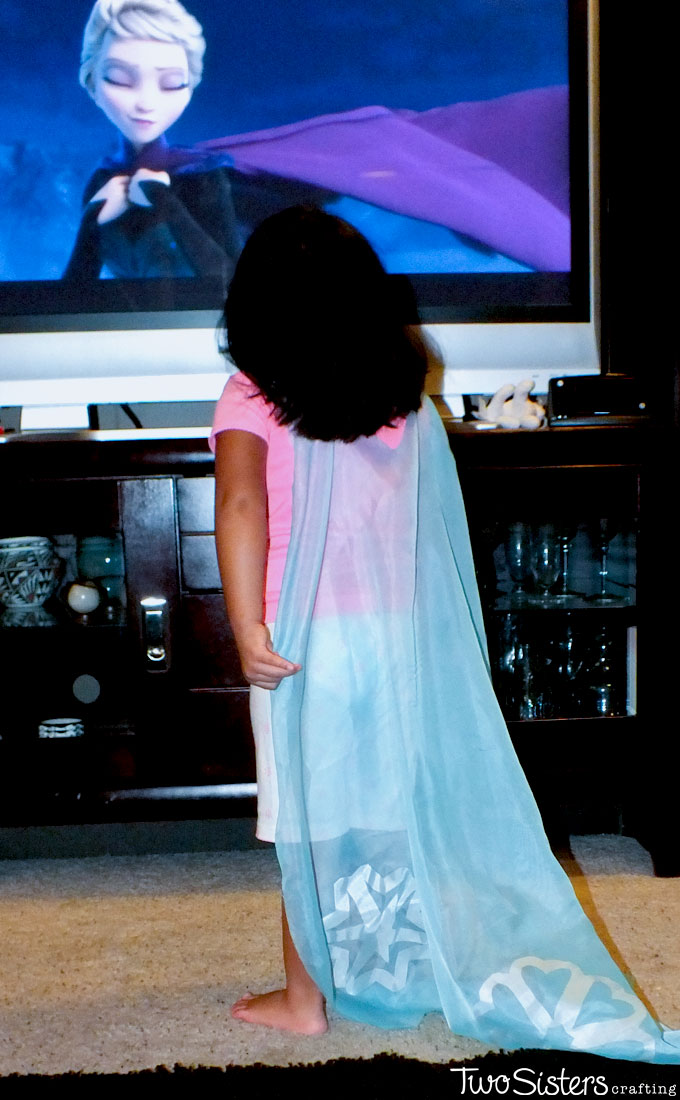 Allison didn't seem to mind.  Here is she is wearing the cape and singing "Let It Go" along with Elsa on the TV, happy as can be to be an Ice Queen with a fancy cape!
The girls at our Frozen Party LOVED their DIY Elsa Capes and wore them throughout the whole party, constantly flinging and swirling them around just like Elsa does in the movie.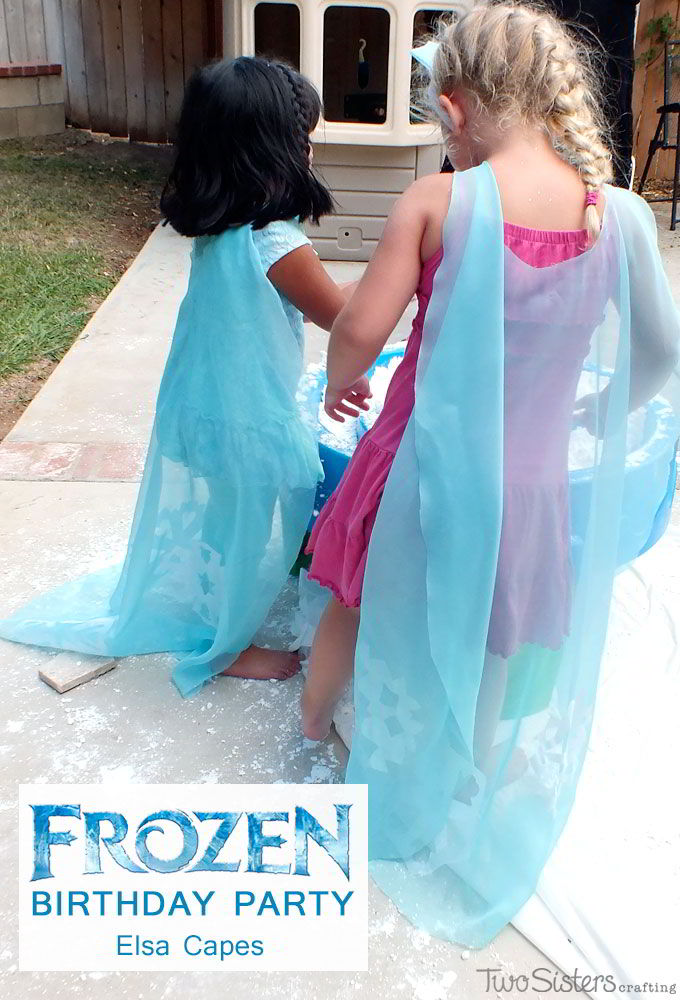 With the exception of our DIY Play Snow we think these capes were the biggest hit of the entire party.

P.S. Let's stay in touch!  If you liked our Frozen DIY Elsa Capes post, [thrive_2step id='10744′]click here to sign up for our Email Newsletter![/thrive_2step]
Or follow us on Pinterest, Facebook and Instagram!
**This post contains affiliate links but we only recommend products that we actually used and liked. Thanks for supporting Two Sisters Crafting!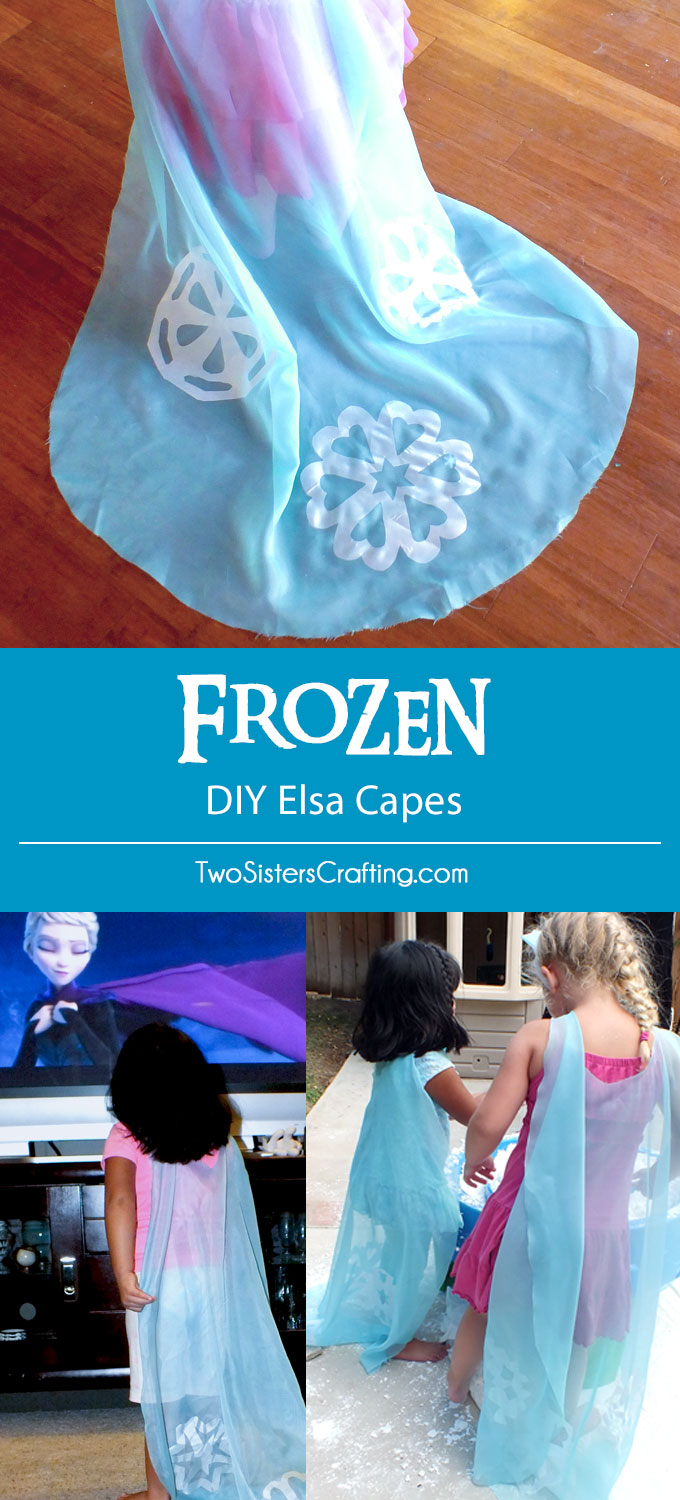 More Fun Disney Frozen Party Ideas …
If you want to stay up-to-date on all our Frozen Party posts, Follow Two Sisters Crafting on Pinterest!
Follow Two Sisters Crafting's board Frozen Party Ideas on Pinterest.