I have seen the ombre petal cakes all over Pinterest.  I think they are beautiful.  I decided I wanted to do something like that for Allison's 4th birthday Frozen Birthday Cake.  Unfortunately, it is a labor intensive process and I ran out of time.  The morning of the party I was frosting the cake and after the second row I knew I would never finish in time.  I decided to try a smooth ombre effect instead.  This version of our Frozen Birthday Cake with Ombre Frosting took a lot less time, turned out just as beautifully and looked gorgeous on our Frozen Dessert Table.  The Hard Candy Frozen Fractals Ice Castle cake top decoration was an experiment that took a couple of tries to get right but made quite the impression with our guests!  

How to Make a Frozen Birthday Cake with Ombre Frosting
You will need:
2 Boxes Chocolate Cake Mix
Eggs, Oil, Water (per cake mix directions)
9″ Round Cake Pans
Pan of Hard Candy (see instructions below)
Disney Frozen Queen Elsa Figurine
We wanted this cake to make a statement on the Frozen Dessert Table so we made it extra tall.  We accomplished this by using 2 boxes of chocolate cake mix and cooking the batter in three 9″ round cake pans instead of four.  This gave us three extra tall layers of cake as a foundation for our Frozen Birthday Cake.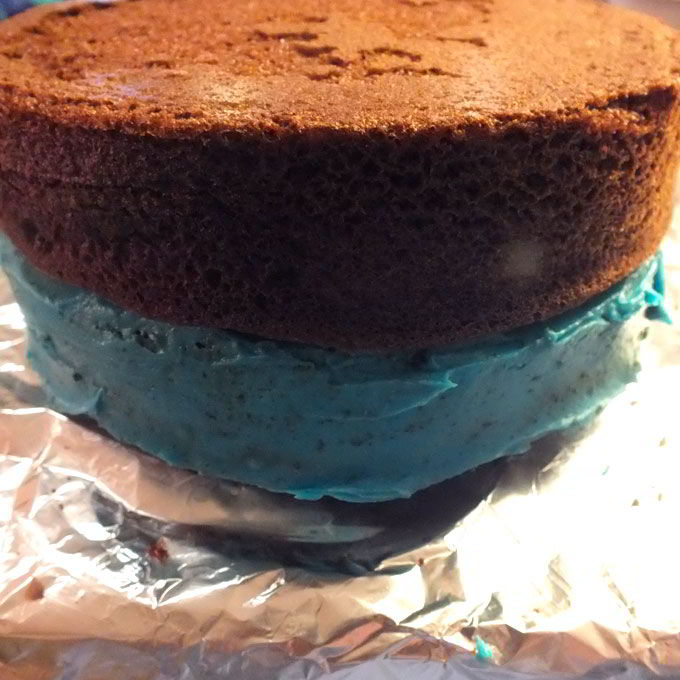 I used my famous Buttercream Frosting recipe.  It took three batches to frost this extra big cake.  One batch was white.  I separated the second two batches into three smaller batches and used Americolor Sky Blue Food Coloring to tint the frosting three different shades of blue.  I tried to match these colors as closely as possible to the other ombre dessert we made for the Frozen Birthday Party (Ombre Rice Krispie Treats, Ombre Mini Cakes and Frosted Snowflake Sugar Cookies.)  I used the dark blue frosting between the bottom and middle cake layer and the light blue frosting between the middle and the top cake layers.  Then I applied a very thin layer of frosting in the different shades of blue frosting around the outside of the cake.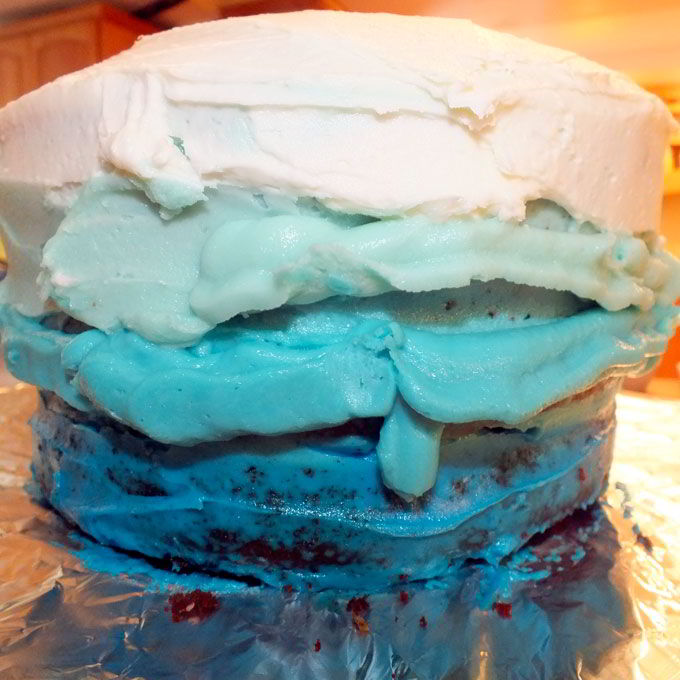 I put the colored icing in pastry bags without a tip (but you can use a large plastic ziplock bag with the end snipped off). I piped on a row with a generous amount of frosting for each of the four colors (dark blue, medium blue, light blue, white) onto the side of the cake.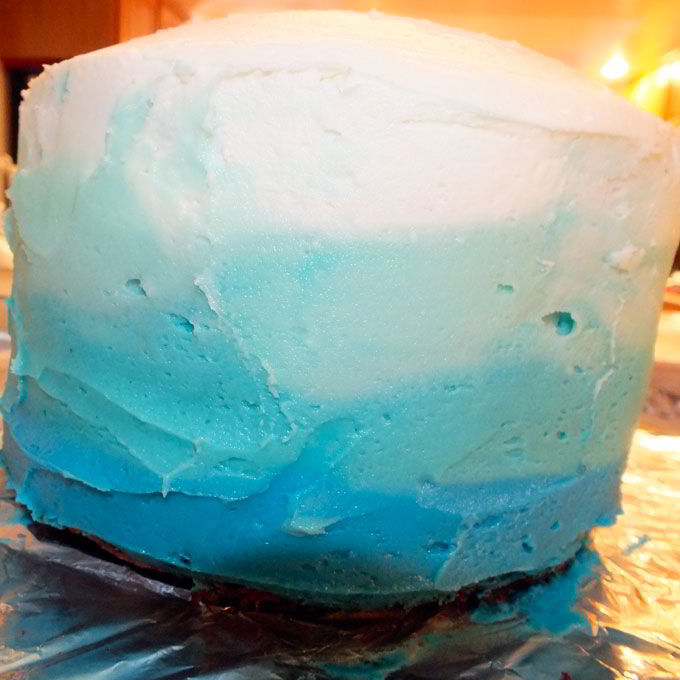 Using a graduated spreader I smoothed out the frosting until I had created this ombre effect.  If you are worried that this seems too difficult, don't worry.  It's easier to do than it might seem.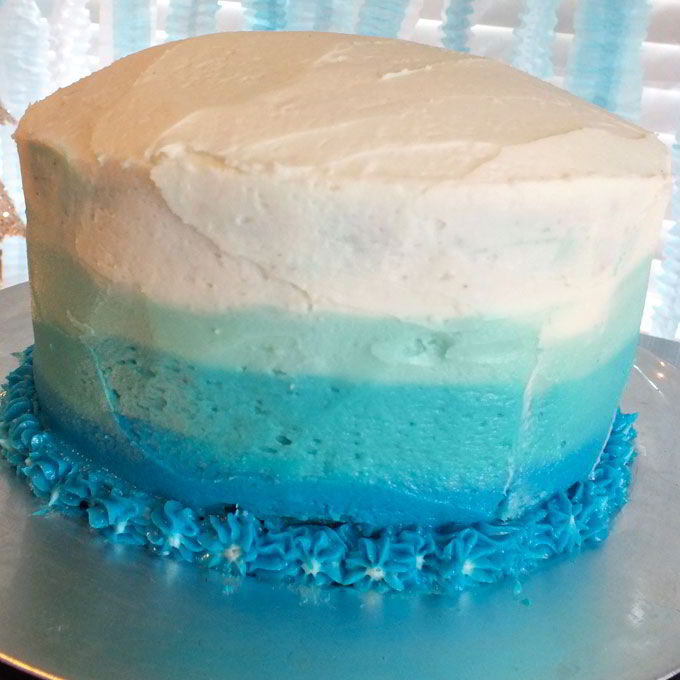 We transferred the Frozen Birthday Cake with Ombre Frosting to the silver cake plate and then I used the Wilton 1M pastry bag tip to add a decorative edge to hide the bottom of the cake.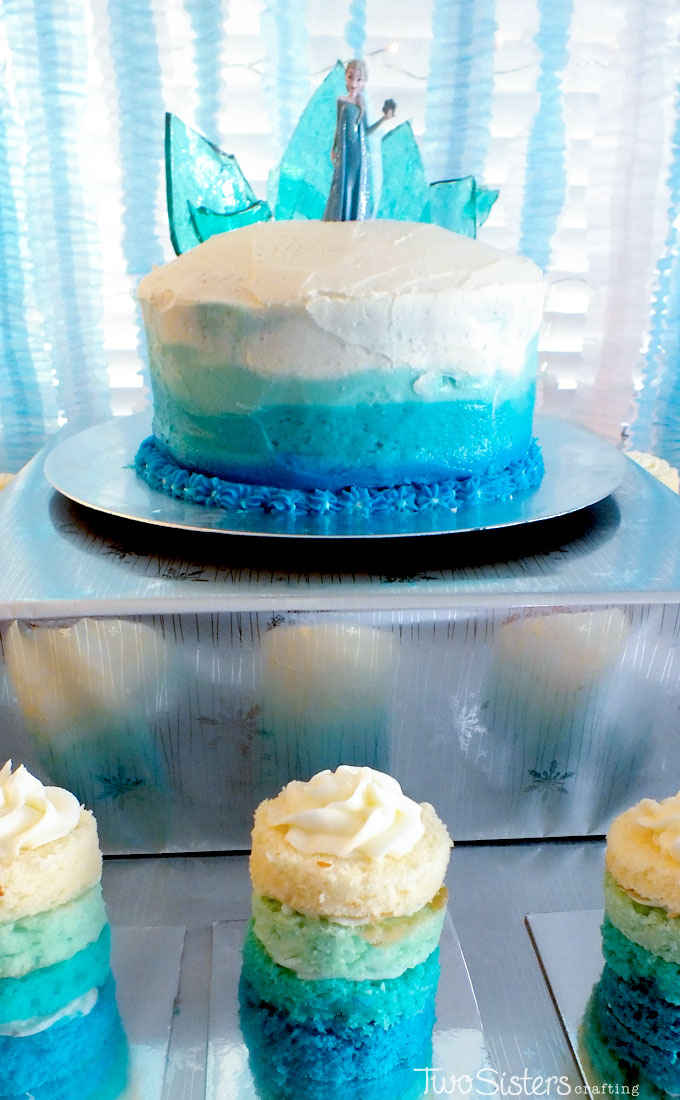 Here is the Frozen Birthday Cake with Ombre Frosting on the Frozen Dessert Table. It looked so beautiful.  For directions on how we made the Elsa Frozen Fractals Ice Castle cake topper see the section below.

The Frozen Birthday Cake with chocolate cake and buttercream frosting was delicious.  It looked so pretty and yummy with the different colored frosting between the layers.
How to Make Hard Candy for the Ice Castle Cake Topper
Ingredients:
3/4 Cup Light Corn Syrup
2 Cups Sugar
1/2 Cup Water
Candy Thermometer
Americolor Sky Blue Food Coloring
There are a bunch of recipes for this Hard Candy on Pinterest but we used this one from SugarHero.com.  She has a lot of great tips and tricks for getting the hard candy right and I highly recommend you checking out her original post for detailed instructions on how to made this candy.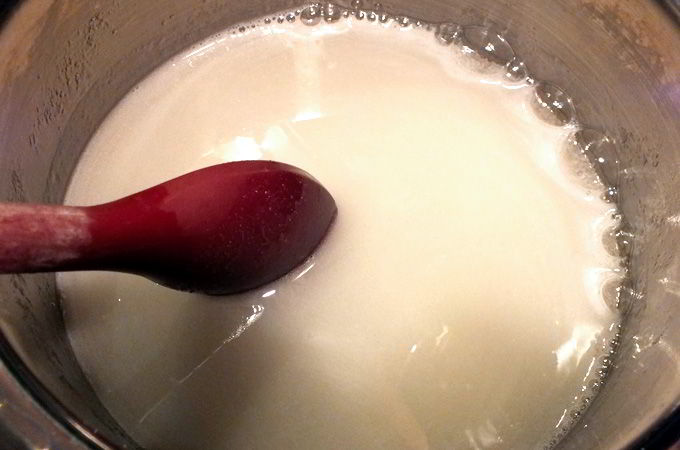 First, mix the water, sugar and light corn syrup in a medium sauce pan on medium high heat.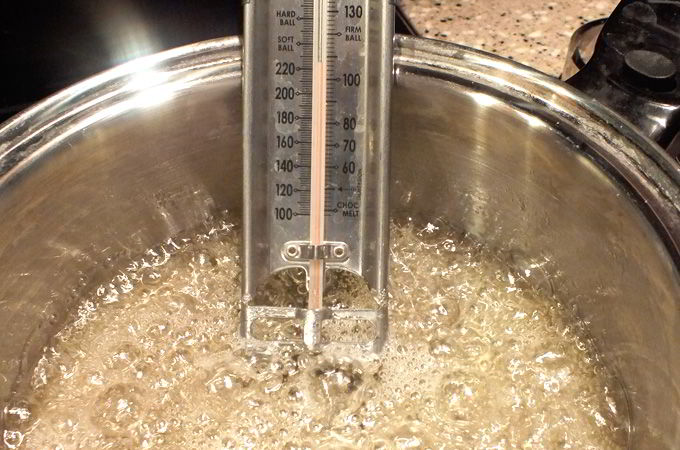 Bring the candy mixture to a boil and let it sit. Add the candy thermometer and wait until it reaches the temperature of 295 degrees (or Hard Ball state.)  This takes awhile but you have to watch very closely because if it gets too hot you won't be able to get the color right.
Turn off the heat immediately when the candy reaches the right temperature.  Add a drop of food coloring.  Let the candy mixture sit until the bubbles dissipate.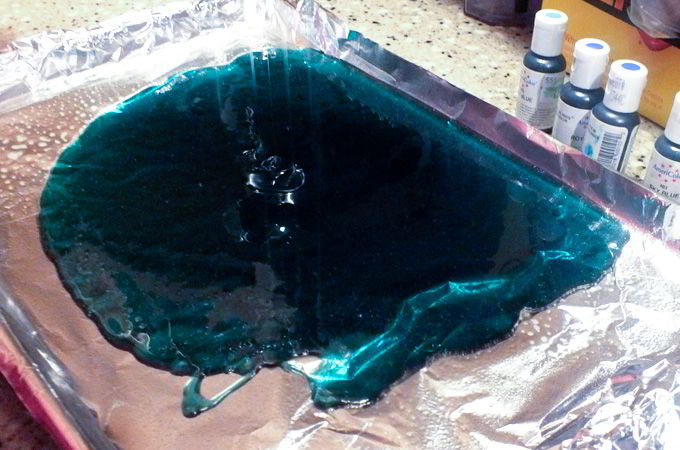 Pour the candy mixture into a foil lined cookie sheet and let it harden.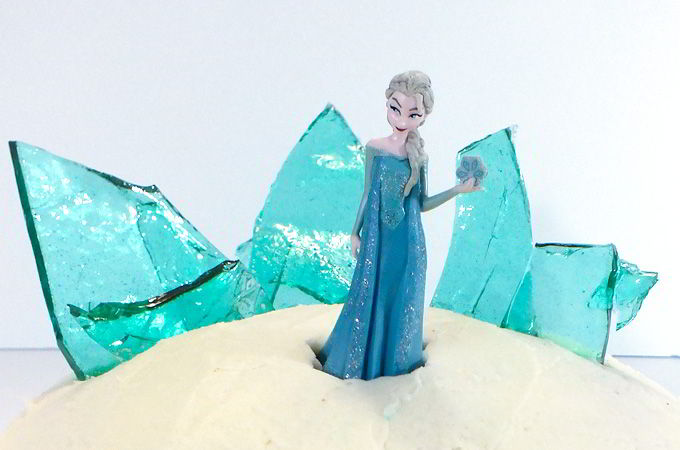 Once the candy was completely hardened we used our hands to break apart pieces for our Frozen Fractals Ice Castle Cake Topper.  We stuck the candy shards into the  back of the cake and places our Queen Elsa figurine in front of them.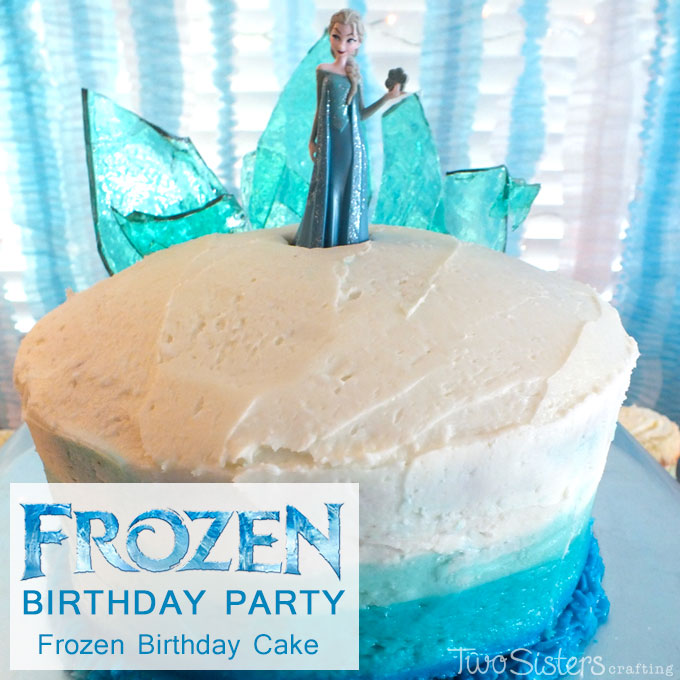 This Frozen Birthday Cake with Ombre Frosting was adorable and tasted delicious.  And it is easier to make than you might think – you definitely don't need to be an expert cake decorator to achieve this lovely ombre effect!

P.S. Let's stay in touch!  If you liked our Frozen Birthday Cake with Ombre Frosting post, [thrive_2step id='10744′]click here to sign up for our Email Newsletter![/thrive_2step]
Or follow us on Pinterest, Facebook and Instagram!
**This post contains affiliate links but we only recommend products that we actually used and liked. Thanks for supporting Two Sisters Crafting!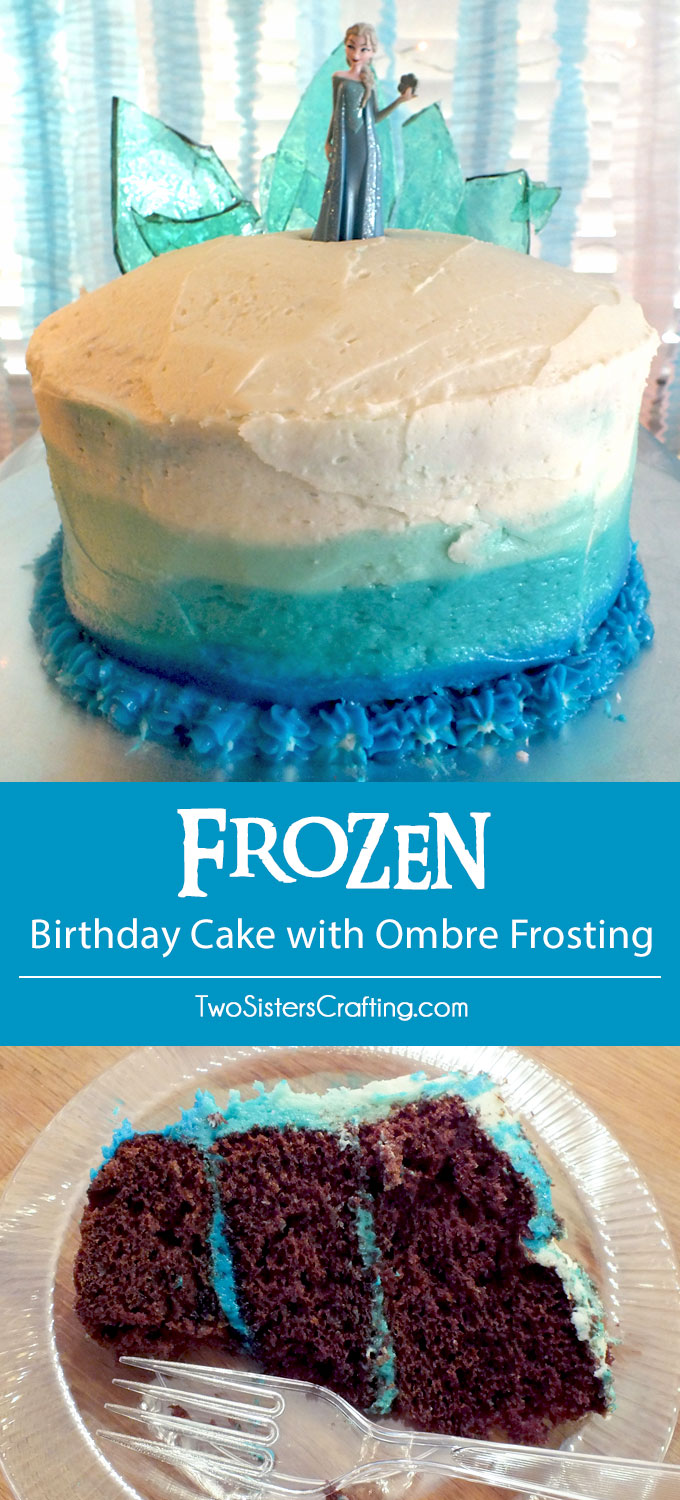 More Fun Disney Frozen Party Ideas …
If you want to stay up-to-date on all our Frozen Party posts, Follow Two Sisters Crafting on Pinterest!
Follow Two Sisters Crafting's board Frozen Party Ideas on Pinterest.