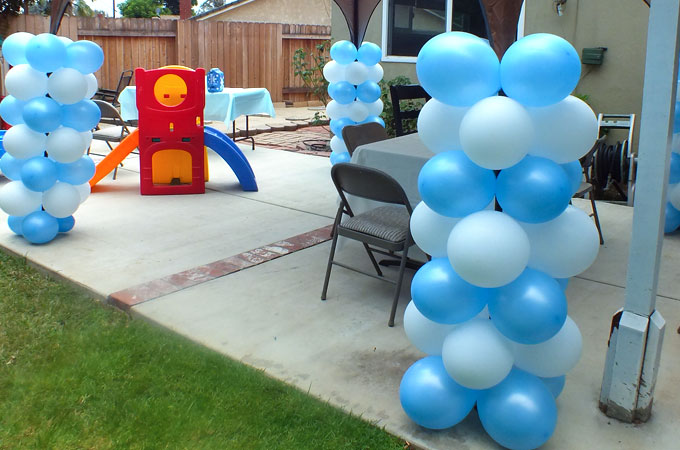 A party isn't a party unless there are balloons.  We used to rent a helium tank from Party City and fill every nook and cranny of the house with balloons, but now that there is a helium shortage we have had to learn more creative ways to incorporate balloon decorations.  I love using two or three colors of balloons and creating balloon columns.  It is an easy way to really dress up a party.  Here is how we created these pretty Frozen Balloon Decorations.

How to Make Frozen Balloon Decorations
You will need: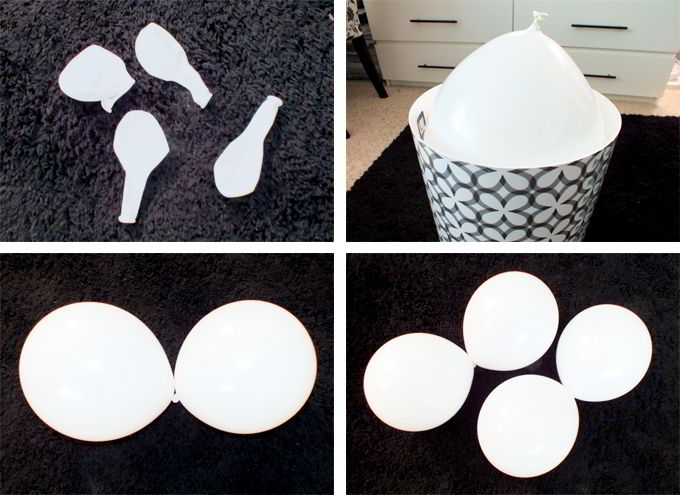 Making balloon columns is easy but somewhat time consuming.   The balloon column is made up of a series of rows of balloon groupings. Each grouping is made up of four balloons.  The key to having the best looking column possible is to try to get all of the balloons to be about the same size.  In the first picture above you see how we used a small trash can as a guide to how big to blow up the balloons.  This really helps. Next, tie together two balloons.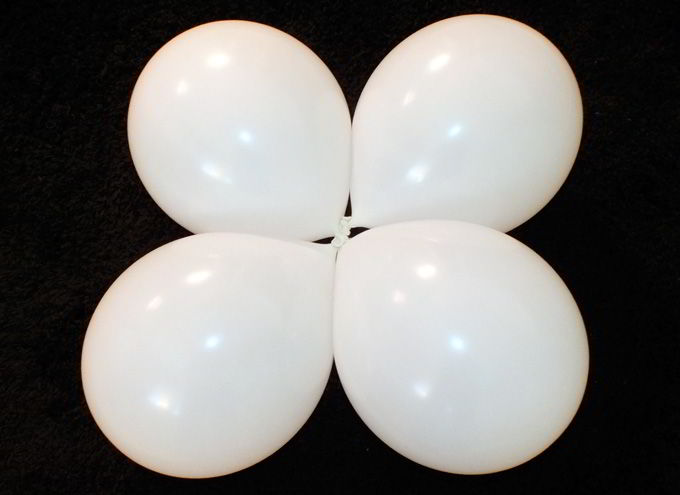 Then twist together two sets of double balloons into a quad balloon grouping.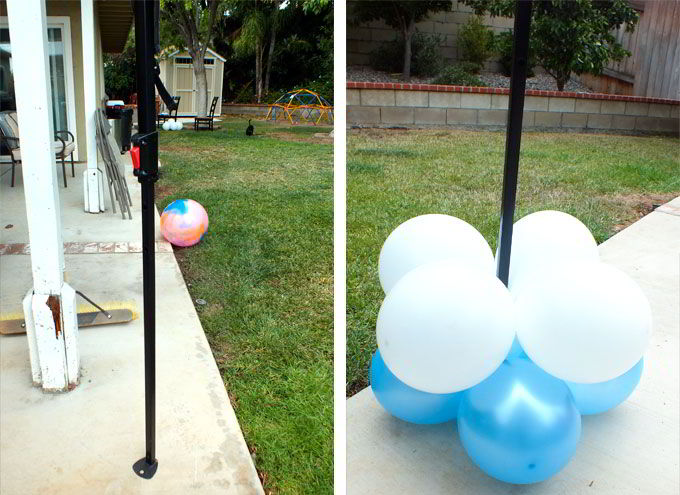 The quad groupings are attached to something vertical.  Here we used the posts of a Coleman Instant Canopy. But you could also stick a piece of plumber's conduit into the ground or stick.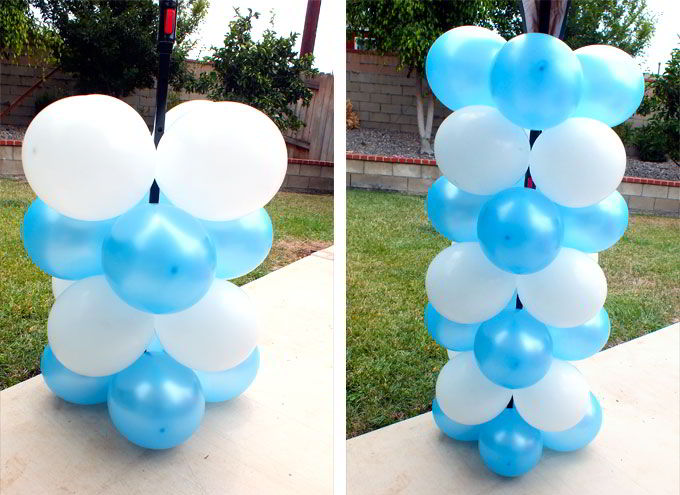 Hook the quad grouping onto your vertical element.  Nestle them together, rotating each subsequent grouping a bit so that the balloons nicely fit together as shown in the picture above.  You can't move the quad balloon grouping around too much after you have placed another row on top of it. The friction between the balloons will cause the balloons to pop.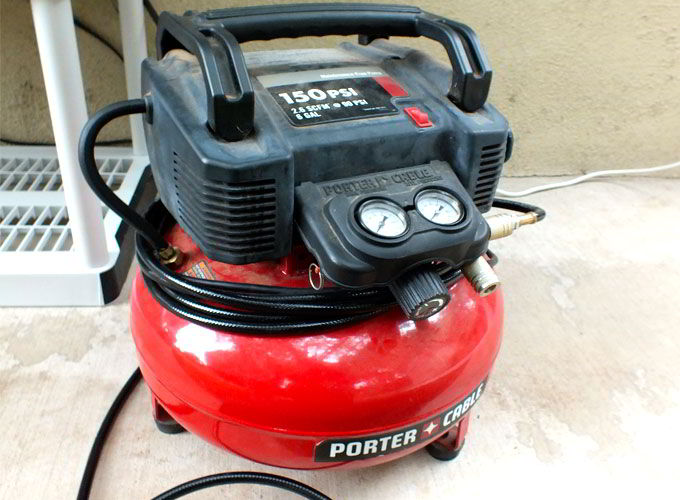 A note about timing.  It took me approximately 1 1/2 hours to blow up the balloons and create four balloon columns.  And I used Nancy's husband's air compressor to blow up the balloons.   That was a big time saver.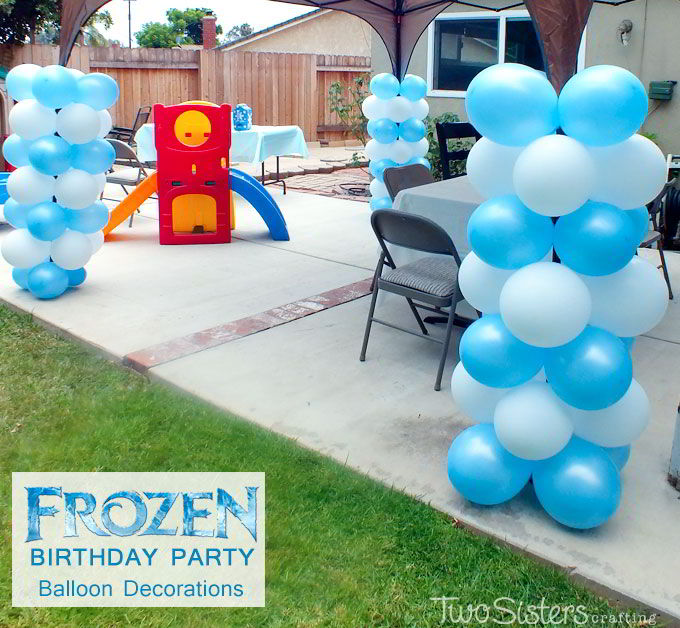 Balloons that are blown up with air (versus helium) will last a couple of days but look best on day one so I waited until the morning of the party to blow them up.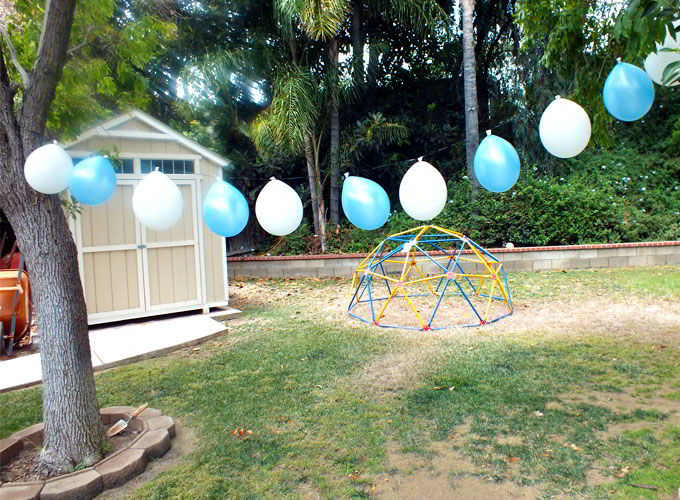 We had some extra balloons so at the last minute we also created this balloon banner.  We strung a long piece of ribbon between two trees and then we hung balloons from the ribbon.  I simply taped the balloon to the ribbon. Super easy and the balloon banner looked really pretty.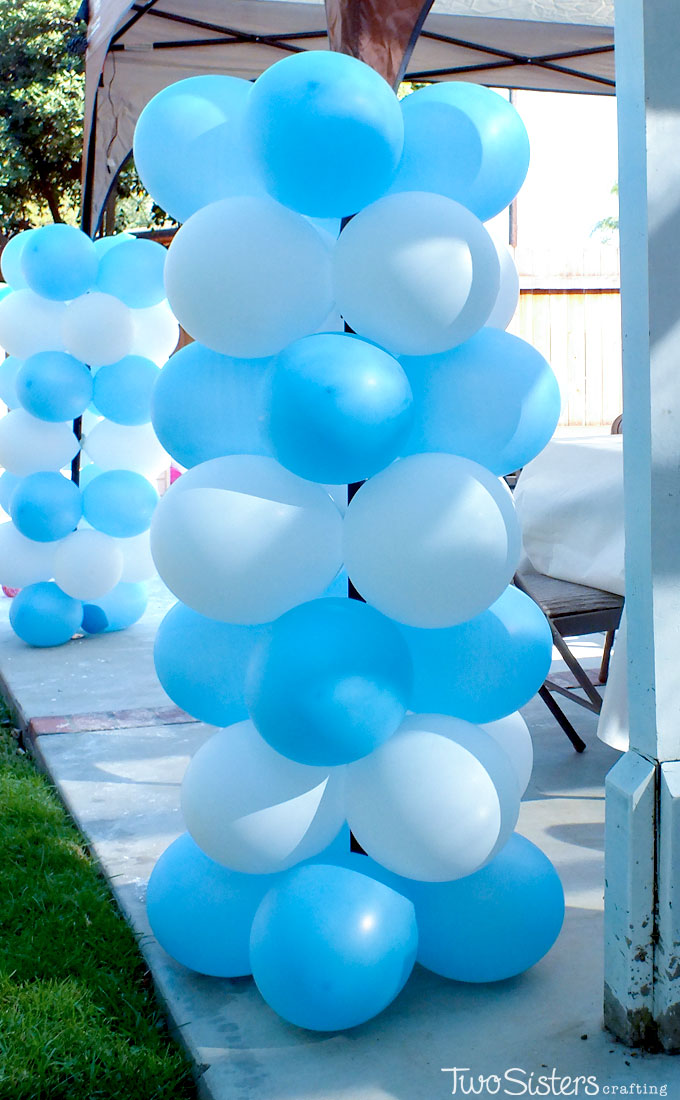 These types of balloon decorations are a very inexpensive way to add color and a festive spirit to your party in a time when helium is so expensive and so hard to get.

P.S. Let's stay in touch!  If you liked our Frozen Balloon Decorations post, [thrive_2step id='10744′]click here to sign up for our Email Newsletter![/thrive_2step]
Or follow us on Pinterest, Facebook and Instagram!
**This post contains affiliate links but we only recommend products that we actually used and liked. Thanks for supporting Two Sisters Crafting!
More Fun Disney Frozen Party Ideas …
If you want to stay up-to-date on all our Frozen Party posts, Follow Two Sisters Crafting on Pinterest!
Follow Two Sisters Crafting's board Frozen Party Ideas on Pinterest.