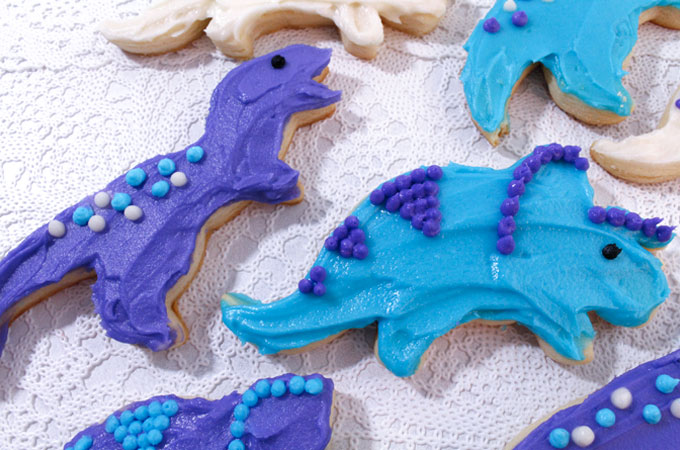 We always try to have sugar cookies as one of the desserts at our birthday parties.  Our Best Sugar Cookie Recipe makes the softest, tastiest sugar cookies in the world. Mix in some adorable dinosaur cookie cutters and some delicious blue, white and purple Best Buttercream Frosting and we had a dessert we were proud to serve at our Dinosaur Party for Girls.  Dinosaur Sugar Cookies any one?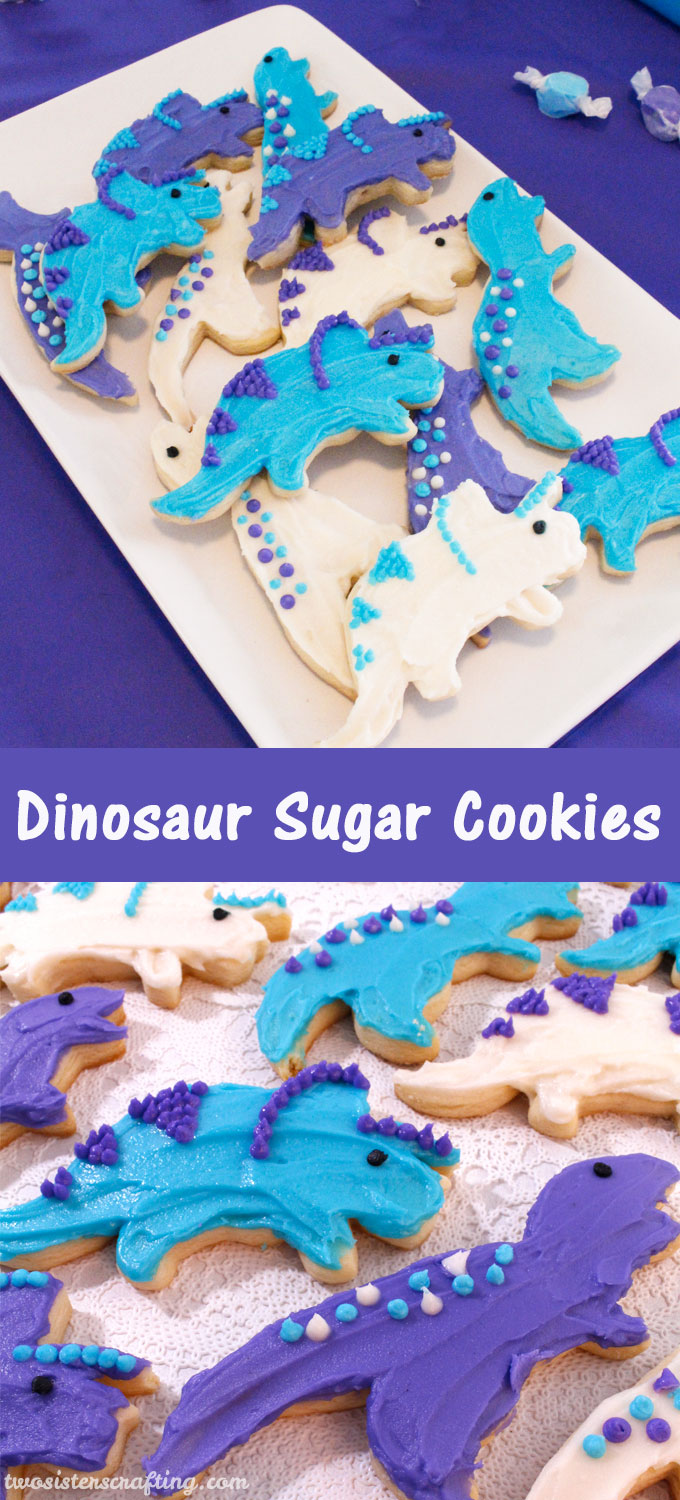 How to Make Dinosaur Sugar Cookies
You will need:
Dinosaur Cookie Cutters
Wilton Color Right Food Coloring System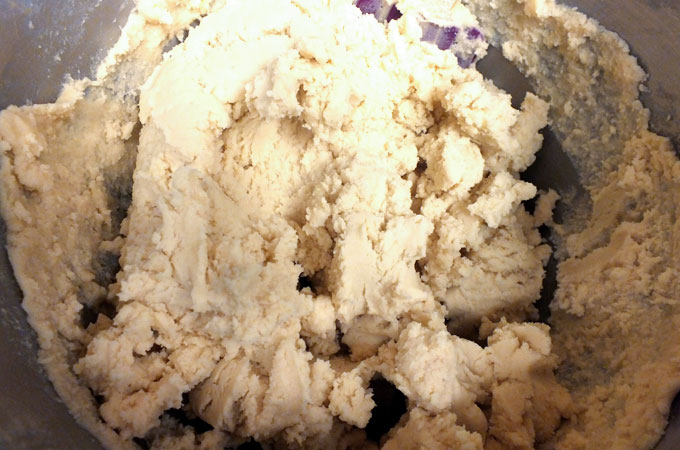 Our Dinosaur Sugar Cookies start with our Best Sugar Cookie Recipe.  This sugar cookie dough is easy to work with, tastes great and really holds it's shape during the baking process.  You can find the recipe and detailed instructions on how to make the dough here.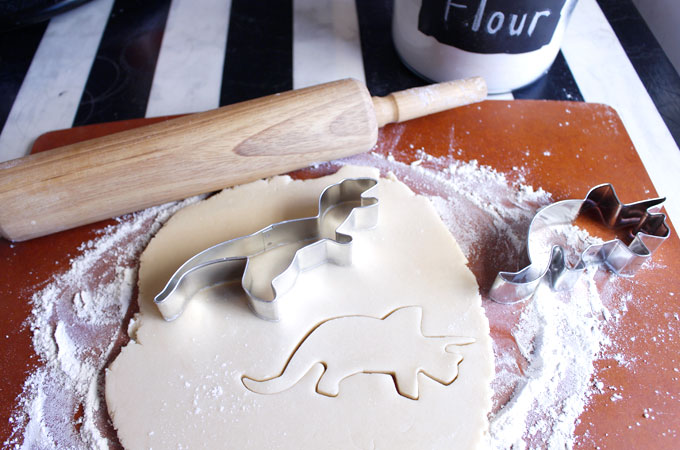 We used Triceratops and T-Rex cookie cutters that we found on Etsy.  They worked well, were very reasonably priced and arrived the same week we bought it.  Thanks Etsy!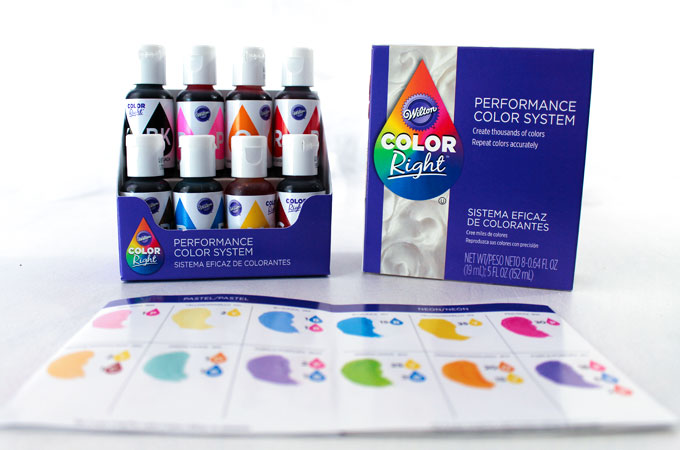 We saw this new Wilton Color Right food coloring set at Michaels and thought we would give it a try.  So far, we are loving it.  You really can make some beautiful frosting colors.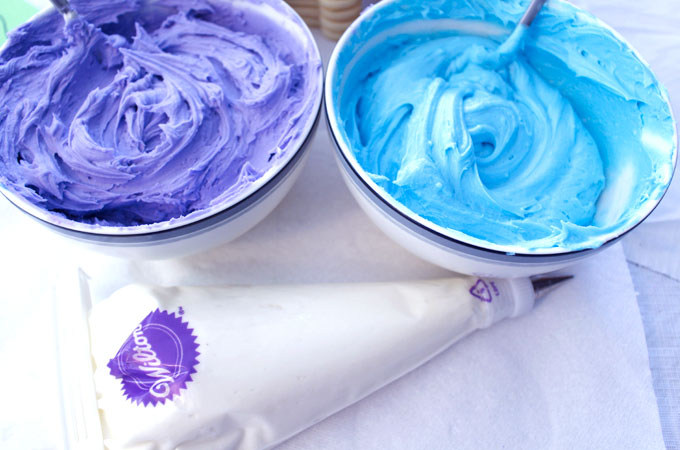 Next you will need to prepare some of our Best Buttercream Frosting (you will find the recipe and detailed directions here).  Separate the frosting into three bowls.  We left one bowl white, colored one bowl purple and the final bowl blue.  Using the Wilton Color Right system we created this pretty blue color using 2 drops of Blue. And the purple was created with 6 drops of pink and 2 drops of blue.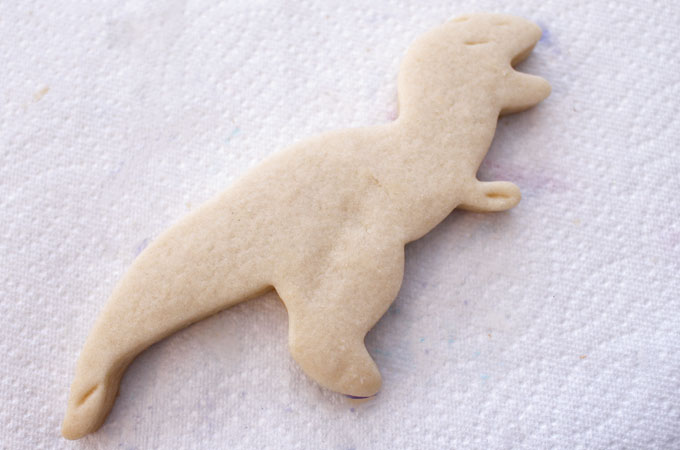 Here is our T-Rex sugar cookie, ready to be frosted.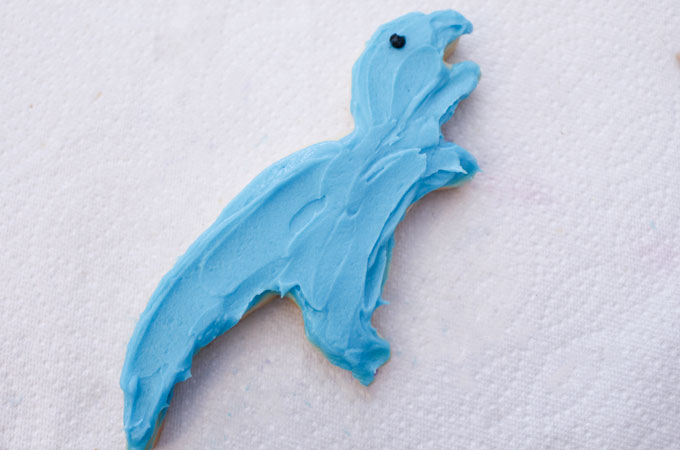 We covered the cookie with delicious blue buttercream frosting and added a tiny eye made out of black buttercream frosting.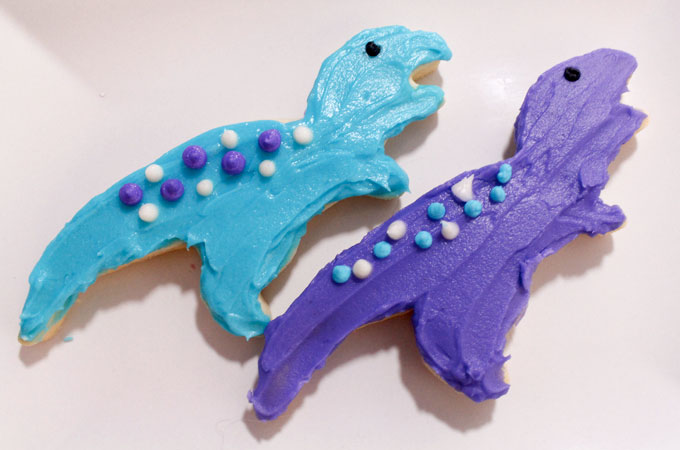 The colors of our Dinosaur Party were Purple, Blue and White so we added some Dinosaur spots in those colors.
We used the same dot idea to decorate the sugar cookie Triceratops.
These Dinosaur Sugar Cookies looked so pretty and tasted so great.  Another Dinosaur Party success!

If you want to stay up-to-date on all our Dinosaur Party posts, Follow Two Sisters Crafting on Pinterest!
Follow Two Sisters Crafting's board Dinosaur Ideas on Pinterest.