Dinosaur Party Thank You Cookies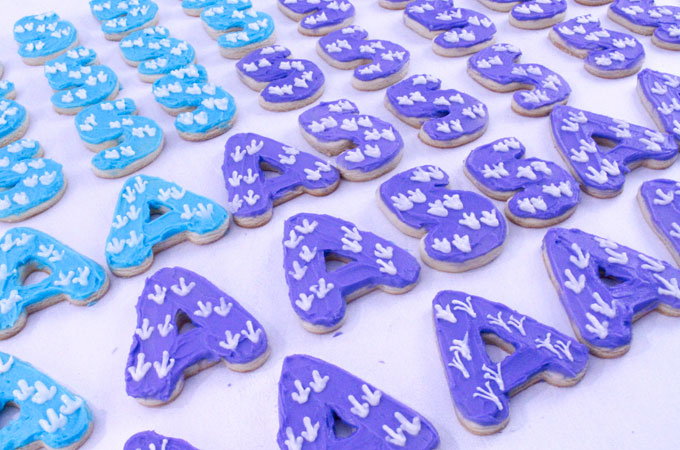 Our Dinosaur Party Thank You Cookies are the continuation of a Two Sisters Crafting birthday party tradition.  We give every guest (even the adults) a small gift bag with two frosted sugar cookies.  This is the fourth year that we have done this and the cookies are always an "A" for Allison and the number of that year's birthday. This year we made dinosaur-themed A's and 5's.  This special treat, that we keep by the front door and give out as the party goers leave, is always a hit.  We are already planning how we can make a "17" shaped cookie when the time comes.
How to Make Dinosaur Party Thank You Cookies
You will need:
Cookie Cutters
Food Coloring
Plastic Sandwich Bags
Printer Paper
Color Inkjet Printer
Stapler
We made our Thank You Cookies using our excellent Best Sugar Cookie Recipe.  We can't recommend it enough!  Click here for detailed instructions on how to make these delicious Sugar Cookies.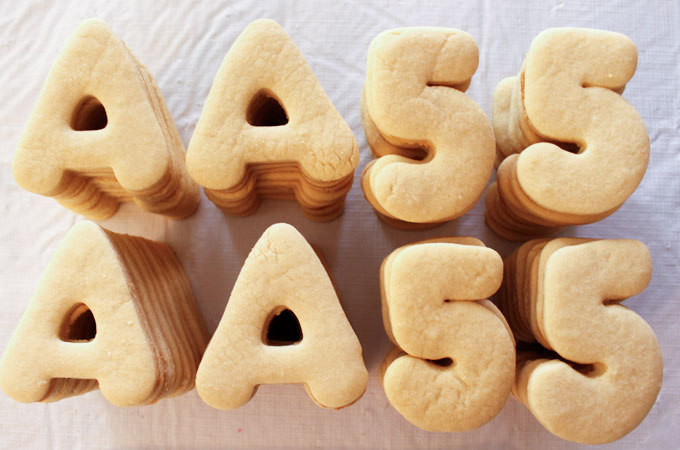 Here are our A and 5 sugar cookies – so perfectly shaped and very soft and tasty. It can't be overstated how great this Sugar Cookie Recipe is!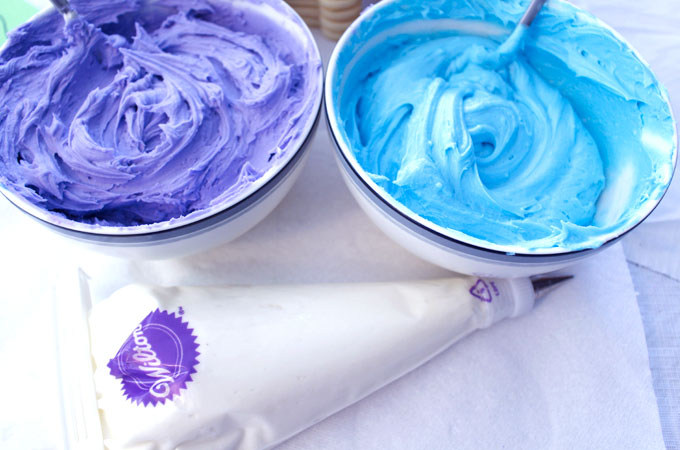 Next you will need to prepare some of our Best Buttercream Frosting (you will find the recipe and detailed directions here).  Separate the frosting into three bowls.  We left one bowl white, colored one bowl purple and the final bowl blue.  Using the Wilton Color Right system we created this pretty blue color using 2 drops of Blue. And the purple was created with 6 drops of pink and 2 drops of blue. We made a lot of these cookies cookies and it took a couple batches of our Best Buttercream Frosting to frost them.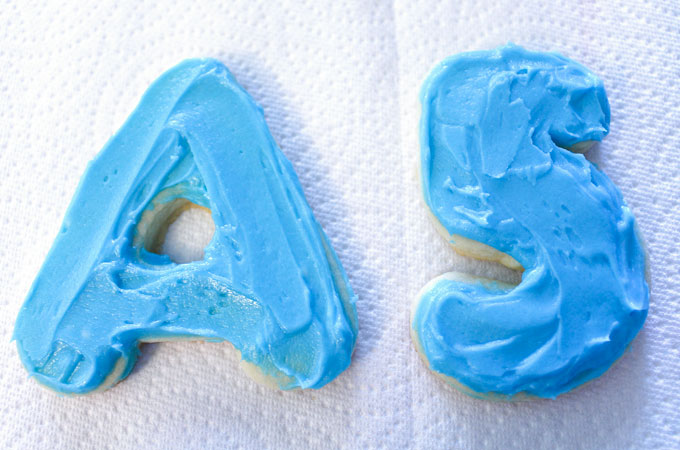 First we frosted the Dinosaur Party Thank You Cookies in either Blue or Purple Buttercream Frosting.  Each guest would get one blue and one purple cookie.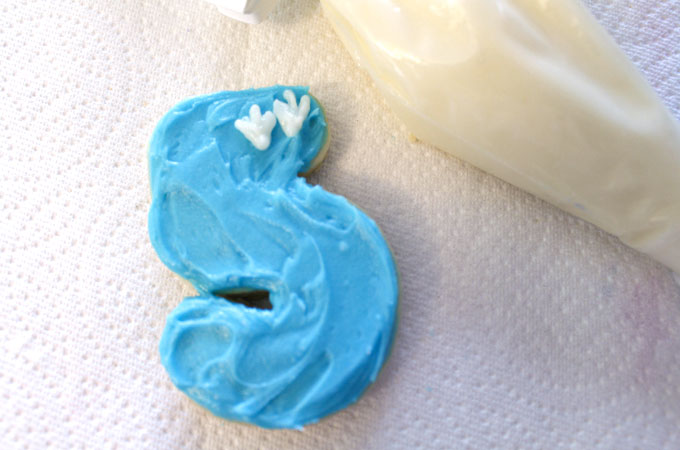 To tie the A's and 5's into the Dinosaur Party theme, we decorated the cookies with dinosaur feet make with white buttercream frosting.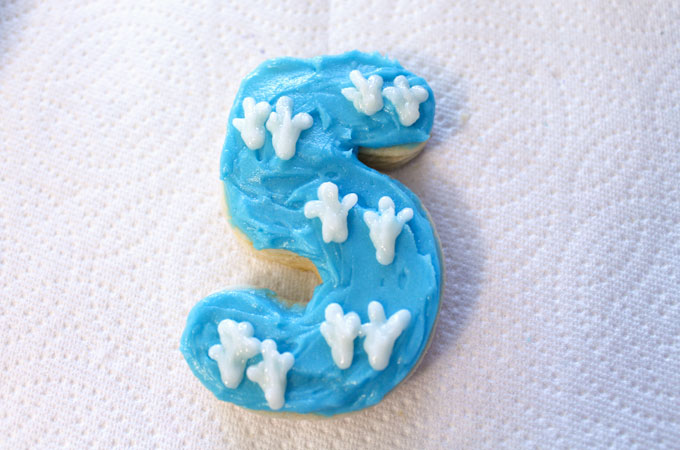 Allison recognized these as dinosaur feet right away so we thought we were on the right track.
We made A LOT of Dinosaur Party Thank You Cookies!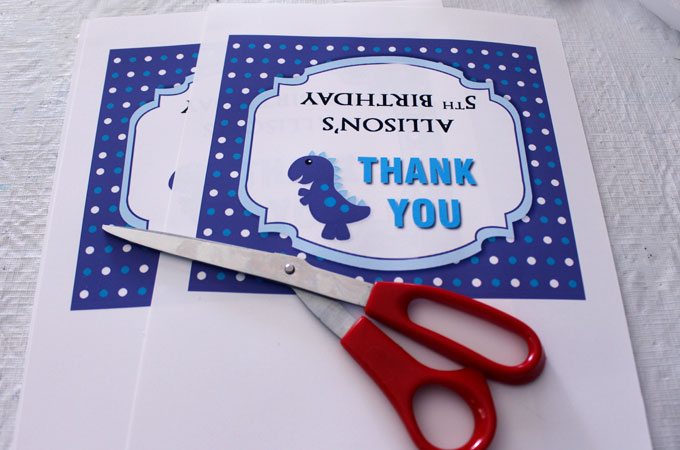 Laurie used Photoshop to create these Thank You Cookie labels which we printed on a color inkjet printer.  We sized them so the printed size width was exactly the size of the top of a plastic sandwich bag.    We didn't worry about creating a high resolution image, it was a 72 dpi file with a PRINTED file size of 7.2″ x 6.5″.
We printed the labels on an inkjet printer, trimmed off the edges and folded them in half.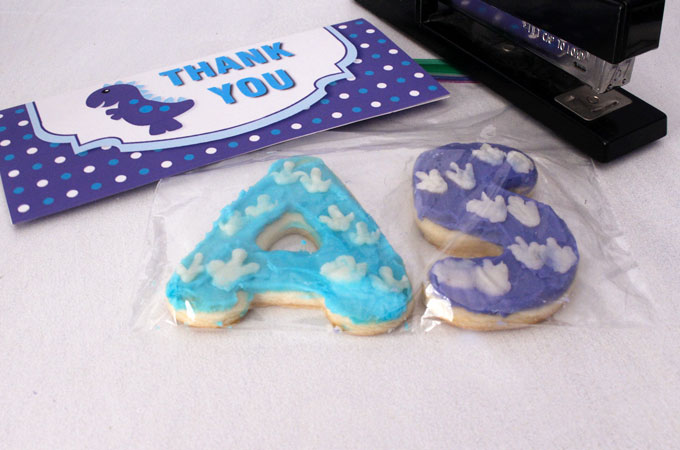 We put two cookies in each plastic sandwich bag and then stapled a thank you label to the top of the sandwich bag.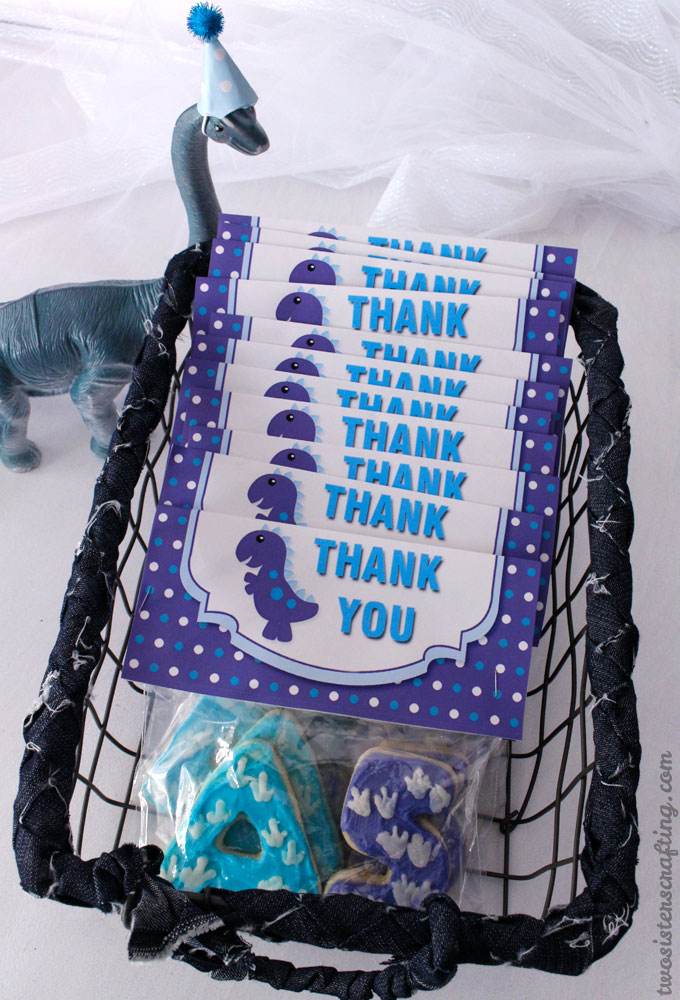 We displayed the Dinosaur Party Thank You Cookies right by the front door and gave one to each guest as they left the party It's a nice way to say thank you and people always love the sugar cookies with buttercream frosting. We really suggest that you add this ideas to the list of your birthday party traditions!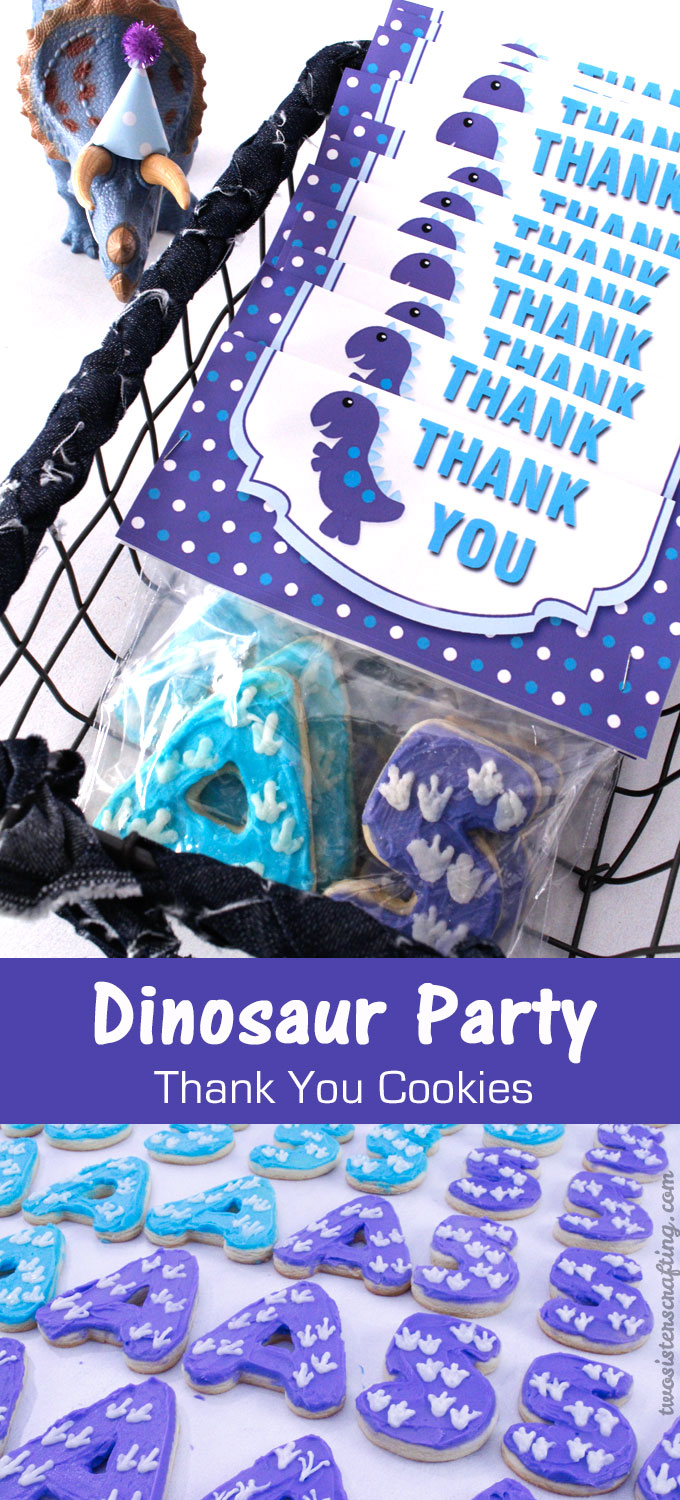 **This post contains affiliate links but we only recommend products that we actually used and liked. Thanks for supporting Two Sisters!