Dinosaur Eggs Rice Krispie Treats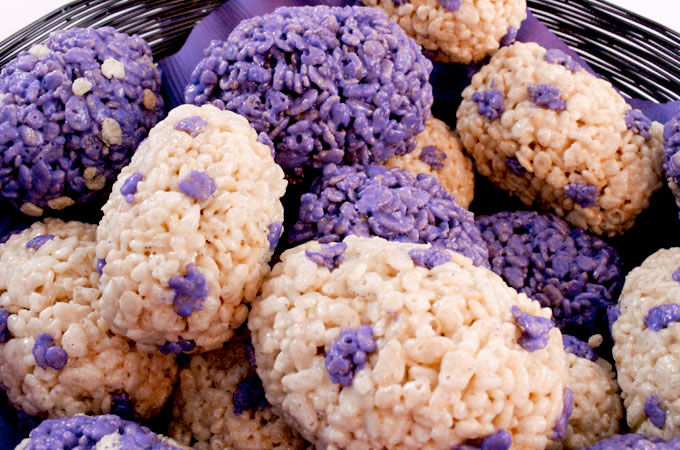 A party is not a party without Rice Krispie Treats but we were initially stumped when brainstorming a good Rice Krispie Treat idea for our Dinosaur Party. Then we realized we could do a fun Dino version of our Rice Krispie Treat Easter Eggs. These Dinosaur Eggs Rice Krispie Treats were the perfect addition to our dinosaur dessert table.  They were super easy to make and ended up being one of the most popular desserts at our Dinosaur Party.
How to Make Dinosaur Eggs Rice Krispie Treats
You will need:
Kellogg's Rice Krispie Cereal
Mini Marshmallows
Butter (Sweet Cream, Salted)
Food Coloring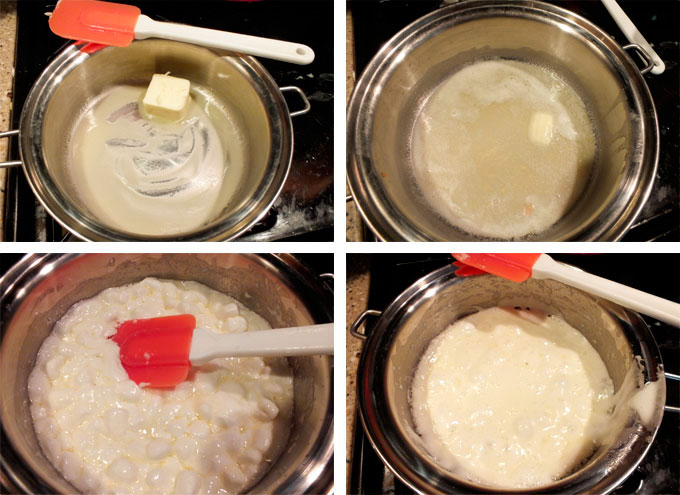 For each batch of Rice Krispie Treats you will need 6 tablespoons of butter, 6 cups of mini marshmallows and 6 cups of Rice Krispies Cereal.   Melt the butter in a large pan on medium heat.  Add the marshmallows and stir until melted.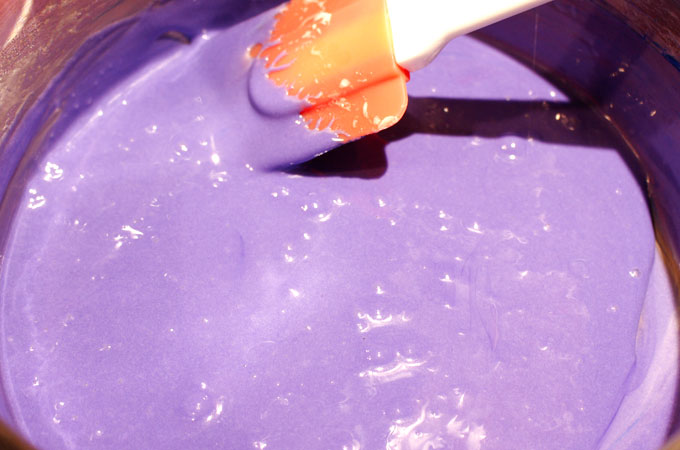 Turn off the heat and add the food coloring to color the marshmallow mixture.  We wanted some of our Dinosaur Eggs Rice Krispie Treats to be purple and some to be ivory/beige.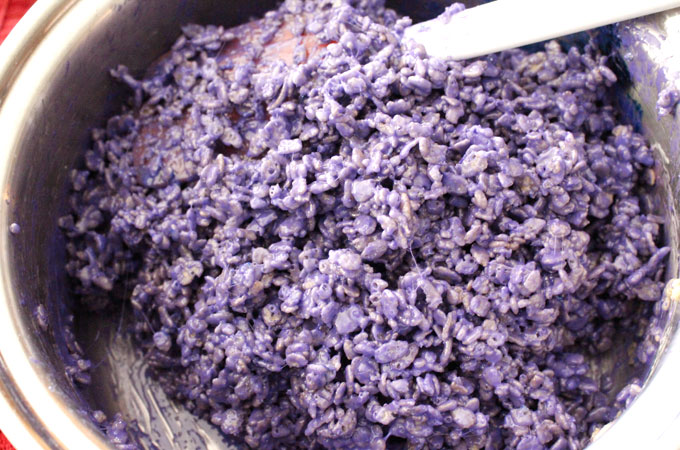 Add the Rice Krispie Cereal and gently stir until it is completely covered with the purple melted marshmallow mixture.  Allow the mixture to cool slightly, approximately 10 minutes.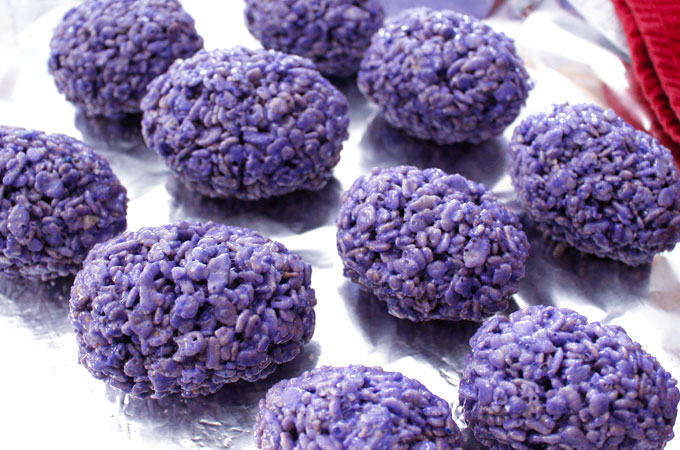 Cover your hands in a small bit of butter, grab a handful of the Rice Krispie Treat mixture and then use your hands to form the Dinosaur Eggs.    We made some eggs smaller and some larger.  Shaping the eggs is super easy to do.
We made a batch of purple eggs and a batch of regular non-colored eggs.
To add some pizzazz to the Dinosaur Eggs we used some individual pieces of purple Rice Krispie Treat mixture to create "speckles" on the eggs.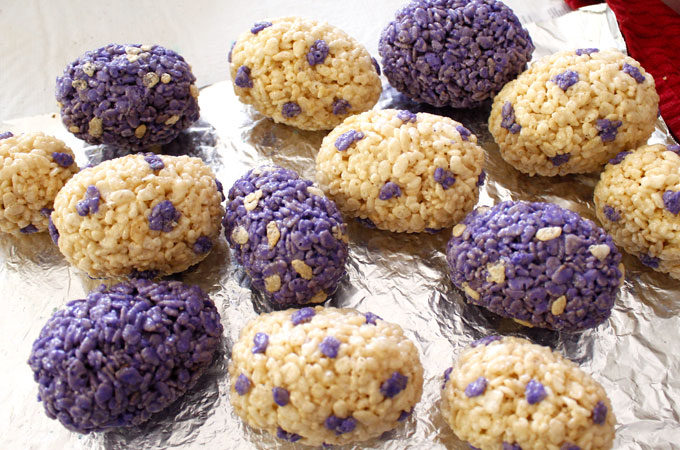 We put speckles on all of the regular colored Dinosaur Eggs but only some of the purple ones.
Our Dinosaur Eggs Rice Krispie Treats were so easy to make and very popular at our Dinosaur Party.  You could make them in any color combination to match your party color theme and we promise they will be gobbled up by the dino fans (both old and young) at your Dinosaur Party.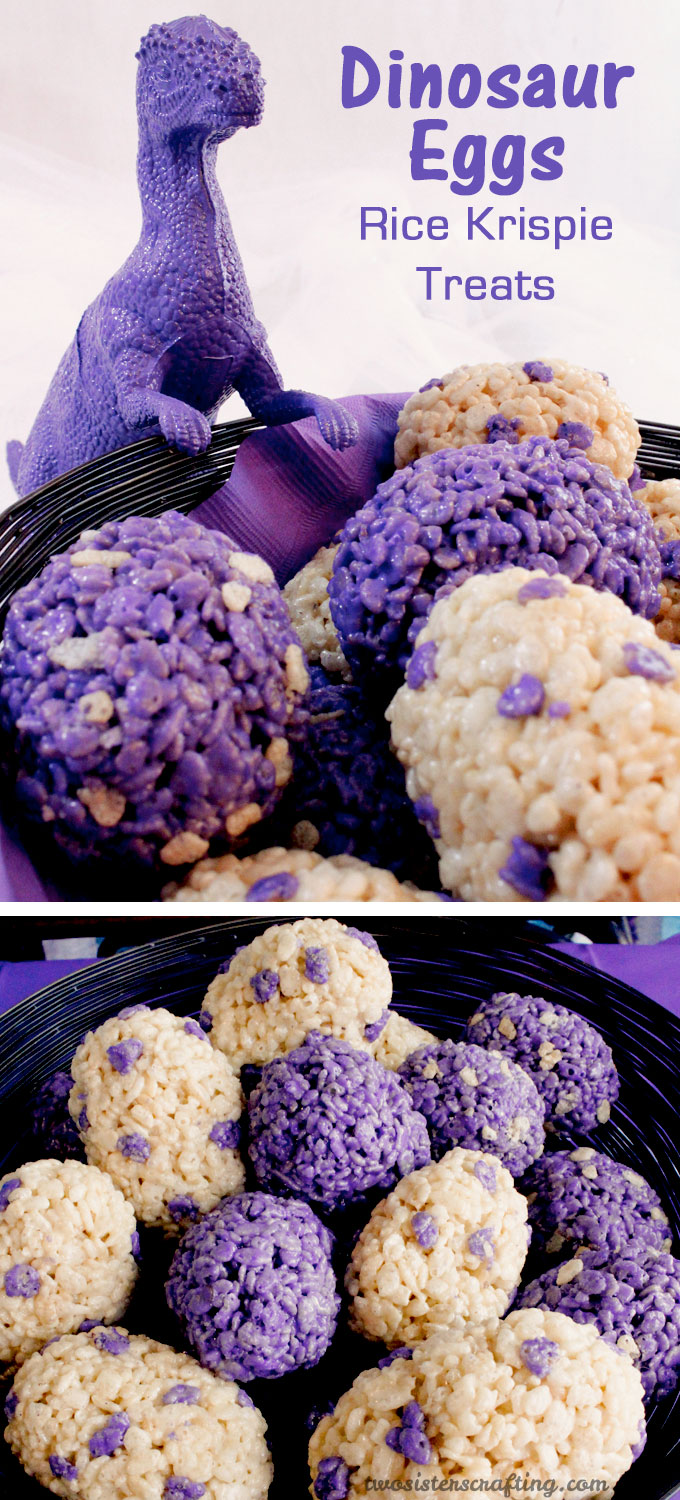 **This post contains affiliate links but we only recommend products that we actually used and liked. Thanks for supporting Two Sisters!