My daughter decided she wanted to have dinosaur muffins at her Dinosaur Birthday Party.  Whenever we asked her, she was very clear that she wanted dinosaur muffins.  I don't exactly know what a dinosaur muffin is, but she ended up very happy with these Dinosaur Cupcakes.  When we decided we wanted to do cupcakes for the party, we scoured Pinterest looking for something fun.  Our choices were really limited.  That's when we came up with the idea for these Stegosaurus-inspired cupcakes.  The hardest part was figuring what to use to make the spikes.  Once we did that, the rest was a piece of (cup)cake.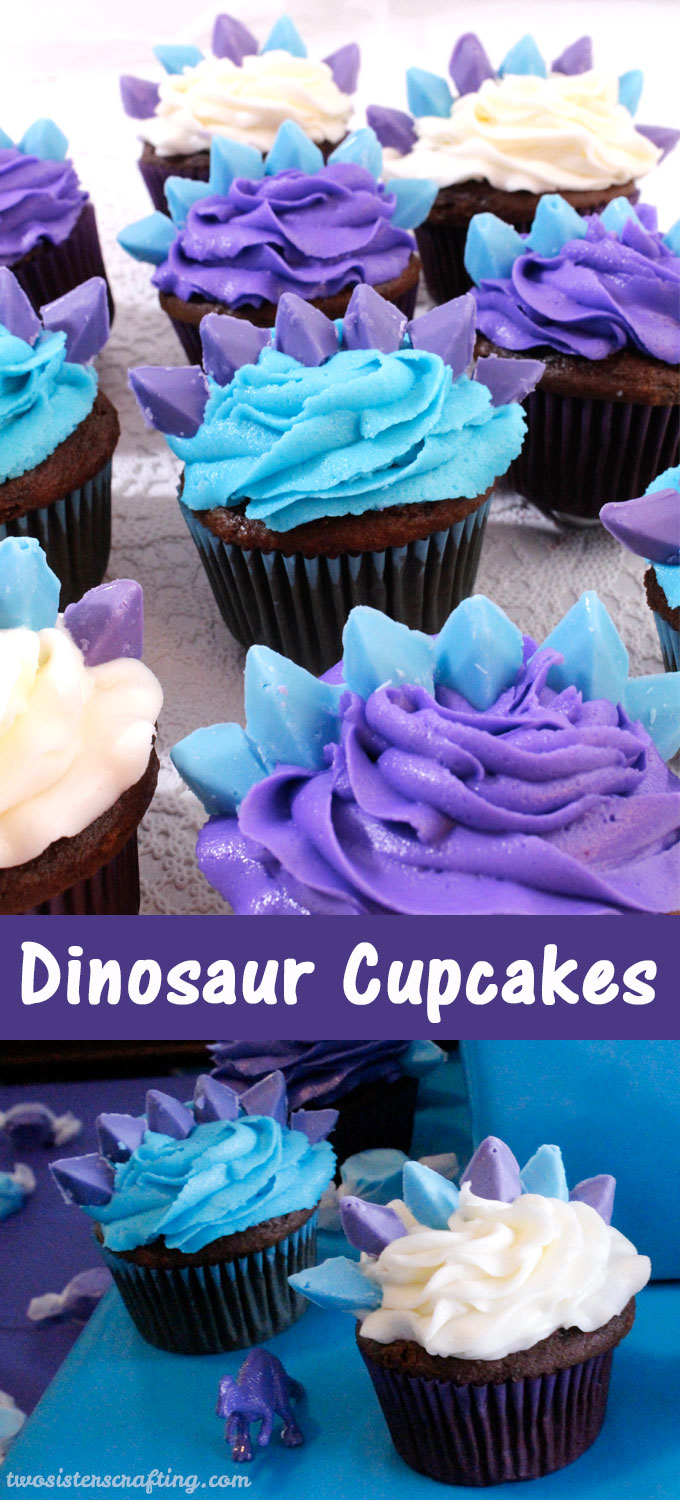 How to Make Dinosaur Cupcakes
You will need:
Cupcakes
Wilton Color Right Food Coloring System
Wilton Star Candy Molds
Wilton Bright Blue Candy Melts
Wilton Bright Pink Candy Melts
Wilton Royal Blue Candy Melts
Decorating Bags
Wilton 2D Decorating Tips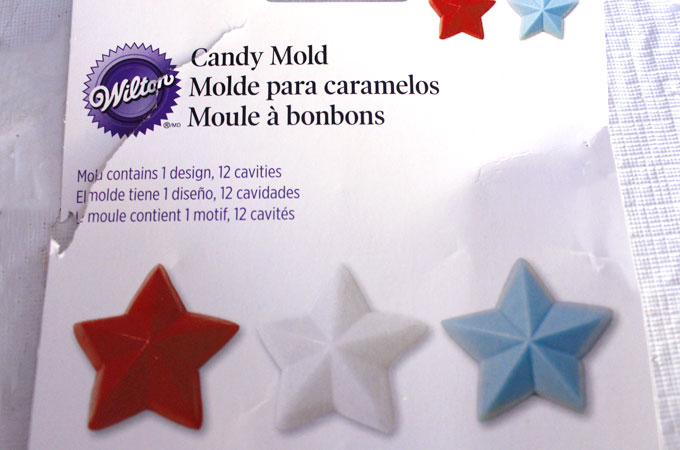 We tried and abandoned a lot of different ideas for making the stegosaurus-like spikes on these Dinosaur Cupcakes.  We tried moldable candies like flavored Tootsie Rolls, Fruit by the Foot, little  mini sugar cookies, cut-up Candy Melts – nothing looked exactly right.  By happenstance, we saw this Wilton Star Candy Mold at Michaels and an idea was born.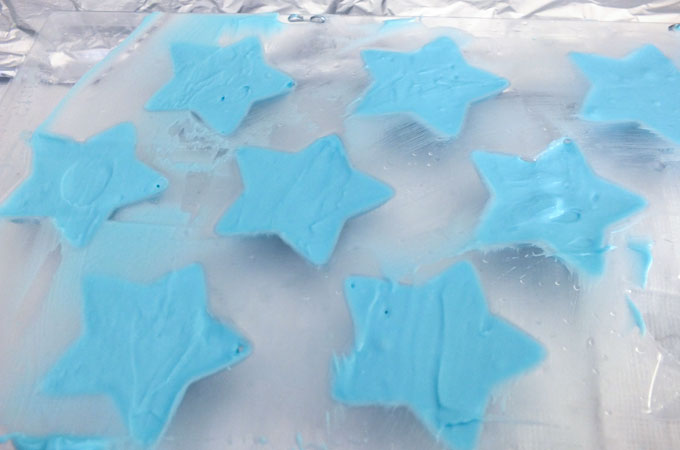 We melted Wilton Bright Blue Candy Melts in the microwave and poured the melted candy into the mold.  We stuck the mold into the freezer to harden.
After about 20 minutes, this is what we had – a pretty blue star.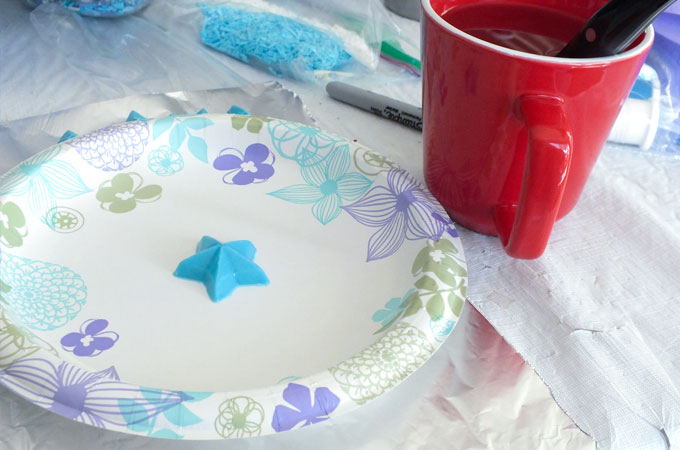 Using a sharp knife sitting in hot water, we prepared to turn a star into a dinosaur spike.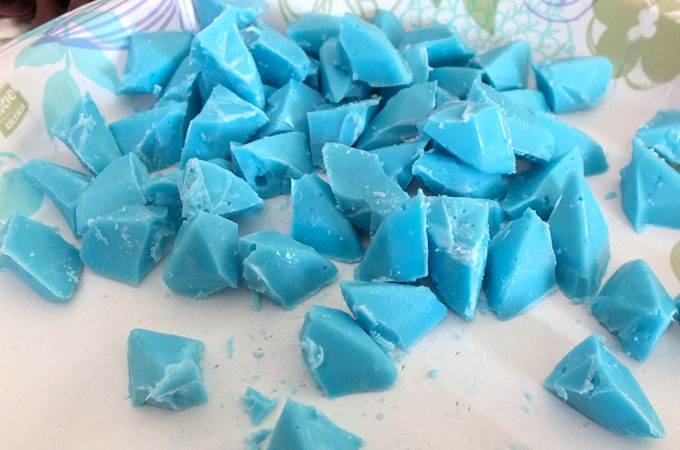 Easy peasy. We got 4-5 spikes (depending on breakage) out of each star.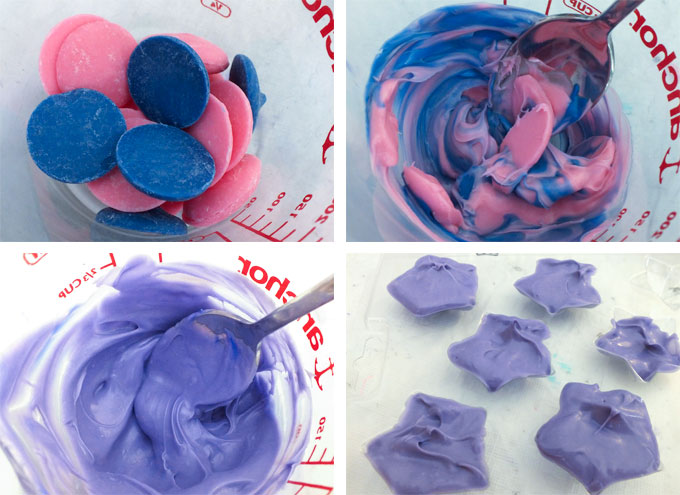 We also wanted purple spikes, so we combined 15 Wilton Bright Pink Candy Melts with 5 Wilton Royal Blue Candy Melts, melted them in the microwave and then stirred the melted candy.  Purple!!  We used the same candy mold to make the purple Dinosaur Spikes.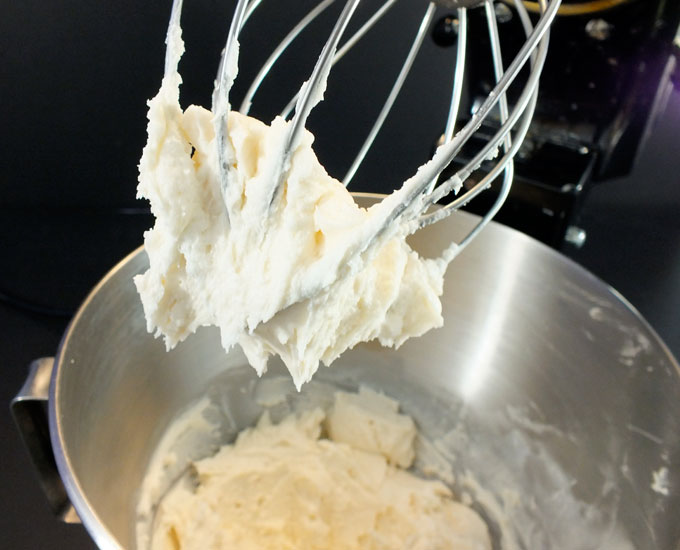 Now you need to make up some of our Best Buttercream Frosting recipe.   You will find the recipe and directions here.  We split the batch of frosting into thirds – one we left white and we colored the other two purple and blue.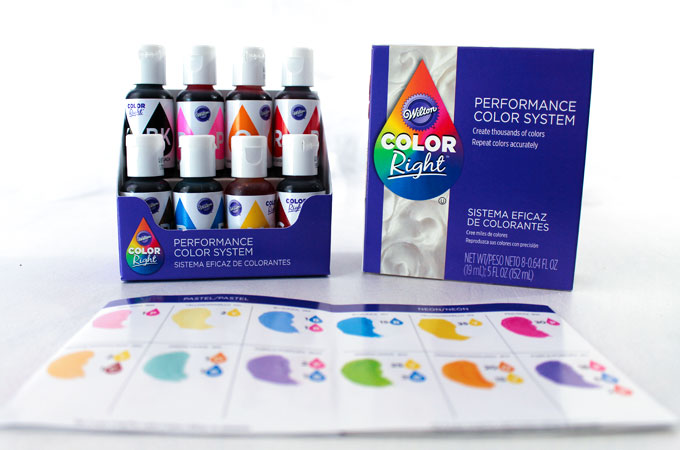 We saw this new Wilton Color Right food coloring set at Michaels and thought we would give it a try.  So far, we are loving it.  You really can make some beautiful frosting colors.
We created this pretty blue color using 2 drops of Blue. And the purple was created with 6 drops of pink and 2 drops of blue.  Once you get the colors you like,  load the frosting into pastry bags with Wilton 2D Decorating Tips.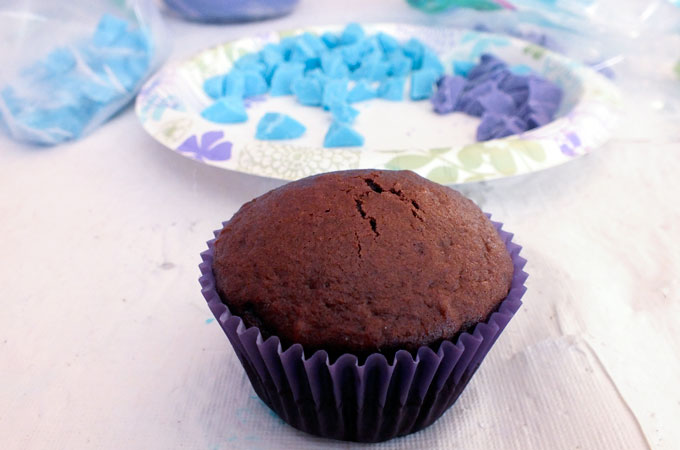 For our Dinosaur Cupcakes, we used Chocolate Cupcakes in Purple and Blue cupcake liners.  Who doesn't like a Chocolate Cupcake with Buttercream Frosting?  For sure not Allison or any of the kids at our Dinosaur Party. These cupcakes were the 2nd thing to run out from our Dinosaur Dessert Table (our Dinosaur Rice Krispie Treats were the first!)
Using a Wilton 2D Decorating Tip, we added a generous swirl of our Best Buttercream Frosting onto the cupcake.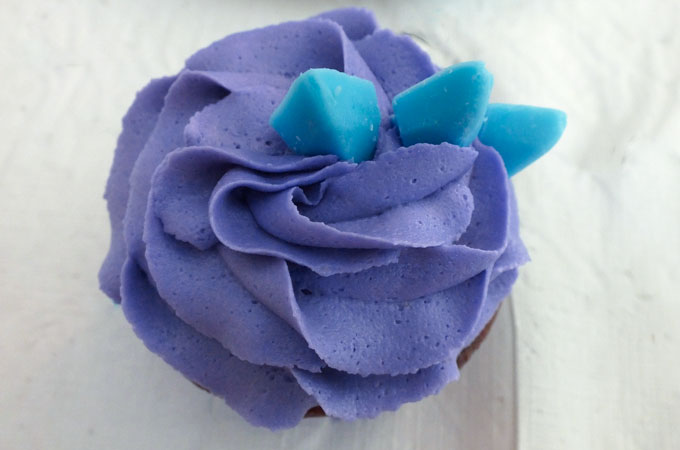 With the point up and the cut side down, press the candy melt dinosaur spikes down into the frosting in a straight row.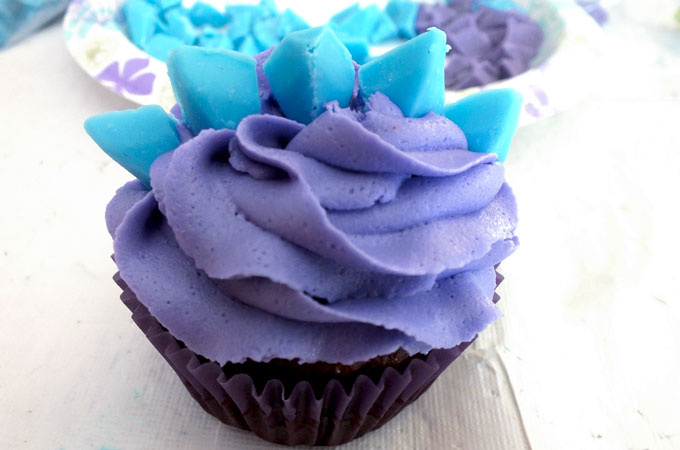 That's all there is to it.  So pretty!
We put blue dinosaur spikes on purple frosting, purple dinosaur spikes on blue frosting and blue and purple dinosaur spikes on white frosting.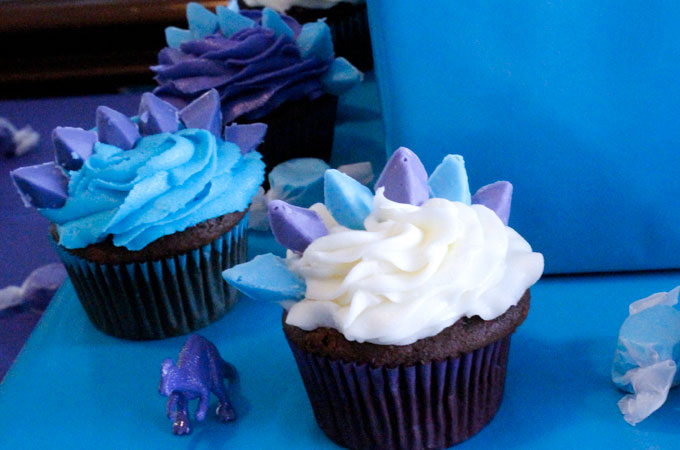 The Dinosaur Cupcakes looks beautiful on our Dinosaur Party Dessert Table and the kids recognized them right away as being Stegosauruses.  This is a great way to add some dinosaur-iness to a Dinosaur Party without trying to replicate an actual dino head or T-Rex body on a cupcake.  We give it a Two Sisters Crafting Thumbs Up!

If you want to stay up-to-date on all our Dinosaur Party posts, Follow Two Sisters Crafting on Pinterest!
Follow Two Sisters Crafting's board Dinosaur Ideas on Pinterest.