A few weeks ago we made some gorgeous Glitter Easter Eggs.  This week we put them to use, decorating with Easter Eggs in four different Easter projects, all featuring our bedazzled plastic Easter Eggs.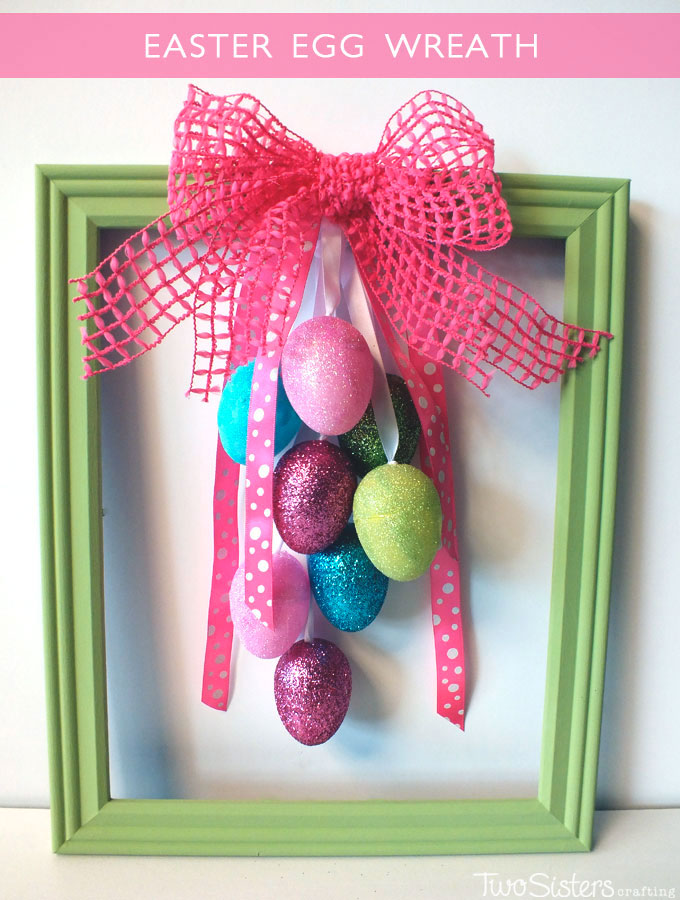 Easter Egg Wreath
Our first project was this gorgeous non-traditional Easter Egg Wreath.  I had an old frame whose glass had broken in an Earthquake. I took out the frame backing and painted the black wood with some bright green acrylic paint.    I drilled a very small hole in one end of eight of my Glittered Easter Eggs.  I threaded satin ribbon into this hole and used a knot to attach the egg to the ribbon.  Each piece of white ribbon had an egg tied to each end.  I tied the ribbons to the top side of the frame and arranged the eggs in the center of the frame.  I used the glue gun on the back of the frame to keep the ribbons from sliding around.  Finally, I added some pink polka dot ribbon and a big pink bow.    I love it.  I'm going to hang this on my front door!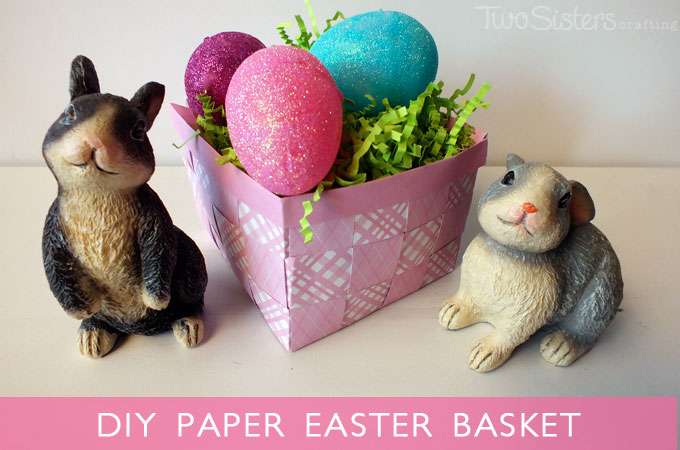 DIY Paper Easter Basket
This is another fun decorating with Easter Eggs project.  I displayed some of the Glitter Easter Eggs in a DIY Paper Easter Basket that I made out of scrapbook paper.  You can find the directions for making this basket here.  I used three pieces of scrapbook paper.  For the two main colors, I cut 1 inch strips with my paper cutter.  Using eight strips of the same pattern, I weaved together the bottom side of the basket.  When building up the basket's sides, I used  strips paper in a coordinating pattern.  This basket turned out really cute. I'm going to make more of these and I'll do a step by step post with pictures next week.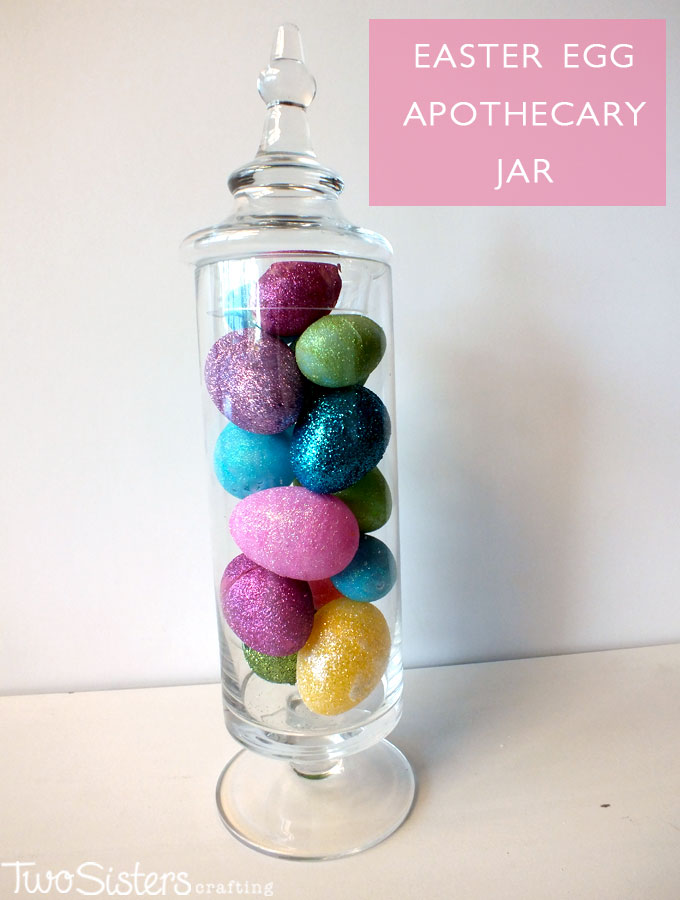 Easter Egg Apothecary Jar
I filled an Apothecary Jar that I usually use as a crayon holder in my craft room with Glitter Easter Eggs. This is now a beautiful Easter decoration on my living room mantle.  Super pretty!!!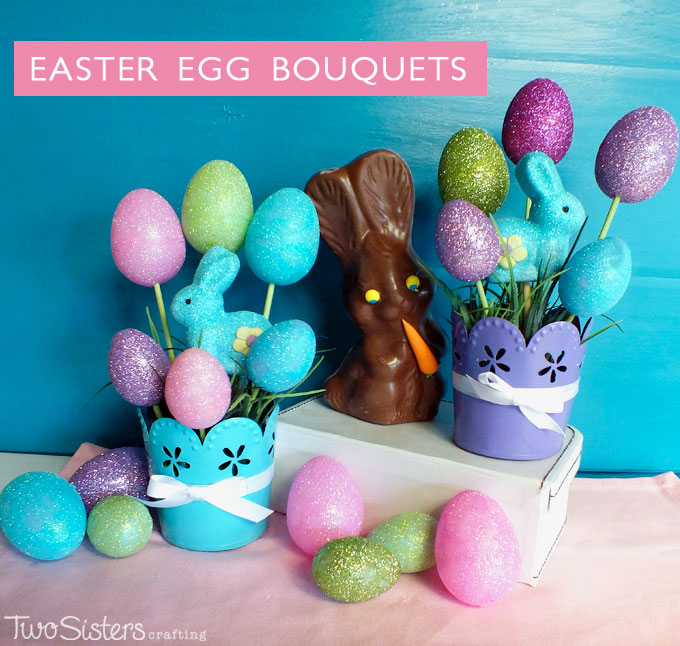 Easter Egg Bouquets
Finally,  we made these Easter Egg Bouquets with the Glitter Easter Eggs.  We are going to use these as centerpieces on the food table for Easter Brunch.
We found these super inexpensive tin pots at a craft store and thought they would be perfect for this project.  We added a small bit of a florist foam block in the bottom of the pot.  We tried paper easter basket grass but didn't like how that looked and finally settled on this plastic grass.  We also added a white satin ribbon around the pots with a small bow (which I attached with the glue gun.)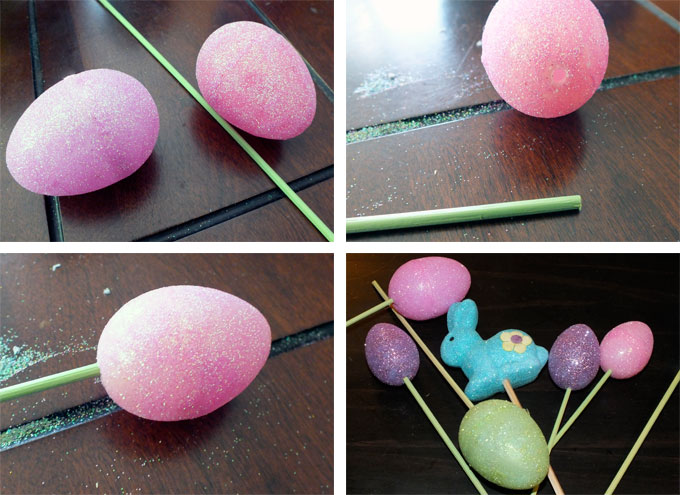 For the "bouquet" part of the Easter Egg Bouquet, I painted some wood skewers that I use for the grill with some green acrylic paint.   Then I drilled a small hole into the bottom of the Glittered Plastic Egg the exact diameter of the skewer.  I attached the Eggs at the end of the skewer.  Finally I arranged the Glittered Eggs in the pot.  Voilà – an Easter Egg Bouquet!
I still have a few Glitter Easter Eggs left!  What other ways can we come up with to decorate with Easter Eggs?  Stay tuned!!