Dallas Cowboys Popcorn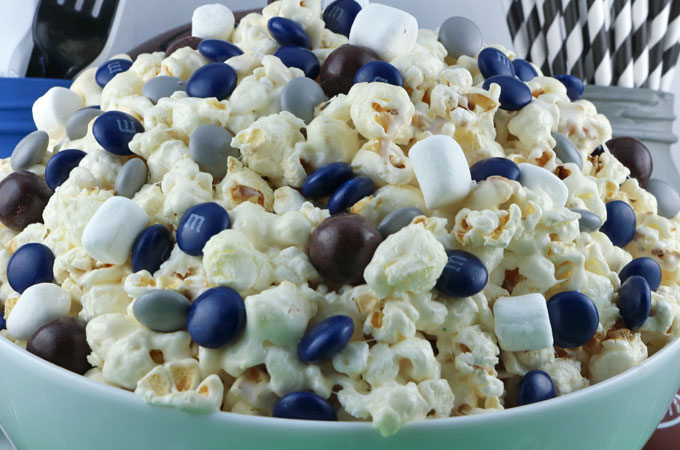 Last year Laurie and I created NFL football jersey rice krisipe treats for the teams in the playoffs. It was fun and they turned out really great.  Last week my husband asked us what we going to do for THIS years playoffs.  Umm…what?  We hadn't really planned on doing anything, but apparently like most NFL teams, we are a super competitive and unable to resist a challenge.  Hence, this year we are rolling out Dallas Cowboys Popcorn – the perfect treat for your playoff (and hopefully) Super Bowl Party.
How to make Dallas Cowboys Popcorn
You will need:
10 Cups of Popped Popcorn
3 tbsp. Butter (Sweet Cream, Salted)
3 cups Mini Marshmallows
Regular M&Ms – Dark Blue and Grey
Chocolate Chips (Dark, Semi-Sweet or Milk Chocolate)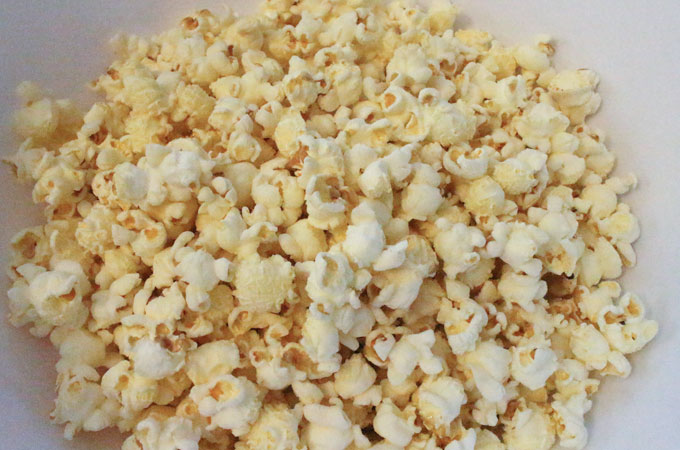 Start with approximately 10 cups of popcorn. Make sure you get out all of the un-popped kernels.  You don't want to bite down on one of those!  We pop our popcorn on the stove (you can find our directions on How to Make Perfect Popcorn here) but you can use air-popped or microwave.  Once you have the popcorn made, salt it liberally.  It is so nice to taste the salty with the sweet marshmallow coating.  Not quite like Kettle Corn but close.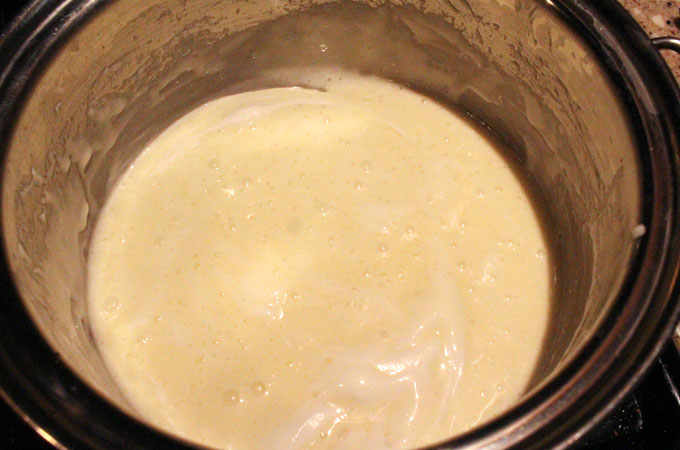 To make the Marshmallow Mixture for the Dallas Cowboys Popcorn, melt 3 tablespoons of butter in a medium sauce pan.  Once the butter is melted, add 3 cups of mini marshmallows. Stir until the marshmallows are melted.  Turn off the heat as soon as the last marshmallow has melted.
Slowly pour the marshmallow mixture over the salted popcorn. Gently fold the marshmallow mixture in with the popcorn until the popcorn is mostly covered.
The amount of marshmallow mixture you want to add is really up to your own taste. The more you add, the stickier the popcorn will be so we suggest that you add it a bit at a time, stir the popcorn and give it a taste before you add more.  Leave a little bit of the marshmallow mixture for the next step.
Now pour the popcorn onto a cookie sheet covered with foil or a silpat liner.  Drizzle a little bit of the remaining marshmallow mixture over the popcorn but do not mix it up. You will need the mixture at the top so the candy will have something to stick to.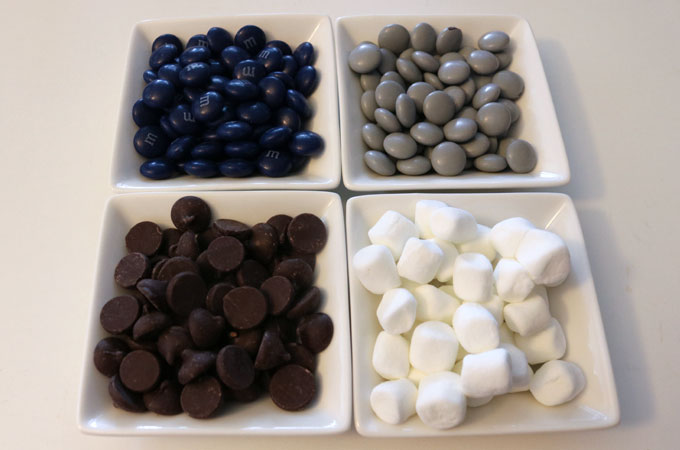 Here is the candy that we added to our Dallas Cowboys Popcorn.  We used a handful of  Dark Blue and Grey regular M&M's and a handful of Nestle Toll House Dark Chocolate Chips. You can find these in any candy store, at Party City or on sites like Amazon.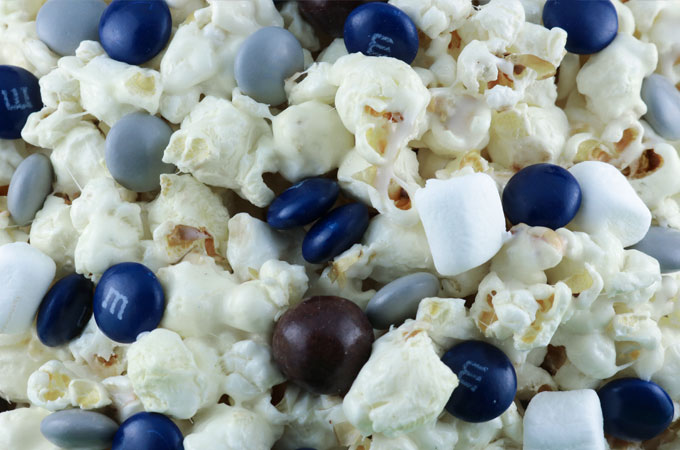 Once the popcorn is covered in marshmallow mixture it is time to add the candy.  But don't wait too long. You want the marshmallow mixture to still be warm and sticky.  Sprinkle the candy onto the popcorn, concentrating on the areas with the most drizzled marshmallow mixture.  Allow the Dallas Cowboys Popcorn to cool. Break apart into pieces and serve.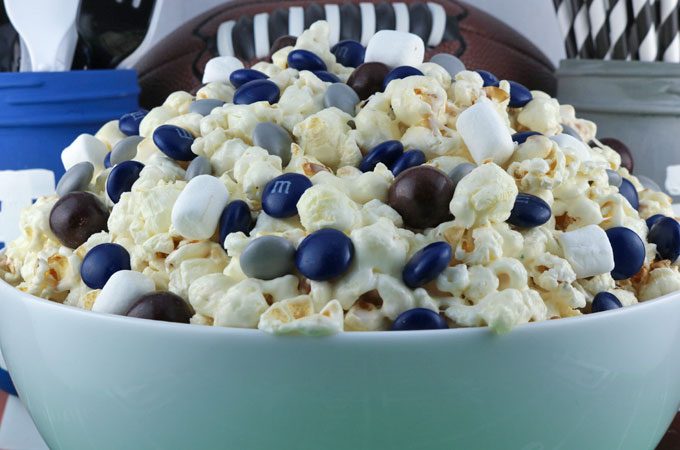 Our family loves this popcorn so it has never lasted longer than a day at our house.  This popcorn definitely tastes best right after it is made but will keep for a few days in an airtight container. The popcorn is a little chewier the next day because the popcorn absorbs some of the moisture from the marshmallow mixture but it still tastes good.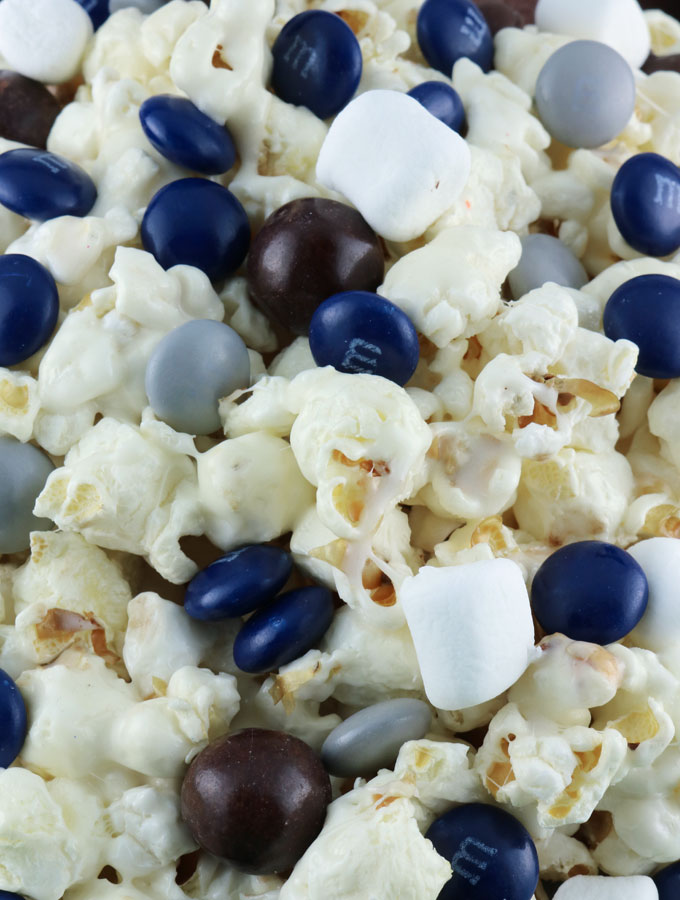 Our Atlanta Falcons Popcorn is a fun and delicious Football Party treat.  And it is so easy to make. It is a perfect dessert for a game day football party, a Super Bowl party or an anytime special snack for a Falcons fan.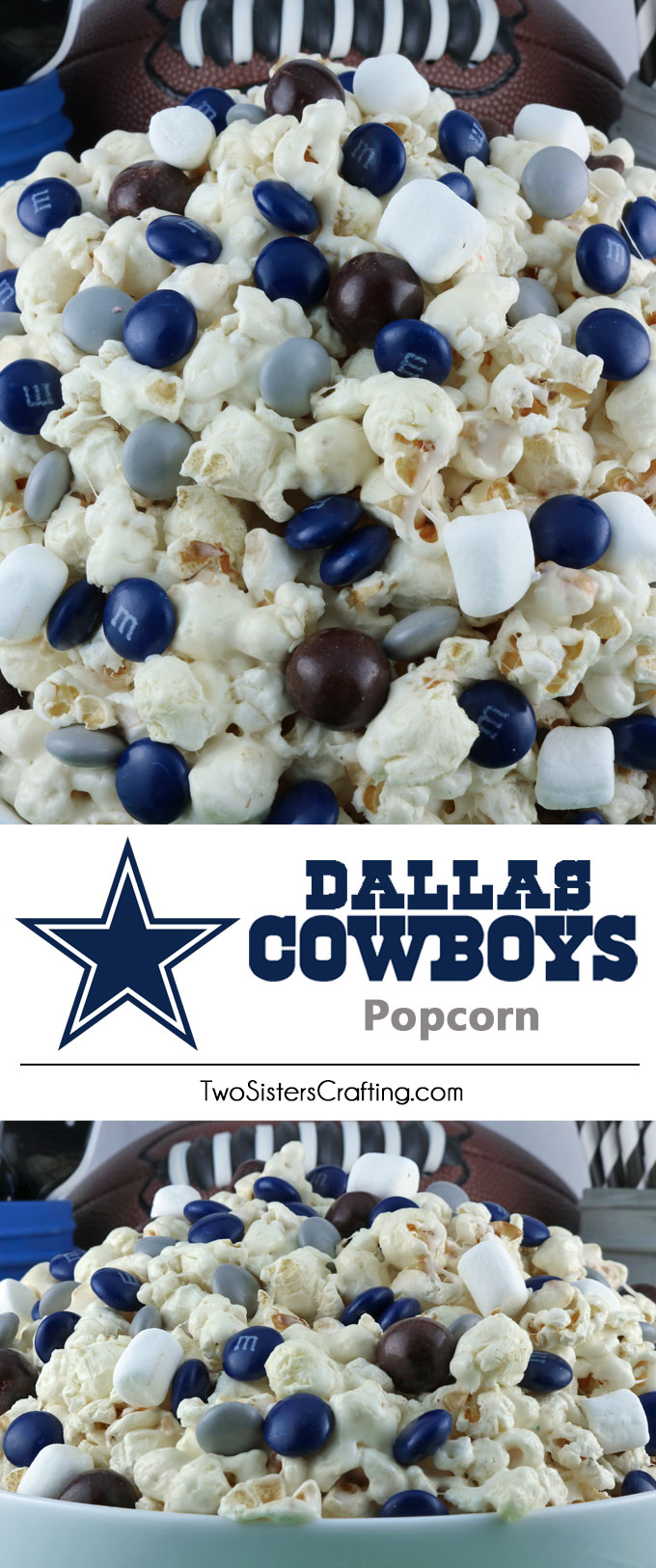 **This post contains affiliate links but we only recommend products that we actually used and liked. Thanks for supporting Two Sisters!