Pumpkin Cupcake in a Jar
There is something so exciting about Fall.  It means the end of summer (which I have never been a fan of) and the beginning of all things pumpkin, apple, and spice.  Although I am not a fan of pumpkin pie, I think it has to do with the pie crust, I love pumpkin.  Laurie and I wanted to do something fun for fall that would sum up how we feel about the season.  This Pumpkin Cupcake in a Jar with Cinnamon Buttercream Frosting fits the bill.
Pumpkin Cupcake in a Jar
Ingredients:
For the cake we used Pillsbury Perfectly Pumpkin Premium Cake Mix.  It turned out great, very pumpkin-y.  The batter was the color of a traditional spice cake so we added orange food color to batter so the cake would look more striking in the mason jars.
For the frosting we used our Cinnamon Buttercream Frosting – it is super delicious. You can find all the directions you'll need to make it right here.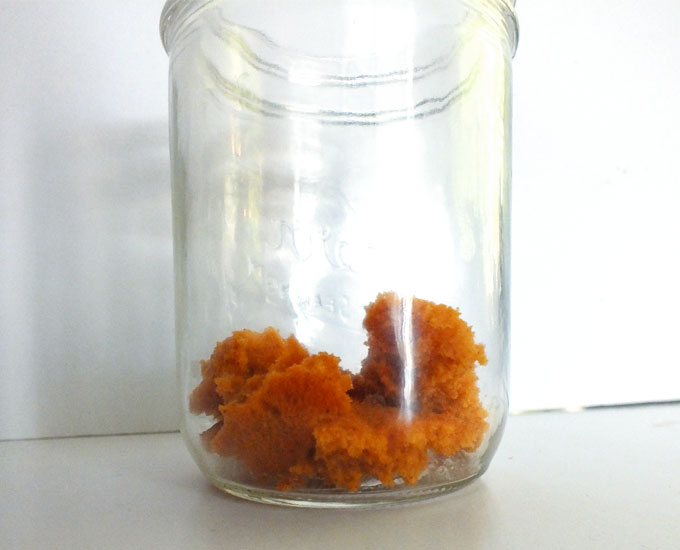 You can find Mason Jars everywhere now – craft stores, Target, the Grocery Store – we bought these as Walmart.   Depending on the size of the jar you use, you'll need more than one cupcake for each cupcake in a jar.  (Our Cupcake in a Jar could be more accurately be called One and 3/4 Cupcakes in a Jar. ) Break apart the cupcake and add it to the Mason Jar to create the first layer.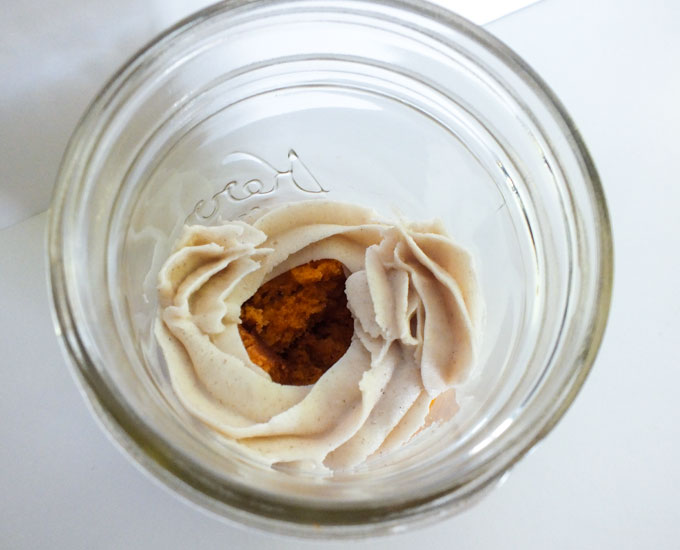 Now add a layer of the Cinnamon Buttercream Frosting.  You don't need to add too much.  Use a pastry bag or a plastic bag with a hole cut-out of one corner to pipe in a circle of frosting as shown in the picture above.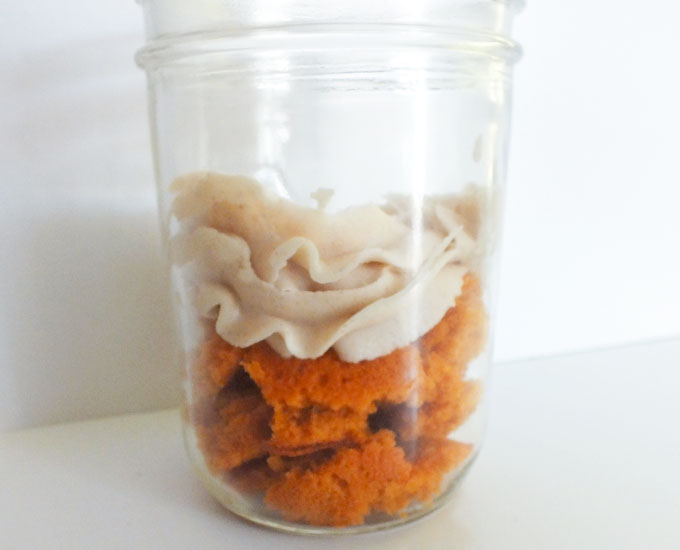 You want the frosting to bump up to the inside edge of the mason jar so it will look pretty from the outside.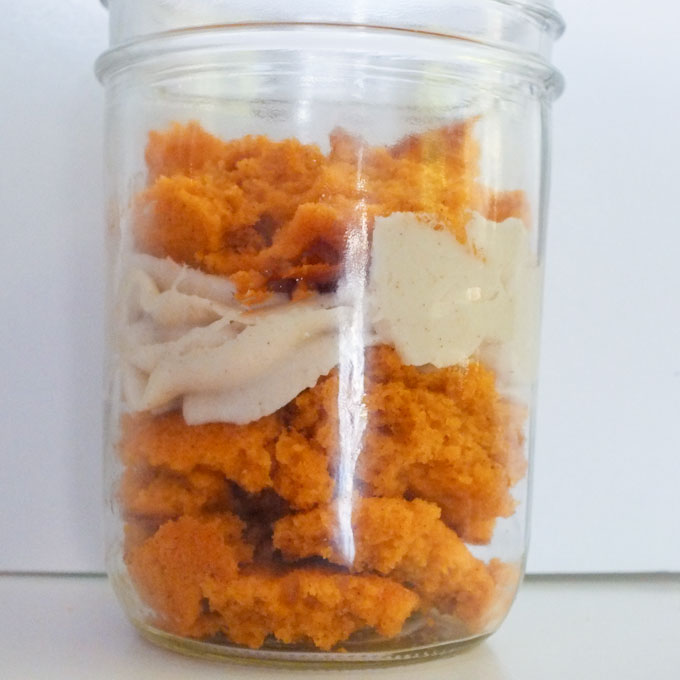 Now add a second layer of cupcake pieces into the Mason Jar.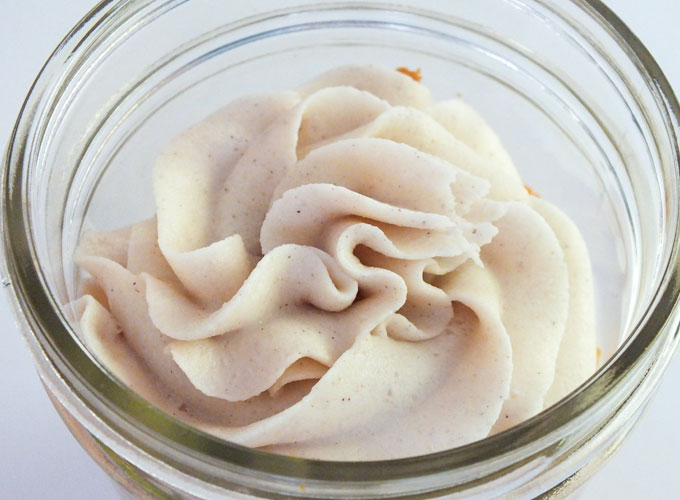 Finally, swirl in a final layer of Cinnamon Buttercream Frosting.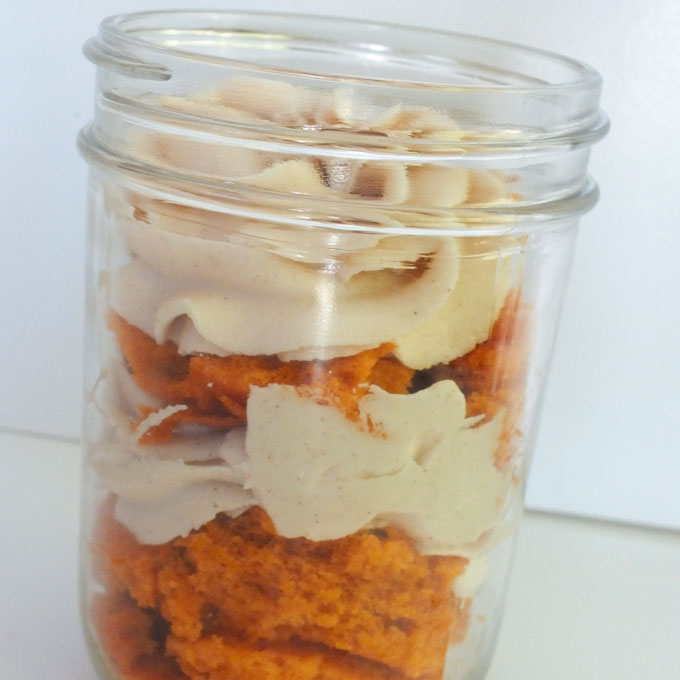 Make sure you leave enough room to put the lid of the Mason Jar back on.  Finally, if this is for a Halloween party go ahead and add a plastic utensil to the Cupcake in a Jar with a decorative ribbon.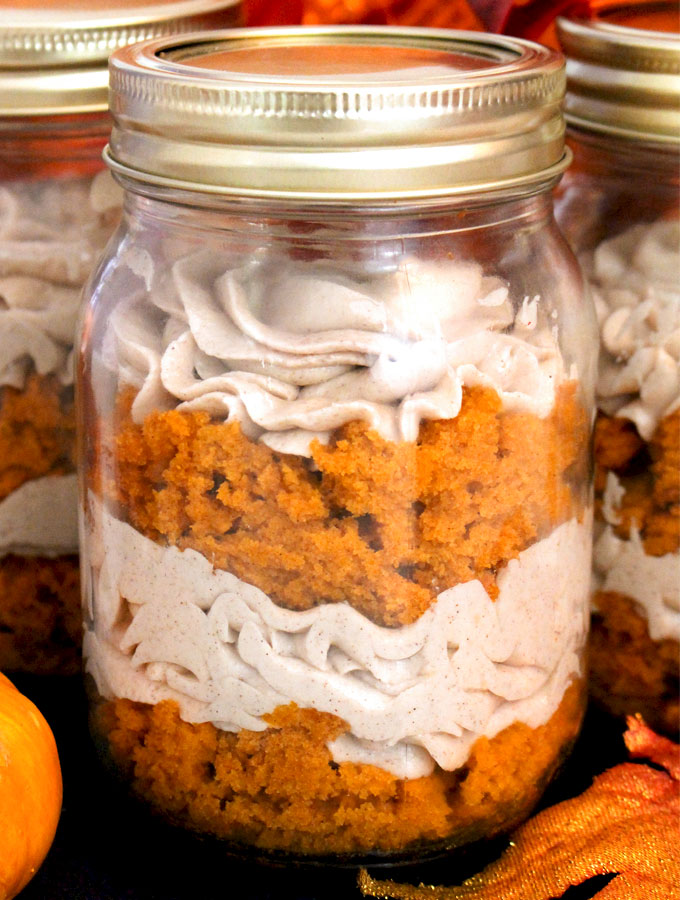 These Pumpkin Cupcakes in a Jar look so beautiful.  They would be a perfect Autumn themed gift for someone special.  They would also be great for a Halloween potluck or Thanksgiving because not only did they taste delicious but they are an unique take on cupcakes and very easy to make.  Your friends will be very impressed!!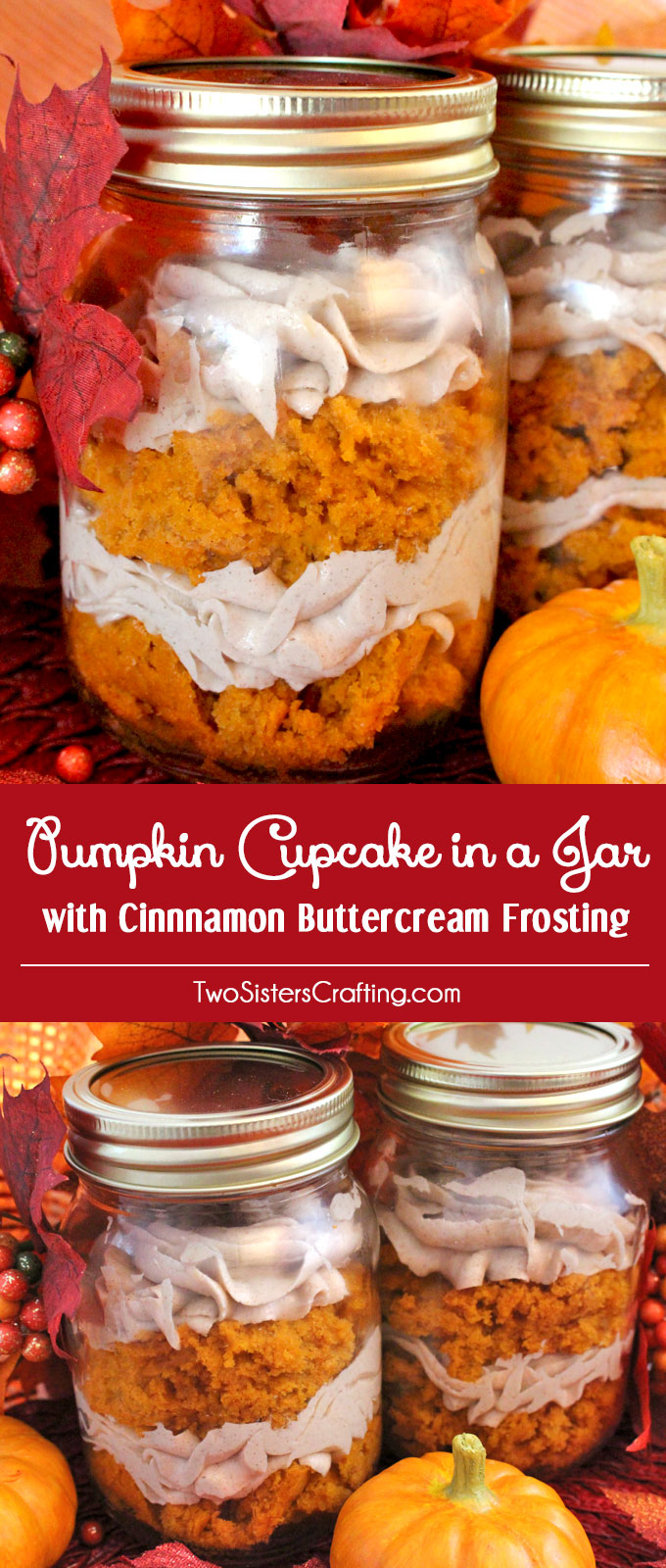 **This post contains affiliate links but we only recommend products that we actually used and liked. Thanks for supporting Two Sisters!