We've already made a lot of Pretzel Bites here at Two Sisters Crafting.  And that is because they are a super delicious sweet and salty treat and you can make so many fun designs with them.  These Christmas Wreath Pretzel Bites are one of our favorite versions.  They are going to be a big hit at our Christmas dinner!

How to Make Christmas Wreath Pretzel Bites
You will need:
Pretzel Snaps
Red and Green M&M Minis
You will need M&M Mini's to make our Pumpkin Pretzel Bites. Regular sized M&M's are too big for these pretzel bites.   Every bag of M&M's has a random number of each color but in the single bag of M&M minis that we used there were enough red and green candies to make about two dozen Christmas Wreath Pretzel Bites.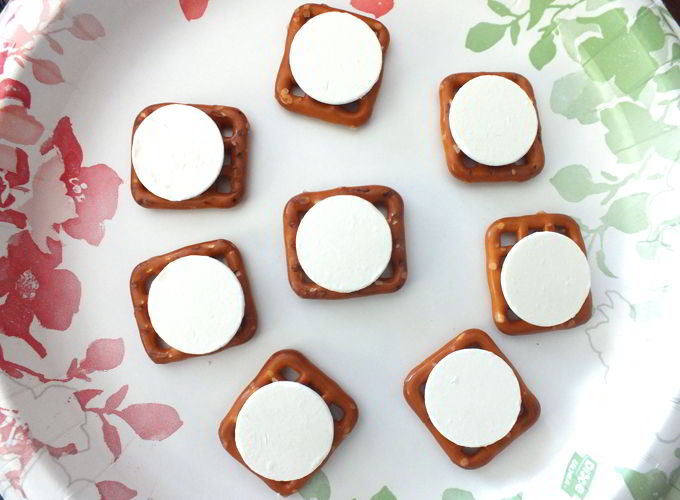 We like to use the square Pretzel Snaps when making Pretzel Bites but you can also use the round mini pretzels.  First, place 7-8 Pretzel Snaps on a paper plate. Cover the pretzels with a Wilton Bright White Candy Melt.  Heat in a microwave oven for approximately 30-45 seconds. The exact timing will take a bit of trial and error.  You want the candy to be melted enough to press the M&M's into, but not so melted that the candy melt loses its' shape and the chocolate starts dripping off of the pretzel.  The exact time in the microwave will depend on how many pretzel/candy's you do at one time, how powerful your microwave is, the type of pretzels you are using, etc.  For us using the Wilton Bright White Candy Melts, 7-8 pretzels took 40 seconds to melt to the right consistency.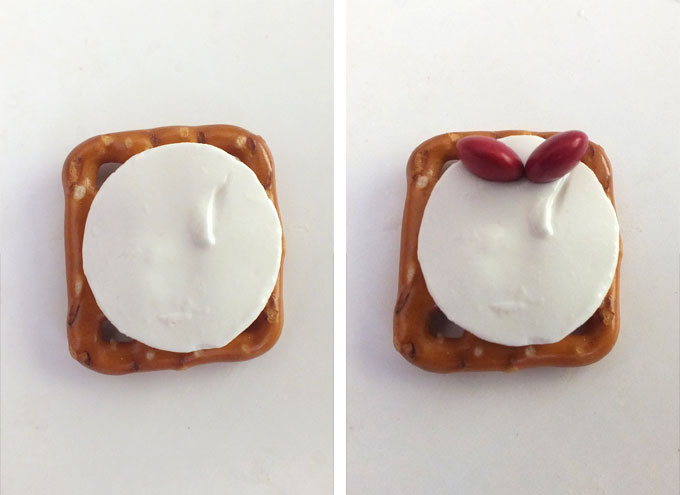 Take two red M&M minis and place them sideways in the shape of a "V" at the top of the candy melt.  These red M&M's will represent the holly on a Christmas Wreath.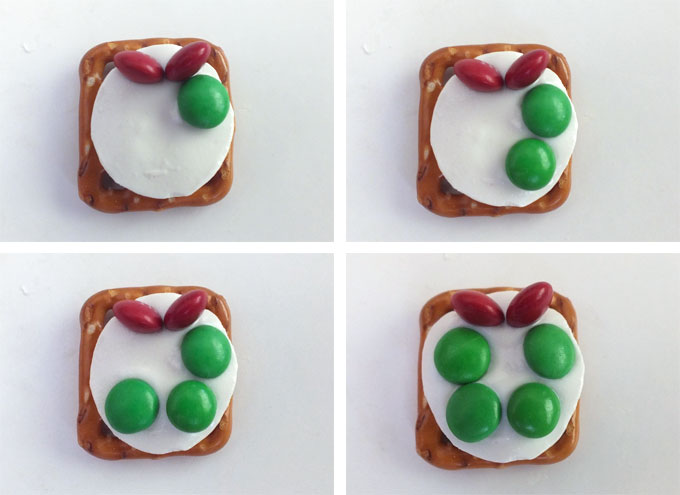 Then place four green M&M Minis in a circle around the red M&M Minis.  (Remember to put the "M" side down.)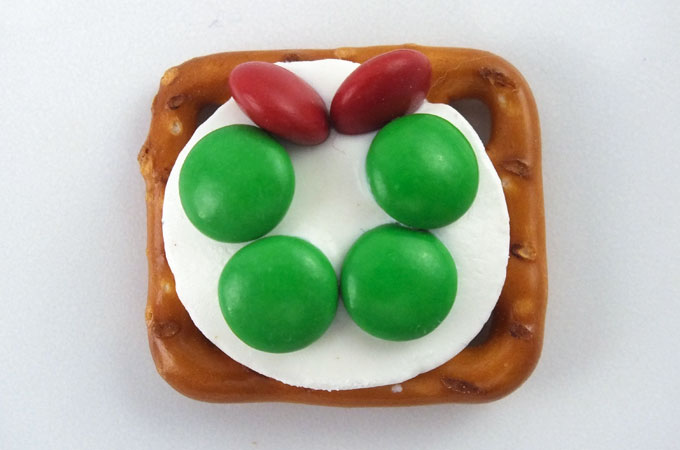 Now you have your Christmas Wreath!
These Christmas Wreath Pretzel Bites are so fun and festive.  And Pretzel Bites taste great – crunchy, salty and sweet in one single bite.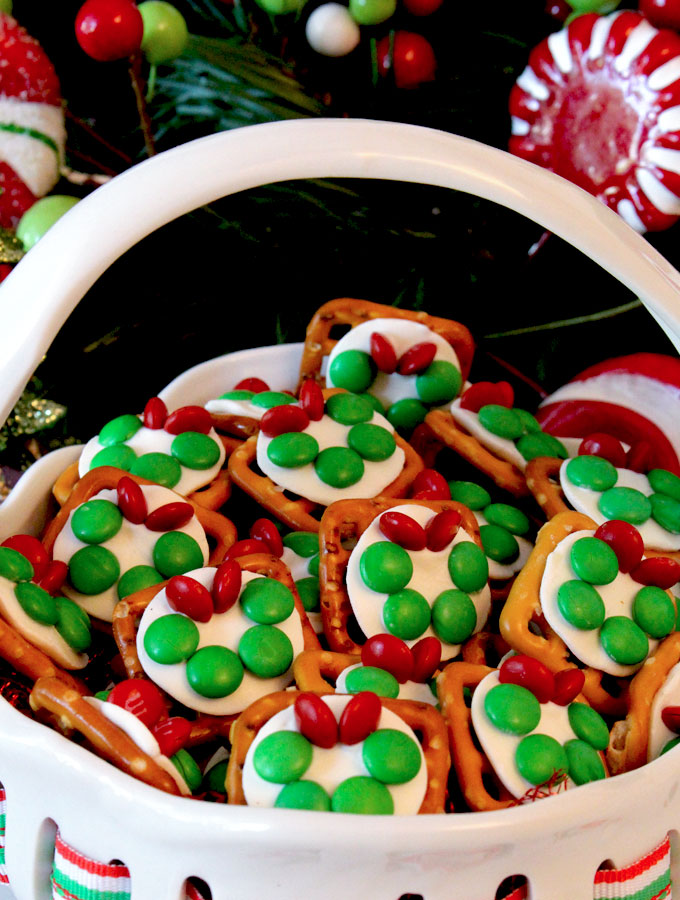 These Christmas Wreath Pretzel Bites are a fun treat for Christmas.  They have such a delicious and unique sweet and salty taste.  And they stay fresh for months if you keep store them in an airtight container (although who are we kidding, they'll be eaten long before that).  Merry Christmas everyone!

P.S. Let's stay in touch!  If you liked our Christmas Wreath Pretzel Bites post, [thrive_2step id='10744′]click here to sign up for our Email Newsletter![/thrive_2step]
Or follow us on Pinterest, Facebook and Instagram!
**This post contains affiliate links but we only recommend products that we actually used and liked. Thanks for supporting Two Sisters Crafting!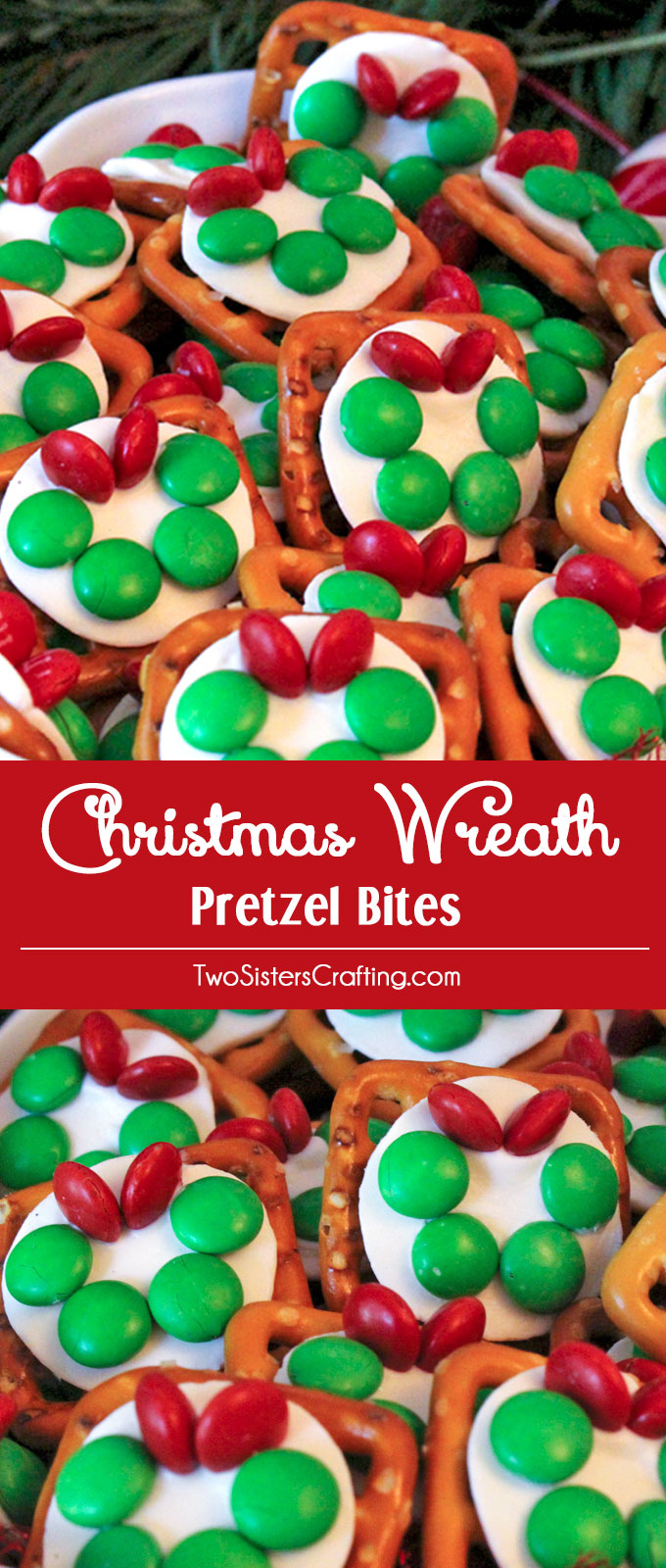 More Fun Christmas Recipes …
If you want to stay up-to-date on all our Christmas posts, Follow Two Sisters Crafting on Pinterest!
Follow Two Sisters Crafting's Christmas Desserts board on Pinterest.