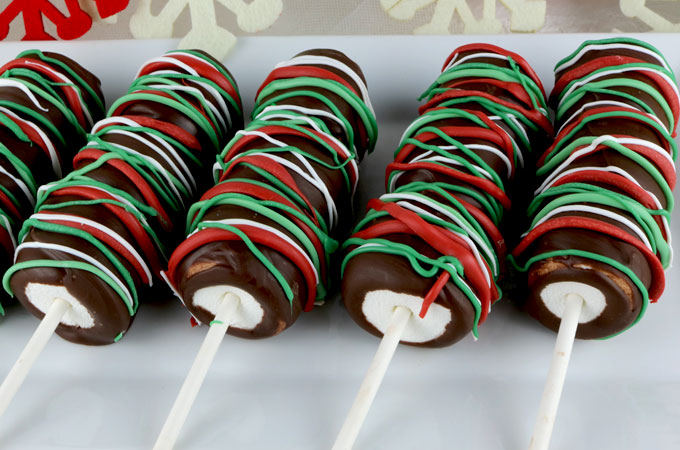 Marshmallows + Chocolate = Super Delicious Treat. Add in a lollipop stick and some festive Christmas colors you've got yourself a winner Holiday dessert-wise.  Our Christmas Marshmallow Pops will not disappoint!  They are so easy to make, look so pretty and who doesn't love marshmallow and chocolate?  Make this fun Christmas Dessert once and your family will beg for them again and again!


How to Make Christmas Marshmallow Pops
You will need:
Regular sized Marshmallows
Ghirardelli Chocolate Melting Wafers or Chocolate Chips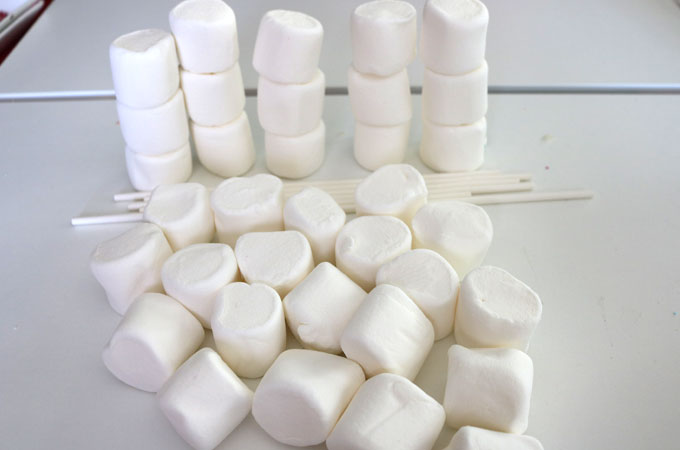 Find 3 marshmallows that are approximately the same size.  Cut a whole in the middle of the bottom of the marshmallows with a knife.  This will make it easier to thread the lollipop stick through the marshmallows.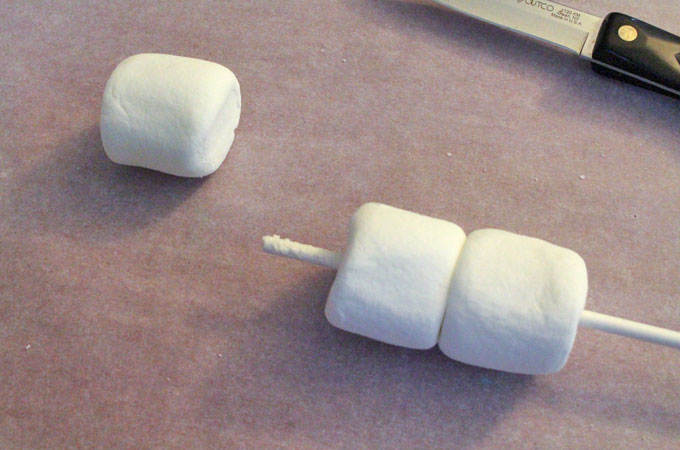 After getting all the marshmallows on the sticks, prepare your chocolate for melting.  (Note: we tried both melting chocolate and chocolate chips to coat the marshmallows and found the melting chocolate much easier to use.  It melted into a thinner consistency so covering the marshmallows was easier.  The chocolate chips were a little clumpy and made a much thicker coating of  chocolate.  As for taste, there was no difference.  They were both delicious.)
We used a long shallow pan to melt the chocolate.  We put about 20-25 chocolate wafers in the pan and microwaved them for 30 seconds, checked them, gave them a stir and then microwaved them for 10 seconds more. Stirred and then microwaved them for another 10 seconds.  Once they were almost completely melted we took them out gave them a final stir.  This amount of chocolate covered 2 to 3 wands.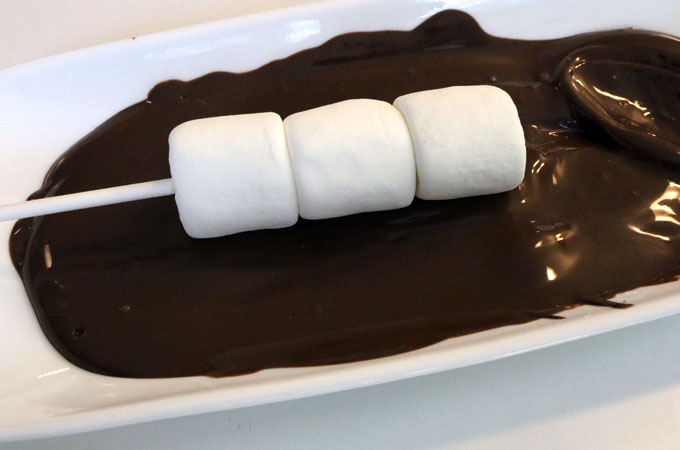 Then we used a spoon to help cover the marshmallows and also to smooth out the chocolate once it was on the marshmallows.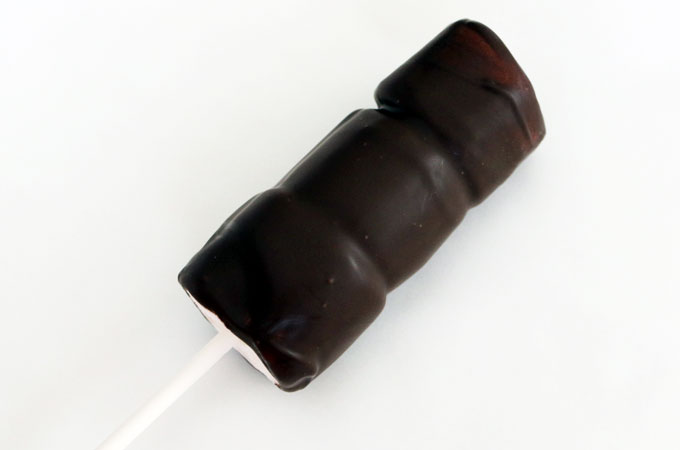 When the chocolate dries, the Christmas Marshmallow Pops will look like this.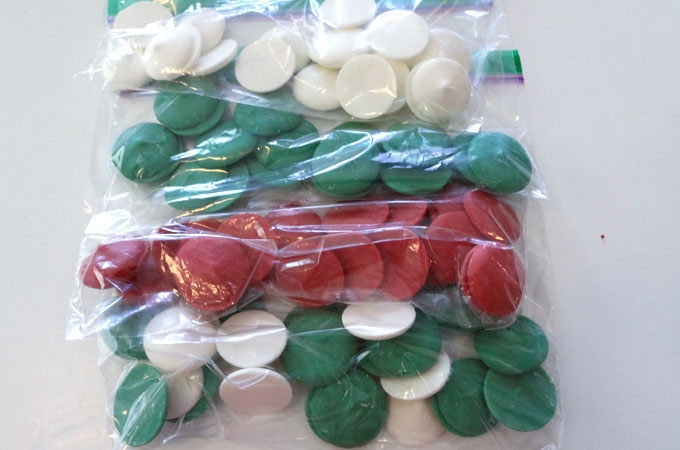 We drizzled colored candy melts on our Christmas Marshmallow Pops for decoration. While the chocolate was drying, we melted 15-20 Wilton Red, Bright White and Green Candy Melts in Ziploc bags.  In the forth bag we combined Dark Green and Bright White Candy Melts to get a lighter shade of Green.
Once melted, we cut the tip off the bag and drizzled the candy over the marshmallow pops.  Make sure you only cut the very very tip of the bag. You only want a small hole to give yourself more control over the drizzle.
Alternating colors, drizzle the melted candy melts over the Christmas Marshmallow Pops.  They turn out so pretty with the drizzled candy melts!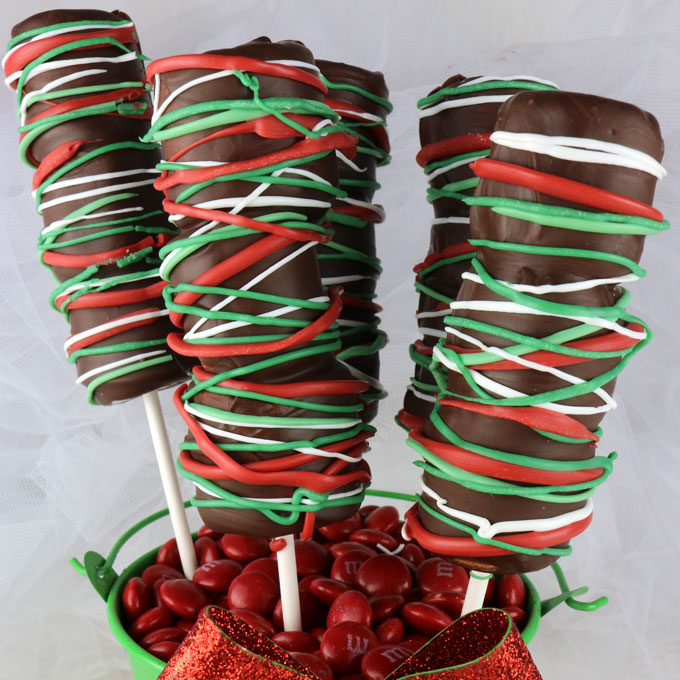 These Christmas Marshmallow Pops are super delicious.  They are a homemade candy bar on a stick and who doesn't love marshmallow and chocolate?  What a great Christmas treat or a fun dessert for a Holiday party.  And did we already say how yummy they are?  Give them a try, you won't be sorry!
P.S. Let's stay in touch!  If you liked our Christmas Marshmallow Pops post, [thrive_2step id='10744′]click here to sign up for our Email Newsletter![/thrive_2step]
Or follow us on Pinterest, Facebook and Instagram!
**This post contains affiliate links but we only recommend products that we actually used and liked. Thanks for supporting Two Sisters Crafting!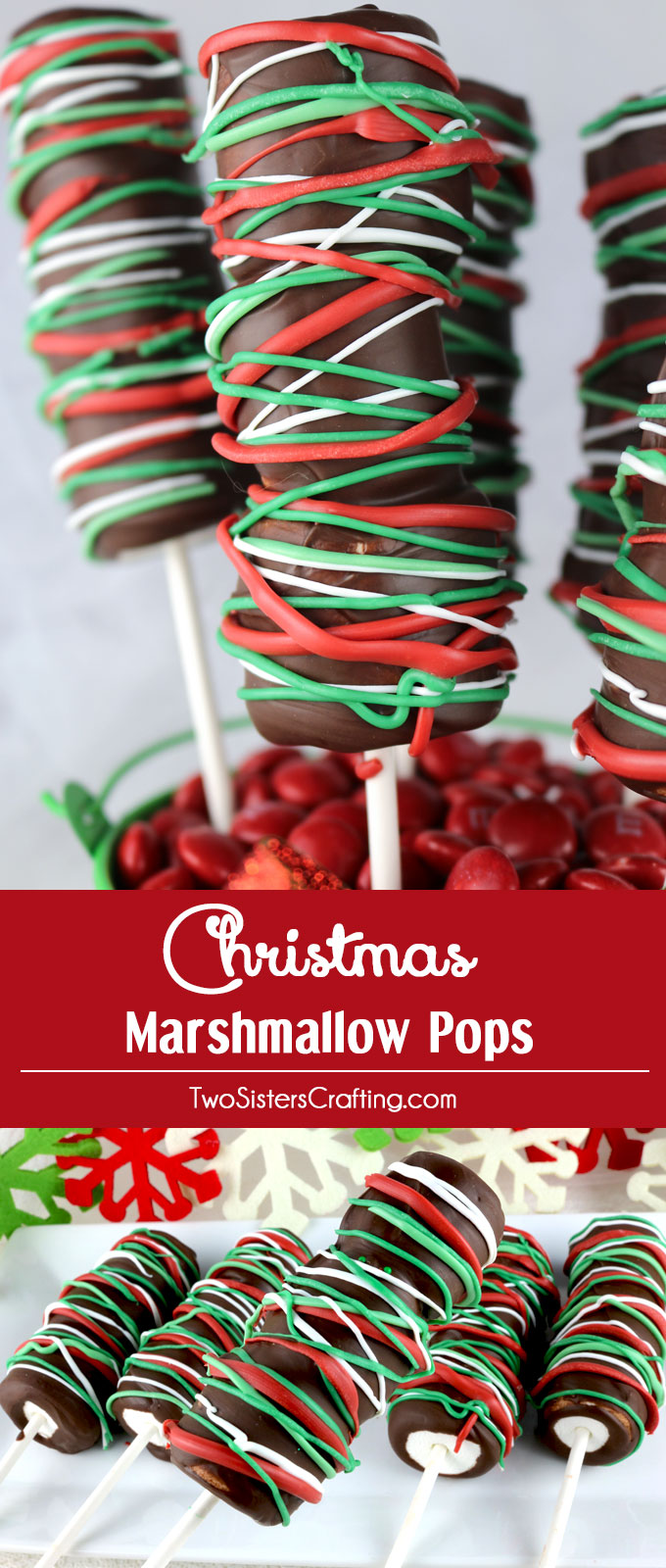 More Fun Christmas Recipes …
If you want to stay up-to-date on all our Christmas posts, Follow Two Sisters Crafting on Pinterest!
Follow Two Sisters Crafting's Christmas Desserts board on Pinterest.