What is it about chocolate and Valentine's Day?  Chocolate says l-o-v-e like nothing else.  These Chocolate Hearts Cake Bites turned out so cute and will be the perfect treat for your whole family.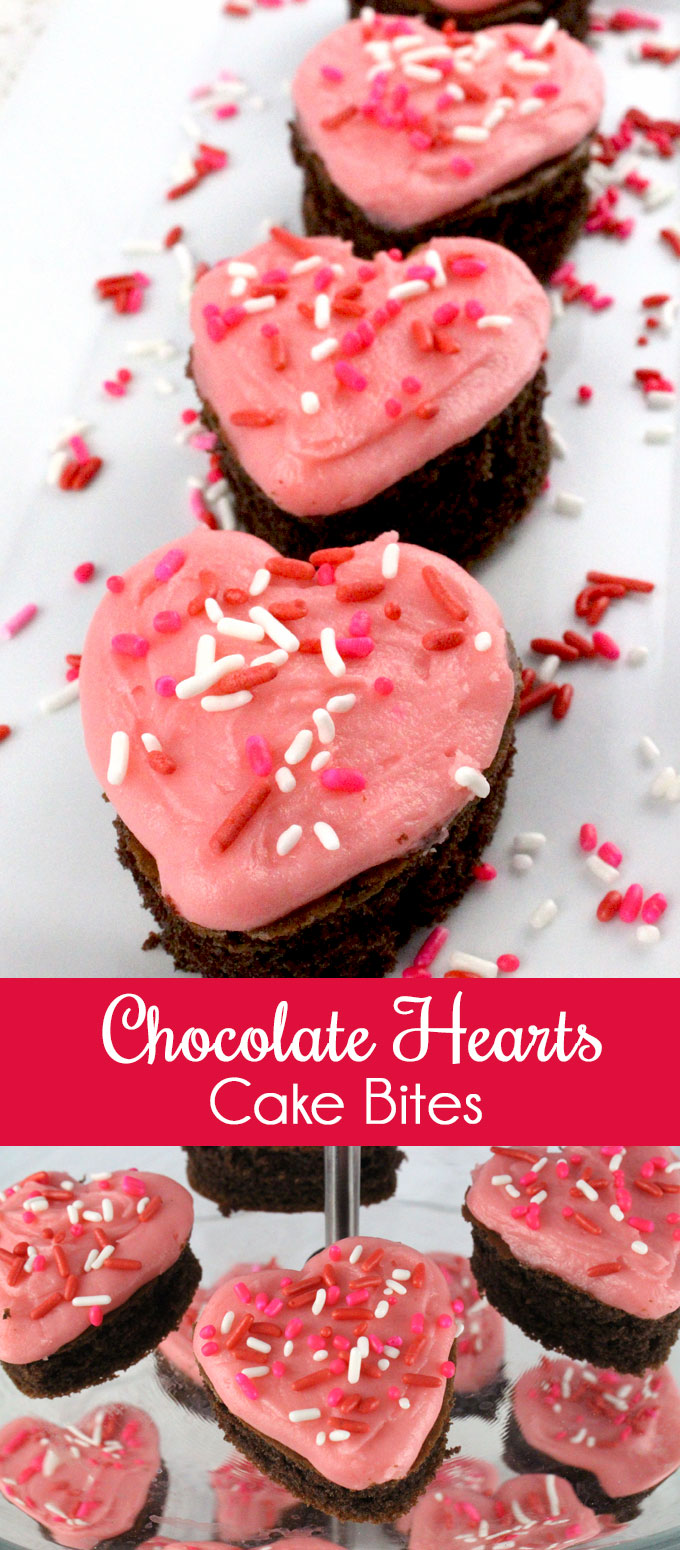 How to Make Chocolate Hearts Cake Bites
You will need:
Chocolate Cake Mix
Wilton Color Right Food Coloring – Red
Cookie Sheet
Heart shaped cookie cutter
Valentine's Day Sprinkles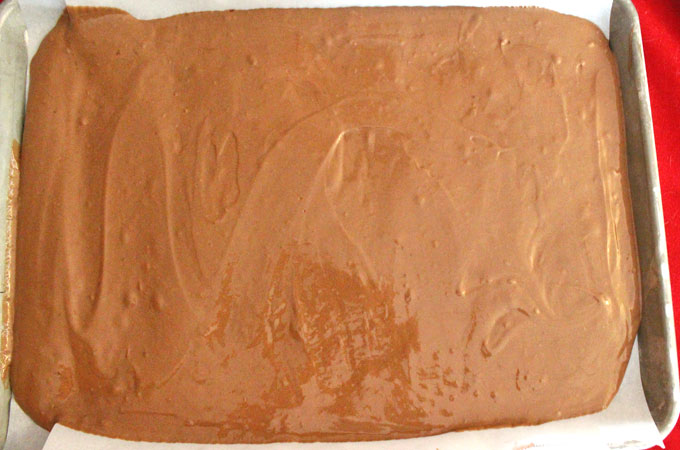 We made up a box of Duncan Hines Classic Dark Chocolate Fudge Cake Mix.  Instead of baking it in a traditional cake pan we lined a cookie sheet with parchment paper and poured the cake mix onto it.  We let the cake batter sit on a flat counter for 10-15 minutes to allow it to settle and even out.  Then we baked the cake in a 350 degree oven for 20 minutes.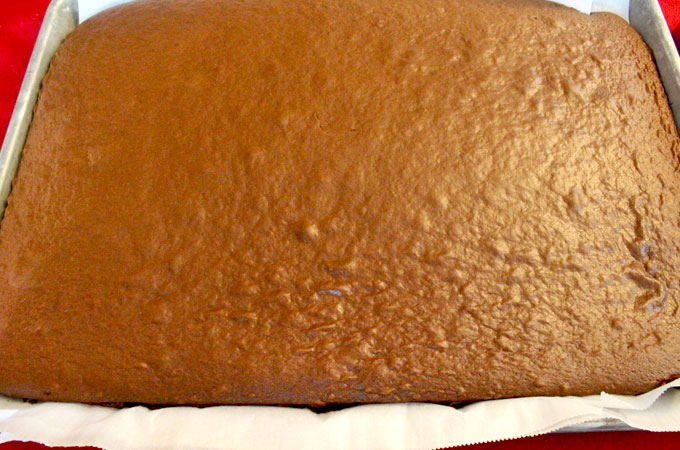 Allow the cake to cool and use the parchment paper to remove the cake from the cookie sheet.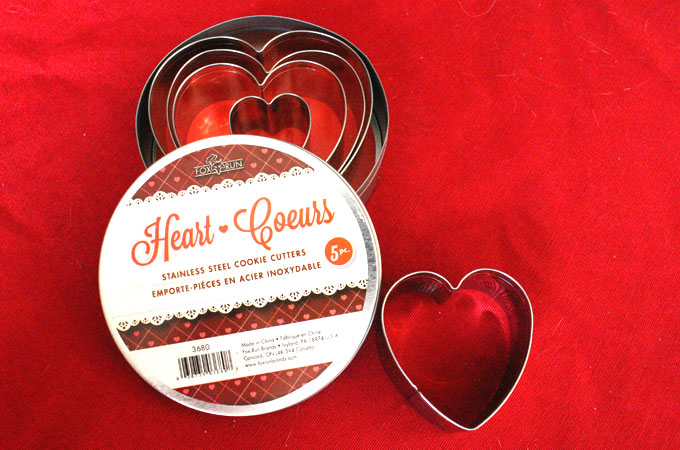 We used a heart shaped cookie cutter to cut out our cake bites.  We found this set of Heart Cookie Cutters on Amazon.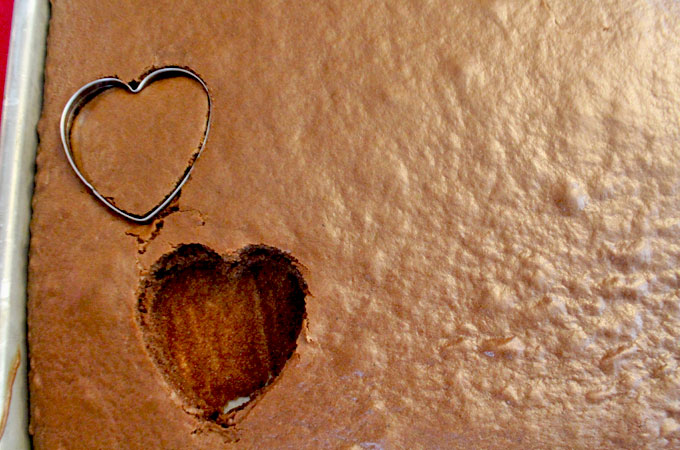 We used a relatively small heart cookie cutter to make our cake bites because we wanted them to be bite sized.  But you could make them larger and more "cupcake" like.
One note about the cake bites.  If you are going to make these ahead of a party, store them in the refrigerator in an airtight container.  Unlike a cupcake that is protected by a cupcake liner, the sides of the cake bite are exposed and will dry out if left out too long.  We frosted our Chocolate Hearts Cake Bites the day before we served them and stored them in a plastic container overnight.  They were fine.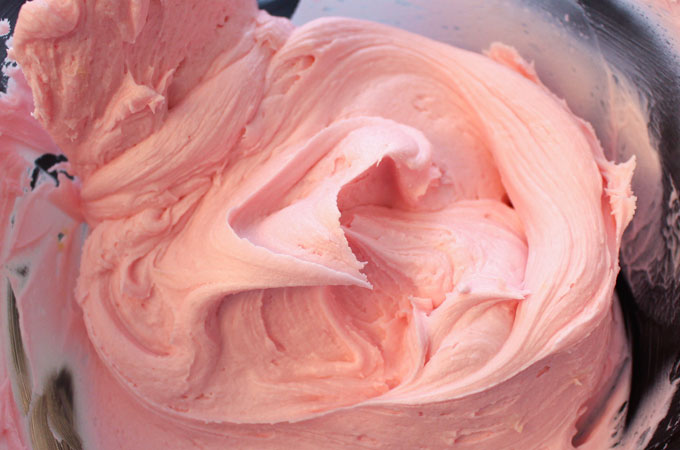 Make a batch of our Best Buttercream Frosting.  It is super easy to make and so very delicious. You can find the recipe and detailed instructions here.  We colored our frosting pink using 1 very small drop of Americolor Super Red food coloring.  You don't need very much food coloring at all – too much and you'll have red instead of pink.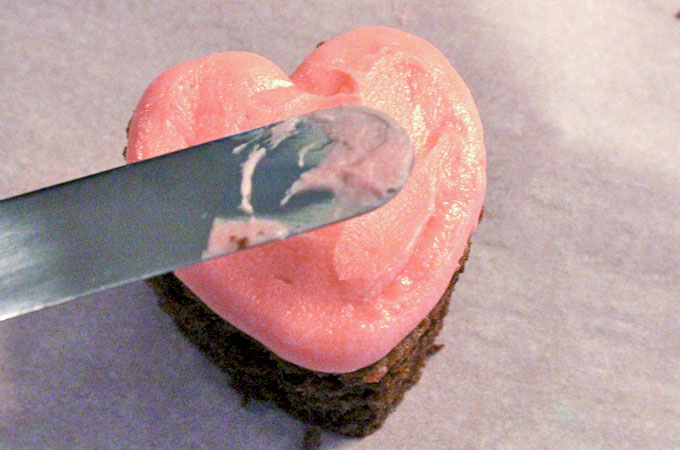 Using a knife we smoothed on a generous layer of frosting to the top of the cake bite.
And finally we added some Valentine's Day sprinkles to our Chocolate Hearts Cake Bites.
They are so pretty and tasted equally yummy!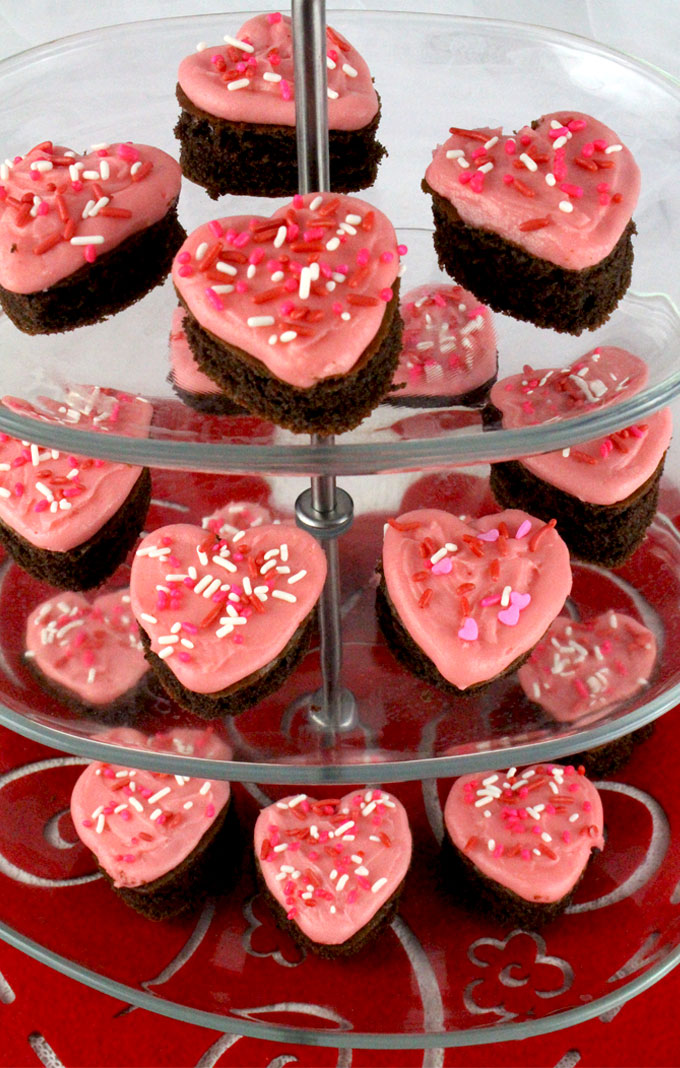 Our Chocolate Hearts Cake Bites are so cute and fun and super delicious. They are perfect addition to a Valentine's party dessert table or as heart shaped snack at a kid's Valentine's Day school party.


Follow Two Sisters Crafting's Valentines Day Food board on Pinterest.