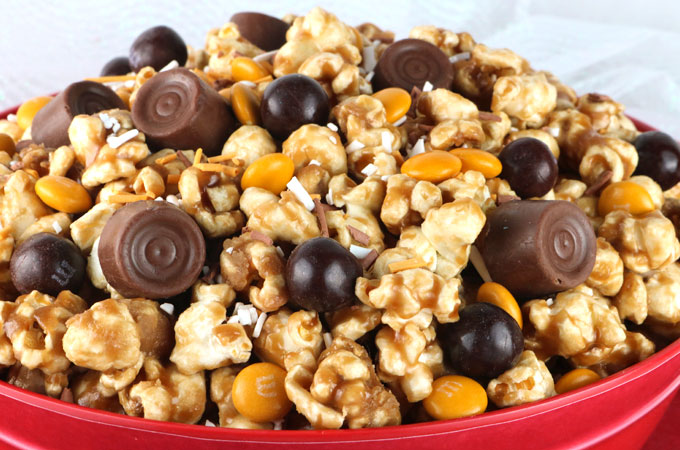 Little known fact .. Wookies love Caramel Corn and Chewbacca is no exception.  It is a staple on Kashyyyk and a common snack on the Millennium Falcon.  We've made up a batch of our Chewie Chewy Star Wars Caramel Corn for a Star Wars Birthday Party (but your should know that it is also good for any regular old Family Movie Night.)


How to Make Chewie Chewy Star Wars Caramel Corn
You will need:
10 Cups of Popped Popcorn
Salt
1 Cup Butter (Sweet Cream Salted)
1 Cup Brown Sugar
2 tsp. Vanilla
1/2 tsp. Baking Soda
Mini Rollo's
Brown Pretzel M&M's
Yellow/Gold M&M Candy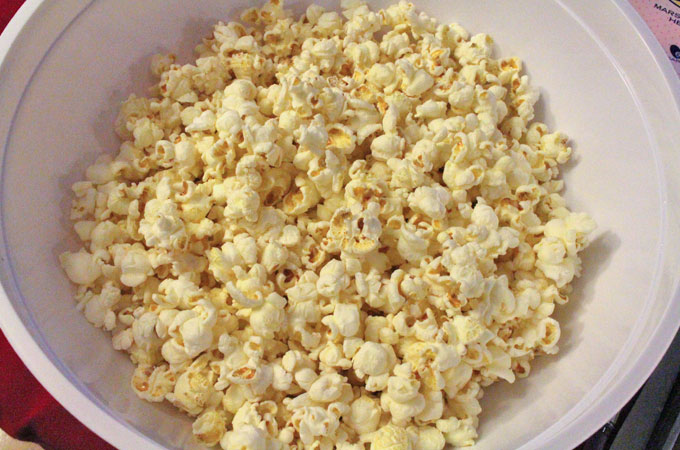 Start with approximately 10 cups of popcorn. Make sure you get out all of the un-popped kernels.  You don't want to bite down on one of those!  We pop our popcorn on the stove (you can find our directions on How to Make Perfect Popcorn here) but you can use air-popped or microwave.
Melt 1 cup of butter in a medium saucepan over medium heat.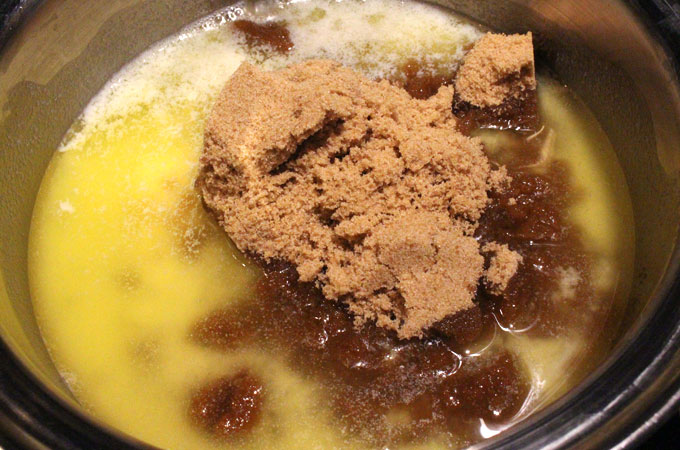 Add 1 cup of brown sugar and stir until thoroughly mixed.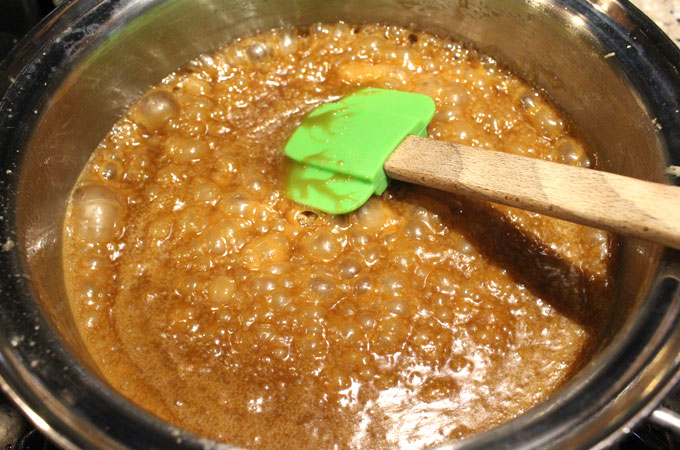 Stirring continuously, bring the butter and sugar mixture up to a boil and cook for 5 minutes.  Add the 2 tsp. of vanilla at the 4 minute mark.
After boiling for 5 minutes, add the 1/2 teaspoon of baking soda.  This will cause the caramel to change colors and foam up a bit.  This is the chemical reaction that you want. The bubbling effect of the baking soda will aerate the caramel and make it lighter and smoother and therefore easier to coat the popcorn.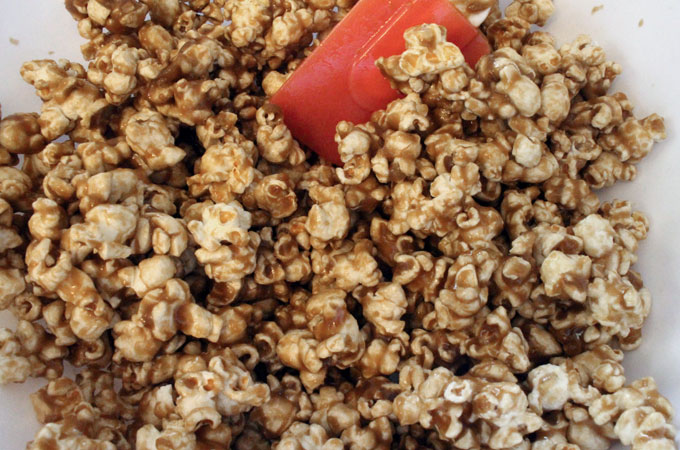 Drizzle 3/4 of the caramel mixture over the popcorn.  Use a spoon to gently fold the popcorn with the mixture until the kernels are all covered.  Save 1/4 of the mixture to the side.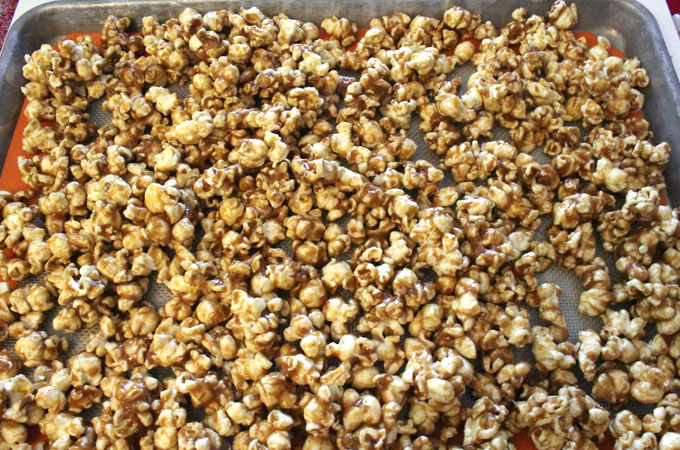 Pour the popcorn out onto a cookie sheet covered with aluminum foil or a silpat liner.  Drizzle a little bit of the remaining caramel mixture over the popcorn but do not mix it up. You will need the mixture at the top so the candy will have something to stick to.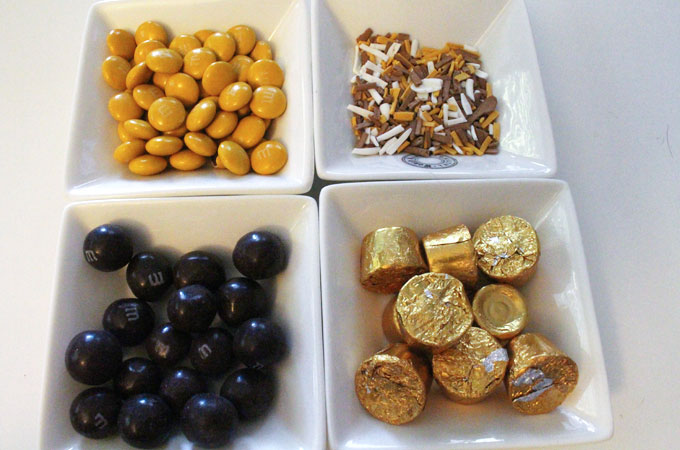 Here is the candy that we added to our Chewie Chewy Star Wars Caramel Corn.  We used a handful of dark brown Pretzel M&Ms, a handful of gold or yellow regular M&M's and a handful of Mini Rollo Candies.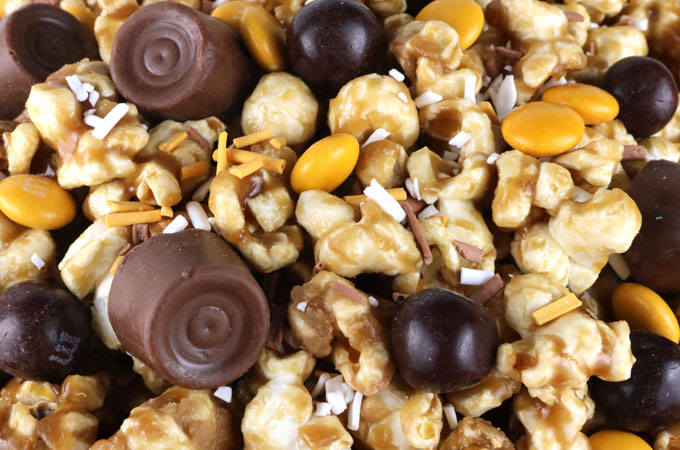 Now it is time to add the candy.  Don't wait too long after you pour the popcorn onto the cookie sheet. You want the caramel mixture to still be warm and sticky. Sprinkle the candy onto the popcorn, concentrating on the areas with the most drizzled caramel mixture.  Allow the Chewie Chewy Star Wars Caramel Corn to cool. Break apart into pieces and serve.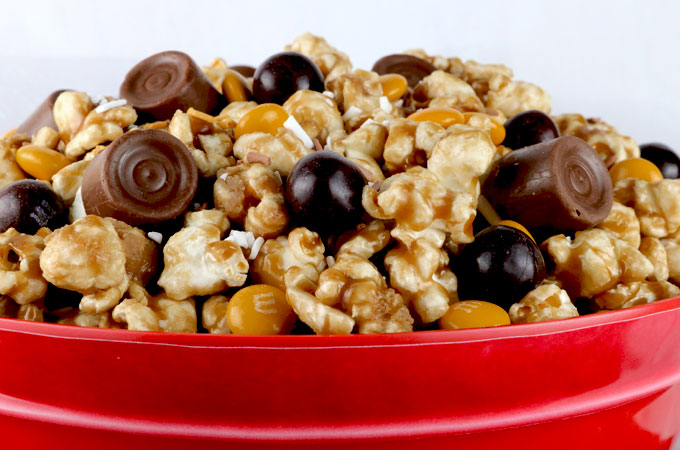 Our family loves this popcorn so it has never lasted longer than a day at our house.  This popcorn definitely tastes best right after it is made but will keep for a few days in an airtight container. The popcorn is a little chewier the next day because it absorbs some of the moisture from the marshmallow mixture but it still tastes good.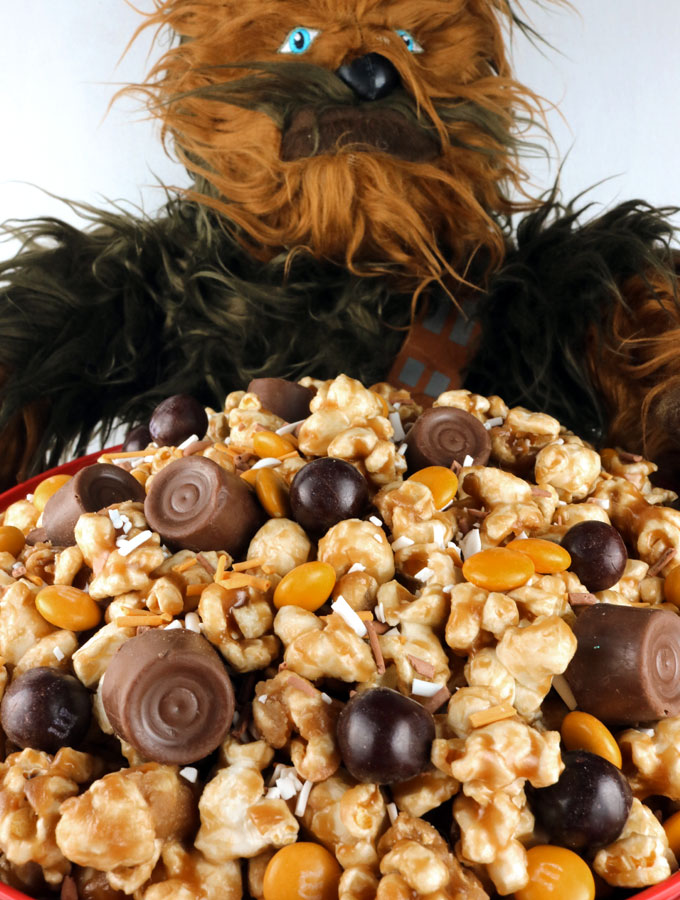 Chewie Chewy Star Wars Caramel Corn is super yummy.  Buttery and delicious.  And so easy to make at home.  If you have a Star Wars lover in your life, this would be a fun snack for your next Star Wars movie marathon!

P.S. Let's stay in touch!  If you liked our Chewie Chewy Star Wars Caramel Corn post, [thrive_2step id='10744′]click here to sign up for our Email Newsletter![/thrive_2step]
Or follow us on Pinterest, Facebook and Instagram!
More Fun Popcorn Recipes …
If you want to stay up-to-date on all our Mickey Mouse Party posts, Follow Two Sisters Crafting on Pinterest!
Follow Two Sisters Crafting's Mickey Mouse Party Ideas board on Pinterest.