Since my niece was a baby, my sister and I have worried constantly that she was hitting all her milestones. Even though we know she always gets there, we worry, so when she started preschool we wanted her to do well. I saw this really cool Pinterest Pin that was a chalkboard letter practice set, and I thought it would be a great idea to help her with her letters. She is just starting to understand the concept of letter writing (having mastered writing an "A" or she refers to it the "Up Down Across" letter) and I thought this might this might be a fun way for her to learn how to write the other letters.  I changed it up a bit from the original inspiration, adding both upper case and lower case versions of the letters and attaching them so that the individual letter pieces won't get strewn about and lost.  I was really happy how this Chalkboard Letter Practice Set turned out.
How to Make a Chalkboard Letter Practice Set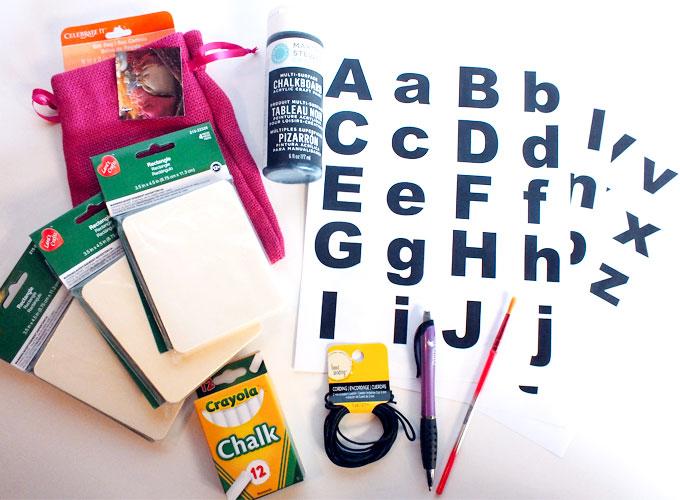 Project Supplies:
13 3.5 x 4.5 Wood Rectangles
Chalkboard Paint
Acrylic Paint
Small Paint Brush
Drill
Jewelry Cording
Ballpoint pen
Alphabet printout made in Adobe Photoshop
Chalk
The first thing I did was drill a small hole in the corner of the wood rectangles so I could string them together when I was done.  I found these wood rectangles at Michaels – they came four to a pack. They were the perfect size – big enough so that the painted letters would be large enough for small hands to trace but small enough so that whole set of them wouldn't be too bulky for a preschooler to work with.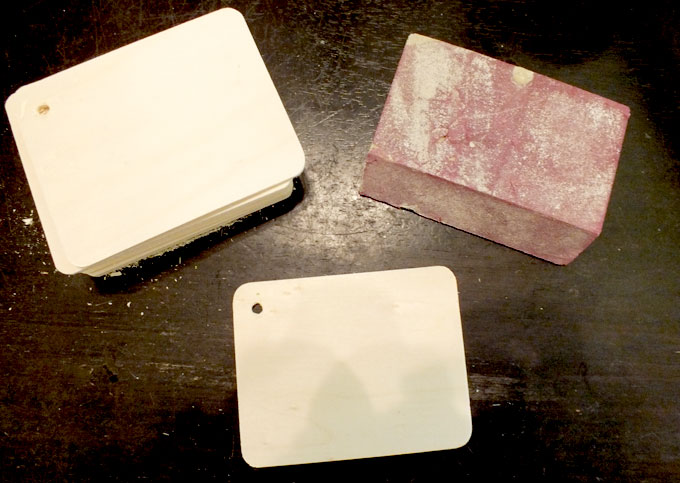 The wood rectangles were made out of unfinished wood and were a little rough around the edges so I used a fine sanding block to smooth them out before I started painting.
I painted the wood blocks with a single coat of acrylic paint.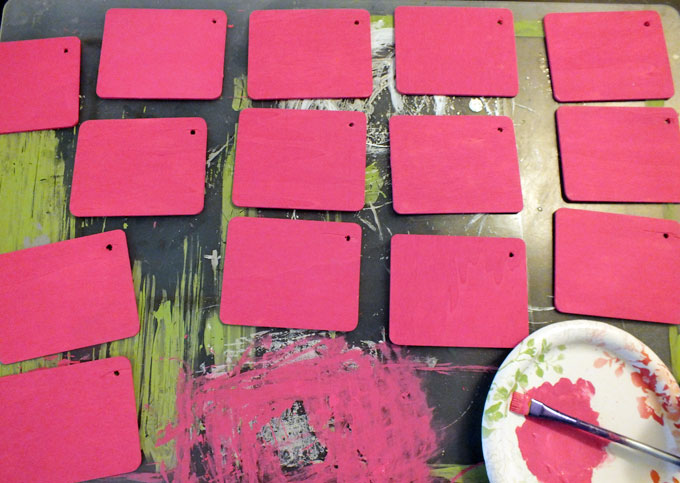 The wood is very porous so it soaked the paint right up.  I liked the effect, it almost looked stained.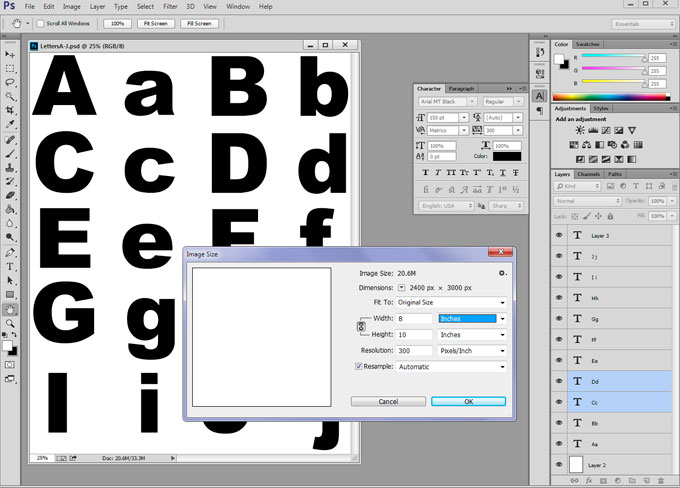 I looked all over for an alphabet stencil in a traditional schoolhouse san serif font but couldn't find one.  So I decided to try a technique for painting letters on wood that I had seen on Pinterest.  Step one was to make a print out of all the letters (in both uppercase and lowercase) in Photoshop.  I created a image with a 300 dpi resolution and a printable width of 8 inches x 10 inches (or 2400 pixels by 3000 pixels.)  Then I created the letters using the Arial MT font in 150 pt.  I increased the vertical spacing to 150 so the Big A and the Little A wouldn't be jammed up so close together.   I created a new Layer for each letter.  I was able to fit 10 letter in a single image file. I printed these letter sheets (3 in all) in the highest quality print that my inkjet could do so the letter edges would be sharp and clear in the print out.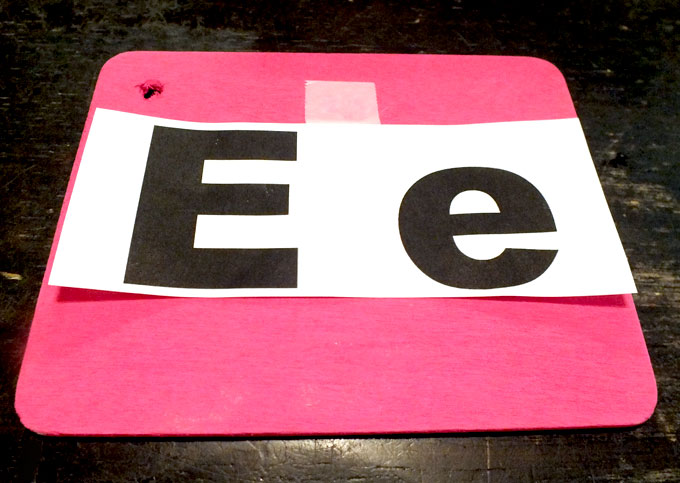 Next you cut out each letter grouping and tape the paper to the wood rectangle.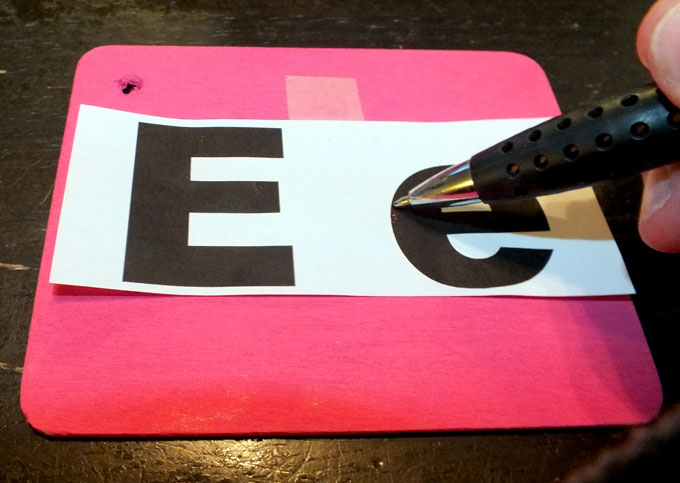 Trace the letter outline with a ballpoint pen.  You need to use enough pressure to leave an indentation in the wood but not enough to rip through the paper and get ink on the wood.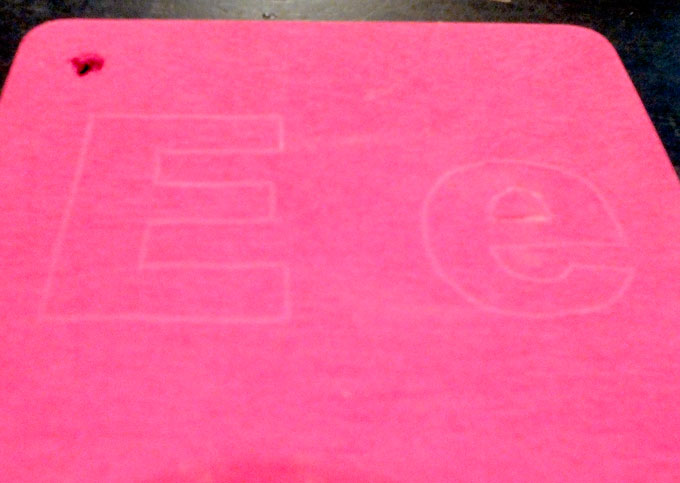 When you are done you should have this faint indentation on the wood rectangle in the shape of your letter that you can use as a guide for painting.  Genius, right?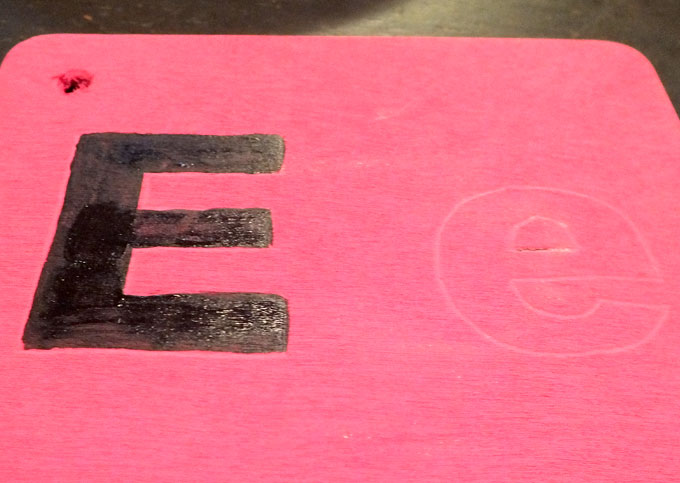 Now for the time consuming part of this project … painting the letters using chalk board paint.  But this tracing technique worked amazingly well.  It's really a great guideline for painting the letters.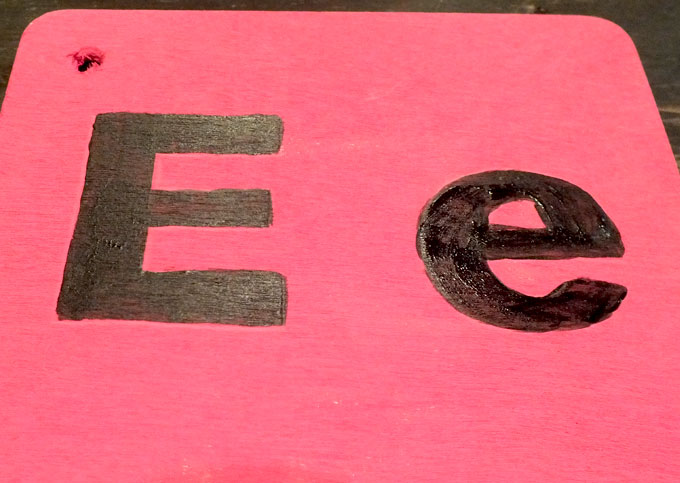 I used a tiny (and I mean tiny) paint brush for the first coat of chalk paint.  And I'm also not going to lie to you, this first coat of paint took a lot of time and patience to complete. The good news is that once you have the first coat completed, the rest of the coats go on a lot more easily.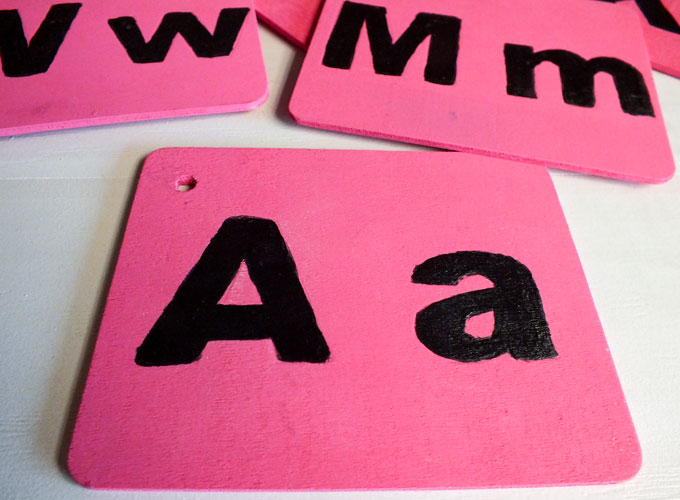 I ended up doing three coats of the chalk paint. But on the last two, I concentrated on getting coverage in the middle of the letters and tried to stay away from the edges that I spent so much time keeping straight during the first pass of paint.
I strung together all 13 of the finished letter rectangles with jewelry cording.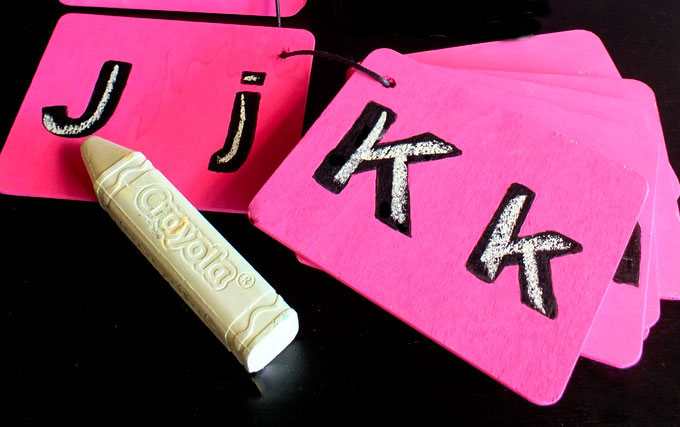 The chalk works great and wipes off easily with a paper towel.  A slightly wet paper towel works even better and doesn't hurt the paint a bit.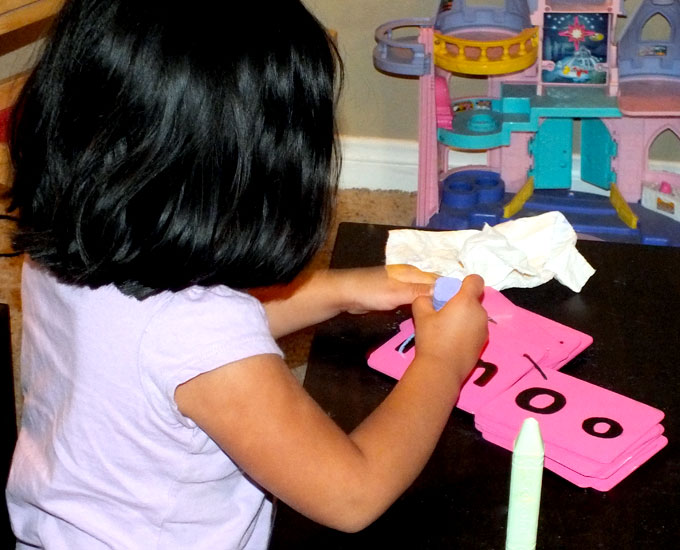 This was a fun craft to make and I think the Chalkboard Letter Practice Set is going to get a lot of use!

Pinterest Inspiration: