These Celebration Marble Cupcakes are the perfect treat for any celebration. Whether it be Easter, a birthday, or just a random Wednesday night.

How to make Celebration Marble Cupcakes
You will need:
White Cake Mix
Cupcake Liners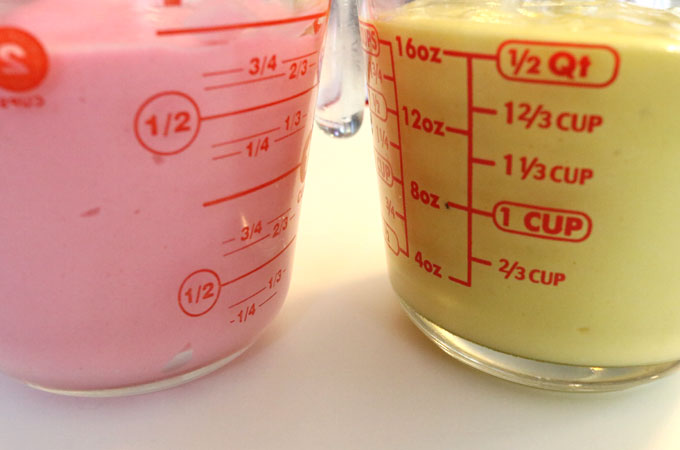 We made our Celebration Marble Cupcakes for a birthday party so we needed quite a few cupcakes and ended up using two boxes of White Cake Mix. We split the cake batter into four equal portions.  We used a food scale to measure each portion but as you can see in these pictures it was approximately 2 cups of cake mix for each color.  (If you only need 20-24 cupcakes, you can use a single box of Cake Mix, )Using our Wilton Color Right Food Coloring we tinted the cake batter four different colors – Pink, Yellow, Purple and Blue.
Here are the amounts of food coloring that we used to achieve these pretty Easter colors:
Pink = 6 drops of Wilton Color Right Pink Food Coloring
Yellow = 1 drop of Wilton Color Right Yellow Food Coloring
Purple = 10 drops of Wilton Color Right Pink Food Coloring and 4-5 drops of Wilton Color Right Blue Food Coloring
Blue = 3 drops of Wilton Color Right Blue Food Coloring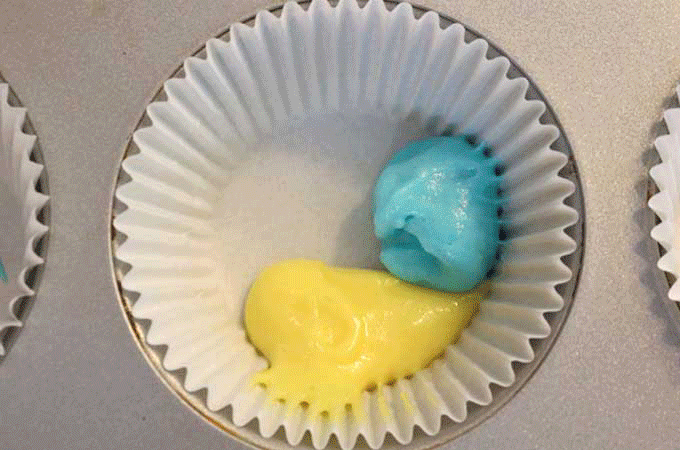 To make the marble effect we used a small spoon to alternate small drops of colored cake batter into the cupcake liner.  There is no wrong way to layer in the colored cake batter – have fun.
Here are the Celebration Marble Cupcakes just out of the oven.  They are so pretty, even without frosting.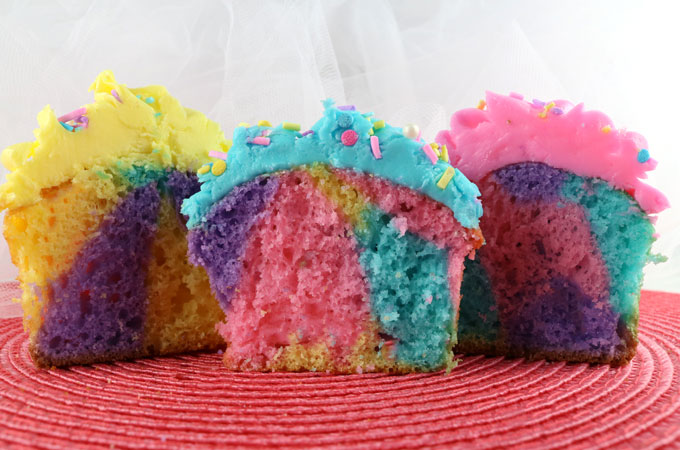 The inside of the cupcakes is the real wow factor!  No two Celebration Marble Cupcakes looked the same … which we loved!
We made a batch of our Best Buttercream Frosting and colored it the same four colors: purple,  pink, yellow and blue.  Then we used a Wilton 2D Frosting Tip to make this frosting swirl but you could also just apply the frosting with a knife.
Finally, we topped our Celebration Marble Cupcakes with some homemade sprinkles that match the four colors of our cupcake!  This is super easy to do and really makes your desserts look special!  We have all the directions you'll need to make your own sprinkles right here.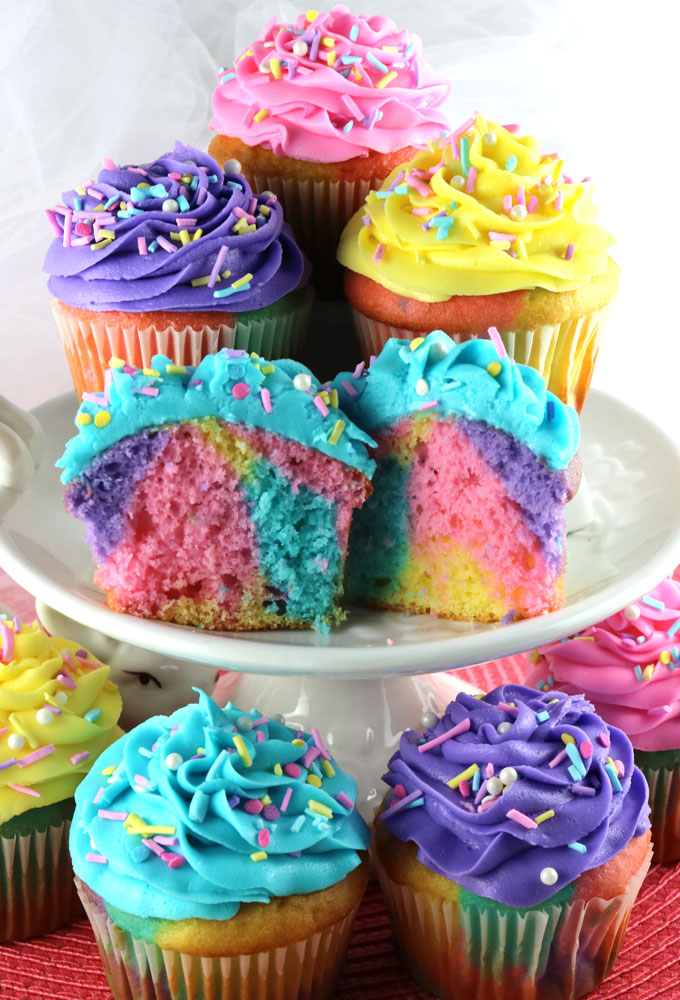 These are some of the prettiest cupcakes we have ever made.  So bright and colorful.  They were the hit of the birthday party. They'd also be great for Easter or even a springtime brunch.
P.S. Let's stay in touch!  If you liked our Celebration Marble Cupcakes post, [thrive_2step id='10744′]click here to sign up for our Email Newsletter![/thrive_2step]
Or follow us on Pinterest, Facebook and Instagram!
**This post contains affiliate links but we only recommend products that we actually used and liked. Thanks for supporting Two Sisters Crafting!
More great Easter Recipes …
If you want to stay up-to-date on all our Easter posts, Follow Two Sisters Crafting on Pinterest!
Follow Two Sisters Crafting's Easter Food Board on Pinterest.