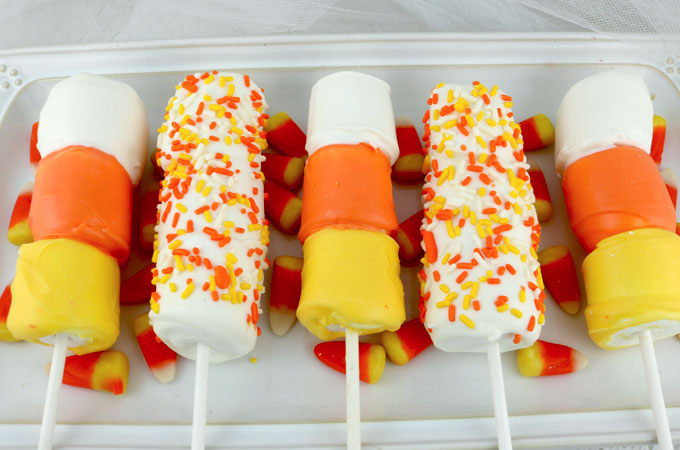 Candy Corn … is there a more iconic Halloween candy?  People love it or hate it … we love it.  But since not all people do we have come up with a Candy Corn themed dessert that doesn't actually contain any candy corn!  It does however feature Marshmallows which is a major ingredient of actual candy corn (but you don't have to tell your candy corn hating Halloween party guests that little tidbit!)


How to Make Candy Corn Marshmallow Pops
You will need: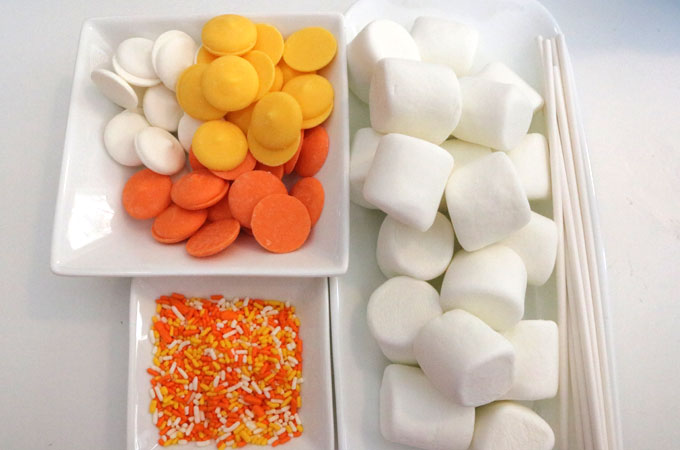 Our Halloween Marshmallow Pops are made with Marshmallows and Yellow, Orange and Bright White Candy Melts.
First step, melt 10 Yellow Wilton Candy Melts in the microwave.   Start with 30 seconds, open the microwave and give the candy melts a stir.  Now continue microwaving the melts 10 seconds at a time until they are fully melted.   Place a marshmallow on the lollipop stick and then using a spoon cover the marshmallow in the yellow candy melt mixture.  Allow the candy to harden before you add a second marshmallow to the stick.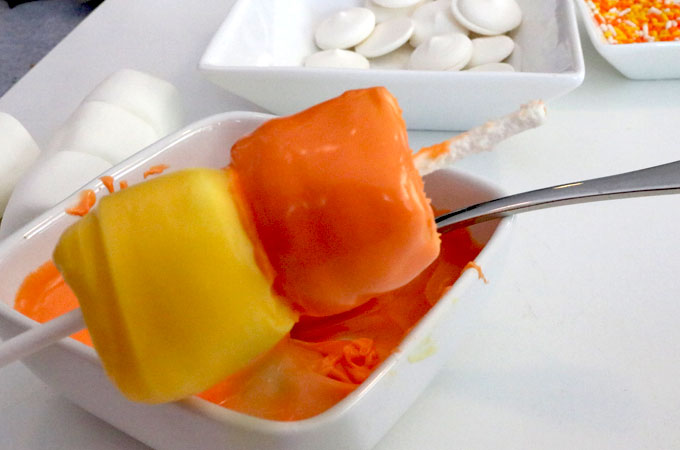 Once the yellow candy melt mixture has completely cooled, repeat the procedure with the Wilton Orange Candy Melts on a second marshmallow. Place the Candy Corn Marshmallow Pop aside to cool.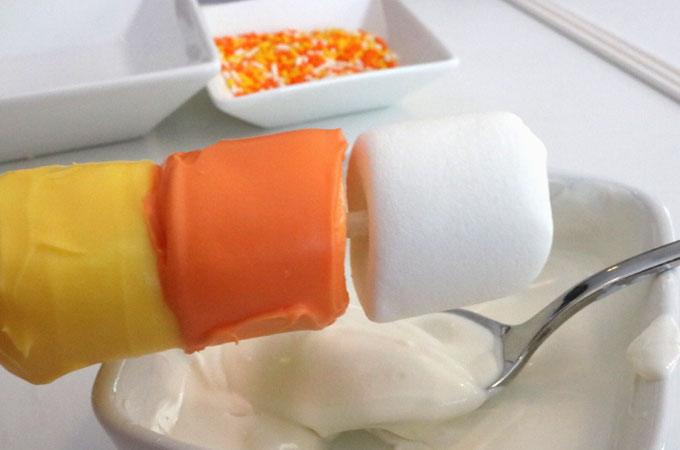 Finally, repeat the process a third time, this time with Wilton Bright White Candy Melts.  For this last marshmallow, don't press the lollipop stick all the way through the marshmallow and cover the top of the marshmallow with the melted white candy.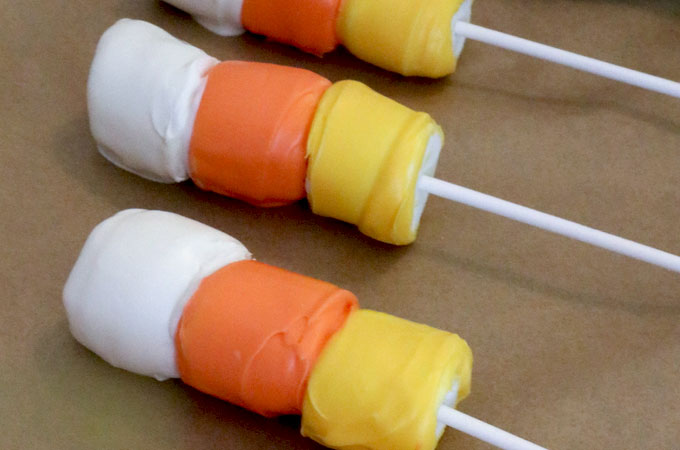 Once the candy has completely cooled on all the marshmallows you can press the marshmallows closer together.  Store the Candy Corn Marshmallow Pops in an airtight container until you are ready to serve them.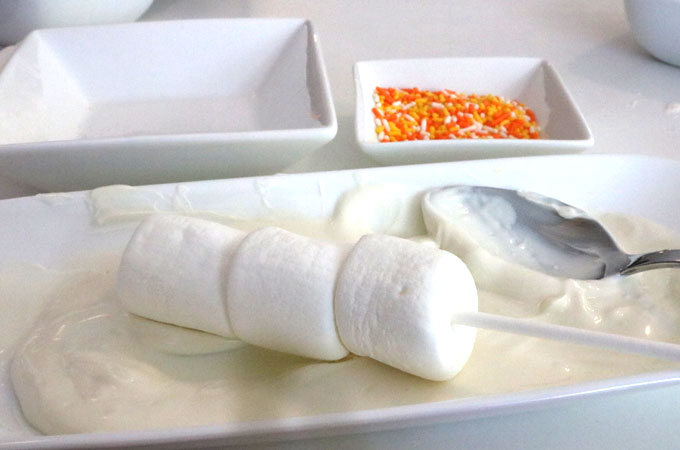 For something different we also made another "candy corn" Marshmallow Pop using Candy Corn Sprinkles we found at Michaels.  For this version, we started with 20 bright white candy melts in the pan and melted them in the microwave.  Then we used a spoon to help cover the three marshmallows on the lollipop stick and also to smooth out the candy melts once it was on the marshmallows.
As soon as we were done covered the marshmallows in the white candy we added the special candy corn sprinkles.
So very pretty and boy do these Marshmallow Pops taste good.
Our Candy Corn Marshmallow Pops would be a fun treat for a Halloween party or as a pre-Trick or Treat dessert.  And the kids will love helping you make them!
P.S. Let's stay in touch!  If you liked our Candy Cane Marshmallow Pops post, [thrive_2step id='10744′]click here to sign up for our Email Newsletter![/thrive_2step]
Or follow us on Pinterest, Facebook and Instagram!
**This post contains affiliate links but we only recommend products that we actually used and liked. Thanks for supporting Two Sisters Crafting!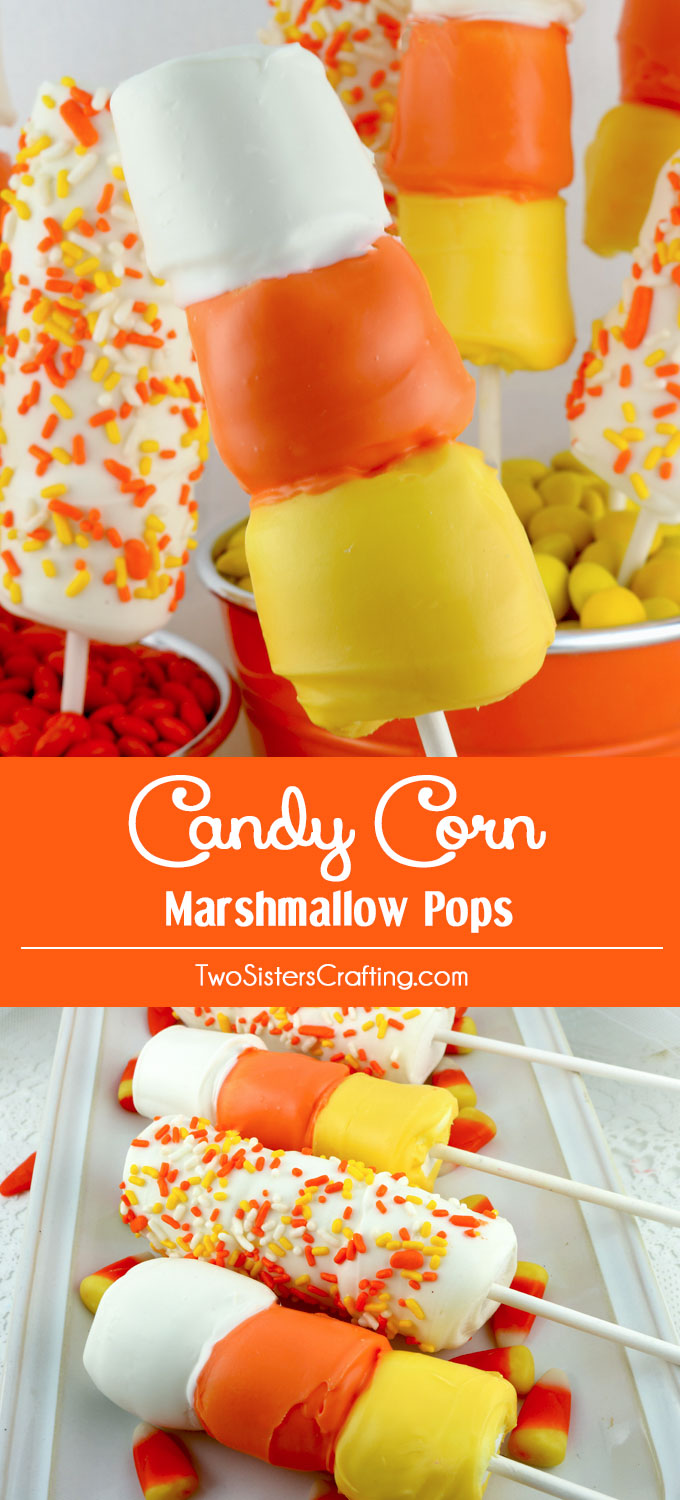 More Fun Halloween Recipes …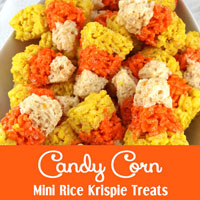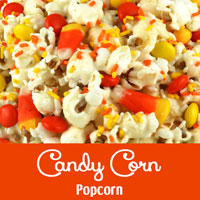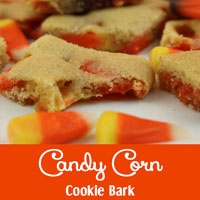 If you want to stay up-to-date on all our Halloween posts, Follow Two Sisters Crafting on Pinterest!
Follow Two Sisters Crafting's Halloween Food board on Pinterest.