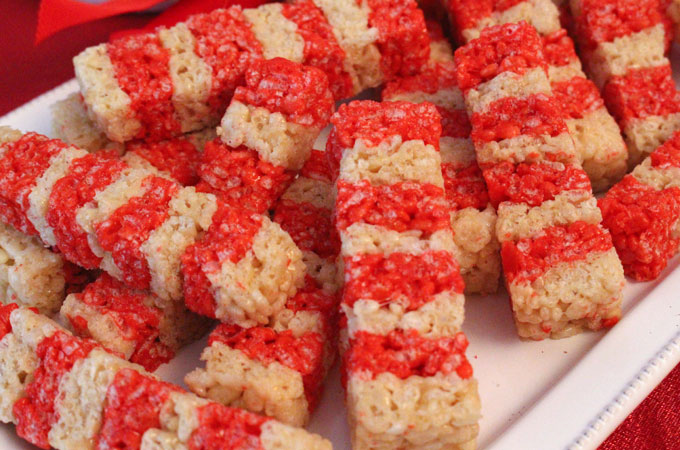 For Allison's Frozen Birthday Party we made an Ombre Rice Krispie Treat that was really pretty and we've been wanting to use that technique again.  We finally got around to that with our Candy Cane Rice Krispie Treats. We loved how they turned out – so colorful and Christmas-y.  They are going to look great on this year's Christmas Dessert Table.

How to Make Candy Cane Rice Krispie Treats
You will need:
Kellogg's Rice Krispie Cereal
Mini Marshmallows
Butter (Sweet Cream, Salted)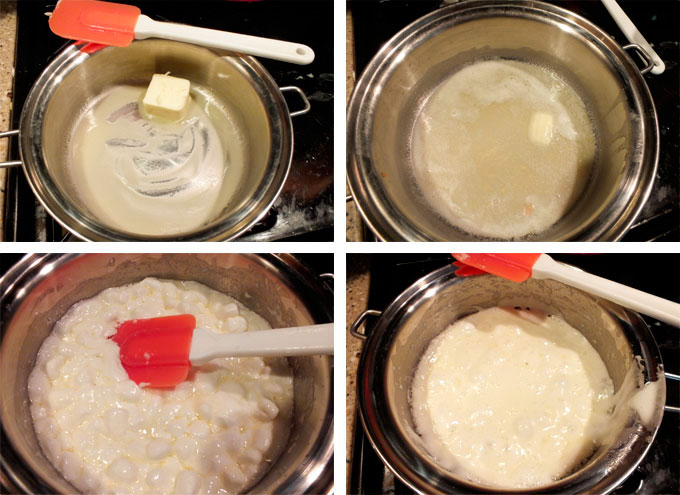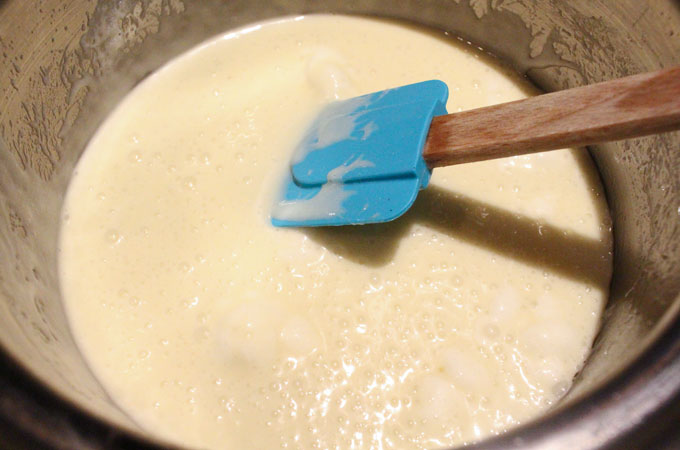 Turn off the heat.  Leave one of the batches this white/ivory color. This will be your white layer.  Add the 5 cups of Rice Krispie Cereal and stir until the cereal is completely covered.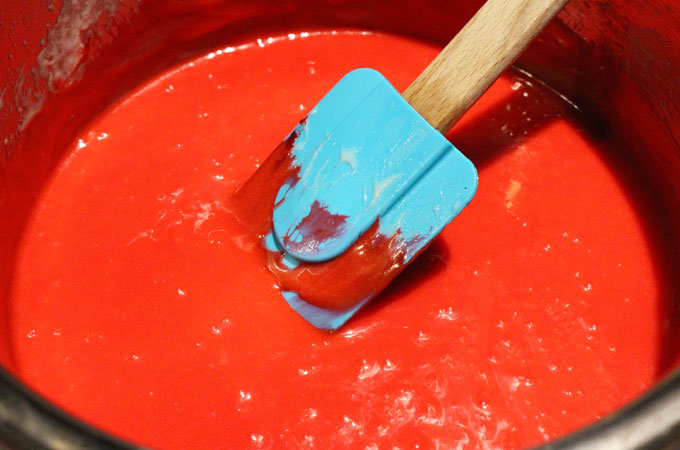 Turn off the heat and add the red food coloring to color the marshmallow mixture. Add the Rice Krispie Cereal to the colored marshmallow mixture and gently stir until it is completely covered.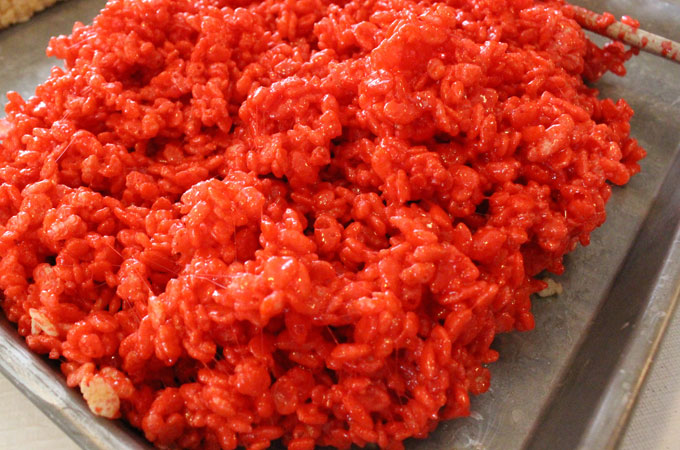 For both the white and red layers, pour the Rice Krispie Treat mixture into separate large cookie sheets.
The 5-cup batch of Rice Krispie Treat  mixture filled out about 75% of a large cookie sheet.  I pressed the mixture into the cookie sheet until it was evenly dispersed.  I did this for both the red and the white batch.  The height of the layer is only about 1/2 of the cookie sheet depth.  We wanted as many layers of our Candy Cane Rice Krispie Treats as possible so we didn't want the individual colored layers to be too thick.
Cut each sheet of Rice Krispie Treats into three equal pieces.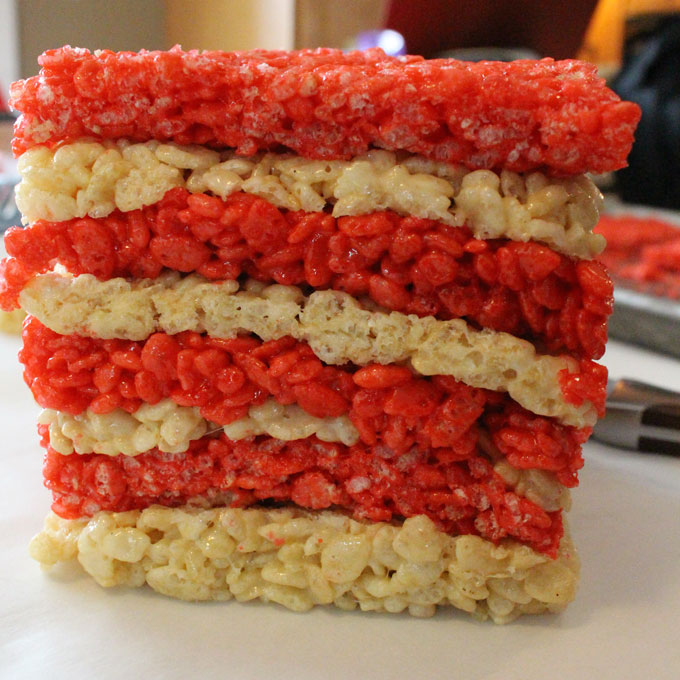 Starting with a white layer, stack the smaller pieces of Rice Krispie, alternating colors.
Cut a slice from the loaf you just created and then cut out four candy cane "sticks" or columns as shown in the picture above.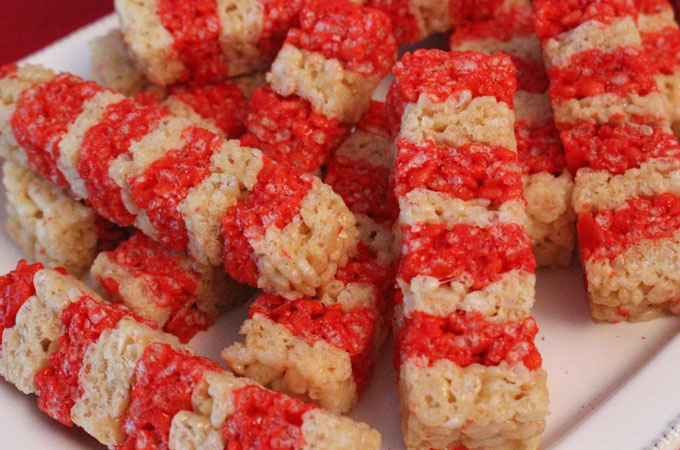 We didn't do this but if you wanted you could add some peppermint extract to the marshmallow mixture before you added the Rice Krispie Cereal and you would have a more "realistic" candy cane!  Either way, these are some yummy Christmas Treats that your family will love!
You can't go wrong with Rice Krispie Treats for the Holidays. We've never met anyone who didn't love them and these Candy Cane Rice Krispie Treats are so very adorable (not to mention delicious!)

P.S. Let's stay in touch!  If you liked our Candy Cane Rice Krispie Treats post, [thrive_2step id='10744′]click here to sign up for our Email Newsletter![/thrive_2step]
Or follow us on Pinterest, Facebook and Instagram!
**This post contains affiliate links but we only recommend products that we actually used and liked. Thanks for supporting Two Sisters Crafting!
More Fun Christmas Recipes …
If you want to stay up-to-date on all our Christmas posts, Follow Two Sisters Crafting on Pinterest!
Follow Two Sisters Crafting's Christmas Desserts board on Pinterest.