Laurie and I were raised to believe that birthdays are a big deal.  Our mom always made our birthday special.  I have carried on that tradition with my daughter.  Last year on her birthday, Laurie and I made Little Fishy Cupcakes to take to preschool as a special treat.  They were a BIG hit.  We knew it would be hard to top them, but I think we did a pretty darn good job with these fun and colorful Butterfly Cupcakes.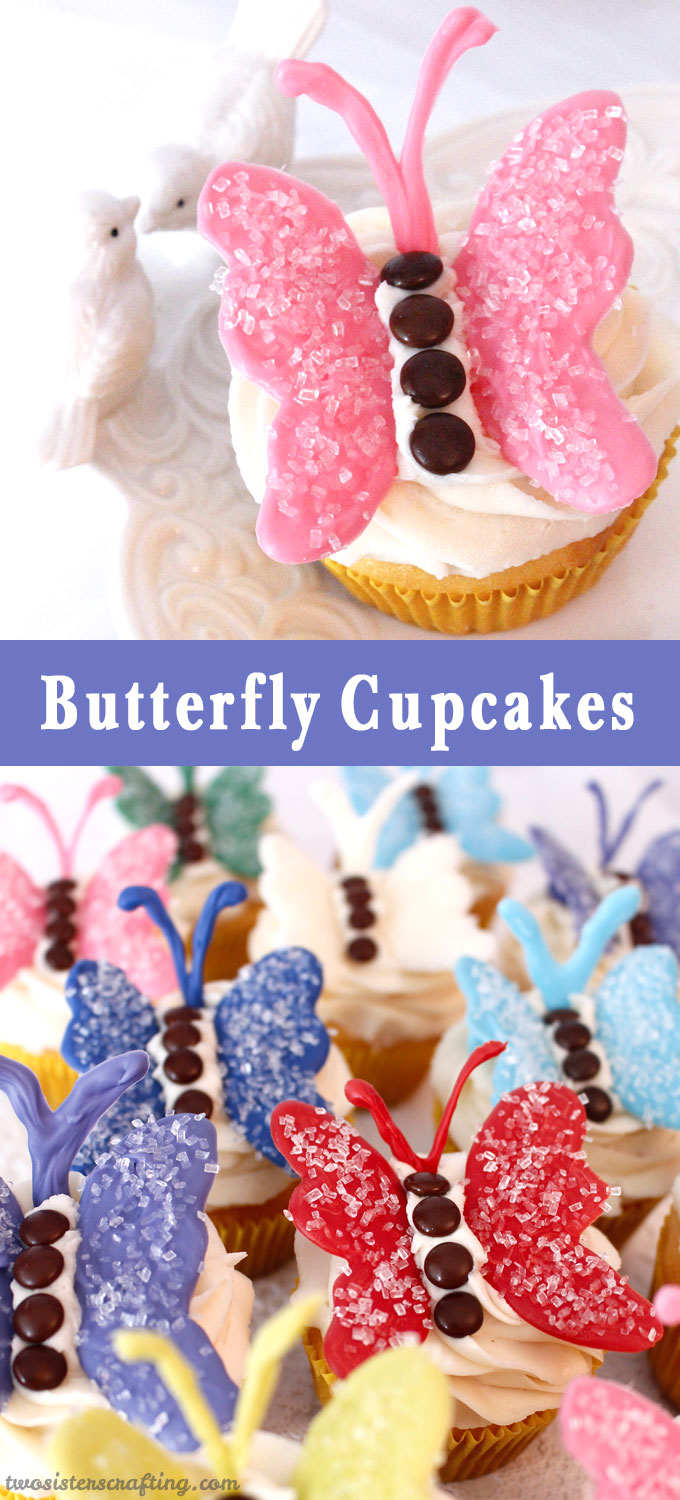 How to Make Butterfly Cupcakes
You will need:
Cupcakes
Pastry Bag
Wilton 2D Decorating Tip
Wilton Candy Melts
Small Plastic Sandwich Bags
Wilton Sparkling Sugar Sprinkles
Regular sized M&M's
1 Bag of M&M Mini's
Parchment Paper or Waxed Paper
Printout of a picture of Butterfly Wings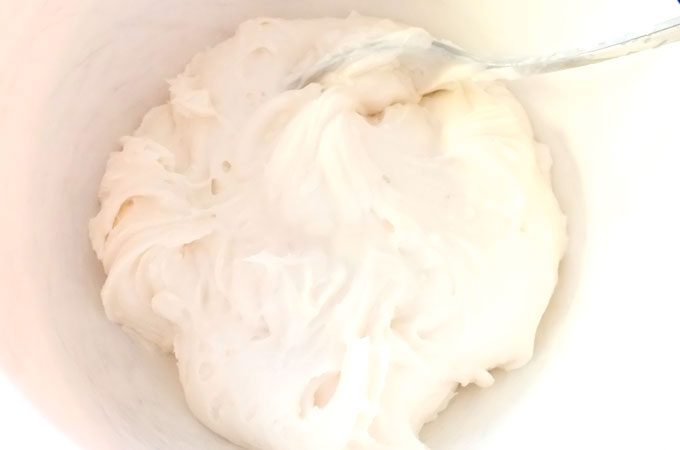 The first thing to do is make up a batch of our Best Buttercream Frosting recipe.   You will find the recipe and directions here.  We left the frosting white but you could use food coloring to make it a color that would complement the candy butterfly wings.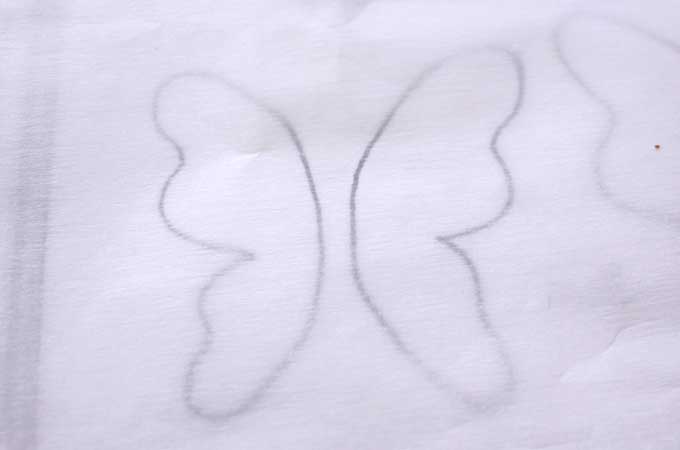 Next, you need to find yourself a template for the candy butterfly wings. Try a Google Search for 'butterfly wings template printable' and you'll find that there are many options available to download and print.  Slide the printout underneath a large piece of parchment or waxed paper and use it as a guide to make the candy butterfly wings.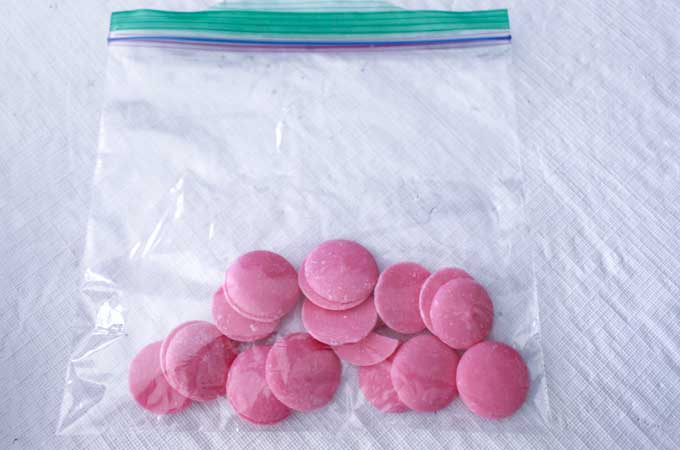 We made the butterfly wings and antennae with melted Wilton Candy Melts of various colors.  To melt the candy, we placed 18-20 candy melts in a small plastic sandwich bag.  We heated the melts in the microwave at 10 seconds intervals.  After every 10 seconds we would take the bag out of the microwave, smush the melting candy around in the bag and decide if the candy needed another 10 seconds in the microwave.  You don't want to over-melt the candy, too long in the microwave and it will seize up become unusable.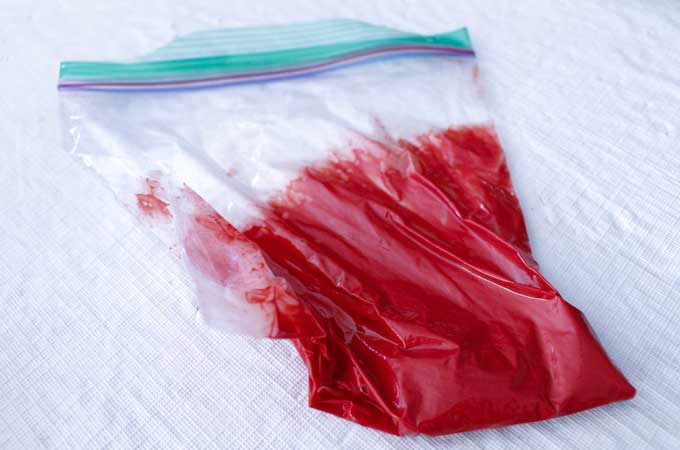 This is what the red candy melts looked like when they were melted. Depending on how powerful your microwave, it should take anywhere from 20-40 seconds to melt the candy.  Once melted, cut make a very small opening in the corner of the sandwich bag.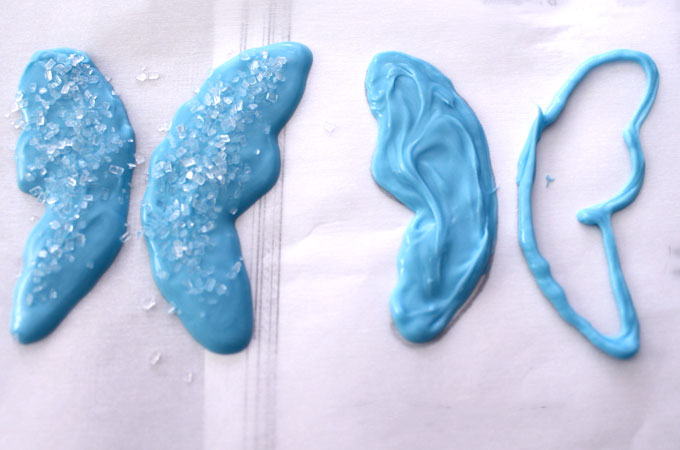 Using the butterfly wing template as a guide, fill in each wing with melted candy.  Tap and gently shake the parchment paper to get the melted candy to smooth out a bit.
We also used the melted candy to free hand draw some Butterfly antennae in the shape of a Y.  Make sure the antennae are on the thicker side so they won't be so easily broken.
Let the candy butterfly wings set for a couple of minutes and then cover them with sparkling sugar.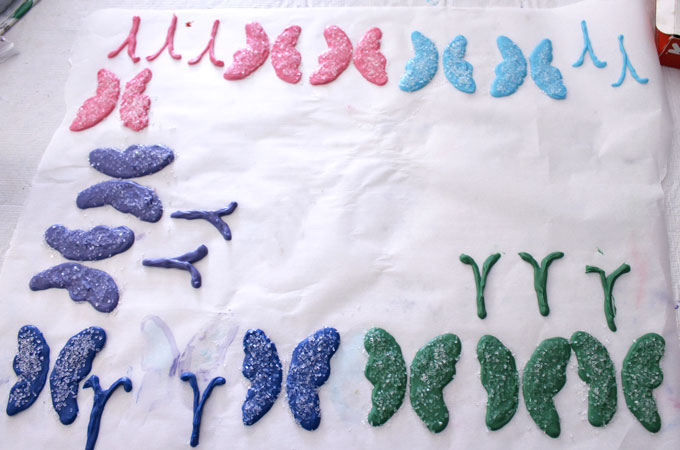 Let the candy butterfly wings and antennae setup completely before you begin to assemble the Butterfly Cupcakes.  We let them dry for a couple of hours.
Frost your cupcakes with Best Buttercream Frosting.  We made the swirl with the Wilton 2D Decorating Tip but you could also spread on the frosting with a knife. Then take two regular sized M&M's in a color that will blend in with your candy butterfly wings and place them at the top of the cupcake about 1″ apart.  You will use these M&M's to help prop up the butterfly wings.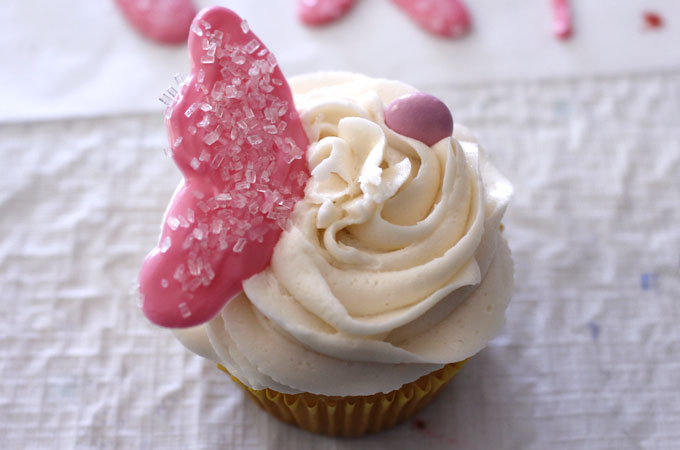 Next take the left butterfly wing and gently place it into the frosting so that it is resting on the M&M.
Use four dark brown M&M Minis to create the butterfly body.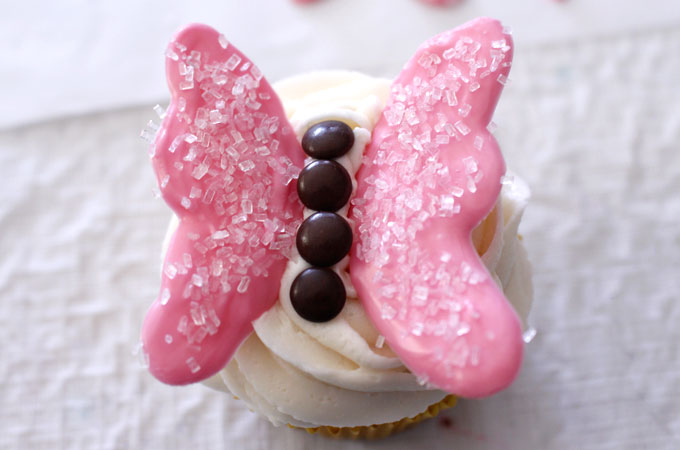 Now take the right butterfly wing and place it on the other side of the M&M butterfly body.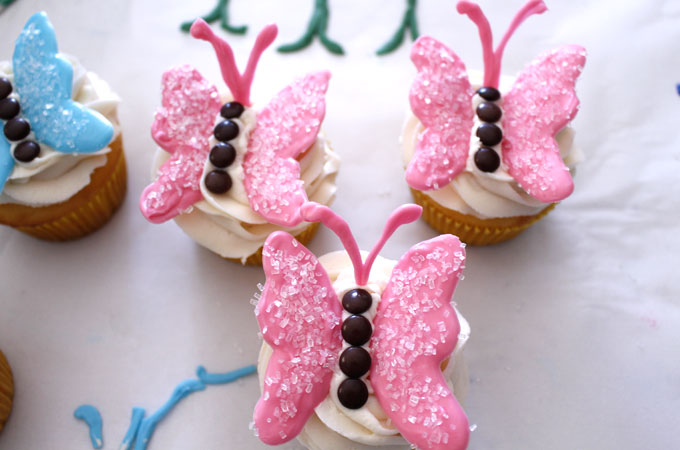 Finally, gently press the candy melt antennae into the cupcake over the M&M butterfly body.  That's all there is to assembling these adorable Butterfly Cupcakes.
These Butterfly Cupcakes are so pretty and would be great for so many different kinds of parties – how about a baby shower or a gender reveal party?  Or a spring brunch?  Or a Mother's Day celebration!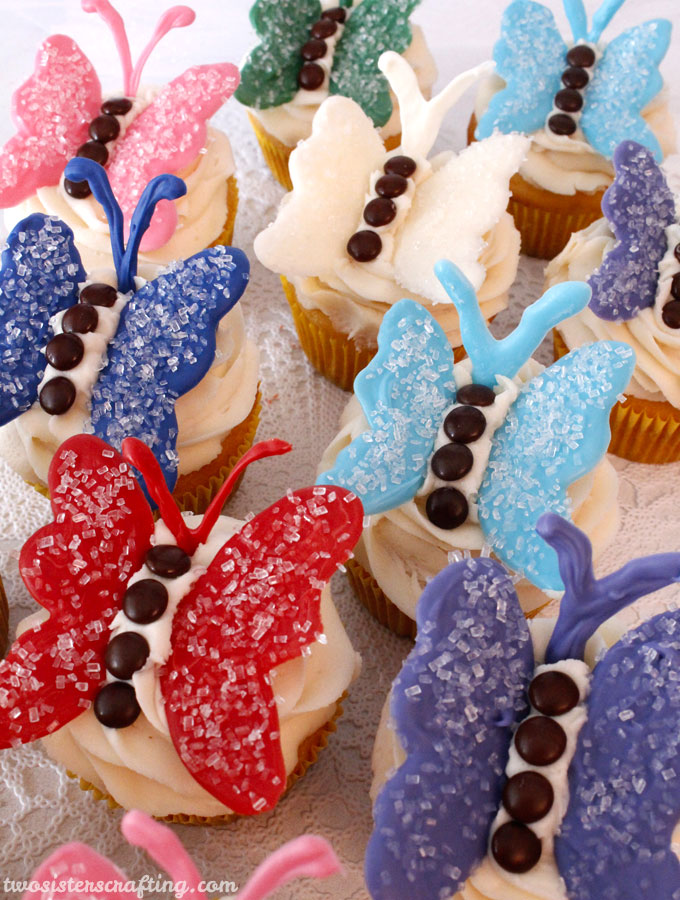 And they look great in so many different colors!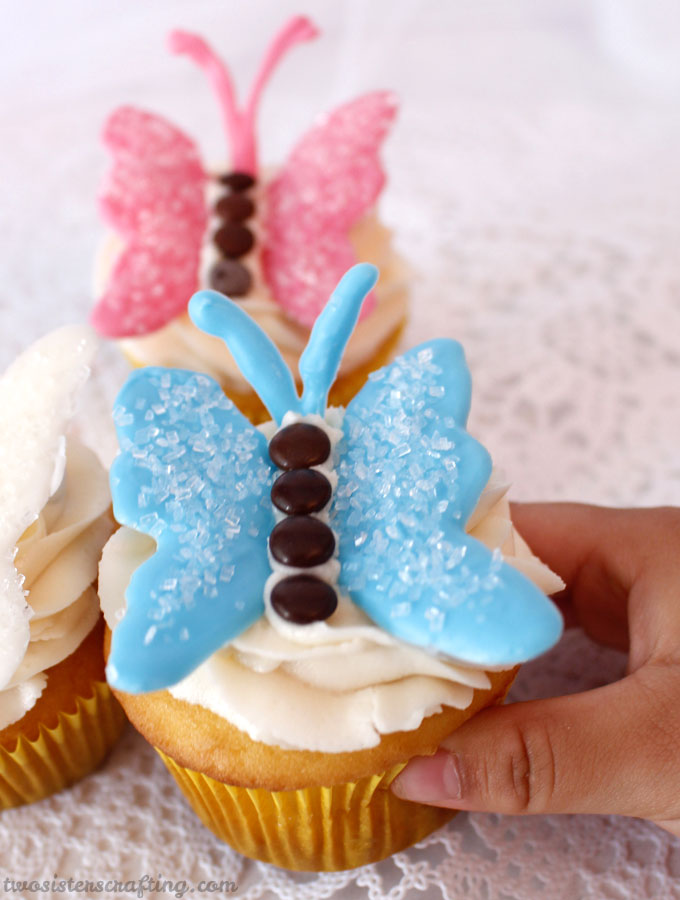 The Butterfly Cupcakes were a hit with Allison's preschool classmates and were actually pretty easy to make and decorate. We give this cupcake project a Two Sisters Crafting Thumbs Up rating!

If you want to stay up-to-date on all our Cupcake posts, Follow Two Sisters Crafting on Pinterest!