Bunny Mini Cakes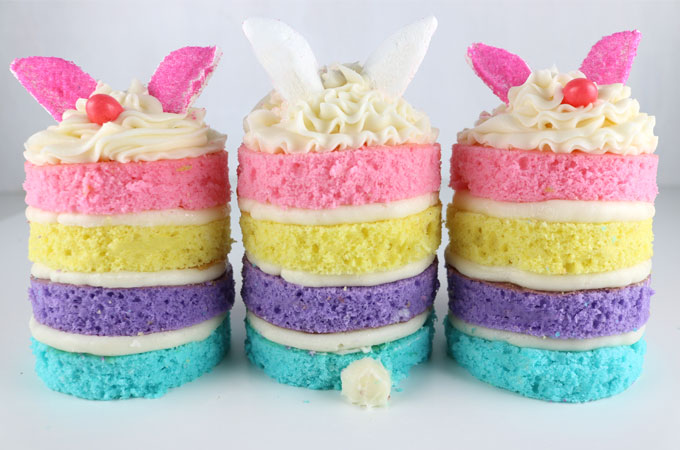 Oh my gosh, how cute are these Easter Bunny Mini Cakes? Once we made our Easter Bunny Cupcakes, we couldn't stop and had to make do another Bunny cake. These Easter Bunny Mini Cakes will be the perfect dessert for your Easter celebration.
How to Make Bunny Mini Cakes
You will need:
2 boxes of White Cake Mix
Jumbo Marshmallows
3 – Cookie Sheets
Pink Mini Jelly Bean or a Pink Sixlet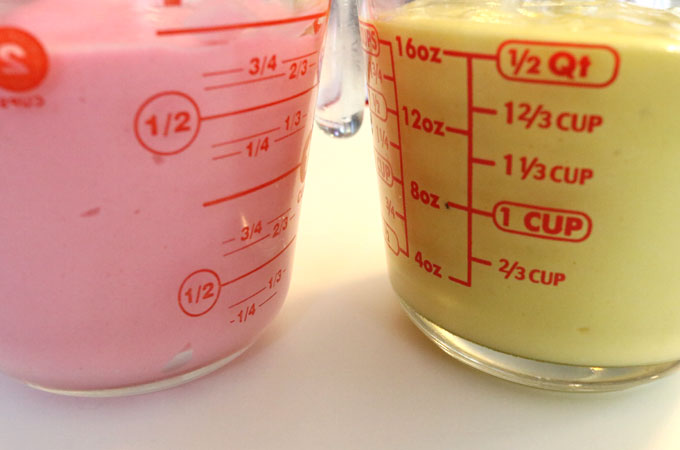 For our multi-colored cake layers for the Bunny Mini Cakes, we made up two boxes of White Cake Mix and split them into four equal portions.  We used a food scale to measure each portion but as you can see in these pictures it was approximately 2 cups of cake mix for each color.  Using our Wilton Color Right Food Coloring we tinted the cake batter four different colors – Pink, Yellow, Purple and Blue.
Here are the amounts of food coloring that we used to achieve these pretty Easter colors:
Pink = 6 drops of Wilton Color Right Pink Food Coloring
Yellow = 1 drop of Wilton Color Right Yellow Food Coloring
Purple = 10 drops of Wilton Color Right Pink Food Coloring and 4-5 drops of Wilton Color Right Blue Food Coloring
Blue = 3 drops of Wilton Color Right Blue Food Coloring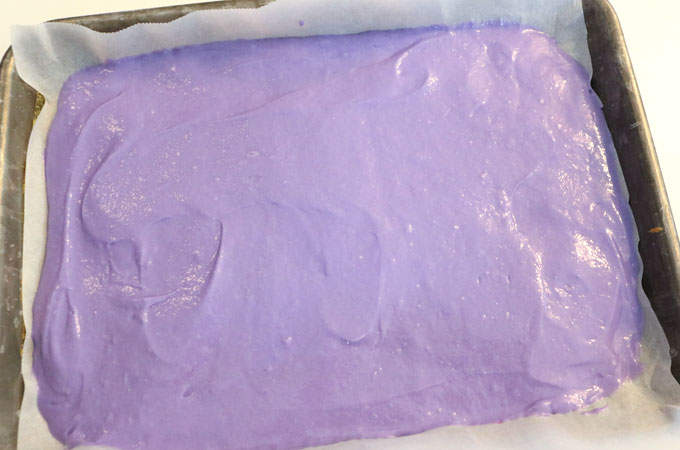 Line a medium sized cookie sheet with parchment paper and pour the cake batter into the cookie sheet. To get the batter evenly dispersed we poured it into the cookie sheet and then let it settle on a flat surface for 15-20 minutes.   We baked the cake according to the instructions on the box for 20 minutes.  It was perfectly cooked.   The edges were a tiniest bit thinner than the rest of the cake, but not by much.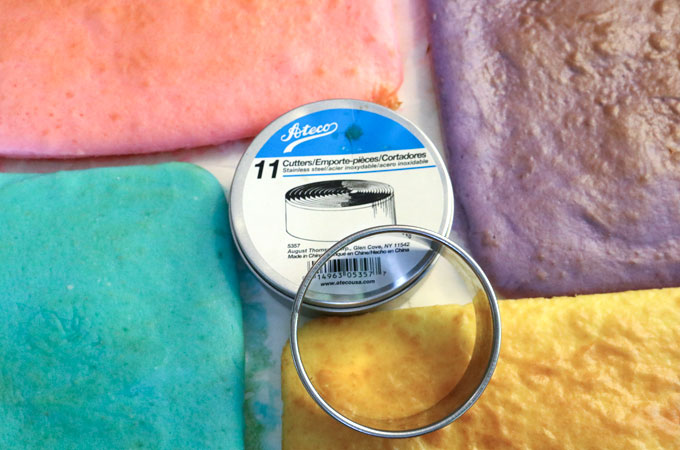 Here are our four cakes, ready for assembly.  We used a round biscuit cutter to cut out our layers.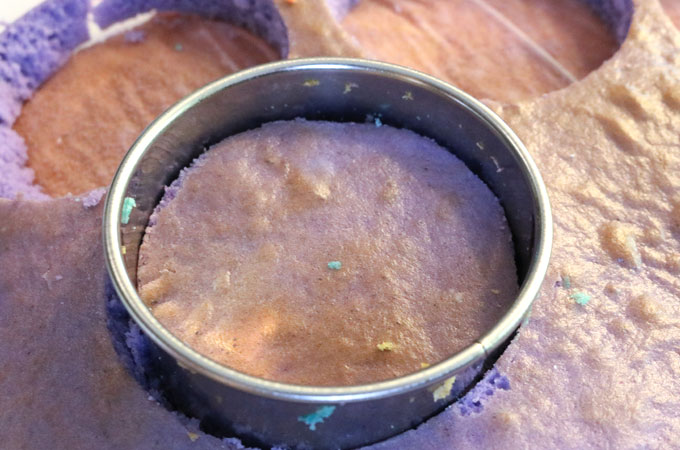 We used the round cookie cutter to cut out our cake layers.  There will be some left-over cake when you use the round cookie cutters.  (But we used ours to make these pretty Springtime Cupcakes in a Jar so it was a win-win.)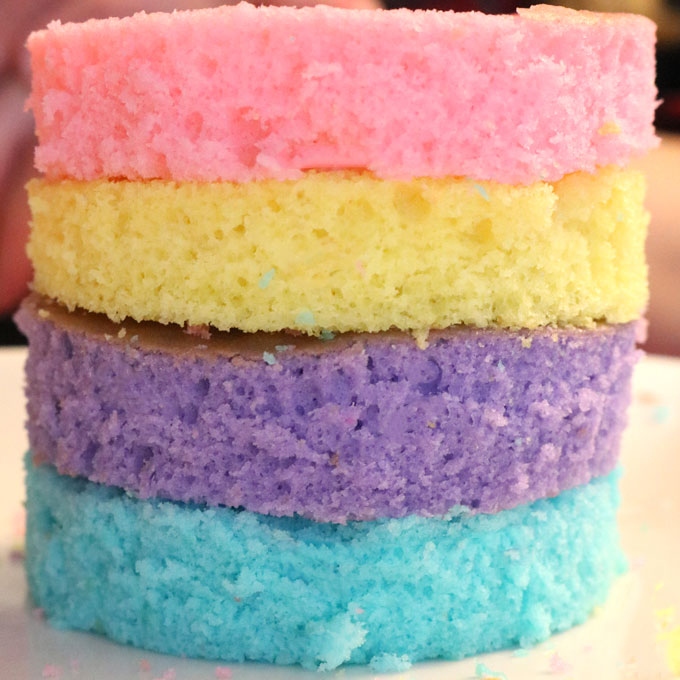 Here are all four cake layers for our Bunny Mini Cakes. Now on to the frosting!
Make up a batch of our Best Buttercream Frosting.  It is super easy to make and so very delicious. You can find the recipe and detailed instructions here.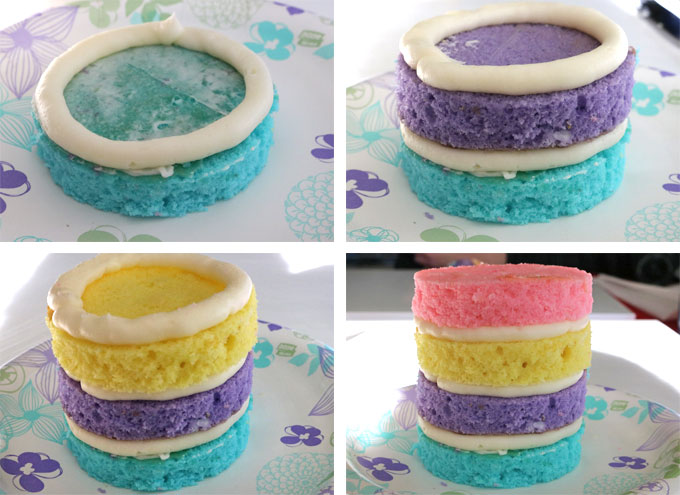 Add a circle of frosting between each layer of cake.  We didn't add a complete layer of frosting between the layers because we didn't want the frosting to over-power the cake.
Using a Wilton 2D frosting tip and a decorating bag, pipe on swirl on three full circles of buttercream frosting on top of the cupcake.
To make the bunny ears you will need Jumbo Marshmallows.  In a pinch, you could use a regular sized marshmallow for the ears but the proportion of the ears won't be correct and your Bunny Cupcake might look more like a mouse than a rabbit.  You will also need some Sparkling Sugar or Sanding sugar in pink.  You can easily make your own Sparkling Sugar … we have all the step by step directions you'll need right here.
Using the picture above as a guide, slice off two diagonal pieces of marshmallow from the flat end of the marshmallow.  Lay the stick part of the marshmallow in the pink sparkling sugar.  Now you have your pink bunny ears!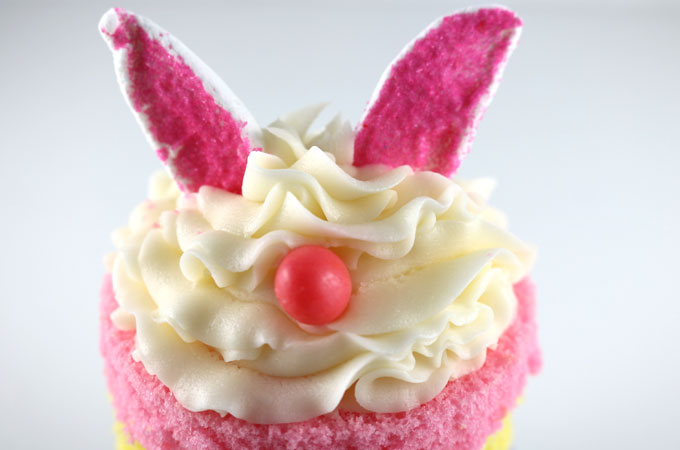 Stick the pink marshmallow bunny ears into the buttercream frosting and use a mini jelly bean or a pink sixlet to make your bunny nose!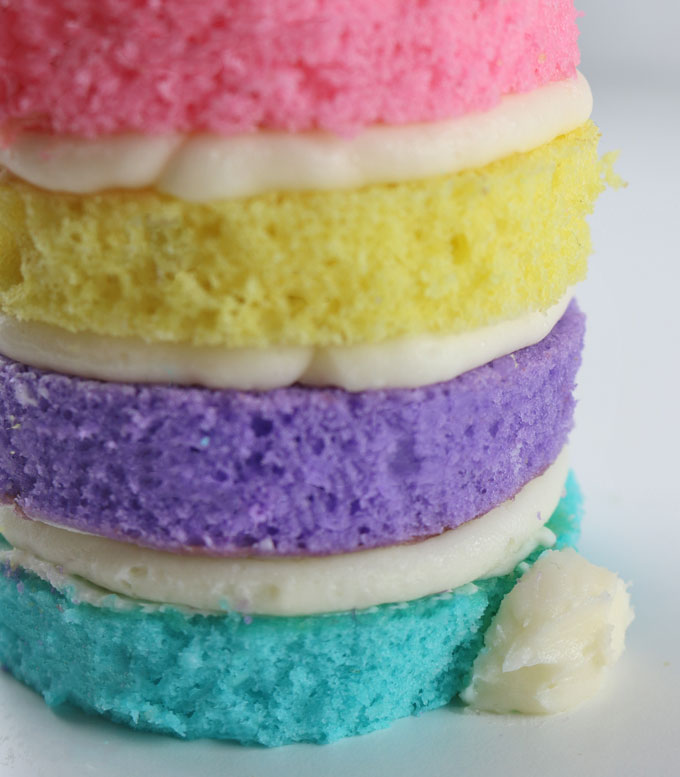 Don't forget the Buttercream Frosting Bunny Tail!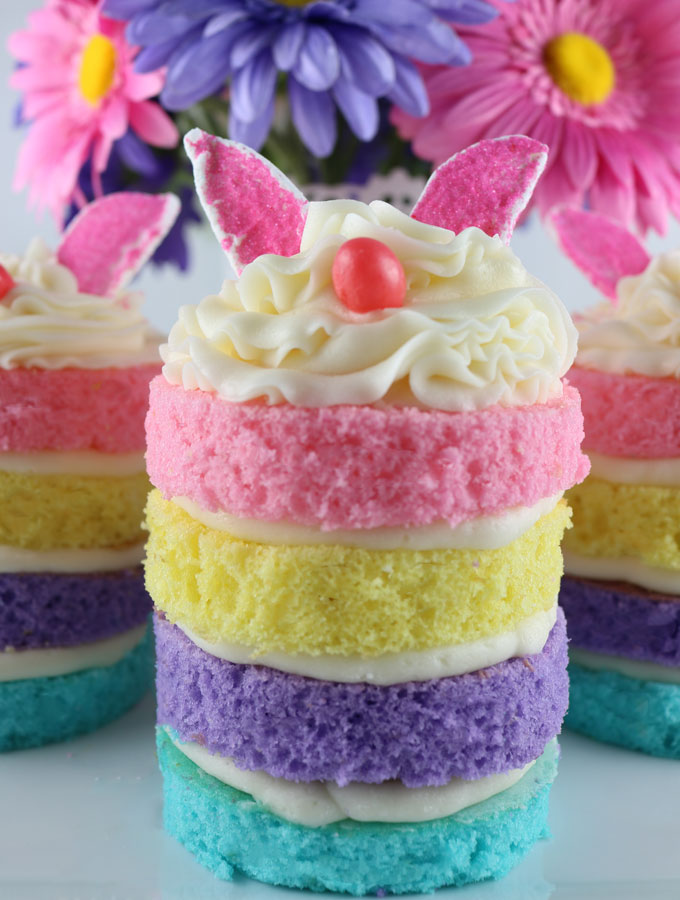 We love how this Bunny Mini Cakes turned out!  Super adorable and a fun change of pace from a traditional cupcake.  These fun treats will look great on our Easter Dessert Table, a baby shower or even a kid's party.

**This post contains affiliate links but we only recommend products that we actually used and liked. Thanks for supporting Two Sisters!