Apparently, this is the year of the Halloween cupcake for Two Sisters Crafting.  We had such fun doing the Pumpkin Cupcake in the Jar and the Pumpkin Patch Cupcakes we thought we were done.  But after having another Two Sisters brainstorming session, we decided to do one more cupcake for Halloween.  That one more cupcake turned into three (Halloween Funfetti Cupcakes and M&M Pumpkin Cupcakes are the others.)  Who knew? Nancy and I each came up with a good cupcake idea and then we decided to do a cupcake project with Allison.  Oh well, who doesn't love a cupcake?  Especially these colorful Bewitched Cupcakes which are gorgeous, very Halloween-y and SO easy to make!

(Check out our Bewitched Cupcakes video on Facebook – and don't forget to Like Us!)
How to Make Bewitched Cupcakes
You will need:
White Cake Mix
Chocolate Cake Mix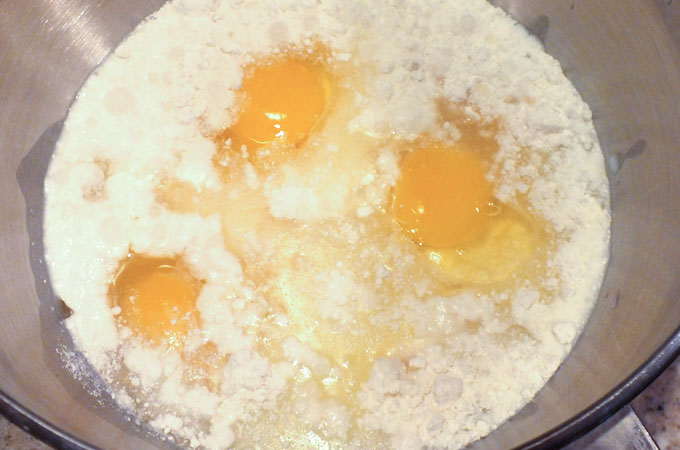 First we made up a box of White Cake Mix according to the directions on the box.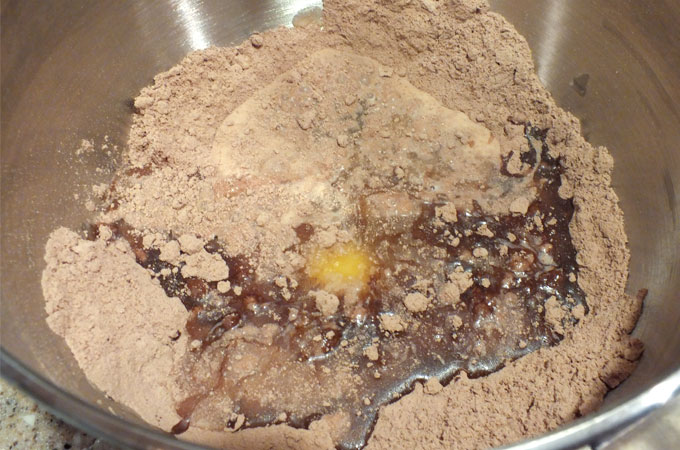 Next, we made up a box of chocolate cake mix. We used Devils Food Cake Mix for this batch but any chocolate cake mix will work.  To punch up the dark chocolate color we added 10 drops of black food coloring to the cake batter at the end of the mixing process. This didn't make the batter completely black but it did tone down the brown color of the chocolate.  Don't use much more than this amount of black food coloring as it will change the taste of your cake.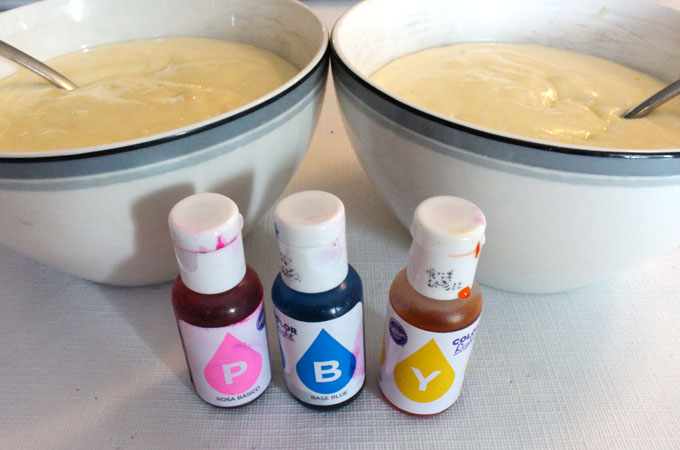 The first step is to make up your cake batter.  We made a white cake and split it into two bowls.  We also made up a box of chocolate cake.  (Note: you will not need all of the chocolate cake batter – we used the remaining batter to make chocolate cupcakes!)  To color the white cake batter we used the Wilton Color Right Food Coloring.  For the purple cake batter we used 4 drops of pink and 2 drops of blue and for the bright green cake batter we used 2 drops of Yellow and 2 drops of Blue.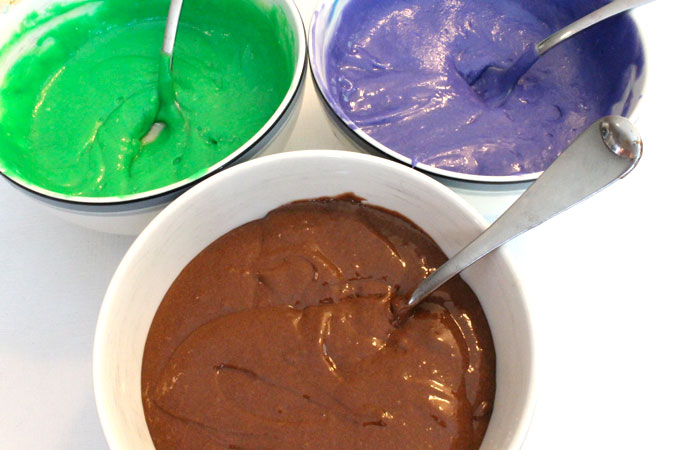 Here are our three bowls of cake batter … green, purple and chocolate.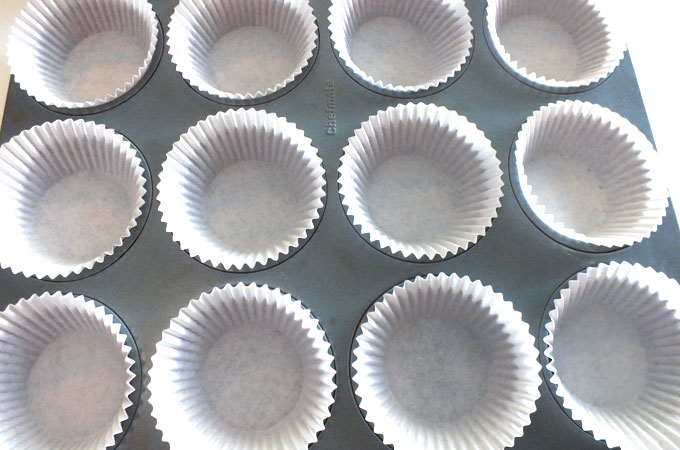 Prepare your cupcake tin with cupcake liners. We used white so that the multi-color effect of the cupcakes would show through once the cupcakes were baked.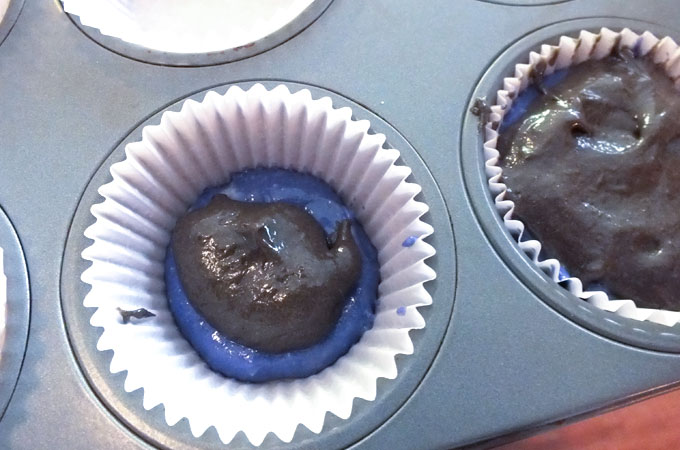 Using a small spoon start adding different colors of cake batter into the cupcake liners.  There is no wrong way to do this.  The smaller each spoonful of batter os, the more colorful the finished cupcakes will be.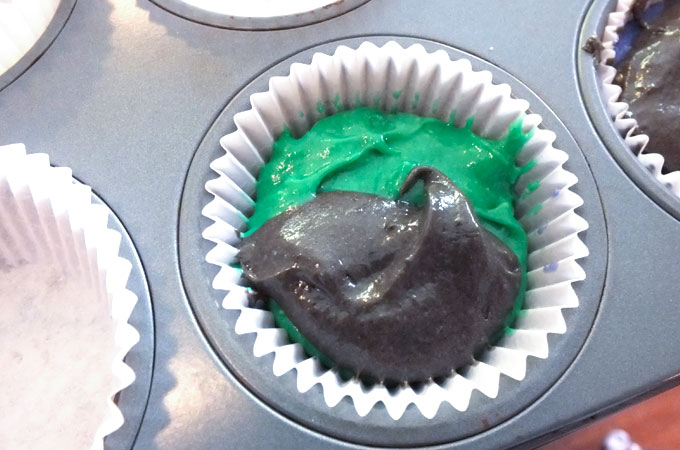 This is our second layer of batter for one cupcake.

And here is our final layer of batter for this one cupcake.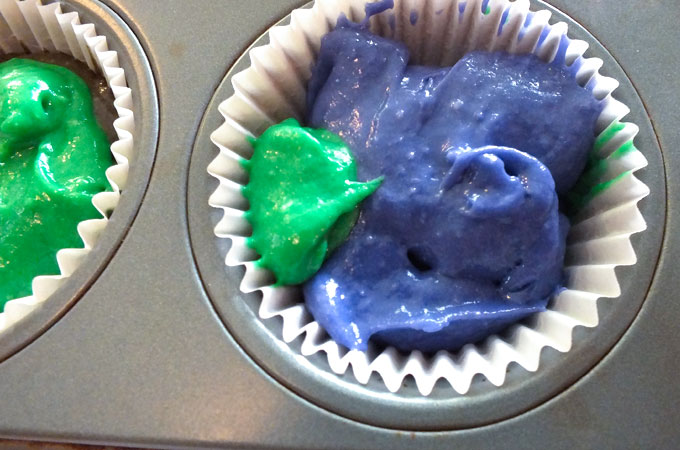 Let your creativity soar!  We didn't do any cupcake the same.  We did try to use a little more chocolate batter in each cupcake than green and purple so that the colors would stand out more.  And we found that the ones where we started with a chocolate layer and ended with a chocolate layer looked like a oreo cookie instead of a the pretty and colorful tie-die effect so you might want to stay away from that combination.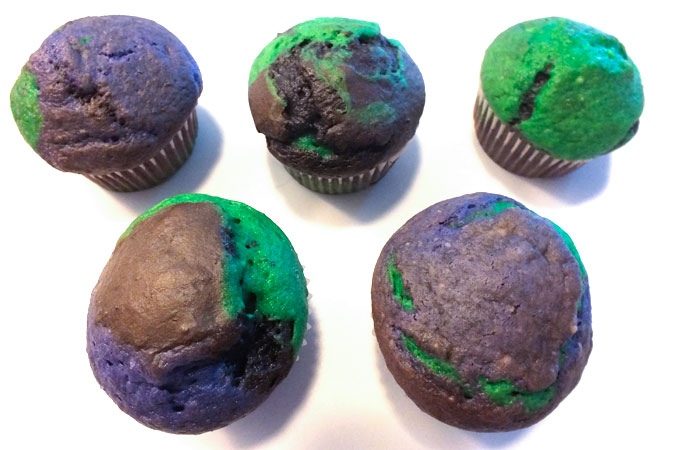 Here are the Bewitched Cupcakes just out of the oven.  So pretty, even without frosting.
But the inside of the cupcake is the real star of the Bewitched Cupcakes.  So, so pretty.
We made a batch of our Best Buttercream Frosting and colored it with purple food coloring.  You will find the recipe for this delicious buttercream frosting here. Then we used a Wilton 2D Frosting Tip to make this swirl but you could also just apply frosting with a knife.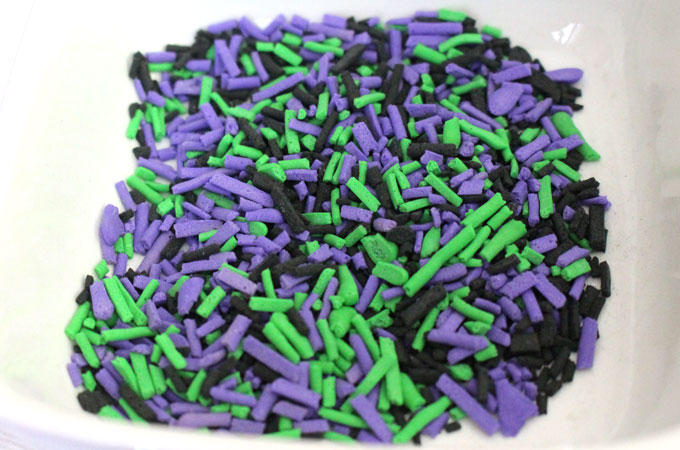 Finally, we topped our Bewitched Cupcakes with some homemade sprinkles that match the Purple, Green and Black colors from the cupcake!  This is super easy to do and really makes your desserts look special!  We have all the directions you'll need to make your own sprinkles right here.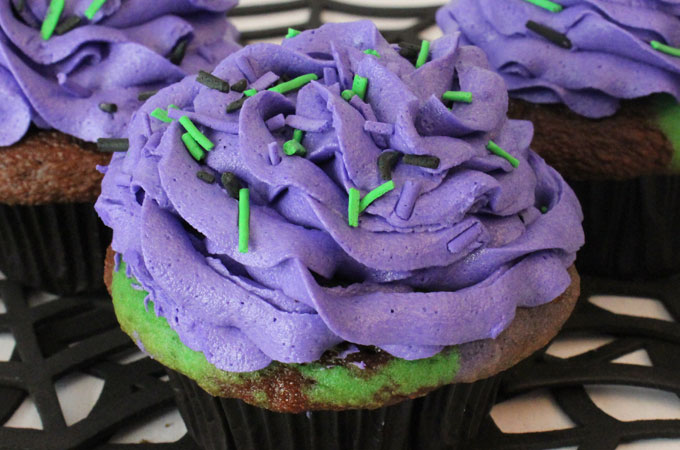 Here our our Bewitched Cupcake with the Purple, Green and Black DIY Sprinkles.  You need to add these immediately after applying the frosting or they won't stick.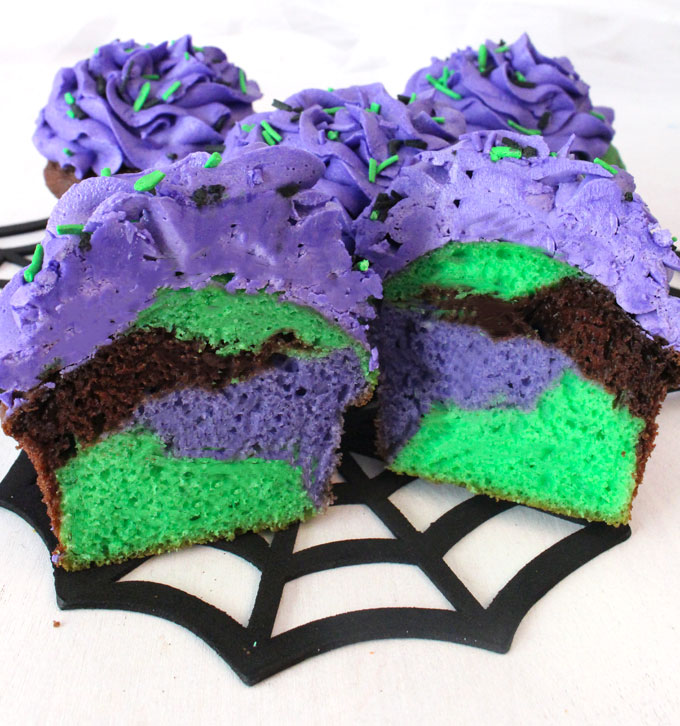 These Bewitched Cupcakes for Halloween are our favorite kind of  project – they are both easy to do and make a great visual impact.  There is nothing daunting about this recipe because they are just plain cupcakes that use food coloring to create a uniquely beautiful Halloween Cupcake.  If it is your turn to bring a Halloween Treat to a classroom party or your neighborhood Halloween potluck, give these Bewitched Cupcakes a try!
P.S. Let's stay in touch!  If you liked our Bewitched Cupcakes post, [thrive_2step id='10744′]click here to sign up for our Email Newsletter![/thrive_2step]
Or follow us on Pinterest, Facebook and Instagram!
**This post contains affiliate links but we only recommend products that we actually used and liked. Thanks for supporting Two Sisters Crafting!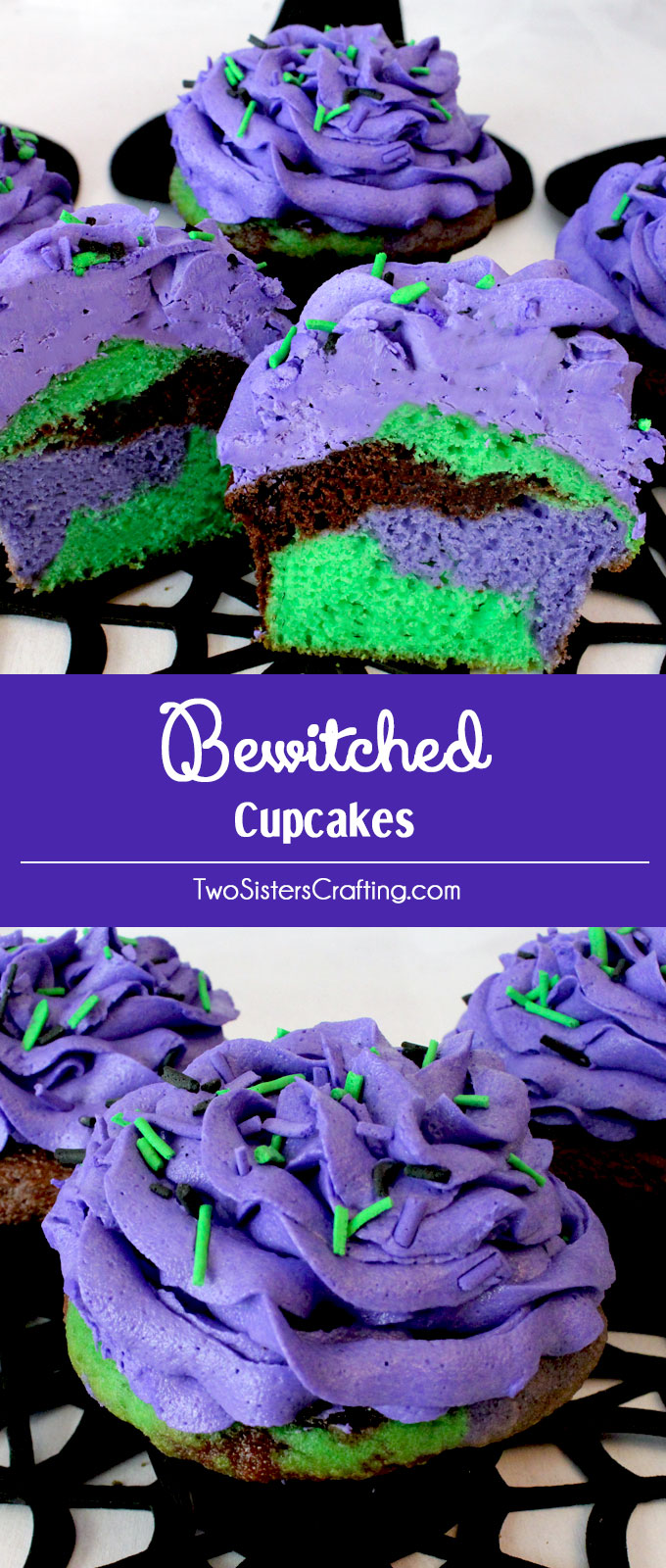 More Fun Halloween Recipes …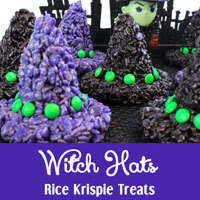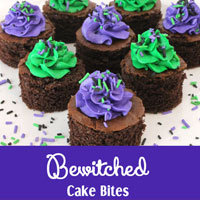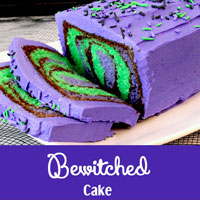 If you want to stay up-to-date on all our Halloween posts, Follow Two Sisters Crafting on Pinterest!
Follow Two Sisters Crafting's Halloween Food board on Pinterest.