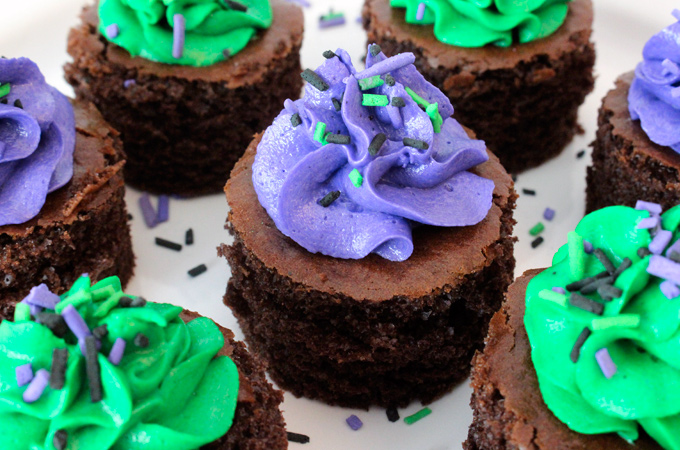 It's amazing to us how many of our posts come from projects gone wrong.  What started as an interesting chocolate cake/banana bread hybrid, turned into these fun Bewitched Cake Bites.  Even as I sit here writing this, I think we gave up too easy on the first project.  I have a feeling we will be trying that again, but in the meantime enjoy these simple and fun Halloween treats that are great when you need to serve a "bite" of something sweet and don't have time for cupcakes or a cake.

How to Make Bewitched Cake Bites
You will need:
Chocolate Cake batter (boxed or homemade)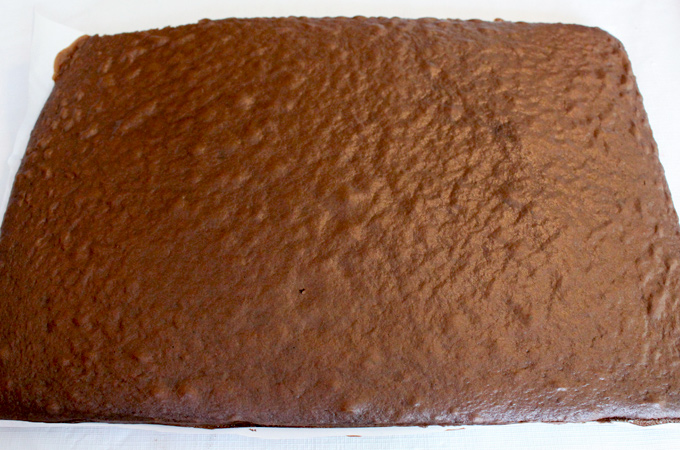 We used a Chocolate cake mix for our Bewitched Cake Bites.  We made up the batter according to the directions on the box. We lined a cookie sheet with parchment paper and poured the cake batter into the cookie sheet.  Tap the cookie sheet on the counter a couple of times to get the cake batter to level out in the pan.  Bake the cake in a 350 degree oven for 20 minutes.  Allow the cake to cool and use the parchment paper to remove the cake from the cookie sheet.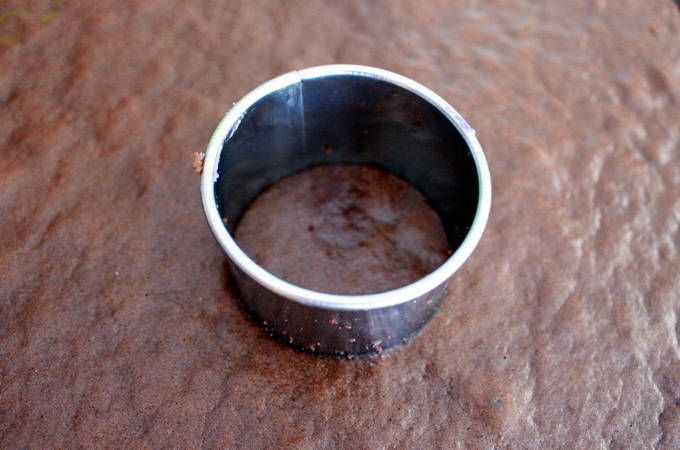 We used this 2 1/2″ round biscuit cutter to make our cake bites.  You could easily use a regular cookie cutter or a water glass.
One note about the cake bites.  If you are going to make these ahead of a party, store them in the refrigerator in an airtight container.  Unlike a cupcake that is protected by a cupcake liner, the sides of the cake bite are exposed and will dry out if left out too long.  We frosted our Bewitched Cake Bites the day before our get-together and stored them in a plastic container overnight.  They were fine.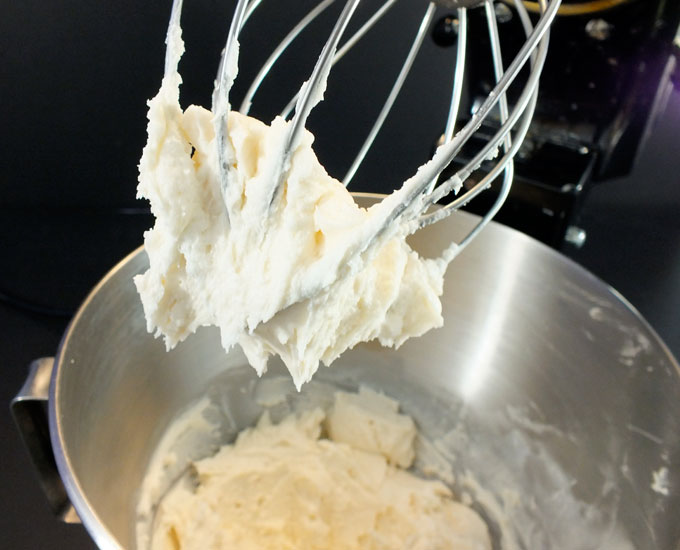 Make a batch of our Best Buttercream Frosting.  It is super easy to make and so very delicious. You can find the recipe and detailed instructions here.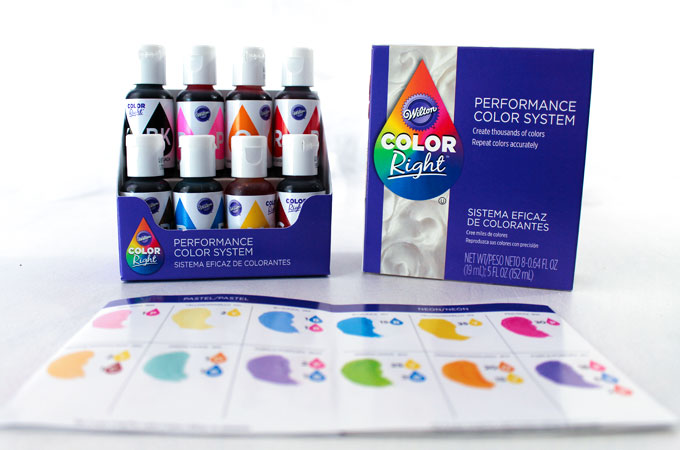 Recently we've been using this Wilton Color Right Food Coloring and it is great.  For the purple frosting we used 4 drops of pink and 2 drops of blue.  For the bright green frosting we used 2 drops of Yellow and 2 drops of Blue.
We used a Wilton 2D Decorating tip to add a swirl of fun Halloween-y Purple and Green Best Buttercream Frosting to each of the Bewitched Cake Bites.  Finally, topped the frosting off with a flourish of our homemade purple, green and black DIY Sprinkles.
Our Bewitched Cake Bites are so cute and fun and super delicious. They are perfect addition to a Halloween party dessert table or as witchy-themed snack at a kid's Halloween school party.
P.S. Let's stay in touch!  If you liked our Bewitched Cake Bites post, [thrive_2step id='10744′]click here to sign up for our Email Newsletter![/thrive_2step]
Or follow us on Pinterest, Facebook and Instagram!
**This post contains affiliate links but we only recommend products that we actually used and liked. Thanks for supporting Two Sisters Crafting!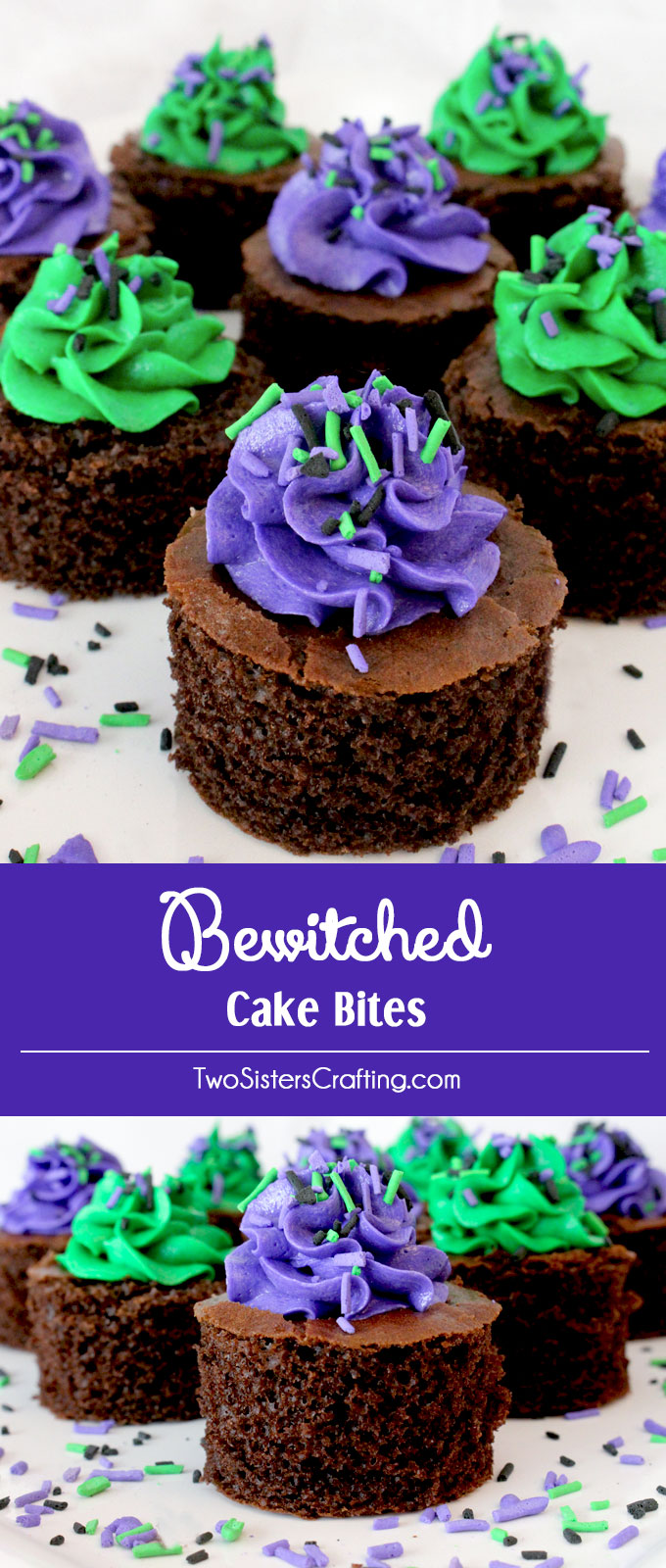 More Fun Halloween Recipes …
If you want to stay up-to-date on all our Halloween posts, Follow Two Sisters Crafting on Pinterest!
Follow Two Sisters Crafting's Halloween Food board on Pinterest.